In this ActivatedYou Morning Complete review, we will take things to a whole new level of clarity. This one is all about getting to the real core of it.
And so, throughout this article, we will discuss quite a few things. We'll start as I typically like to with claims and promises. That we will transition into exploring the ingredients and what they can do for us. Which then will be all about the inactive parts of the supplement. And lastly, we'll also do look into the customer reviews and global success rates.
ActivatedYou Morning Complete Review – Initial Thoughts & Overview
According to the manufacturer, ActivatedYou Morning Complete is "perfect for anyone who wants to start each day on a healthy note, and enjoy optimized health, throughout their lives." The way they put it, "this first-of-its-kind formula features a custom-selected blend of nutrients designed to support regular digestive function – an absolute essential for overall wellness." Or to paraphrase that, it's kind of the ideal thing for anyone's morning. Is it though [R]?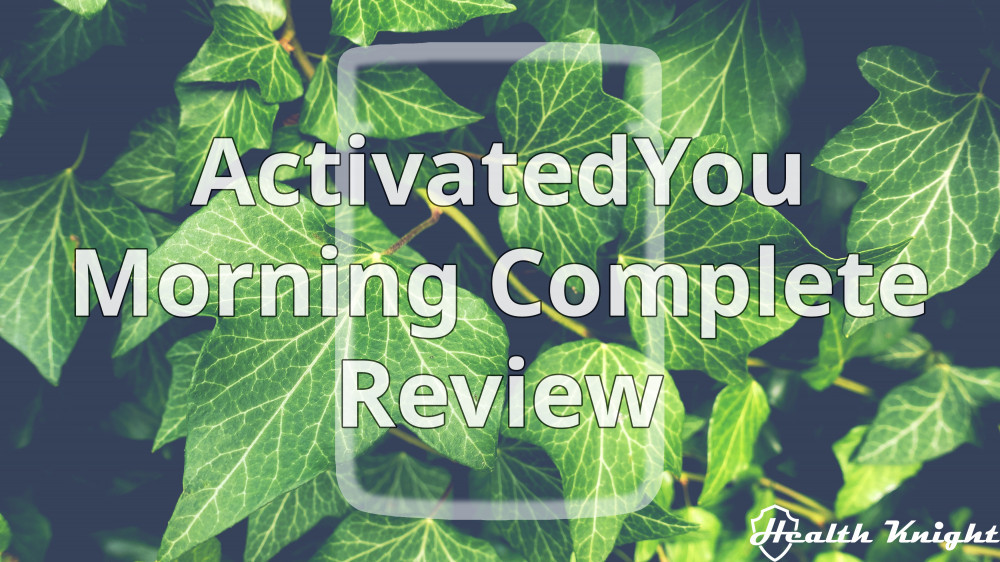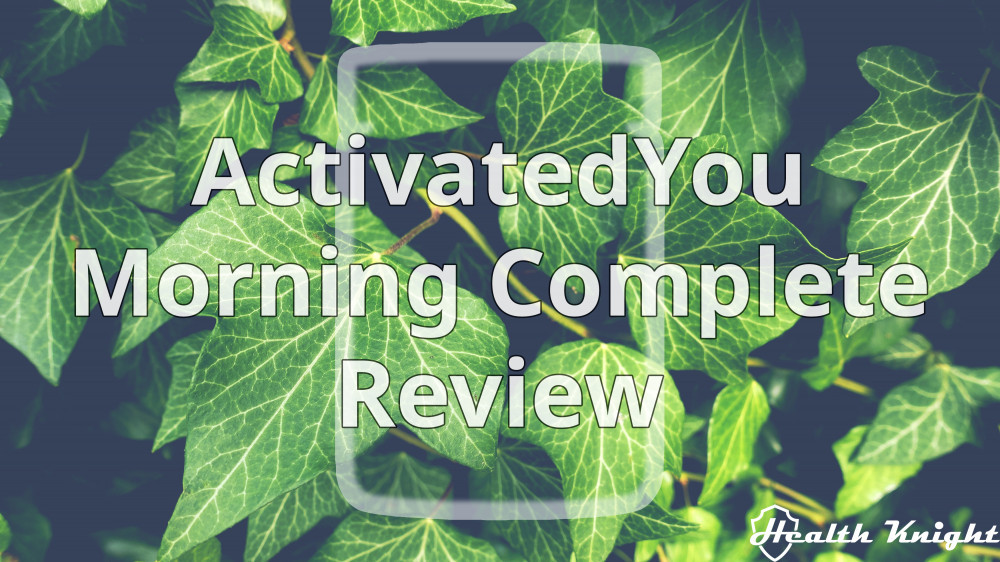 As for the product page, I believe it's very well structured, something with very high readability. Yes, it's not the shortest of promotional pages out there, however, it's something that I would, by no means, consider overwhelming or overbearing.
Speaking of overwhelming and overbearing, they do use quite a bit of marketing tools to help people get over the fence. There's, of course, the idea of "buy more, buy cheaper," 90 days money-back guarantee, unnaturally great customer reviews, free shipping, and (best of all) they also offer an exclusive offer for first time customers (if we share our email that is).
So, quite a bit. But to add to that notion of "I need to get this" even more, they also go on about quite many different potential benefits. Which is more than we typically see with any single supplement or consumable product.
I mean, per their words, it's about improving microbiome, digestive health, overall health and wellness, energy levels, weight loss, peak performance, stress response and relieving it, and supporting healthy, high-functioning bodies as we age.
Frankly, it sounds like the perfect product to do in the mornings. At least on the paper. How good is it actually though?
The Core Ingredients Are Nice, They Don't Cover All Bases Though
With the Morning Complete of ActivatedYou it's all about the blends. There's a blend almost for everything, as they say. In total, eight different ones to appeal to our well-being and all of those promised gains. But can they really manage? Yeah, that's a tricky question. But we'll get to that in a bit. For now, let's go over what does it actually contain.
So, per serving (one scoop), the supplement of this review offers 4.05 grams of Prebiotic and High Fiber Blend, 735 milligrams of Green Superfoods Blend, 390 milligrams of Metabolic Enhancing Blend, 100 milligrams of each Antioxidant Blend and Super Balancing Blend, 55 milligrams of Adaptogens, 30 milligrams of Cellular Function and Liver Support, and 10 billion CFU of Probiotic Blend.
And so, as regards to the core of the product, it's pretty evident that it's all mainly about Probiotics and Prebiotics. Those are the most abundant and most relevant bits. Whereas all else are more likely to not bring any significant gains and contributions to overall health. I feel there's just not enough of those to go around.
I mean, don't get me wrong, it's fine to have them added but they certainly are not why we should prefer this one over other capable options like Purely Optimal Probiotics (full review) or New Chapter Probiotic All-Flora (full review).
But to give a bit more insight…
The Prebiotic and High Fiber Blend is about 8-40 times more abundant than what we get in a typical Probiotic-Prebiotic supplements, like Schiff Digestive Advantage Probiotics (full review) or Nutrition Essentials Probiotic (full review). So, in that regard, this definitely is the superior option.
Other than that, the contents here can bring gains to detoxification, weight loss, digestive health, as well as few others. And that's even more the case if we also consider the Green Superfoods Blend and Metabolic Enhancing Blend. Which can also potentially bring a variety of different positives through either of their constituents. I mean, they hold a lot of more than capable ones [R, R, R, R, R, R, R, R, R, R, R, R, R, R, R, R].
Then Antioxidant Blend does exactly that: provides antioxidants, as well as contributes to all of what that entails, like anti-aging, better immune function, improved detoxification, etc. Whereas the Super Balancing Blend seems to me to be for managing and improving blood sugar, blood pressure, triglyceride, and cholesterol levels, as well as promoting immune function and anti-inflammation [R, R, R, R, R, R, R, R, R, R, R, R].
Then, Adaptogens may contribute to easing stress and depression, battling fatigue, improving brain function, boosting immune system and heart health, as well as promoting anti-aging and have other potential gains. And do not forget, to an extent, improved cellular function and liver health through Organic Aloe Vera leaf and Milk Thistle Seed extract. Both pretty straight forward, both adding to what the most previous ingredients in one way or another also contribute to [R, R, R, R, R, R, R, R, R, R].
And then, of course, 10 billion CFU of nine different, capable Probiotic strains. Which is a very decent total amount and solid number of different strains as well. The best practices stipulate that this must be the typical half of what we should preferably get daily. So, it covers the morning routine; we should get another scoop in the evening. Ideally [R, R, R, R, R, R].
There is, however, one aspect of this I'm not so fond of.
Not all Probiotic strains survive the stomach acid well. And thus, preferably they should be delivered in capsules or tablets that can ensure the journey through that. But here we have it as a powder. Hence, nothing to protect them from the effects of stomach acid. And therefore, while many of the strains used here have shown to survive the journey through stomach acid decently well, the gains are still likely unnecessarily diminished [R, R, R, R, R, R, R].
And, frankly, since we don't get introduced to exactly how much of each strain there is in the ActivatedYou Morning Complete, it's impossible to tell. The ultimate usefulness may be (and likely is) well, well, well below what typically 10 billion CFU would empower us with. So, it's not exactly ideal the way I see it.
The Additives Are Not Ideal Either, Is It GMO-Free? Likely No
Additives within any supplement are kind of the "glue" that helps to keep all of the beneficial stuff together. Whereas if we have powders, typically there is no reason for such "glue" within it like we've seen with supplements like Orgain Collagen Peptides (full review) and Ancient Nutrition Keto Collagen (full review). However, this ActivatedYou Morning Complete is not one of those kinds of supplements.
Indeed, despite it being a powder that is advised to use by mixing in with our drink or food, it still uses other ingredients to kind of round it all off.
So, we have Natural Flavors, Guar Gum, Citric Acid, Rice Hull Concentrate, and Monk Fruit extract.
Natural Flavors are highly dependant on the manufacturing quality. To that regard, I don't think the ActivatedYou Morning Complete will disappoint. They do third-party testing on end-products. Which is the highest standard for quality the way I see it.
Guar Gum and Rice Hull Concentrate are harmless. Monk Fruit is a quality sweetener that's actually beneficial. Whereas Citric Acid while is a natural substance tha can be detrimental if overconsumed (a lot of processed foods use it), consumed together with Aluminium (spoons, containers, etc.), or is GMO. The latter of which we can't control and it might actually be the case here because we find not any claims of the product being Non-GMO. At least I didn't [R, R, R, R, R, R, R, R, R, R, R, R, R].
And so, taking all of that into account, I wouldn't say the Morning Complete is ideal as far as the unnecessary additions. Sad.
No Unbiased Customer Reviews & Impossible To Success Rate
If we take a look at the product page of this Activated You product, it's such a typical look as far as customer reviews. Of course, the feedback is overwhelmingly positive there. Even too positive. I mean, I went through every single one of those 489 ActivatedYou Morning Complete reviews they had, not a single 1-star, 2-star, 3-star rating. It's mostly all 5-star with an occasional 4-star.
Which is far too great of a feedback to be the truth. I mean, it reminds me of something like the Skinny Fit Super Youth or the Code Age Multi Collagen where it's likely they edit them. They edit them to fit better with their marketing and selling efforts. Which is fine but it's useless if we're after the truth.
Hence, I did some researching. I intended to basically find everything that I could by all other sellers and retailers.
But to my suprise, there wasn't a single review to be found. There's a complete and utter void. I mean, it seems that the product is not sold anywhere else, not even Amazon or eBay. We can only get it from the official website. Which is really no good for assessing the customer feedback objectively.
So, it's really a mystery. As far as I can tell, there is no reliable way of telling how beneficial the ActivatedYou Morning Complete has been for people and what the global success rate might actually be.
On that note, from a purely marketing perspective, this seems like a good tactic – to be the only ones selling it. And hence, to be able to control 100% of the discussion on it. However, at least in my mind, it does raise quite a bit of suspicion. And it even kind of doesn't make any sense.
I mean, why would they not sell the product everywhere they possibly can if it's really that good?
What do you think?
This Activated You Fits My Idea Of What Scam Is, What Is That Price?
There are an absolute ton of people out there that will try to sell you this. Frankly, despite the many review articles on it like this one, I couldn't find anyone that wouldn't recommend it. And so, I'm kind of going against the grain. Because, personally, I strongly believe that the ActivatedYou Morning Complete is not worth it at all.
Sure, it superficially looks great. It has awesome beneficial ingredients, huge promises (on 100% of which it's likely not to deliver, by the way), supposedly amazing taste, and what else not.
However, many of the blends do not impress. And then, it delivers probiotics in the rawest form where they might not offer any significant gain because they just won't survive stomach acid in sufficient enough numbers. And also, just overall, it doesn't feel sophisticated enough, especially for the price. It feels like a poor attempt at the idea of Probiotics plus Prebiotics with some greens.
And, hence, I believe this is not even a supplement to consider, it's one to avoid. Because despite the quality and third-party testing, it's just wasting and recklessly imploding on what might be much of the supplement's beneficial potential.
And with that price tag, we don't want that. It's crazy. I mean, I would even go as far as to say that it's a scam. The price is just beyond ridiculous.
What makes it even more obnoxious is that there are supplements like Purely Optimal Probiotics (full review) that outclass this at the core of Probiotics and Prebiotics. And then, you can just couple it with something like the Amazing Grass Green Superfood Antioxidant. And have it be about 500% better for 54% of the price (essentially almost half the price).
How do you feel about this one? Do you agree? Let me know down below.
Lastly, I hope this ActivatedYou Morning Complete review helped you find the information you were looking for. See you in the next one.