|  Initial Thoughts  |  Core Ingredients  |  Potential Benefits  |  Additives  |  Success Rate  |  Final Thoughts  |
In this Ancient Nutrition Multi Collagen review, we will specifically and exclusively explore and talk about the Multi Collagen capsule supplement of Ancient Nutrition.
With that, we'll be looking at the various promotional materials. We will be exploring the promises as regards to the benefits. We will be looking at the ingredients. We'll be looking at the actual potential benefits. Then it will be time for additives. Finally, we'll dive into the global success rates and customer reviews.
Some Initial Thoughts On The Multi Collagen And Its Promises
The Ancient Nutrition Multi Collagen is very hard to define in a way that wouldn't replicate the definition I gave to the brand's All-In-One supplement and it's flavored options. Even more so because they don't actually give a different description [R].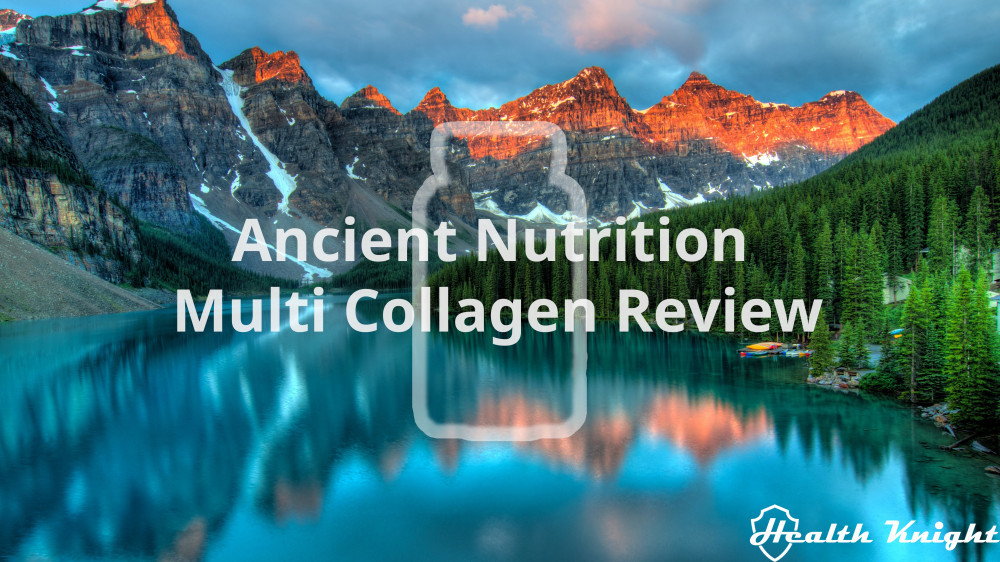 Their description pages are exactly the same. Like THE SAME. Like copy-paste the same (with extremely minute differences). Even too much the same (I'll get into that in a bit).
So, as it's apparent, the idea is completely the same. They saw a place in the market for a supplement that isn't only about one type of Collagen. So, they created one that is of multiple sources: beef, chicken, fish, and eggshell membrane. And in that, a supplement that provides five different types of Collagen: type I, II, III, V, and X.
But they go even a step further.
They also make sure that the Collagen is of the highest quality. Meaning, it's acquired from Non-GMO, pasture-raised, cage-free, and cruelty-free sources. Or in other words, it's the kind of Collagen we would ever want. I mean, the exact opposite of this would pointless and a waste of money.
So, what about the promised benefits?
Well, they're persisting primarily on the typical ones associated with the already many times mentioned the main ingredient. So, it's about hair, skin, and nail health. Additionally, they're also shooting for benefits to gut and joint health, as well as overall health. Of these, the last one can be kind of stretched truth. Isn't that almost anything that gives some kind of benefit also positively impacts our health?
Okay, so what did I mean when I said, "Even too much the same"?
That has to do with them claiming that the supplement is an Award-Winning one. While we did see that to be true with the Multi Collagen Protein of the brand, it's not really the case with this specific capsule alternative. It hasn't been recognized in regard to any of the two rewards [R, R, R].
I mean, sure, Ancient Nutrition is not exactly saying that. They're saying Multi Collagen Protein was the Award-Winning one. However, they're doing that on the Multi Collagen Capsules description page. And while I do understand where they're coming from with this, the very similar supplement names referring to completely different supplements I feel can get the best of many.
I mean, why would someone ever talk about a different supplement on another supplement's description page, especially if it doesn't involve putting it down?
Hence, I believe many might actually be mistaking the Ancient Nutrition Multi Collagen for the Award-Winning Ancient Nutrition Multi Collagen Protein. Therefore, I believe that mentioning the supplement the one of this review is based on is highly inappropriate. And unnecessary. Even more so, because both implement completely different formulas (the difference is not only in the serving size).
Additionally, the supplement's description page also includes a FAQ section and a review section. Also, this Dr. Axe's brand offers a 60-day money-back guarantee. Which does add to the appeal of it.
But let's dissect it ingredient by ingredient.
In Terms Of Collagen, Far Less Abundant Than Its Protein Brother
The Ancient Nutrition Multi Collagen doesn't really fit in either of the most typical Collagen supplement categories. It doesn't add any singular additional nutrients like Garden of Life Collagen, neither is it almost multivitamin-like like the It Works! CollagenWorks. To an extent, it's not even as extremely straight forward as the Youtheory Collagen or the NeoCell Super Collagen.
The Ancient Nutrition Multi Collagen capsules supplement is largely about Collagen but it's mixed in with a number of other substances in the core blend. Namely, it's extremely similar to something like the Code Age Multi Collagen. Which only further adds to this notion that this is extremely different from its Protein brother (hence, again, why the Award-Winning; what is that?).
A single serving which is 3 capsules offers 2,000 milligrams of a mix of Hydrolyzed Bovine Hide Collagen Peptides, Eggshell Membrane Collagen, Organic Ashwagandha Root and Leaf Extract, Calcium Fructoborate, Hydrolyzed Fish Collagen Peptides, Chicken Bone Broth Collagen Concentrate, and Organic Amla Berry Extract.
So, given that it adds three more substances that have nothing to do with Collagen – Ashwagandha, Calcium Fructoborate, Amla Berry – quite honestly it doesn't have much Collagen going for it. Even with three capsules. Which does remind me of supplements like the Doctor's Best Collagen Capsules or AHS Super Collagen.
Still, as we've seen it in the past with those, they can work for people even if they're very scarce. So, I feel while that doesn't define them, it's also probably hard to keep up with some of the other supplements. Supplements that offer 10-20 grams of pure Collagen like the Health Direct AminoSculpt Collagen or Doctor's Best Collagen Powder.
Thus, overall, not that promising.
Theoretical Benefits Look Nice But Not Sure If They'll Manifest
But despite the low key ingredient amount, let's look at some of the potential benefits for all the different ingredients that do get brought to the table by Dr. Axe's Multi Collagen capsules.
So, the core ingredient of Collagen will do what they say it will do. Benefits to skin health, hair, and nails, as well as it will truly help with all the anti-aging aspects of these, especially in the long run. As regards to gut health – maybe, but as far as the joint health goes, there are far better options for that. I mean, a proper Turmeric Curcumin will be far, far more beneficial [R, R, R, R, R].
Ashwagandha is an ancient medicinal herb that has earned quite a bit of popularity recently. And it's really no wonder given its versatile benefit profile. It can help manage stress, improve brain function, imbue anti-cancer properties, reduce anxiety, depression, and cortisol levels, lower blood sugar levels, cholesterol, and triglycerides, as well as just in general help decrease inflammation [R, R, R, R].
Amla Berry, also known as Indian Gooseberry, is something also used these days far more often in various supplements than it used to some time back. It's an extremely sour, yet nutritious fruit that can provide powerful anti-inflammatory, antioxidant, and anti-cancer capabilities, improve brain function, promote liver and heart health, aid digestion, and have a number of other benefits [R, R, R, R].
Whereas Calcium Fructoborate is neither a fruit or a herb. It's actually a naturally occurring Boron derivative often used in both supplements and medicine. In its essence, it's the most capable and the most beneficial Boron form one we'll ever come across; many studies have approved that [R, R, R, R, R].
So, while the containing ingredients are great and they definitely look good, the amounts they're likely in do not. Thus, I feel even if some of these benefits come about, they'll be very limited in their effect.
A Couple Of Great Additives For The Making Of The Supplement
At this point, many reviews would give a little conclusion and call it a day. But we're not like most articles. Additives too are an extremely important factor when it comes to any supplement, especially because the wrong kind ones that be truly devastating and undermine any goal we're trying to reach with the product. And in so, it's a must to discuss.
The Ancient Nutrition Multi Collagen is not big on additives. In truth, it uses very little of these other ingredients.
In this supplement, we will find only one.
Hypromellose.
Some have tried to eagerly coin this as a harmful one. But based on the research I've done, I feel nothing can be further from the truth. In fact, some high-profile researchers even suggest that we're better off having this one in our diet than not having it. And thus, if anything, this is a beneficial ingredient, a great option to add to any product that wouldn't be otherwise possible if not for additives [R, R, R, R, R, R, R, R].
Hence, the Multi Collagen of Ancient Nutrition can be easily consumed without any fear or concern about possible side-effects.
There's Ton Of Evidence It Working But Where Is It Really At?
I love this part of the review. I feel it really gives a broader perspective and sense of what the supplement is and how it performs in the real-life; it kind of brings it to life a little more as well. So, this part's about looking at customer reviews and global success rates.
There are also some on-page reviews that we can find of the Ancient Nutrition Multi Collagen's description page. And those we have to discuss.
Generally speaking, they look solid. At least from the first sight, they seem very unlike what we've seen for Pure Gold Collagen or Skinny Fit Super Youth. Meaning, there's no absence of negative reviews which tends to indicate that these inputs have been adjusted or edited to the manufacturer's liking.
But even with that, I'm not sure if the Ancient Nutrition Multi Collagen reviews haven't been tampered with and honestly reflect how appreciated the supplement has been for its customers. Especially, given what we uncovered in a similar article on the Protein supplements of this same brand.
According to the on-page reviews, out of 335 instances, there have only been two 1-star and six 2-star ratings. Which consequently leaves us at a 97.7% global success rate. Which is bonkers if that were to be completely accurate.
But it's not.
According to all other sellers and retailers, the success percentage is far lower. Like profoundly lower. Out of the total amount of 339 reviews that I was able to find, I encountered 36 negative reviews. Thus, the actual success rate is likely at about 89.4%. Which overall is about the same that we typically find among other viable Collagen supplements.
So, while it may give off the impression that it has been profoundly helpful to very many and that it is better than other similar supplements, the reality I feel is not, however, that bright.
I Don't Think This Ancient Nutrition Thing Is Worth The Investment
So, where does that leave us? Is the Ancient Nutrition Multi Collagen a worthy buy or is it something to rather avoid?
Well, there's nothing inherently bad about the supplement. All of the stuff that it offers; I mean, that's beneficial stuff. From Collagen to Indian Gooseberry to the safe additives that it uses, also the success rate is pretty great.
However, I do think there are other products out there that you can get far better value out of. I mean, this one's cool. But it is kind of scarce in what it provides as far as Collagen goes. And thus, I feel it's quite limited in terms of what benefits it can provide.
Hence, instead, I would highly recommend choosing something like this (full review with a summary) for your hair, skin, and nails. This is what I would go for if I were to add Collagen to my daily regimen. Whereas if it has to be capsules, do look into this one (full review).
Above all, I hope this Ancient Nutrition Multi Collagen review on the capsules supplement helped you find the information you were looking for. Do you feel like trusting this one more just because it's a brand by Dr. Axe? What do you think of them kind of attributing the success of their Multi Collagen Protein to this one as well with the promotional materials (despite those two essentially being completely different supplements)?