In this Botanic Choice Turmeric review, we immerse ourselves into everything that this particular one has to bring to the table.
With that in mind, we will start off by dissecting promotional materials and the claims. This we will continue with having a look at the beneficial ingredients and how they fit into the picture. Then we'll turn our sights to additives, the added extra ingredients to make supplementation convenient. Which we'll transition into exploring customer reviews and global success rates.
Botanic Choice Turmeric Review – Overview & Initial Thoughts
Unlike most supplement manufacturers out there, the Botanic Choice Turmeric doesn't get a definition of sorts. They're more about describing what this supplement can do for us (which we'll get to in a bit) [R].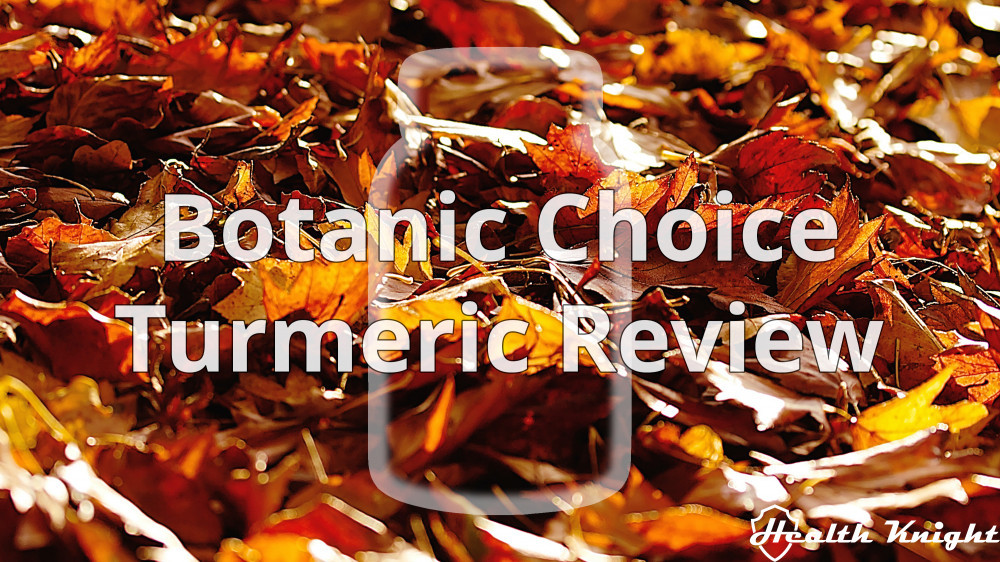 As for the product page itself, this one is extremely brief. Extremely brief. I mean, Nature's Bounty Turmeric-type of brief. I mean, it's a completely different approach after the almost smothering product pages of Smarter Curcumin and PureNature Turmeric Curcumin.
So, it's basically some two sentences on the background of this herb. And then it's three benefits: "Supports joint comfort for smoother movement, Eases stiffness, Delivers powerful antioxidants." That's it. That's the whole page [R].
Well, almost. There is also a customer review section and a customer question section. The former is pretty common with these kinds of pages, brands like NatureWise and Stop Aging Now use them quite extensively, too.
Whereas the latter is something I haven't really observed on the websites of the other manufacturers. But I really like the idea. I wish others would do these, too.
Apart from that, the Turmeric supplement of Botanic Choice is said to be Gluten-Free and Non-GMO.
So, very simple and straight to the point. But is the supplement truly a worthwhile one?
Not Only Is It Miserable Overall But It's Also Low As Far As Amounts
It probably isn't. I mean, the way it approaches things. It's much like it approaches its product page. In a very simple manner. A manner that I would consider far, far too simple.
This Botanic Choice Turmeric doesn't use a patented Curcumin formulation to improve absorption like Terry Naturally Curamin Extra Strength and Terry Naturally CuraMed do. It doesn't even opt for BioPerine or just a Black Pepper extract to improve absorption like Me First Living Turmeric Curcumin and Doctor's Best Curcumin do. No, it doesn't even offer just 95% Curcuminoids like GNC Turmeric Curcumin and Nature's Way Turmeric do.
It's as plain as it can ever be. Per serving, which is one capsule, it offers just 500 milligrams of raw Turmeric powder. Nothing else.
Why is that bad?
Well, for starters, Curcuminoids are not very well absorbed. These are those compounds within Turmeric that we typically see associated with Turmeric benefits. This is exactly the reason why so many manufacturers are crawling out of their skin to get their supplements to contain either improved absorption Curcumin forms or adds some form of absorption enhances to their formulas [R, R, R, R, R, R, R, R, R, R, R, R].
Second, typical raw Turmeric contains very low amounts of Curcuminoids. I mean, it's only about 2-5% with 3% being the most common amount. Thus, not that much of those miraculous substances will we be getting through only 500 milligrams of Turmeric, right [R, R, R, R, R, R, R, R]?
I mean, what is that? About 15 milligrams of Curcuminoids with no form of improved absorption?
With that misery, all of those three benefits that they claim this will supposedly provide are such a longshot. I mean, the way I see it, they're quite impossible. Well, okay, some antioxidant action we'll be getting anyway. But beyond that, it's a waste of time (and money) [R, R, R, R, R, R, R, R].
I mean, at least the Botanic Choice Turmeric could have offered larger amounts of the raw herb like Swanson Turmeric does (not that it would matter but still).
Additives Are More Than Fine Though That's Not What Most Will Tell
So, they didn't quite do well as far as the active stuff goes. Is that the same case for additives? Is the Botanic Choice Turmeric an example like Qunol Liquid Turmeric which uses a couple of likely nasty other ingredients [R, R, R, R, R, R, R, R, R, R]?
No, it's not. It does very decent as far as that goes.
The supplement of this review uses Gelatin, Rice flour, Silicon Dioxide, and Magnesium Stearate.
The only bad thing about Gelatin is that it's likely sourced from pig as that's the cheapest way. Other than that, it's an incredibly beneficial thing. Rice four and Silicon Dioxide are both some of the safest there is. Whereas Magnesium Stearate… Well, it hasn't actually been easy with this one. It's been extremely controversial [R, R, R, R, R, R, R, R, R, R].
I mean, I remember back when I first researched the thing. It was extremely one-sided. It seemed as the whole internet had conspired against it.
"It's cancerous," they said. But the most ridiculous thing was that it all stemmed from a single study done on rats, the conclusions of which do not apply to humans. In fact, babies consume a ton of Stearic Acid (constituent within Magnesium Stearate blamed for all this) through mother's milk. More than we ever could with supplements, ever [R, R, R, R, R].
Fascinating, right?
The Customer Reviews Are Pretty Great; So, Is It Promising?
Checking out customer reviews and assessing global success rates is one of my most favorite aspects. It has a ton to do with and usually gives a pretty good idea of how a supplement is performing in real life. But the most fascinating aspect of it is that we can't really trust it blindly. Or to put it in other words, judge a product only according to those.
So, as I noted earlier, similarly as supplements like PuraThrive Curcumin Gold and Finest Nutrition, this Botanic Choice's Turmeric uses an on-page review section (a review section on its product page). And no surprises there, it's very well-received according to that. As always.
And hence, it doesn't really give us any decent insights into the actual success rate. Mainly because it's a section in full control of the manufacturer and being such a great tool for improving sales, many often take advantage of that.
Which seems to also likely be the case here.
I mean, I took it to all other sellers and retailers. I managed to scramble together a total of 138 Botanic Choice Turmeric reviews. Out of these, 128 were positive (3-star, 4-star, 5-star) and 10 were negative (1-star, 2-star). And that's, by no means, a 100% global success rate as that product page implies.
It's actually 92.8% one. Which, frankly is remarkably given that all this supplement does is some raw Turmeric. Even more so, because there is a whole lot of it.
So, does that make it a worthy to invest in type of supplement?
NOT A Supplement I Would Recommend, EVER
The global success rate may be great. The active ingredient may very superficially look decent. The inactive aspects of the thing may not bring any harmful additions to the table.
However, this is not a supplement I would recommend ever buying. Even more so, because of how extremely inefficient it is and how high the price is for the terribly low value it holds.
Plus, I imagine you're not exactly looking for a raw Turmeric supplement. You're looking for those with the herb associated benefits, am I right? And if so, then going raw turkey will not be the most efficient, beneficial, advantageous approach. Instead, what you need is something a bit more sophisticated to really have a good chance of imbuing those gains.
It's something that supplements like Nutrigold Turmeric Curcumin Gold (in-depth review) and Youtheory Turmeric (in-depth review) can do for you. Also, I've done the research, here's what I strongly believe is the best one (full review), both in terms of ingredients and price.
Above all, I hope this Botanic Choice Turmeric review helped you find the information you were looking for. How do you look at this one? Do you reckon raw Turmeric is better than every other version of the herb out there? Especially, those available with supplements? Let me know below.