|  Initial Thoughts  |  Nutrient Forms  |  Nutrient Amounts  |  Additives  |  Success Rate  |  Final Thoughts  |
In this Centrum Women review, we'll take a look at the supplement from every single angle.
What I mean is that we will go through and discuss all of its ingredients – both the beneficial ones and the inactive ones (additives). We'll look at the amounts and nutrient forms and whether or not these can help you balance out any nutritional gaps. Lastly, we'll also be looking at what other people think about it and the success rate it enjoys.
Initial Thoughts & Claims On Centrum Women
According to the manufacturer, "Centrum® Women is [a supplement] personalized for women to feed your cells and help support energy, immunity, and metabolism. Plus, this multivitamin contains micronutrients to help women maintain a healthy appearance and contains vitamin D for strong bones" [R].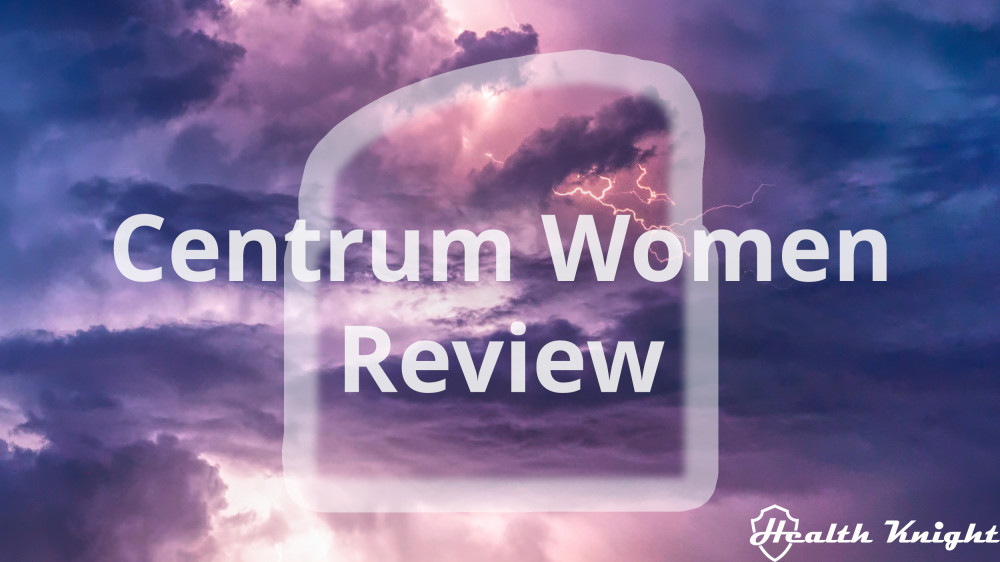 So, in essence, the supplement not only promises you more energy but it also assures to improve your immunity, metabolism, bone health, and even healthy appearance (which the description page does also later emphasize).
The supplement is also said to be free of GMOs (which is a great thing), as well as being gluten-free. Hence people with celiac disease will also (in theory) can take advantage of this.
While the description page itself does not contain a whole lot of information apart from that which I already mentioned, it still takes advantage of some persuasion tactics.
What they stand firm on is that "providing essential micronutrients, Centrum® is backed by 40 years of nutritional science to bring you the most complete multivitamin". Hence implying that Centrum Women will probably be and is one of the best multivitamins on the market [R].
I mean, it's the most complete supplement backed by 40 years of nutritional science. It must be a good one, right?
Well, I used to think that too.
Turns out it's not the story of Centrum Women at all.
Nutrient Forms Are Average Most Of The Time
In essence, the nutrient forms you'll find in Centrum Women are identical to those present in its Men's counterpart. Which can be all in all summed up as something that Centrum is trying to cut costs on.
That said identifying them can be quite a challenge as they are not straight-up written next to each respective ingredient. But rather they just dump every single ingredient in a remarkably confusing and hard-to-follow-along list (I wonder why such choice as most supplements don't do that, it's definitely something very specific only to Centrum vitamins).
For some, a valid question may arise. Why should we bother to identify the exact nutrient forms? Isn't knowing that how much you get (which is mentioned on the label) enough?
Well, no. This is because just knowing the amounts isn't the whole story.
Not all nutrient forms are created equal. Meaning, there are those that absorb superbly, those that absorb well, those that absorb poorly, and those that don't absorb at all (despite them being added to the supplement) [R, R].
So, it rather goes without saying that nutrient forms are one of the most important aspects when it comes to any supplement.
And in this regard, Centrum Women isn't doing a particularly great job (maybe that's the reason why they've chosen this incredibly confusing approach to identify the nutrient forms, or maybe it's to create the impression that they don't matter that much, who knows).
You have stuff like the synthetic Dl-Alpha-Tocopheryl Acetate for vitamin E, which is half as effective as the natural one, Pyridoxine Hydrochloride for vitamin B6, which is nowhere near as beneficial as it's bioavailable counterpart (Pyridoxal-5-Phosphate), as well as other similar examples [R, R, R, R, R, R, R].
In this regard, vitamin A, B1, B2, B3, B7, C, D, K, as well as the form for Potassium, Chromium, and Iodine are all fine.
Whereas everything for Calcium, Magnesium, Iron, Vitamin B5, B9, B12, Copper, Manganese, Molybdenum, Selenium, Zinc, and the already mentioned vitamin B6 and E, are most of the time very poor choices (at the same time stuff like Chloride and Phosphorus are without any need in a multivitamin).
Thus, it's fair to say that there won't be a lot of benefits from these.
Only About Half The Time It Subscribes To 100% Daily Values
But that likely lack of benefits is only further emphasized by the fact that there's just too little of everything within the Centrum Women.
Generally speaking, there are at least two approaches when evaluating vitamin and mineral amounts within any single supplement.
The first is the more traditional approach and it's based around 100% Daily Values. The other one is the more exotic and lesser-known path, which goes by aligning your multivitamin's nutrient amounts with the values defined as the best practices.
Of these two, the approach of 100% Daily Values clearly is the less demanding one. But as for the Centrum Women supplement, it can't even keep up with that.
What I mean is that you literally are going shorthanded to the war with nutritional gaps if you choose this one.
To illustrate, vitamin A, D, E, B5, B6, B7, B9, B12, Iron, Iodine, and Molybdenum are either equal to or above 100% Daily Values. Whereas stuff like vitamin C, K, B1, B2, B3, Zinc, Selenium, Copper, Manganese, and Chromium are below the very minimum of what you should have.
In this regard, it, however, must be mentioned that also Calcium and Magnesium are below 100% but that's pretty common among multivitamins (so, I refrained from putting emphasis on that as being bad).
Same goes for Phosphorus, Chloride, and Potassium (getting 100% for these out of a supplement alone are likely to be detrimental, so, again, this is not bad).
Overall, though, there's nothing really awesome or worth commending when it comes to Centrum Women.
It's very, very average in all that it offers and do.
But it's beyond worse when also additives come into the picture.
Cancer, Digestive Problems, Lung & Brain Damage
Additives or the other ingredients are ingredients mainly added to make supplementation possible at all and sometimes to give certain properties to the capsules, tablets or any other delivery form, like color, taste or release timing.
Hence, although they are not there to directly provide any benefits, they are still very important.
On that note, not every additive will be a harmless one. Thus, it's really important to do the research before deciding on a particular supplement.
When looking at the additives for the Centrum Women, we again find ourselves at their confusing ingredient list.
No worries, I'll simplify it. This supplement contains the following additives.
Calcium Carbonate, Dibasic Calcium Phosphate, Microcrystalline Cellulose, Maltodextrin, Crospovidone, BHT, Blue 2 Lake, Corn Starch, Gelatin, Lecithin (soy), Magnesium Stearate, Modified Corn Starch, Polyethylene Glycol, Polyvinyl Alcohol, Red 40 Lake, Silicon Dioxide, Sodium Ascorbate, Talc, Titanium Dioxide, Tocopherols, and Yellow 6 Lake.
Of which Calcium Carbonate, Dibasic Calcium Phosphate, Sodium Ascorbate, and Tocopherols can be both the beneficial substance used to deliver a mineral or vitamin or the additive.
Either way, it's likely that we're looking at 21 different additives for a single multivitamin.
To put that into perspective, the best conventional multivitamins for men or women, or the unconventional ones typically have 3-4 additives per supplement. No more than 5.
So, how's 4-7 times the variety of additives to your liking?
I mean, I personally would be fine with that. But only if all of them were at least harmless. With this particular supplement, however, that is NOT the case at all.
Red 40 Lake, Blue 2 Lake, and Yellow 6 Lake are artificial colors. Colors that are associated with a wide range of different cancers, all kinds of unpleasant behaviors in children, as well as hyperactivity and irritability [R, R, R, R, R, R, R, R].
Then there's another color known as Titanium Dioxide. The main problem with this one is that it likely comes in the form of nanoparticles, which is too small to be effectively filtered by our bodies. Thus, may result in lung damage, liver damage, even potentially brain damage, as well as other organ damage [R, R, R, R, R, R, R, R].
Another likely harmful one is Talc. I mean, it has been hotly debated whether or not this causes cancer. However, given that far, far more court cases have been won proving this correlation than not, I would suggest avoiding it in all products – be it food, supplement, skincare or baby products [R, R, R, R, R, R, R, R, R, R, R, R, R, R].
As for Corn Starch and its Modified counterpart, these can not only cause digestive problems in general but they can also inhibit the absorption of the very minerals you are trying to add to your routine through supplements (like Centrum Women) [R, R, R, R, R, R, R, R, R, R, R, R, R].
In the supplement you also get Maltodextrin. It's a hidden sugar that spikes blood sugar levels. And thus, not only can it harm your health as exactly that but also it has the potential to cause such additional side effects as sudden headaches, rash, bloating, difficulty breathing, weakened immunity, diarrhea, and a few more [R, R, R, R, R, R, R, R, R, R, R].
Like this wasn't already enough to never waste your money on the Centrum Women, I do feel there might be other dangers here as well [R, R, R, R, R, R, R, R, R, R, R, R, R, R, R].
But, how do you feel about the supplement?
Would you agree that there are just too many potential side effects/dangers there?
I mean, surely it's not a mark of a great supplement, right?
Well, but there's a very interesting borderline controversial aspect about it.
The success rates.
What Is This High Success Rate? How Did That Happen?
Success rates are not always that straight forward. There are many aspects that can influence them. Moreover, a good success rate alone does not indicate a high-value supplement.
And that is exactly the case with Centrum Women.
Taking a comprehensive look at every single real customer review I could find online revealed that this supplement, in fact, is a very well-received one. Or to be exact, at least 90% of people, who bought it, enjoyed it.
So, are we missing something here?
Well, not necessarily.
Even essentially bad and harmful (or partly harmful) supplements have been proven to at times enjoy high success rates [R, R, R, R, R].
I mean, let's be real here. 
Despite the harmful substances in Centrum Women, it still has a few useful ones. And those nutrients that it does have (though most of the time in insufficient amounts) can still account for a benefit.
Furthermore, it's not like you'll develop cancer overnight by using the supplement. Instead, the Artificial colors and Talc can effectively contribute to acquiring such a condition over time (same for the others).
Moreover, high success rates might also be the case of superior marketing practices. To me, "backed by 40 years of nutritional science to bring you the most complete multivitamin" sounds pretty convincing [R].
And not going into details or the details being too confusing to follow along (which this definitely is the case for a typical consumer) can definitely contribute to more sales.
So, even though they might not be creating the absolute best and beneficial supplements around, they are pretty smart at leveraging that what they can do. Marketing.
They're rather "backed by 40 years of awesome & superior marketing to bring you the most complete multivitamin".
In that sense, there's a great rule to always follow when it comes to assessing global success rates.
They only really matter if a supplement itself contains zero potentially hazardous and harmful substances.
So, don't let those customer reviews convince you of the Centrum Women being a viable one.
Don't Succumb To Superior Marketing
There is NOT much to love about the Centrum Women.
The vitamin and mineral forms are mostly average, the nutrient amounts about half the time fall short of 100% Daily Values. Plus, the additives themselves pose an absolute abundance of risks.
Still, the supplement miraculously enjoys a global success rate likely higher than 90%. Which can only be explained by Centrum's amazing marketing practices.
I mean, the supplement couldn't be more average in every single aspect and yet it enjoys a success rate higher than many truly beneficial supplements.
Don't succumb to those marketing practices, my friend.
Many, many people have.
Don't be one of them.
On that note, if you're interested in multivitamins for women that can truly benefit your health through solid just everything (and zero harmful stuff), take a look at this article right here.
Above all, I hope this Centrum Women review helped you find the information you were looking for.