|  Initial Thoughts  |  Core Ingredients  |  Benefits  |  Nutrient Forms  |  Additives  |  Other Supplement Versions: Original, Chocolate, Cherry, Mango  |  Success Rates  |  Final Thoughts  |
This Health Direct AminoSculpt Collagen review is fully dedicated to uncovering every aspect of every variation of the supplement.
In the process, we will make sure we take a look at all the promotional materials. We look at all the ingredients (active and inactive ones) and claims, as well as global success rates and customer reviews, too.
While this article primarily focuses on the energy version of the supplement as it's seemingly the most advanced one, it also goes in detail on the original version and the sugar-free ones in separate sections.
It's Not Just A Couple Of Sentences; A Decent Amount Of Info On The AminoSculpt
Many manufacturers prefer not to oversaturate their supplement description pages as we've seen with Youtheory Collagen or NeoCell Super Collagen. Whereas others go ham and provide hours worth of reading, like we've encountered with Skinny Fit Super Youth, or are just unkempt all throughout, like that of AHS Super Collagen.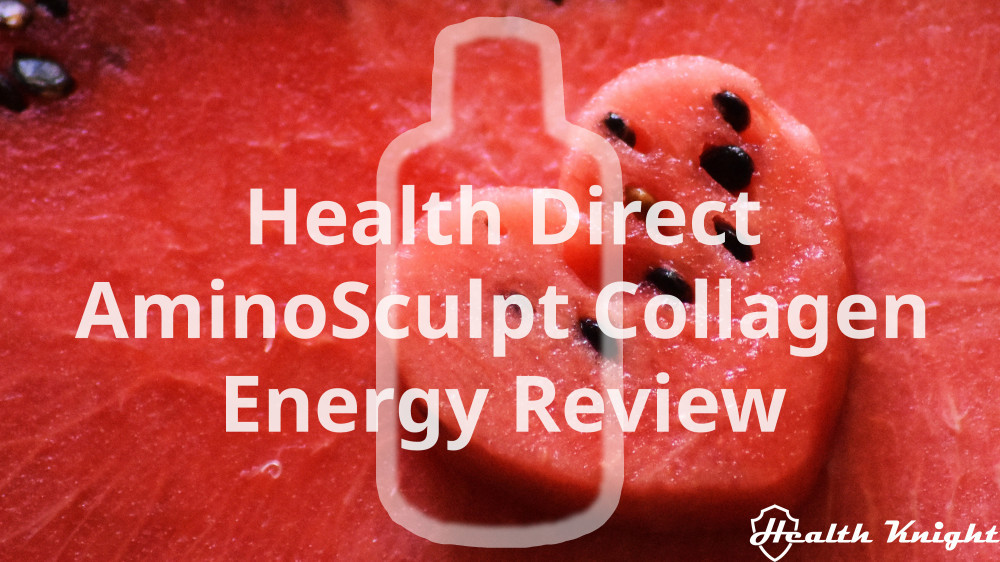 To that end, the Health Direct AminoSculpt Collagen (Energy) is somewhere between the first two [R].
While it does provide quite a lot of info, it's without the burden of appearing heavily salesy. Which is the case with most manufacturers that are trying to oversell.
According to the manufacturer, Amino Sculpt Collagen is a supplement fully about assisting you in jumpstarting your day. It's filled with a bunch of "energy-boosting vitamins, minerals, amino acids and antioxidants", whereas, at its core, it provides, as they put it, "a healthy dose of medical-grade collagen protein" [R].
Thus, the claimed benefits largely revolve around improved energy levels that are done without caffeine or any other stimulants. Additionally, it's also said to improve endurance during exercise, enhance body toning, promote endurance recovery, healthy blood circulation, joint and bone health, and tissue repair.
Of course, the supplement also gets associated with the typical collagen benefits, like better hair health, stronger nails, and improved overall skin health.
I personally love the fact that they are very transparent in the sense that there's no heavy searching for supplement facts, full ingredient list and things like that.
There's a whole section devoted to why the Health Direct AminoSculpt Collagen is special, which holds a few compelling reasons as to why it's worth a while. We will explore this more in detail in the section covering the ingredients.
Other than that, they also offer a satisfaction guarantee. Which is somewhat similar to the one we encountered in It Works! CollagenWorks. Meaning, although they do promise money back, that's only of what is deducted after shipping and handling expenses. As regards to which nothing is further explained (handling & shipping?? how much??). Plus, they also want your reason for sending the product back.
So, by no means, it's a no-questions-asked money-back guarantee.
As for allergens, the supplement is said to be Kosher certified, Gluten-Free, Dairy-Free, High-Fructose-Corn-Syrup-Free, Caffeine-Free, Egg-Free, Soy-Free, Nuts-Free, Fish-Free, Sodium Benzoate, Whey-Free, Artificial-Colors-Free, Artificial-Flavors-Free, Artificial-Sweeteners-Free, and Sugar-Free.
Typical per description pages, to increase the sales, they also offer a discount if you buy multiple right off the bat. Other than that, the supplements are said to be Watermelon Punch flavored.
Hence, superficially quite solid. Let's take it a level deeper.
A Special Kind Of Collagen Or Is It?
So, as the description page suggests, the Health Direct AminoSculpt Collagen is not solely about the Collagen. It adds also quite a bit of vitamins, minerals, and other substances, similarly as supplements like Applied Nutrition Liquid Collagen.
A serving size or 2 tablespoons of the supplement of this review contains 10 grams of 10,000 milligrams of Collagen Peptides. There's also 1000 mcg of vitamin B12, 1000 IU of vitamin D, 200 mg of Magnesium, 350 mg of Potassium, and 1.075 g of Proprietary Energy Blend that consists of L‐Citrulline, CAPROS® Amla extract, Pomegranate extract, and Red Orange extract.
As for the Collagen, it's said to be of a special kind.
What they promote is that AminoSculpt Collagen is made out of "exclusive liquid collagen peptides [that] build all 28 types of collagen in your body. This includes all popular types like I, II, III, IV, V, and X." Then there's also this notion of "The Original Medical-Grade Collagen: Contains the only Type 1 Collagen backed by 40 years of medical use and clinical research" [R].
So, they're not saying that the Collagen in the supplement is of all types, rather that it contains a Collagen type or types that can be molded into any Collagen type by the body. However, the bigger claim is that of there being an original Medical-Grade Collagen. If unique, then it must be patented. Which to me does introduce some confusion.
I mean, the info they provide is so unconvincing in this regard as it does not contain a single reference to relevant research about the whole effectiveness that they claim (by their words, "Superior Bioavailability" and everything). Which if they don't care to do, I don't see why we should care about their "difference" either.
To make matters more mysterious, I tried plugging in every single variation of the phrase "AminoSculpt (Collagen)" in PubMed and Google Scholar [R, R, R, R, R].
And guess what?
I couldn't find anything relevant to the supposedly patented Collagen formulation (for CollaPure, I didn't get any relevant results either). Which makes me wonder? There probably is somewhere some relevant research that maybe shows the legitimacy of the claims made by Health Direct. However, if manufacturers want to use such claims, I don't see why they can't properly reference it, especially when it's some rather underground research not available on PubMed and even, as far as I can tell, essentially invisible to Google Scholar.
To me, that makes no sense. And like anyone, I'm tempted to just assume that all of their fluff and supposed superiority is just a form of exaggerated claims. Which we've seen supplement manufacturer's being rather guilty of so often [R, R, R, R, R, R, R, R, R, R, R, R, R].
So, should you trust that this is a truly superior form of your typical Collagen?
Well, I wouldn't. And I would suggest you shouldn't either. At least until they add proper references to relevant research that make their assertions more than just empty words.
Benefits Seem To Fully Correspond To Original Claims, But There's Somewhat Of A Twist
Generally, all of the claims do fit the potential benefits in one way or another. However, there is an aspect of this that I find terribly interesting. A twist if you will.
So, the supplement persists on this notion that it's an incredible way to start your day, that it will provide a jumpstart to your energy levels. However, Collagen is not really a beneficial substance to do it.
I mean, sure, it's rather well known for the benefits to hair, skin, and nail health, even joint, teeth, muscle, and bone health but energy specifically is not something exactly in its toolbox [R, R, R, R, R].
What does, however, provide a proper surge of energy is vitamin B12. And it's quite an abundance in the AminoSculpt Collagen of Health Direct. Vitamin D can also contribute to this quite a bit. And so can the added Proprietary Energy Blend.
Which brings me to its ingredients.
L‐Citrulline is a non-essential amino acid, which when additionally supplemented can help improve energy levels, increase exercise performance, lowers blood pressure, promotes heart health, improve growth hormone levels, reduce inflammation and depression, aid brain function, as well positively contribute in a number of other ways [R, R, R, R, R, R, R, R, R, R].
CAPROS® Amla is a standardized aqueous extract of the edible fruit of Phyllanthus Emblica. It's known to possess incredible antioxidant and anti-inflammatory properties, good for improving cholesterol and triglyceride levels, aiding digestion, immune function, controlling diabetes, as well as among other effects is said to provide synergistic effects when coupled with extracts like ones we have here: Pomegranate and Red Orange [R, R, R, R, R].
So, likely that they can deliver. But given the vitamin B12 amounts and form, they really don't. Because that will alone boost your energy levels quite noticeably.
Which brings me to the aspect of nutrient forms.
The Added Nutrient Forms Are Rather Solid But I Feel There Is A Slight Issue
Nutrient forms are a tricky thing. Most people don't realize that what labels often say is not exactly what you get. Namely, the beneficialness of a nutrient is largely determined not only by the amounts but also by the form that it's added in.
For example, 200 mg of Magnesium Orotate will be incredibly beneficial; whereas 200 mg of Magnesium Oxide will be barely beneficial. Too few recognize this aspect. The bottom line, we always want powerful and well-absorbed nutrient forms for our vitamins and minerals to get the most out of them (and for our buck) [R, R, R, R].
In this regard, the AminoSculpt Collagen is not a bad supplement at all (but it will not replace a proper multivitamin).
Vitamin B12 comes in one of its natural forms. So too does vitamin D. Whereas while more effective Magnesium forms exist, the Citrate version is solid enough. Potassium form is also all good [R, R, R, R, R, R, R, R, R, R, R, R, R, R, R, R, R].
What is not, however, that good: the amounts of Potassium that the supplement brings to the table.
Here's what I mean.
Many high-profile doctors strongly advocate against ever supplementing with more than 99 mg per day of Potassium. This is mainly because an overdose of this otherwise crucial mineral can be absolutely devastating and typically our diets should provide more than enough [R, R, R, R, R].
Although an argument could be made for the necessity of it due to the wide existing deficiencies, I wouldn't suggest going so bold on the mineral, still. It may backfire very fast (likely not in a month or two though) [R, R, R, R, R].
This is one of those essential nutrients that you rather make sure you're getting through diet by eating enough vegetables and fruits. Supplements ever higher than 100 mg a day, I feel, are only fine if you're battling serious deficiency.
Which does kind of beg the question if we should ever do this Health Direct Collagen supplement.
Not Having Sugar Is Great; There Is One Other Likely "But" Though
Now, active ingredients out of the way, let's jump into the additives. This is the part of the supplement that is so under-discussed. But any ingredient here can affect your health just like any beneficial one.
The Health Direct AminoSculpt Collagen brings 7 different ones to the table.
There's Filtered Water, Malic Acid, Natural Watermelon Flavor, Natural Pomegranate Flavor, Stevia Extract, Polylysine, and Potassium Sorbate.
I'm completely fine with the first, second, fifth, and sixth. And flavors should likely also be at least somewhat fine as they create supplements their supplement in an NSF registered facility. Though more info on the kind of quality Health Direct subscribes to would be useful [R, R, R, R, R, R, R].
What I'm not so keen on is the additive that's added to preserve freshness and prolong shelf life. Potassium Sorbate.
Some suggest that the toxicity of Potassium Sorbate is, per their words, akin that to table salt, yet they list potential side-effects of nausea, diarrhea, nutrient deficiencies, eye irritation, burning and itchy rashes, skin allergies, abdominal pain, and above, all kinds of allergic reactions. But in my mind, that's very far beyond "side-effects" of salt [R, R, R].
Whereas others are pretty confident that this is an undesirable additive. Mainly because studies have shown that they damage white blood cells and with that gene information gets damaged and thus, can lead to mutations and cancer. Plus, the thing can also cause DNA damage. I mean, none of these I feel are something rather desirable [R, R, R, R, R, R, R].
Hence, I feel it's much safer to just avoid this one. And not just in supplements but rather anything you plan on consuming, especially long-term. Or, to the very least, extremely limit the amount you're consuming (as it's in so many processed foods).
Discussing The Less Powerful Variations Of The Supplement
Generally speaking, the original version (coming in original cherry) and three sugar-free ones (one in chocolate raspberry, one in tart cherry, and another one in smooth mango) all four are just stripped-down versions of the same supplement we've been talking about this entire review.
Here's more in detail of what exactly do I mean.
Health Direct AminoSculpt Collagen Original (Review) – Plagued By Very Harmful Sugar Form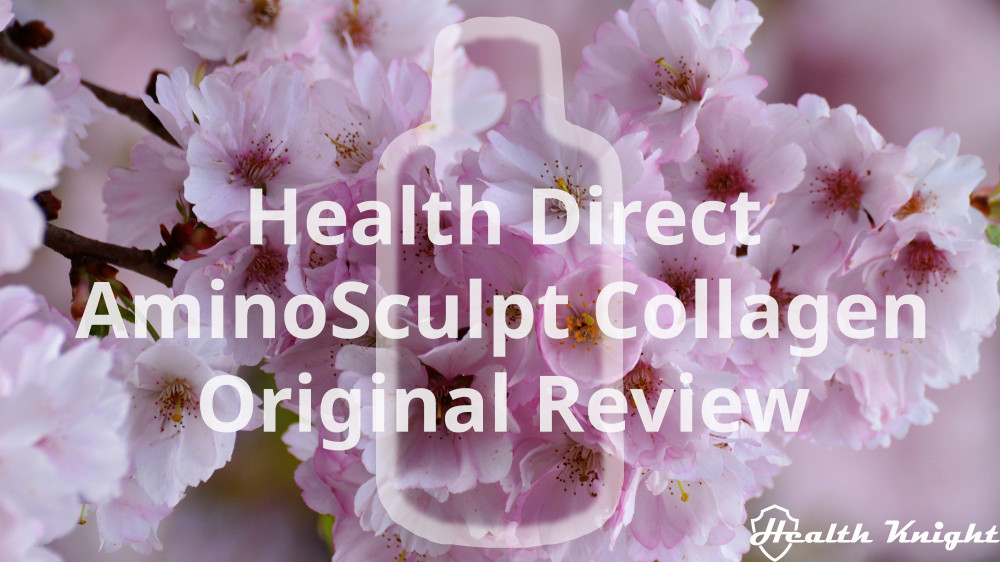 The Original version of Health Direct AminoSculpt offers quite a bit more Collagen. Or to be exact, 16 grams or 16,000 milligrams. Which is quite a solid number. On that note, it doesn't add any other nutrients or beneficial substances like the Aminosculpt Energy does [R].
I'll tell you though, what it does add.
Sugar.
Proper 10 grams of sugar per two tablespoons of serving. And not just any sugar; sugar in arguably the worst form possible.
So, one of the additives that the original version uses is low-glycemic Fructose. Which may sound almost harmless because "low-glycemic," right?
I don't think so.
Unless there's some kind of weird science that I'm completely unaware of, it doesn't matter if you specifically mention that Fructose is low-glycemic. I mean, it typically counts as low-glycemic anyway [R, R, R].
The problem is that while they do boast about having no High-Fructose Corn Syrup in their supplements, Fructose is not much better. In fact, it's essentially the very culprit of why High-Fructose Corn Syrup is so incredibly toxic in the first place. And other times fructose is actually used as the masking name for this true havoc bringing additive [R, R, R, R, R, R].
To name a few, it can bring obesity, diabetes, eating disorders, leaky gut, heart disease, liver damage, depression, coronary artery disease, high blood pressure, and even cancer, as well as it can just make you stupid [R, R, R, R, R, R, R, R, R, R, R, R, R, R, R].
Not something we typically have in mind when we're shopping for a supplement, I bet. This form of sugar is only okay as long as we're getting it from fruits. Otherwise, avoid it and any products containing it like the plague.
Additionally, there are also a few dangers regarding the Citric Acid [R, R, R, R, R, R, R, R, R, R, R, R, R].
Health Direct AminoSculpt Collagen Sugar-Free Chocolate Raspberry (Review) – Likely The Most Viable Of The Brand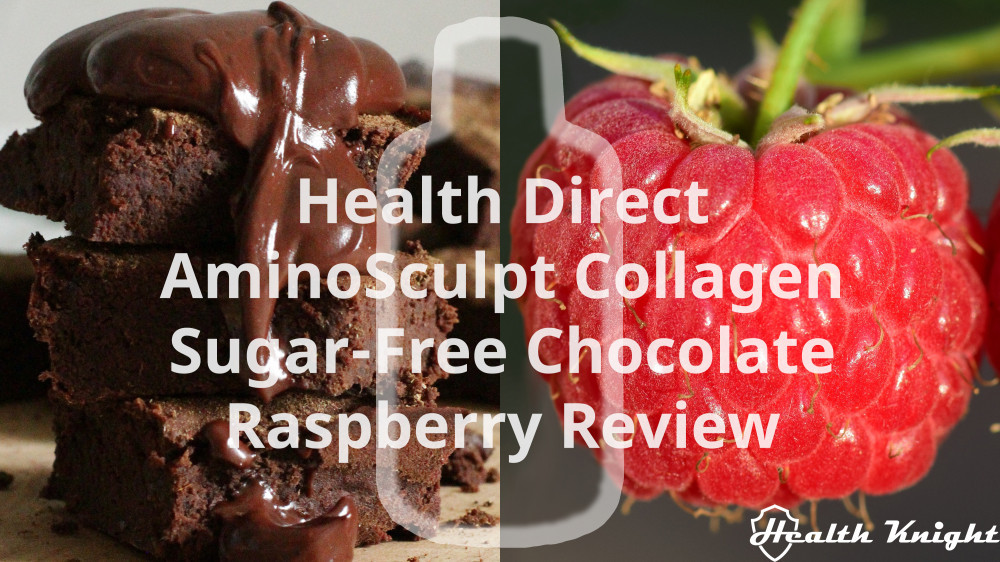 The Health Direct AminoSculpt Sugar-Free Chocolate Raspberry is just like the original version in terms of the beneficial substances, but almost nothing like it when it comes to the additives. So, no extra nutrients or beneficial substances in this one either [R].
Or to put it in other words, it offers 16 grams or 16,000 milligrams of Collagen and nothing else. It even doesn't use sugar. Instead, there's the natural and healthy sweetening option of Stevia.
Apart from that, this sugar-free version for its additives uses Filtered Water, Vegetable Glycerin, Malic Acid, Natural Chocolate and Raspberry Flavor, Polylysine, and Potassium Sorbate.
Of the ones that we did not already discuss for the Health Direct AminoSculpt Collagen Energy, Vegetable Glycerin is a fine one. No need to ever avoid that.
Still, there's the same issue of Potassium Sorbate.
Health Direct AminoSculpt Collagen Sugar-Free Tart Cherry (Review) – Just Flavored Differently; Nothing Else To It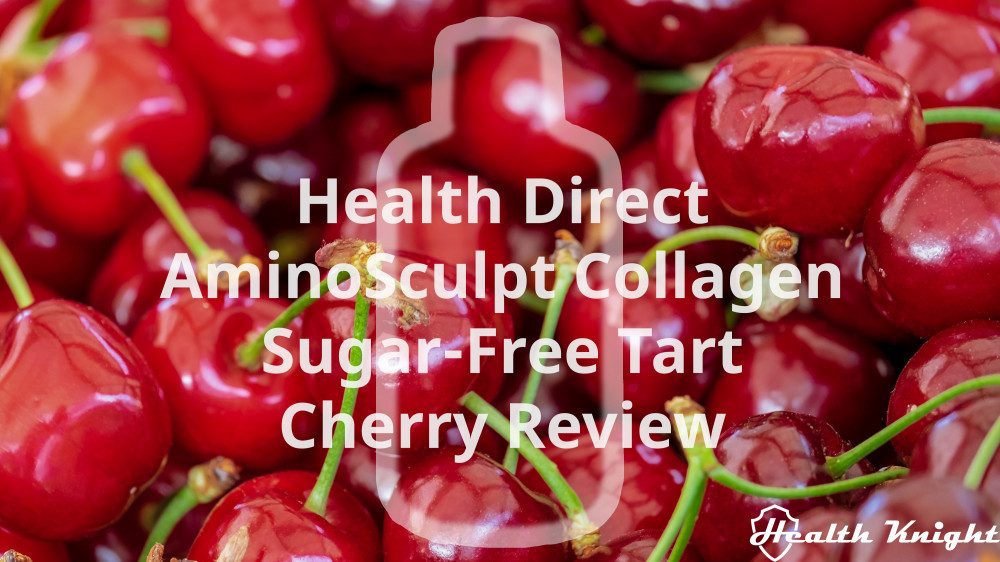 Similarly, as it was with the Chocolate Raspberry version, also the Health Direct AminoSculpt Sugar-Free Tart Cherry employs the significant advantage over the original of having no sugar or other harmful forms of substance sweetening [R].
The supplement offers the same amount of Collagen (16 grams or 16,000 milligrams) and doesn't bring any additional beneficial stuff to the table.
The only real difference between this and the chocolate raspberry flavored version is a simple, very minute aspect of additives.
Tart Cherry employs Filtered Water, Vegetable Glycerin, Malic Acid, Natural Flavors, Stevia Extract, Polylysine, and Potassium Sorbate.
Hence, the only real difference lies in the flavors used.
And, again, Potassium Sorbate. Something to avoid.
Health Direct AminoSculpt Collagen Sugar-Free Smooth Mango (Review) – Again, Just Some Different Flavors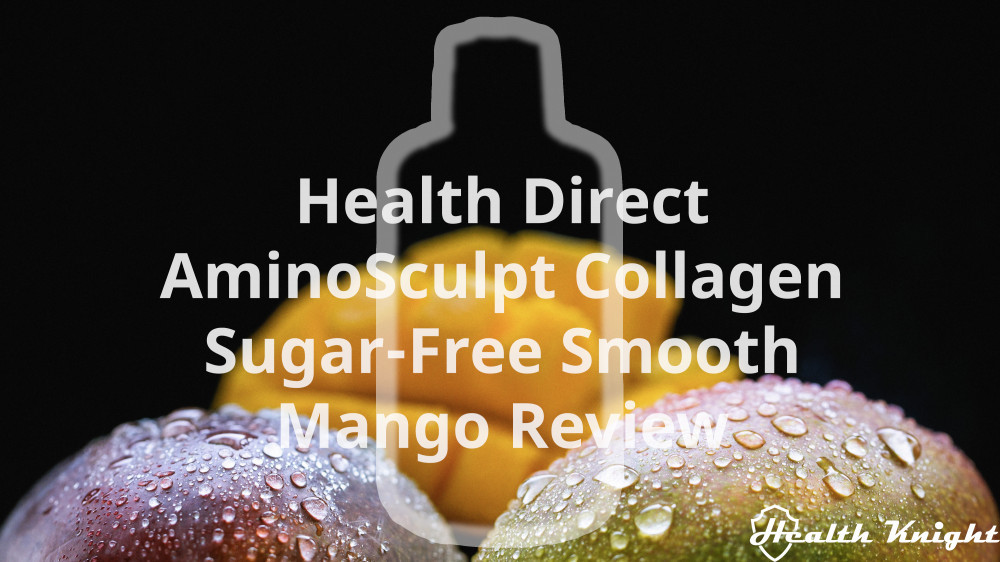 Lastly, let's discuss the differences between the Health Direct AminoSculpt Sugar-Free Smooth Mango and all other supplements of the AminoSculpt brand [R].
Again, there really isn't much to discuss.
This supplement provides as much of Collagen as any of its counterparts (16 grams or 16,000 milligrams). Similarly, it doesn't also go into additional nutrients or beneficial substances like the AminoSculpt Collagen Energy does.
And last, of all, it doesn't change anything but the flavors in terms of the additives when compared directly to it's Sugar-Free brothers.
Natural Mango Flavor is what they use to get to create that notion of Smooth Mango.
Above all though, this is one is also something plagued by Potassium Sorbate.
Overall Success Rates Seem Decent; For AminoSculpt Collagen Energy, Too Early To Tell
So, in total, we have five supplements that can be associated with the Health Direct AminoSculpt brand. There's the Collagen Energy (what this review is mostly about), the Original, and three differently flavored Sugar-Free versions.
Now, let's see how well-received each of the supplement variations exactly is.
Conducting an extremely comprehensive study on every single real customer review I could find online revealed the following.
Collagen Energy is the one most scarcely reviewed of the brand. Likely because it's really new to the market. Out of a total of 27 reviews that I was able to find, 5 were 1- and 2-star ratings. Thus, while I would prefer to say that it's too early to tell (not enough reviewed yet), it seems that the global success rate might be of 81.5%.
To that end, it's a completely different story with the AminoSculpt Collagen Original. It's been around for a while and thus, has way more reviews to its name. I was able to find a total number of 315 of which 44 were negative. Hence, a global success rate of 86.0%. Which is the second highest of all Amino Sculpt supplements.
Which is the highest of all? It's the Chocolate Raspberry flavor version of the Sugar-Free variations of Health Direct AminoSculpt. For this, I managed to come across 565 reviews of which 75 were negative. And that leaves us at a global success rate of 86.6%.
As for the last two, there's a pretty significant drop, which is still higher than the estimated for the Collagen Energy.
For Tart Cherry, there were 397 reviews of which 69 were bad. Whereas for Smooth Mango, it was the case of 338 positive and 70 who wouldn't buy again. Hence, global success rates of 82.6% and 82.8%, respectively.
To sum that all up, all across the AminoSculpt Collagen brand of 1,028 reviews I found 147 to be critical (reviews did overlap for Sugar-Free supplements), which leaves us at the average global success rate of around 85.7%. Which, on that note, is likely even higher than that as people typically are more prone to reporting negative experiences than positive ones.
At the end of the day, it's hard to deny that many people have truly liked and enjoyed the brand. But does that actually matter?
Not really. Sure, it, to an extent, is the perfect reflection of how effective and beneficial a supplement is most of the time. But I feel the success rates only really matter if the supplement ingredients (every single one of them) are nothing but harmless or beneficial.
Which, for the time being, is not 100% attributable to any of Health Direct AminoSculpt Collagen supplements.
Overall: An Extremely Expensive, Not That Much Value Stuff
The beneficial ingredients that each of the Health Direct Amino Sculpt Collagen supplements uses are solid. However, I feel neither of them comes without their own flaws.
While Sugar-Free versions struggle with additives, the Collagen Energy version I feel also does offer way too much Potassium to the daily mix. And thus, long-term-wise may really be a no solution at all.
Whereas, as I see it, the Original AminoSculpt is the potentially most harmful of them all due to adding one of the worst forms of processed sugar. Which will anything but contribute to your long-term health. Instead, it will likely deteriorate it.
But above all, there's also the aspect that we haven't quite touched upon yet. Which is the price.
$62.65 for a 30 days worth of Collagen (for any of the supplements) I'd say is beyond extremely expensive. I mean, for that price, it should be the absolute ideal, perfect, unparalleled supplement. But that's not the case at all as we've discussed throughout this review.
Plus, honestly, I would prefer the Live Conscious (LiveWell) Collagen Peptides (full review with a summary) any time of the day over this one. And it's half the price. Thus, if you're in for all of those Collagen benefits, Garden of Life is something you might want to look into. Whereas if you're after more energy and vitality in your daily life, I feel nothing does it better than a proper multivitamin supplement. I've personally had enormous success with that.
Above all, I hope this Health Direct AminoSculpt Collagen review on all five of its variations helped you find the information you were looking for. Which do you believe is the absolute worst supplement on the brand? Would you consume it though, say, if you'd get paid to do it and post it on social media? For how much would you? Let me know below.