|  Claims  |  Core Ingredients  |  Benefits  |  Additives  |  Success Rate  |  Final Thoughts  |
This Life Extension Curcumin Elite review is devoted to exploring and learning all that there is to learn about this particular supplement.
And in order to properly do that, we will first, discuss the claims. After that, we'll examine the beneficial ingredients and how capable they are and thus, a section after that – all about the potential benefits. Finally, we'll also look into the most overlooked aspect of any supplement – additives. As well as we'll look at the global success rates and compare them to their most viable rivals.
Claims & Initial Thoughts For Life Extension Curcumin Elite
According to the manufacturer, Life Extension Curcumin Elite is a non-GMO, vegetarian supplement that "delivers over 5 times more highly-bioavailable free curcuminoids (and 270 times better absorption of total curcuminoids) than standard curcuminoids", thus making it as they put it "our best ever" [R].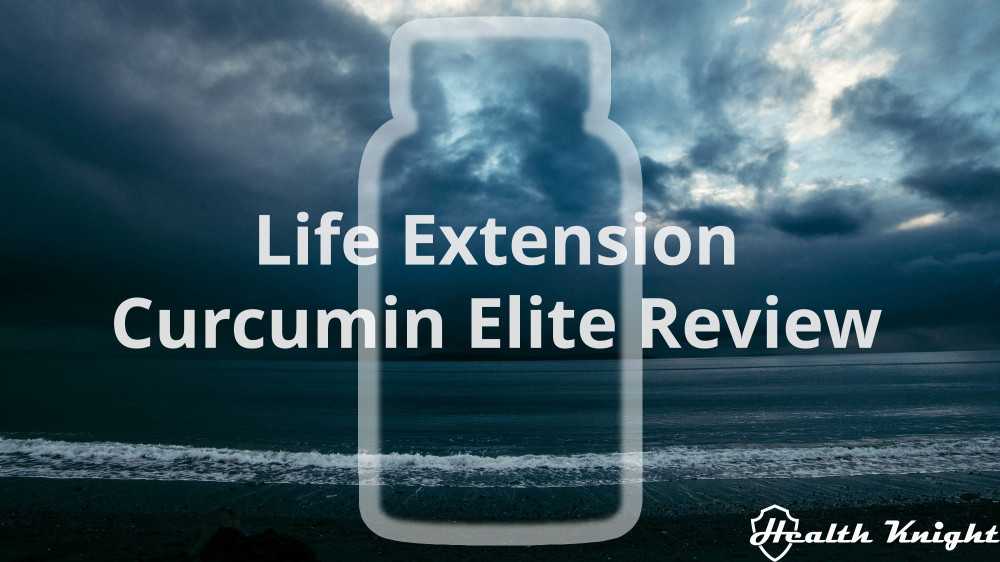 Overall, the description page they offer for this supplement is a very characteristic one to the others of Life Extension (like we've already seen with something like the Super Bio-Curcumin).
They don't overhype anything, they don't make bizarre and controversial claims. Neither are they trying very hard to sell the supplement (and in that use shady selling tactics). Instead, they provide the most core information necessary for anyone that is considering the supplement.
Moreover, they do what most other manufacturers don't.
They provide solid references for every single claim they make (which we will explore further throughout this Life Extension Curcumin Elite review).
As for the structure of the description page, right off the bat, you're given the product image and some highlights of the product, this is followed by a section of frequently bought together, overview, benefits, why Life Extension, product details, references, supplement facts, reviews, and Q&A.
In this regard, most of the sections are as straight forward as their respective names. Of these, reviews seem to not be rigged or modified to make the manufacturer look better like we have seen for brands like Vimerson Health or Bio Schwartz. Whereas in the Q&A you get to ask questions that will get answered by the manufacturer itself.
As far as the claims go, the product is promised to help reduce inflammation, promote brain and immune system health, improve digestion, joint, as well as pancreatic health while also being an amazing support for your cells in fighting off free radicals.
But arguably the most iconic claim about the supplement (which I kind of mentioned in the very first paragraph of this section) is that of it being 45.5 times more capable, bioavailable, beneficial than your typical standard curcumin supplement.
Thus, as far as I'm concerned, the Life Extension Curcumin Elite checks every single box to be an amazing Turmeric Curcumin supplement.
But is that truly the case also when we look far beyond just the promotional materials?
Is The Supplement Truly 45.5 Times More Capable Than Standard?
When we look at the core ingredients of the Life Extension Curcumin Elite, it's said to contain 500 milligrams of Curcumin Elite™ Proprietary CGM Blend. Not something you'll probably ever see in other brands.
So, what does that entail?
As they note, the Curcumin Elite™ Proprietary CGM Blend consists of 40% Curcuminoids, 3% Turmerones, and 30% Galactomannans.
So, what about that remaining 27%? Well, those are likely some additional ingredients that they do not disclose, hence, making sure their essentially patented blend can't be easily copied by other manufacturers.
But be that as it may, what they essentially attribute this 45.5-fold improved absorption is the Fenugreek. Or rather some isolated Fenugreek fibers, meaning, it's not the whole herb with its respective Saponins, Alkaloids, Flavonoids, and other compounds. As they note it, it's only the Galactomannans that get added from it [R].
So, is this Curcumin formulation truly as capable as they claim it to be?
As far as I can tell, relevant research does support this fact [R, R].
Which to me is fascinating.
Especially because as it seems they have found a way to improve Curcuminoid absorption over the rather similar Curcumin formulation called CurQfen (15.8 times better than standard curcumin) [R, R].
It is also a Curcumin form that improves Curcuminoid absorption through Fenugreek and does do it also through soluble fibers composed out of galactose and mannose units. Thus, the same herb and compounds but different technology (ratios). And the difference in their capability and improved absorption is almost 3 times in favor of the Curcumin Elite™ Proprietary CGM Blend [R, R, R].
The Benefits Are Numerous; Plus, Turmerones & Fenugreek
So, it's pretty clear that the Life Extension Curcumin Elite should be an extremely beneficial one. But in what ways are these benefits likely to manifest themselves?
Truly, in very many ways.
Proper Turmeric Curcumin supplementation can improve heart, brain, liver, joint, and digestive health, it has powerful anti-inflammatory and anti-cancer properties, it can help in battling diabetes, obesity, depression, Arthritis, high "bad" cholesterol levels, aging, and free radicals, as well as heal pain, aid detoxification, improve the immune system's function and have a ton of other remarkable benefits [R, R, R, R, R, R, R, R].
So, essentially everything that the manufacturer claims in its promotional materials and beyond [R, R, R, R, R, R, R, R, R, R, R, R, R, R, R, R, R, R, R, R].
But that's not all.
Due to the fact that the Curcumin Elite™ Proprietary CGM Blend is a combination of an additional two highly beneficial ingredients, we might be looking at the extra benefits of those as well.
In this regard, Turmerones may not only help with Curcuminoid absorption but also with fighting off a huge range of cancers, help prevent such devastating conditions as Alzheimer's and Parkinson's diseases, as well as help in many other ways through their natural inflammatory properties [R, R, R, R, R, R, R, R].
Whereas the aspect of Galactomannans through Fenugreek may additionally help in battling diabetes and metabolic syndrome, reducing "bad" cholesterol levels and triglyceride levels, as well as potentially a tool for helping lose abdominal fat [R, R, R].
So, I guess it goes without saying that there are truly many benefits (and complimenting ones) to be had through the Curcumin Elite of Life Extension.
Four Additives That Pose No Risk Or Health Concern
So, the beneficial ingredients are all great… But in most supplements they are.
What, however, can't be said about every single supplement is the aspect of harmless additives ('the other ingredients').
Many are absolutely ignorant about the additional ingredients added to the supplement to make the supplementation forms (or the adding of various qualities) possible. Nevertheless, often this particular aspect is the exact one which ultimately determines whether or not a supplement is a great one, a good one, a mediocre one, or even a terrible one.
And they can cause havoc on your health (mostly in long-term) if you choose supplements with the wrong kind ones.
But when it comes to the Life Extension Curcumin Elite, it's not that kind of supplement.
It uses 4 different additives – microcrystalline cellulose, vegetable cellulose (capsule), vegetable stearate, silica – all of which are essentially as harmless as they come and should never cause any trouble.
Thus, not only the supplement is likely to be truly beneficial but also it employs none such additives that are to compromise that.
A mark of a great supplement.
The Success Rates Show A Trend Of It Being Highly Beneficial
That said let's look at what the people who have actually bought and tried the Life Extension Curcumin Elite says about it.
Supposedly it's a supplement that hasn't been around for too long. Still, going through every single real customer review online I managed to find at least 562 reviews (at the time of writing this article).
Of these, 41 were negative ones (1- and 2-star), which leaves us at about 92.7% global success rate.
Which is a remarkably good one. Moreover, in reality, it's likely to be even higher than that, given that people are usually more prone to reporting negative experiences than positive ones.
But how well does this stack against other viable Turmeric Curcumin supplements out there?
In this statistic, it's similar to the ones by Youtheory (above 93% global success rate) and the Super Bio-Curcumin of Life Extension (above 93%). But losses to Turmeric Curcumin supplements of Gaia (above 94%) and Smarter Nutrition (above 96%).
All that said, however, I do feel that at the end of the day Life Extension Curcumin Elite is a very viable option. Moreover, given its unique Curcumin formulation – probably even the most capable one (despite what the success rates are implying).
Life Extension Curcumin Elite Is An Amazing Turmeric Curcumin Choice
Life Extension Curcumin Elite as a Turmeric Curcumin supplement has everything going for it.
It offers a solid Curcumin form that through research has been found to be significantly better than just standardized Turmeric and even that with added Piperine or Black Pepper. Furthermore, it only uses harmless additives and has a very solid success rate.
I mean, on that note, sure, in terms of that success rate, it seems that this particular supplement might not be the better version. But all that aside, research on this subject does confidently suggest otherwise.
Thus, I do believe that the supplement of this review is likely the better alternative. Whereas if you're interested in the absolute best, I've done the research. Here's what I strongly believe is the most powerful option (full review) both in terms of ingredients and price to date.
Other than that, I hope this Life Extension Curcumin Elite review helped you find the information you were looking for. What are you making of this one? Is it something you're up for trying? Is it something maybe you've had some success with? Let me know below.
This article was last updated on October 25, 2020.