|  Initial Thoughts  |  Ingredients  |  SPINS Data  |  Studies  |  Additives  |  Success Rate  |  Ending Thoughts  |
This CurcuminRich Theracurmin review Is about going into detail on everything that you might want to know and learn before actually buying it.
Therefore throughout this article, we will look at everything starting from claims to beneficial ingredients. Furthermore, we will also look into additives and whether or not they are harmless, as well as we'll have a decent look at customer experiences and the global success rates the supplement enjoys.
Essentially, all to make this accurate assessment about the CurcuminRich Theracurmin supplement as possible.
My point being, the goal here is to help you save time by creating the most resourceful review around. Thus, if by any chance you find a section or aspect I haven't covered but you're interested in, let me know. And I'll add that to the review.
CurcuminRich Theracurmin Review – The Claims & Initial Thoughts
CurcuminRich Theracurmin is put together by a manufacturer called CurcuminRich. No, in truth, it is a brand by Natural Factors. Hence, you can fully depend on it being a high-quality supplement that also gets third-party tested [R, R].
And according to the manufacturer, it's a supplement that "utilizes advanced techniques to reduce curcumin's particle size, dramatically increasing its solubility and bioavailability" [R].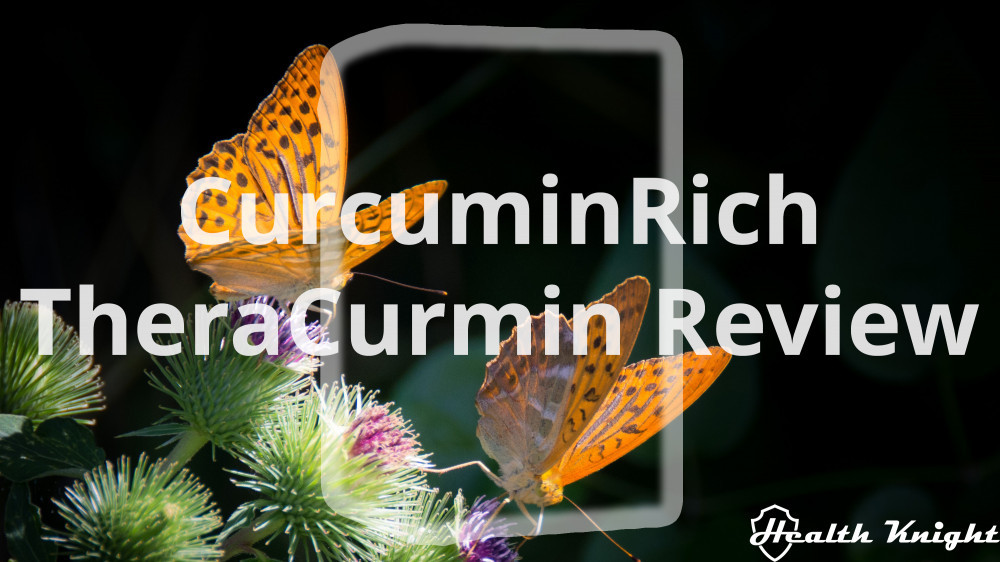 Speaking of the description page, this one isn't particularly overwhelming with text. Truth told, the information available on the page is very, very scarce, and extremely to the point. This is very unlike the description pages of supplements like Research Verified Turmeric Curcumin or Solgar Curcumin.
For the CurcuminRich Theracurmin, there are only a few paragraphs of information there, on top of which you get supplement facts, of course, a picture of the supplement, as well as the info on suggested use.
In theory, the page also offers the option of asking questions about the supplement. But at the writing of this review, there isn't any.
So, the description page for this brand is all plain, uninteresting, and un-captivating, right?
Well, not really.
It actually did captivate and piqued my interest quite a bit.
And this is for one single reason. And it's also truly the only real claim that they make on the page…
The claim that the curcumin delivery form called Theracurmin (the exact one that the supplement uses) is better absorbed than other turmeric curcumin forms on the market.
That said, to an extent, I would have ignored this completely as it's extremely common for supplement manufacturers to overclaim the capabilities and positive characteristics of their supplements. However, when considering the CurcuminRich Theracurmin, it does point to a study that has been done and that has supposedly proven that its superiority is precisely the case.
So, is this particular supplement through the curcumin form it uses truly better than any others on the market or is it just trying to convince you into buying it?
Let's dive right in and find out!
The Supplement Label Is Rather Confusing To Say The Least
The fact that Curcuminrich Theracurmin Is very unlike any other typical Turmeric Curcumin supplement you come across is immediately visible from the label.
On it, you will not find any indications as to how much raw Turmeric or Standardized extract of the thing it compiles as you do in supplements, like Vimerson Health Turmeric Curcumin or Nature Made Turmeric Curcumin.
Instead, Curcuminrich Theracurmin contains 30 mg of Theracurcumin curcumin extract from Turmeric (Curcuma Longa, root). As they note, "A highly bioavailable form of curcumin – the most active curcuminoid in Turmeric".
So is that good?
I've no idea! Yet.
I have reviewed quite a lot of Turmeric Curcumin supplements. But never have I come across something like this.
Still, an always easy way to tell whether or not the kind of curcumin form is actually effective is based on the global success rates (which we will get into one of the later sections).
But for now, I think it's an appropriate time to explore what we can find in regards to that referenced study (mentioned on CurcuminRich Theracurmin's description page).
It's Impossible To Track Down That "SPINS Data 2014"
The worst thing about the reference is that they do not actually link it to anywhere (explorable information). They just note that claim of Theracurmin being so incredibly beneficial over any other curcumin form and two-star it to "as measured by SPINS 2014 data".
But there's nothing else to add to the truthfulness and integrity about that reference.
If you search for SPINS you can learn that there is actually an organization out there that holds that name.
In that regard, according to their website, "For 20 years, we [SPINS] have been on a mission to increase the presence and accessibility of Natural and better-for-you products that help people live their healthiest and best lives and drive sustainable production practices in North America" [R].
But when I thoroughly and thoughtfully tried to find the particular data connected with Theracurmin there, I was unable to find anything.
Here's, however, something else that I found when I performed the Google search.
Turns out Natural Factors have another page on their website that specifically explains the notion of Theracurmin Curcumin [R].
Still, even though the page itself provides many more insights (like there being at least 19 high-quality clinical studies on the Theracurmin, it being the most studied Turmeric Curcumin form out there, etc.), they, again, fail to mention anything beyond "as measured by SPINS 2014 data".
Thus, again, not providing any specific studies, in which you could actually learn more about this particular form of Curcumin.
Which I have to tell you is a shame. Why would they not specify the actual studies?
I mean, I'd even go as far as to say that it's such a huge and pathetic omission on their part.
There Are At Least 22 Studies Proving Theracurmin's Efficacy & Superiority
Given that Natural Factors with their CurcuminRich Theracurmin supplement takes no interest in introducing people to the actual studies, I hopped over to Pubmed and Google Scholar to get more insights.
Turns out there are at least 22 studies proving Theracurmin's efficacy and superiority [R, R]
So what did I find specifically among the studies?
Well, as far as I can tell, Theracurmin seems to be the ultimate curcumin form, the absolute best one currently available [R, R, R, R, R, R]
It has even outperformed patented forms of curcumin, like Meriva and BCM-95, by quite a margin [R].
Hence, truly, truly effective stuff.
However, it has to be said that none of the studies I looked at used Theracurmin's dosages as low as 30 mg (the amount that is present in the CurcuminRich Theracurmin supplement).
Still, in no way, this is to say that the supplement is likely to be highly beneficial if you choose to embark on it. And we will make sure of this by researching the global success rates in one of the later sections.
But for now, let's explore what kind of other ingredients does the CurcuminRich Theracurmin hold.
A Number Of Additives In This Turmeric Curcumin Supplement – All Are Fine
As you can probably already tell from the label information earlier, the supplement doesn't contain any other beneficial ingredients.
All the other ingredients that it does contain are there for the purpose of helping make the supplementation form (capsules in this case) possible. These are the additives, also known as the other ingredients.
And they are very important. Many supplements couldn't do without them.
Still, not all of them are healthy or even harmless. Thus, we can't just go with whatever. It's best to always make sure they are as harmless as possible by doing a little research.
When it comes to CurcuminRich Theracurmin, it doesn't exactly use the least amount of additives.
Microcrystalline Cellulose, Carbohydrate Gum [Cellulose], Purified Water, Magnesium Stearate (Vegetable Grade), and Silica – all are a part of it.
From these, Magnesium Stearate is the most misunderstood one.
Many (actually it's most of the internet) will try to coax you that it's one of the most harmful additives out there. But that's complete rubbish. Especially when you profoundly research and fully immerse yourself into all that is at times very convincingly thrown at this additive [R, R, R, R, R, R].
It mostly stems from a single misinterpreted study done on rats, the outcome of which can't be at all (100%) attributed to humans. So, the bottom line is (which the minority of high-profile doctors also agree on) Magnesium Stearate is as harmless to humans as a substance can be [R, R, R, R, R].
Whereas when it comes to those other 4 additives, all completely safe (and almost zero controversies on them throughout the authoritative sources).
So, at the end of the day, it's safe to say that CurcuminRich Theracurmin as a supplement, won't in any way affect you negatively.
But getting back to its actual effectiveness, it's time to explore that through the global success rates.
Success Rates Are Pretty High But Not As High As Those Of Competitors. Why?
Taking a comprehensive look at every single real customer review I could find across the internet, revealed that CurcuminRich Theracurmin is not as well-received as I thought it would be.
I mean, don't get me wrong, 91% is still a very high success rate. However, given that it literally uses, as far as I can confidently tell, the best Curcumin form currently available, it should have been higher.
I mean, well, it probably is because people generally are more inclined to report negative outcomes than positive ones. However, the same thing can also be generally said about CurcuminRich Theracurmin's competitors.
And the most capable of them confidently hit higher.
For example, something like the Youtheory Turmeric enjoys a global success rate above 93%. The same kind of success rate we also encounter when considering the Life Extension Super Bio-Curcumin. Whereas Gaia Turmeric Supreme Extra Strength sits at above 94% global success rates.
And none of them use the Theracurmin form.
So, clearly, what's happening here?
Shouldn't the Theracurmin supplement of Natural Factors be far more effective than any of its competitors and thus, also have a higher success rate?
In theory, yes, but it's important to remember that the beneficialness doesn't only depend on the specific Curcumin form used.
It depends also on the amounts of this active ingredient present.
And in the case with Natural Factors CurcuminRich Theracurmin, it's not a lot. In fact, it's so little that other brands featuring weaker forms of that Turmeric Curcumin supplementation but having way more of it, naturally outperform the supplement of this review.
Not only is this fully concludable from the studies done on Theracurmin but also throughout the customer reviews you can see a trend of people reporting this. Which often goes along the lines of "the other supplement I used with Piperine was much more effective for me".
Curcuminrich Theracurmin Is A Supplement Not Living Up To Its Potential
On the paper, Curcuminrich Theracurmin looks like the ultimate Turmeric Curcumin supplement.
It doesn't overwhelm people with ridiculous claims, it uses only harmless additives, it uses the best Curcumin form currently available, it's third-party tested. There's not a single bad thing about it.
At least superficially.
In real life, it doesn't live up to the supposed perfection it embodies.
It clearly uses too few of that amazingly beneficial Theracurmin. Thus, it's not in the upper echelon when it comes to having a profoundly positive effect on people's health, hence the not that striking success rates.
Ultimately, putting it in on the backfoot when it comes to rivaling the most capable of Turmeric Curcumin supplements out there.
It's a great concept for a supplement. The execution of which is a pretty disappointing matter. I wouldn't recommend it.
I mean, it's fine if you're looking at it in isolation.
But let's be real here, there are significantly better options, like the Nutrigold Turmeric Curcumin Gold (review). Granted, it may not be the absolute best out there but its great value for money and truly high-quality that comes with third-party testing. And given that you can get something like that for no more than what the Curcuminrich Theracurmin costs, the supplement of this review I feel is not a worthy investment.
Above all, I hope this Curcuminrich Theracurmin review helped you find the information you were looking for. But if not, I'll be happy to hear any advice in the comments on how I could further improve it.
If you get a chance, even one line in the comments helps a ton and will be highly and sincerely appreciated.
See you in another article!
Cheers, Stay Healthy & Have a Great One!
This article was last updated on July 9, 2020.