|  Overview  |  Supplement Contents  |  Ingredient Purity  |  Additives  |  Conclusions  |
In this Nature Made Omega 3 review, we'll immerse ourselves into all of the 16 Nature Made Omega-3 Fatty Acids supplements to explore what they're really about and do they constitute viable choices when it comes to supplementation.
Thus, the article will focus on everything from claims made by the manufacturer to the ingredients found and used within the supplements. If it's something that you ought to know, we will cover it.
Claims & Assertions Made For These
Okay, so I have to confess, the title of the article is somewhat of a click-bait. This is because this review will mainly cover only the two supplements that do not fully fall under the category of Nature Made Fish Oil supplements. For the review of all 14 of the fish oil ones, read this article.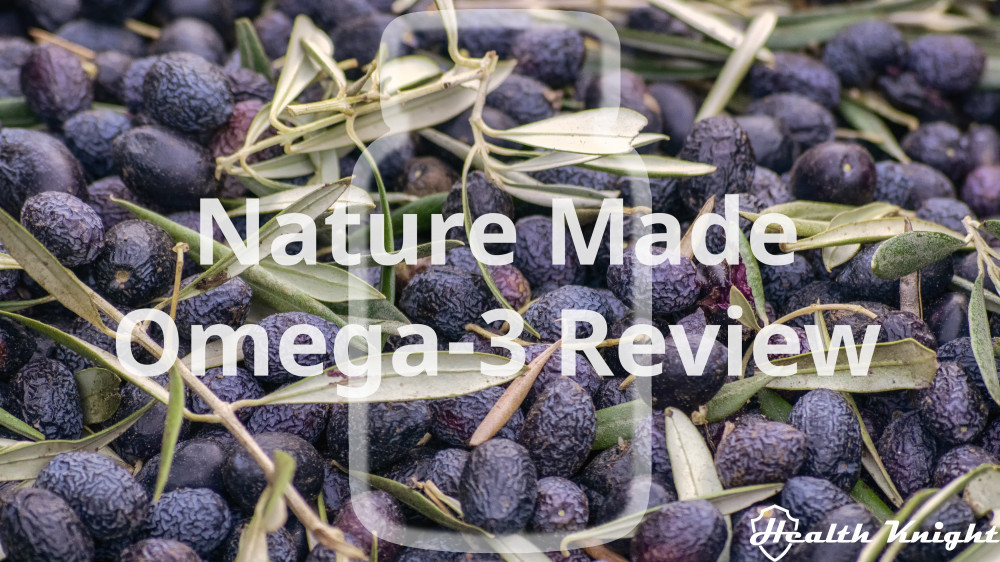 So, that out of the way, let's get into the two remaining Omega-3 supplements of Nature Made – the Krill Oil and the Tripple Omega.
Despite the fact that these are two quite different supplements, the essence of their description pages does not vary too greatly. And the main objective of both supplements is named to be improved heart health.
The description pages as of themselves offer insights on supplement facts, product details, dosage and interactions, FAQs, and quality.
They both subscribe to similar kind of quality stating that the supplements are guaranteed to meet Nature's Made high-quality standards – meaning the supplements are made from carefully selected ingredients under strict manufacturing processes.
But other than the quality assertions, in essence, not much is there that they claim.
The Nature Made Krill Oil is said to be small and easy to swallow, without any fishy aftertaste, with superior Omega-3 (EPA/DHA) absorption while also adding Astaxanthin and Phospholipids.
Whereas the Nature Made Tripple Omega is all about providing three different sources of Omega in a balanced formula derived from Fish, Flaxseed, Safflower & Olive oils.
Both supplements are said to contain no added color, preservatives, yeast or starch, all while being Gluten-free.
So, overall, sounds great. But is that what is truly going on?
Both Supplements Are All About Omega-3s
As obvious as it sounds Nature Made Omega-3 supplements are actually about Omega-3 Fatty Acids. Both through Fish Oil supplements in a separate article and through the two discussed in this article. At least primarily (to some there are a few added substances as well).
Those Nature Made Fish Oil supplements in the other article were about Omega-3s from fish oil. Nature Made Krill Oil is, as the name suggests, for the Omega-3s from the krill oil. Whereas, Nature Made Triple Omega is a supplement of Omega-3, Omega-6, and Omega-9 Fatty Acids.
Nature Made Krill Oil – Insights Into Supplement Facts
The Nature Made Krill Oil is a supplement that offers 600 mg of Krill Oil per every two softgels, which is defined as the recommended daily amount.
Of this 600 mg, Omega-3s are a total number of 114 mg, of which 60 mg are EPA and 32 mg are DHA. Thus and however, while Omega-3 of Krill Oil is considered the more effective version of Fish Oil's Omega-3, I seriously doubt that the supplement can provide as solid of benefits as a proper fish oil supplement can.
For that, it's far too off the optimal daily Omega-3 consumption amounts [R, R].
This supplement has two additional beneficial substances – 240 mg of Phospholipids and 120 mcg of Astaxanthin.
Phospholipids are a substance found in abundant amounts in brain cell membranes. Thus, an abundance of those will help fight age-related cognitive decline and various illnesses. And just overall they are extremely beneficial for the health of your brain. But there are other benefits to those as well [R, R, R, R, R, R].
Whereas Astaxanthin is THE Carotenoid displaying the most powerful antioxidant properties of all Carotenoids. It fights off cancer, promotes healthy skin and brain health, improves heart health, displays anti-inflammatory properties, and has a ton of other significant benefits [R, R, R, R, R].
So, the Nature Made Krill Oil is definitely not only about the Omega-3 benefits. Which is great.
Nature Made Triple Omega – Insights Into Supplement Facts
Comparing the two, the Nature Made Omega Triple is of a much simpler supplement offering only Omega Fatty Acids-related benefits. Not just one type, however. As the name suggests – three types of Omega Fatty Acids.
There's the Omega-3s from fish oil and flaxseed oil. There's the Omega-6s from safflower oil. And of course, there's also the Omega-9s from the olive oil. All of this for a more Omega-oriented benefit.
Omega-3 Fatty Acids are the most abundant in the supplement coming in at 434 mg per softgel or a total amount of about 1300 mg daily. And this is rightfully so as these are the most important and the hardest to obtain from food [R].
There is, however, a drawback to this. The EPA and DHA amounts are not specified, thus, they are largely a mystery. Which isn't really a good thing as these numbers are one of the key factors that account for the most benefit [R].
Considering the Omega-6s, they are rather abundant in our everyday diets, so they aren't really a must to supplement. The supplement though offers considerable amounts of it – 276 mg per softgel, about 830 mg per day.
Whereas as for Omega-9s, they're also something that is not a must for supplementation. As for the amounts in the Nature Made Triple Omega – 170 mg per softgel, 510 mg per day totally.
Finally, there's also some natural form of vitamin E to the blend. However, the amounts of it are so miserable that the fact is barely worth mentioning [R, R, R, R].
Overall, it's solid. But again, as I mentioned already, the Omega-6 and Omega-9 are not really a must for supplementation. You can supplement them if you choose to or not if you don't. The Omega-3s are, however, essentially irreplaceable.
Purity – Triple Omega Not Great & Krill Oil's Misleading
As the ingredients of both supplements are derived from seafood, it is extremely important that they are properly purified.
This is due to the fact that both fish and shellfish (what krill oil gets derived from) get massively affected by the pollution present in our seas and oceans.
And thus, if they are not properly purified they can pose health concerns greater than the potential benefit they can ever provide.
The best two organizations for this are the IFOS and the NSF. Both of them do independent testing for fish oil and sometimes krill oil purity and potency and are the most trustworthy and qualified organizations to do it [R, R, R].
While neither of the two Nature Made Omega-3 supplements have been approved by any of these two organizations, there is another high standard organization you can trust in testing. It's known as the USP [R].
While the Nature Made Triple Omega hasn't been approved also by the USP, the Krill Oil supplement supposedly has been.
At least so they state on that description page of the supplement.
But when you actually look into it further and check the official USP approved list, it turns out that the Nature Made Krill Oil hasn't really been USP approved.
It might have been so in the past but the present indicates it's not the case anymore. I bet we can all agree on why.
Probably because it does not satisfy the requirement necessary to be USP approved. Or are there any other reasonable explanation to this?
Obviously, I might be wrong but I seriously doubt that. Thus, it is pretty sure to say that the Nature Made Krill Oil is of insufficient quality (lower quality) than what is necessary to get USP approval.
So, ultimately, in the case of both of these supplements all we have is the manufacturer's statements that they are of the highest quality. But when it comes to third-party testing it really does not seem to hold true.
Additives Rather Scarce In Amount But Worth Noting
Additives are the other ingredients that get added to the supplement for the forming of a capsule, tablet, or in this case softgel. Thus, additives are not always bad. In fact, they are truly necessary.
On that same note, due to various reasons not every approved additive for consumption is harmless to your health. In truth, they can harm you quite a bit as it is with anything you consume.
Thus, it's always important to check if the additives within any supplement you plan on using is harmless in nature.
Both the Nature Made Krill Oil and Nature Made Triple Omega has been built on the same foundation of 4 additives.
These are Gelatin, Glycerin, Water, and Tocopherols. All of these are harmless and okay for long term consumption, however, these are not the only ones in any of the two supplements.
The Nature Made Krill Oil additionally uses Ethyl Vanillin. It is a substance that essentially is imitation vanilla that is used widely in foods and beverages. Some listed side effects to this substance are constipation, weakness, tiredness, blindness, bipolar disorder among other [R, R, R, R, R].
Of course, as with any side effect, it will not happen for every single person. But if something of this does come up once you're using the supplement you'll know what's up.
As for the Nature Made Triple Omega, also for this one, there is only one additional additive present – Soybean Oil (if you'll look at the label you'll see listed Fish Oil Concentrate, Flaxseed Oil, Safflower Oil, and Olive Oil, d-Alpha-Tocopherol (vitamin E), all of which are active ingredients).
Many times before have I already reviewed similar supplements where the core conclusion about the Soybean Oil was that it is of GMO material. And this instance is no different [R, R, R, R].
Thus, the GMO Soybean Oil is the perfect substance if you want to cause inflammation and make happen chronic diseases, such as dementia, Alzheimer's, Parkinson's, cancer, and everything alike [R, R, R, R].
Additionally, it can also be responsible for such adverse effects on the body as infertility, mineral deficiencies, blocking protein digestion, and loads of other unpleasant side effects as well [R, R, R, R].
At the end of the day, it doesn't take a rocket scientist to get that, it's a substance you want to rather avoid.
Final Thoughts On Nature Made Omega-3 Supplements
While Nature Made Krill Oil and Triple Omega may seem solid options superficially, diving in deeper and explore all the details paints a completely different picture.
The purity of both of these supplements, while being extremely important is of questionable quality. The additives also pose some concerns, though some may see them as minor.
Ultimately, I do feel that these supplements are only additions worthy. Meaning regardless of those flaws, they still wouldn't contemplate solid Omega-3 standalone supplements.
Thus, if you're looking for such you definitely need to look into the 14 Fish Oil supplements of Nature Made. Among those, there are a few solid options. Or rather dive right into the very best fish oils out there.
Other than that, I hope this Nature Made Omega-3 review of the two remaining Omega-3 supplements of Nature Made helped you find the information you were looking for.