|  Overview  |  Key Ingredients & Amounts  |  Effectiveness  |  Additives  |  Conclusions  |
In this Nature Made Sleep Review, we'll sniff out absolutely everything that there is to worth knowing about the supplement so you can get the best idea of whether you truly need it or not.
Consequently, in this article, we'll start out by a look at the claims linked to the supplement. After that, we will get into the good stuff – we'll dissect all the ingredients, we'll look at how good they potentially are at improving your sleep, as well as we'll look at the additives of the supplement. Additionally, the effectiveness (does it work?) will also be considered.
All to make as accurate of an assessment about the Nature Made Sleep as possible.
The goal here is to create a review so thorough that there would not be a need for you to ever look at another supplement review for this specific supplement. Therefore, if there is a section or aspect I haven't covered but you're interested in, let me know. And I'll add that to the review.
---
Nature Made Sleep Review – The Overview
---
Nature Made Sleep is beneficial substances oriented supplement that seeks to improve anyone's sleep quality who decides on it.
The description page as with most Nature Made supplements offers way more information on their supplements than typically various brands do [R].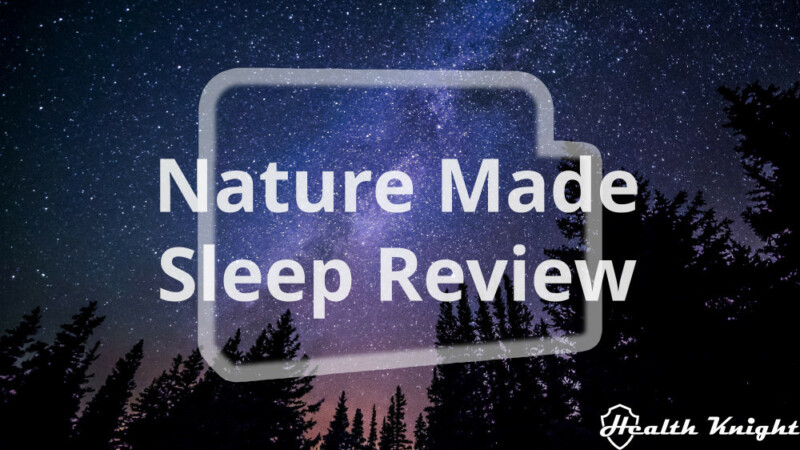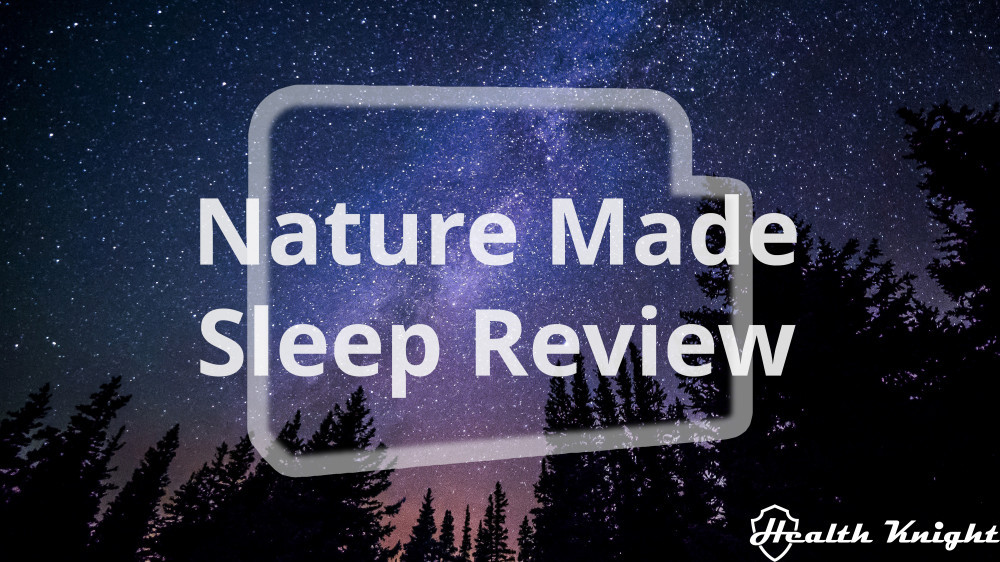 You're provided with supplement facts, product details, information on dosage, interactions, and quality, as well as there is a FAQ's section.
However, there aren't really that many claims that can be identified within that text. Most of it is just insightful information on that the key ingredients of the Nature Made Sleep are and how they can potentially benefit you.
Thus, inevitably they do refer to the Nature Made Sleep as a natural acting sleep aid that helps you fall asleep, naturally.
Statements like "when you get a good night's sleep you feel refreshed and ready to start your day" do entail that the supplement might be able to do just that for you. But other than that it's just accurate general statement.
One aspect that they are big on, however, is about their quality. Or as they put it – "[the supplement] is guaranteed to meet our high quality standards – it is made from carefully selected ingredients under strict manufacturing processes".
Additionally, they promise that the supplement is 100% Drug-Free, Safe and Non-Habit Forming, has No Artificial Flavors, With Colors only derived from Natural Sources, No Preservatives, No Yeast or Starch, and is Gluten Free.
While all of this might sound appealing, let's dive deeper and examine the supplement for what it truly is.
---
The Beneficial Substances Are Great For Improving Sleep
---
On the description page, they claim that the Nature Made Sleep contains a unique combination of ingredients that include L-theanine and Melatonin [R].
Thus, one might think that the supplement contains a unique combination of ingredients that are accompanied by L-theanine and Melatonin. At least, it's what I'm getting when I read the claim.
However, there is no unique combination. In truth, there's just L-theanine and Melatonin. So, in essence, the "combination" is just these two ingredients. There is nothing else to the blend (apart from additives, of course).
Nonetheless, both of these have enough capacity to actually make a difference and improve sleep.
L-theanine is an amino acid that combats anxieties, reduces hyperactivity and sleep-related issues. In essence, it has a calming, soothing, and peacefully sedative effect on both body and mind without the additions of feeling tired or drowsy [R, R, R, R, R, R].
The greatest sources of this amino acid are green and black teas. Some to the stack also name white teas. But one is for sure if you're not a regular tea drinker you might find that there's too little L-theanine in your system [R, R, R, R, R, R].
Good amounts of this amino acid are linked to a variety of potential benefits. These include improving sleep, relieving anxiety and reducing stress, improving alertness, focus, and memory, improving longevity, heart health, and immunity. And this list by no means is exhaustive, there are even more benefits [R, R, R, R, R, R].
Melatonin is a hormone naturally made by the body, however, it can also be supplemented. It's often referred to as the sleep hormone as that is its primary function – to help you relax and fall asleep easier. But in truth, Melatonin is a capable antioxidant and anti-inflammatory hormone as well [R, R, R, R, R, R, R, R].
Thus the abundance of it has also other positive effects on the body and mind apart from just improving sleep [R, R, R, R, R, R, R, R].
The substance reduces inflammation and blood pressure, supports eye health, increases growth hormone levels, combats seasonal depression, promotes a healthy immune system, improves neuroplasticity, helps with recovery from brain injury, relieves ringing in ears, helps prevent and battle cancer and it even helps with fertility among many other benefits [R, R, R, R, R, R, R, R].
A truly, truly marvelous and versatile substance.
So, the potential for improving both your sleep health and overall health definitely is there. But what about its effectiveness?
---
Does The Nature Made Sleep Aid Sleep (Actually Work)?
---
Based on the reviews all around the internet it seems that above 80% of people who try the Nature Made Sleep see improvements in their sleep quality and patterns.
Thus, it definitely can improve your sleep if that is what you are primarily after.
It's also worth noting, that people generally are more eager to complain about the supplement if it does not work or help them. Therefore, I do believe that the actual success rate might be even higher.
On that same note, there are also people who seem to not get affected by the particular approach of supplementation.
As with anything, there can be many causes for this.
An obvious one would be someone simply needing more of that stuff. Thus, in theory, one could try experimenting with double the recommended dose.
Alternatively, there might be some gut-related issues that could potentially block the absorption of the substances or the problem could be much more deep-rooted than that, or there might be some other reason. As I mentioned, the reasons are many.
On that same note, although the supplement may have all that it takes to improve your sleep, it also has the capacity to harm your health through the other ingredients that the supplement uses.
---
Additives Are Not A Disaster Yet Not Ideal Either
---
Additives, often referred to as the other ingredients are substances that help make any respective dosage form like capsules, tablets, lozenges, etc. possible.
Thus, they are important. Even more so, because as with anything we consume also these have the capacity to affect our health.
Did you know that many of the side-effects associated with any medicine are due to additives? This is precisely why it is so important.
In regards to Nature Made Sleep, they are not a disaster, however, not ideal either.
This supplement employs a complete number of 7 additives. These are Medium Chain Triglycerides, Gelatin, Glycerin, Soy Lecithin, Water, Yellow Beeswax, and Added Colors (including Carmine).
While stuff like Medium Chain Triglycerides, Gelatin, and Beeswax in truth are actually beneficial, Glycerin and Water are harmless. However, I am not completely at ease with Soy Lecithin and Added Colors [R, R, R, R, R, R, R, R, R, R, R, R, R, R, R, R, R, R, R, R, R, R, R, R, R, R, R, R, R, R, R, R].
Furthermore, when it comes to the Soy in the supplement, I have a reason to believe that it is of GMO.
This is because Nature Made do love indicating what kind of stuff can't be found in the supplement like No artificial colors or flavors and so on. However, they have not indicated GMOs and 90% of Soy these days is GMO [R, R, R, R, R, R].
On top of that, why would they not clearly indicate it if it was the case as that would definitely boost their sales? Being of GMO-free is definitely not a positive aspect that there is a reason to pass over in silence?
In fact, I even managed to find a published response of Nature Made to the question of whether or not they use GMOs. They do [R].
So, the soy (in part also soy lecithin) in the Nature Made Sleep can potentially come to bite you. While there are also other potential concerns with this substance, it is otherwise considered very beneficial. So, I'm kinda on the fence with this one [R, R, R, R, R].
On that same note, it is, however, much more pleasant and convenient if the substance is a beneficial one without any of the potentials for harmful additions.
As for the colors, they do indicate that they are of natural sorts. However, they do not indicate clearly what are those colors exactly, apart from just one. But there is not a doubt in my mind based on the wording on the label that there are many.
In this regard, it's worth noting that even natural colors can cause serious allergic reactions, which includes the Carmine, the color ingredient they've listed on the label [R, R, R, R, R, R, R, R, R, R].
For example, Carmine can cause headaches, dizziness, weakness,  nausea, digestive tract, eye, skin, and respiratory tract irritation, as well as other adverse effects. But there's no telling what kind of other potential side-effects there may be to the blend due to the presence those colors [R, R, R, R, R, R, R, R, R, R].
Thus, at the end of the day, although the supplement will definitely benefit you, it does come with an expense to your health and well-being, even if it's not immediately noticeable.
---
Final Thoughts On Nature Made Sleep
---
Nature Made Sleep has two capable core ingredients that can absolutely improve your sleep quality and patterns.
And many people do approve that it really does help.
However, there are a few potential concerns when it comes to the additives that the supplement uses. Thus, making kind of a tradeoff of improved sleep at the cost of potentially some of your overall well-being and long-term health.
But you don't have to make such tradeoffs. There are a bunch of other capable sleep improving supplements out there that can help you without any short-term or long-term expense to your health.
Other than that, I hope this Nature Made Sleep review helped you find the information you were looking for. But if not, definitely let me know in the comments on how I could further improve it.
If you get a chance, even one line in the comments helps a ton and will be highly and sincerely appreciated.
Hope to see you in another article!
Cheers, Stay Healthy & Have a Great One!