|  Overview  |  The Core & Benefits  |  Additives  |  Additional Considerations  |  Conclusions  |
In this Nature Made Turmeric Curcumin Review, we will examine all about the supplement that is worth examining.
Thus, we'll first go over all the claims made for the supplement. We'll continue on with looking at the core of the supplement and what it potentially provides in terms of benefits. Lastly, we'll also explore the additives that the supplement employs, as well as go over a few additional considerations for Turmeric supplementation.
Nature Made Turmeric Curcumin Review – The Overview
Nature Made Turmeric Curcumin is a Turmeric (Curcuma Longa) Blend containing supplement that is all about antioxidant activity for your well-being.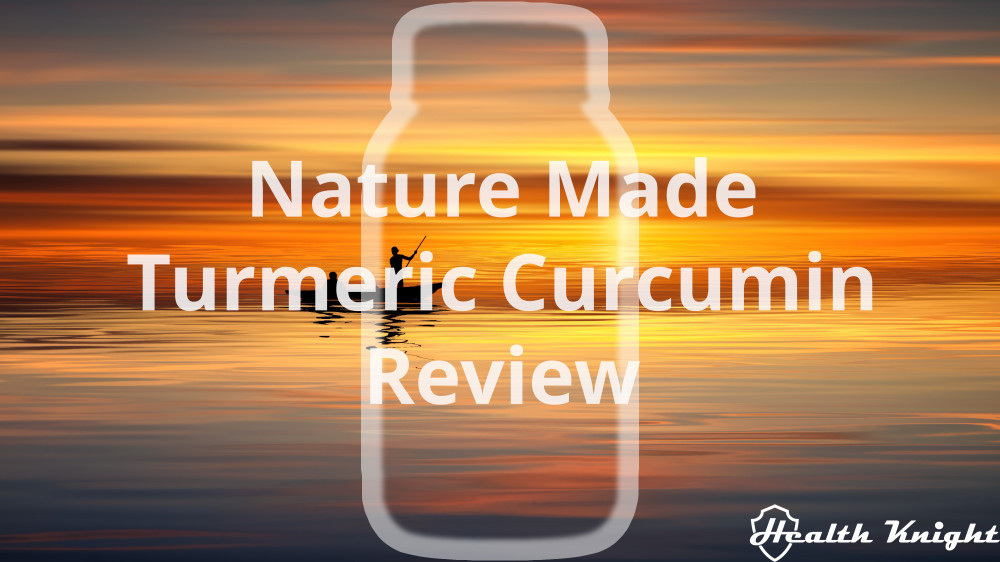 The description page of this supplement is quite abundant with all kinds of information. There are the product details, information on dosage, interactions, quality, supplement facts, and even FAQs.
Despite this, there aren't really that many claims made in regards to the supplement. It's on the most part all educational stuff both on just about Turmeric generally and on how to, when to, and when not to take it.
For example, they inform you that Turmeric is an ancient Indian spice that possesses one of the highest antioxidant activities of all various common spices (this is not, however, completely accurate).
Or that you should avoid that stuff if you're pregnant or nursing, or that it should be used with caution if you're using blood-thinning medications.
Other than that, one definite claim presented is the one about the supplement being "guaranteed to meet our high-quality standards – it is made from carefully selected ingredients under strict manufacturing processes".
Furthermore, it's many times emphasized throughout the page that Nature Made is the #1 Pharmacist Recommended Herbal Supplement Brand.
It's also claimed to have no added Colors, no Artificial Flavors, no Preservatives, no Yeast or Starch while also being Gluten-free.
I mean, all in all, it sounds nice.
But is the supplement really worth your while?
It's All Turmeric – There's Nothing Else
I mean, you can't really give props to the Nature Made for the name they came up with for the supplement. Being Nature Made Turmeric Curcumin it is as obvious as possible that it is about Turmeric and its most beneficial substance Curcumin.
The supplement's only ingredient is a 500-milligram Turmeric Blend. This blend consists of 450-milligram Turmeric root powder and 50-milligram standardized Turmeric root extract, of which 47.5 milligrams are Curcuminoids.
Standardized is just a fancy word to guarantee that at least 47.5 milligrams of the extract will be Curcuminoids. Whereas Curcuminoids are the compounds responsible for all the health benefits of which the most impactful one is Curcumin (thus, the supplement's name!!!) [R, R, R, R, R, R].
Turmeric is becoming increasingly more popular because of the marvelous antioxidant properties it displays. In fact, with a complete number of more than 12,800 peer-reviewed articles out there, it's a medical herb that is one of the most frequently mentioned in science [R, R, R, R, R].
It's even recognized as a food of positive effect beyond basic nutrition making it truly exceptional for improving health for anyone [R, R, R].
Surely, as with anything you can overdo it. But if you don't it will account for benefits such as improved brain function, reduced depression, lowered heart disease, improved detoxification, cancer prevention, pain relieving, aging delaying, obesity, diabetes, and Arthritis combating properties, as well as other magnificent health benefits [R, R, R, R, R, R, R, R].
In truth, there is absolutely no reason why not to consume this substance daily. It is absolutely insane how beneficial it is and how much it empowers our bodies and minds to be at their best.
Additive-Wise There Are No Problems
While there are herbal supplements that are possible without any additives, in the present case with Nature Made Turmeric Curcumin it is not.
Additives shouldn't be necessarily looked at as something bad but rather as something to make supplements possible. As regards to this, some people look at them as if they are to always cause problems for your health. However, that is not the case at all.
There are also additives that are harmless, which in the case of Nature Made Turmeric Curcumin is also true.
This supplement has six different additives – Cellulose Gel, Gelatin, Water, Stearic Acid, Magnesium Stearate, and Silicon Dioxide. All of them are harmless and one could even be referred to as beneficial [R, R, R, R, R, R, R, R, R, R, R, R, R, R, R, R, R, R, R, R, R, R, R].
So, additive-wise there are no red flags for Nature Made Turmeric Curcumin. On that same note, however, there are some lackluster that can be put to the supplement's name.
Additional Considerations For Turmeric Supplementation
When it comes to Turmeric supplementation there are a few more things that must be taken into consideration.
First, the time frame. It's worth noting that Turmeric supplementation takes time to really kick in. To be more precise, it may take up to 8 weeks of daily consumption for the full benefits to take place [R].
So, one thing to definitely keep in mind is to be patient with it and not quit after a week or two.
But most importantly Turmeric in of itself is very hard to absorb of a substance. Meaning if we ingest it alone most of it goes wide and we actually don't get any benefit [R, R, R, R].
Not that there is no benefit to gain, there is. However, being a substance that is hard to digest for our organisms, it should be taken together with Black Pepper or Piperine [R, R, R, R].
This is because these improve the absorption not just a little bit. But by up to 2000% [R, R, R, R].
I mean, you still will get some benefit out of a Turmeric-only supplement like the Nature Made Turmeric Curcumin is. But you'll have to consume 20 times the amount to get the health benefits you'd otherwise acquire with a little bit of Black Pepper or Piperine were present.
On top of that, unlike Nature's Bounty Turmeric Nature Made Turmeric Curcumin does not have an improved version of Turmeric supplementation.
Thus, if you do end up going with the supplement of this review you'll leave yourself a little bit shorthanded, to say the least. About 20 times.
Not really a good bang for a buck, eh?
Final Thoughts On Nature Made Turmeric Curcumin
Being the #1 Pharmacist Recommended Herbal Supplement Brand or not, Nature Made hasn't really done a good job with the Nature Made Turmeric Curcumin supplement.
I mean generally and superficially, it is absolutely fine – good amounts of Turmeric, harmless additives.
There's only one crucial thing they forget to mention or fail to recognize in all the educational stuff that they provide on their description page.
Turmeric is not well absorbed if Black Pepper or Piperine is not present. Thus, making the supplement far more ineffective than it could be.
Well, talking about biased educational material.
Either way, if Turmeric supplement is what you are after check out the vegan-certified Nutrigold Turmeric Curcumin Gold. Not only it is way more abundant in the amounts of Turmeric it provides but it also has that key added Black Pepper to the blend.
Other great options include Gaia Turmeric Supreme, as well as there are a couple of others. For the best one though, I've done the research on that as well. Here's my full review.
Above all, I hope this Nature Made Turmeric Curcumin review helped you find the information you were looking for.
This article was last updated on July 9, 2020.