|  Overview  |  Key Ingredients & Amounts  |  Additions  |  Effectiveness  |  Additives  |  Conclusions  |
In this Nature's Bounty Collagen Review, we will take a huge insight into all that the supplement is about.
Hence we'll get into a number of things. First, we'll look at all the claims made. Second, we'll look at the core ingredient and after that also at the additions to that substance. Third, we'll dissect the additives. And lastly, we'll look at the global success rate for this supplement.
Nature's Bounty Collagen Review – Overview
Nature's Bounty (Advanced) Collagen, as the name suggests, is a collagen supplement that is improved with certain additions to primarily be able to effectively manage skin aging.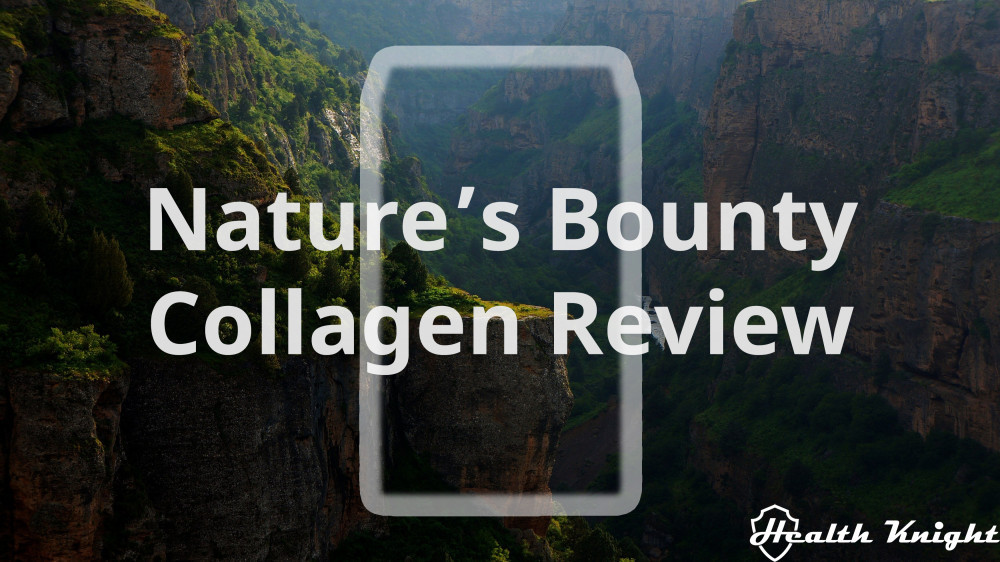 As for the description page, the amount of information they provide is one of the most limited I've seen.
It's worth noting that Nature's Bounty Collagen is a Nature's Bounty Canada production supplement, which is not a version that gets displayed on the official Nature's Bounty homepage [R, R, R].
Thus, this might be the reason why so little thought (4 sentences + supplement facts) has gone into the description of the supplement.
The primary claim that they make is that the supplement helps to produce and repair connective tissue in the skin and other organs.
As they state, this is important because we naturally lose collagen as we age, which thus results in common signs of skin aging. Whereas as you can probably tell, the supplement is about improving those collagen amounts to battle, slow down, maybe even reverse to some extent skin aging.
"Because beauty starts from the inside" – as they say.
That's all there is.
So, did it captivate you? And would you consider trying it?
Either way, let's examine whether you truly should.
Hydrolyzed Collagen Is The Core Ingredient
In many ways, the Nature's Bounty Collagen (also known as Advanced Collagen) is a lot like the Nature's Bounty Ageless Eye. In that sense, it even seems that the Ageless Eye has replaced the Collagen on the Nature's Bounty official homepage. Whereas as for the latter, it has been shifted and left to be sold out in Canada (yet it is still available on places like Amazon in the States).
I believe this to be the case because essentially Nature's Bounty Collagen is the less sophisticated version of the more superior Nature's Bounty Ageless Eye.
On that same note, Nature's Bounty Collagen as its core ingredient offers 500 mg of Hydrolyzed Collagen per tablet, thus 1000 mg per day (other additions to the blend we'll discuss in the next chapter).
Hydrolyzed Collagen is known for a lot of benefits. While it primarily really is a substance for skin health improvement, it offers other positives as well.
The substance promotes skin elasticity, creates a glowing effect on the skin, reduces wrinkles, and contributes to skin health just in general. Therefore one could even say that it pretty much reverses all the visible signs of skin aging [R, R, R, R, R].
On top of that, Hydrolyzed Collagen is also recognized for improving the strength of your nails and teeth, improving bone density, hair growth, blood sugar regulation, joint health, keeping the muscles strong and functioning, improving digestive system's health, boosting metabolism, among other benefits [R, R, R, R, R].
Ultimately, one could even say that Collagen is one of the best substances to consume when it comes to skin health.
And as we saw, this is exactly what the Nature's Bounty (Advanced) Collagen provides with.
Nutrient Additions To Nature's Bounty Advanced Collagen
The Nature's Bounty Collagen would be effective for skin health just as it is with its core ingredient. However, it also offers a few extra vitamins and minerals.
The Hydrolyzed Collagen is accompanied by 30 mg of vitamin C, 150 mcg of Biotin (Vitamin B7), 1 mg of Copper, and 52 mg of Calcium.
In truth, it really is not better than it sounds.
The nutrient forms for these are less than optimal apart from Biotin. Thus, at the end of the day, they won't provide that much benefit to your health. This is because your body will generally struggle to absorb these and consequently consuming those will end up with you excreting most of it [R, R, R, R, R, R, R, R, R, R, R, R, R, R, R].
The amounts of these are also very insignificant, thus overall making the additions very, very minor [R].
This is also the case when it comes to Vitamin B7 (Biotin). In high doses, generally, it also has every reason to improve your skin's health along with your hair and nails [R, R, R, R, R, R].
It must not necessarily be as high as in Nature's Bounty Hair, Skin & Nails (3000 mcg and 5000 mcg of Biotin) or Nature's Bounty Biotin (5000 mcg and 10000 mcg of Biotin). However, the 150 mcg that the Nature's Bounty Collagen has is a little too less [R, R, R, R, R, R].
But there is a good side to this.
Nature's Bounty (Advanced) Collagen is easily compatible with any proper multivitamin as none of these nutrients combined with the amounts in those multivitamin supplements won't be an overkill.
Does The Nature's Bounty Collagen Actually Work?
In theory, the Nature's Bounty Collagen has every reason to work and thus, improve your skin health.
Whereas, in practice based on the reviews all around the internet it seems that the supplement has about 80% success rate.
It's also worth noting and keeping in mind that people are generally more eager to report negative experiences (in a sense seeking justice) than positive ones.
Therefore, the actual success rate might be even higher than that.
For some, this might raise the question of why did it not work for the other about 20%.
The possible reasons are many, here I'll illustrate a few.
Reason number one might be a lack of commitment to success. Meaning, even the supplement label reads that you need at least 5 months of regular consumption. Thus, trying it just for a one and then getting discouraged for not feeling any benefits is a likely occurrence.
Ultimately, if you initially can't make that 5-month commitment, it's not worth going for this.
The second reason is tightly connected with what I implied in the previous one. Regular consumption.
This is often understated but it is probably one of the most important things, and one of the most overlooked and disdained things out there. You must be fully committed.
Think of it like going to the gym, if you want to see results in terms of your body you have to show up regularly. With all supplements, it's the absolutely same thing. Taking them irregularly and carelessly is essentially guaranteed to not succeed in terms of feeling any benefits.
Above all, there can also be reasons like inflamed gut health (which can be stemmed by overconsumption or very frequent consumption of fast food or processed sugar) that can interfere with the absorption of the active ingredients of the Nature's Bounty Collagen.
Or there can also be other much more deep-rooted problems.
It's hard to tell. As I said, the reasons are many. All I am trying to get across is that the substances have every reason to be beneficial but it won't work for everybody. Nothing ever has. It's not one glove fits all hands.
At the end of the day, there are, however, more things to consider as looking only at the beneficial ingredients is not enough nor in regards to Nature's Bounty Collagen, nor any other supplement.
Additives Are Almost All Good – Not Good Enough
It's also pivotal that we take a look at the necessary ingredients – excipients, the other ingredients, or more commonly known as additives.
These substances are a necessary addition to 99% of all supplements as they help to put and hold together all of the beneficial vitamins, minerals, and substances in a single place to form a capsule, tablet or any other dosage form.
Furthermore, just because an authority has approved the use of an additive does not mean that it is safe or harmless to consume. And there are many examples that show this to be the case.
As for the Nature's Bounty Collagen, it contains 12 different additives – Carnauba Wax, Croscarmellose Sodium, Crospovidone, Hypromellose, Magnesium Stearate, Microcrystalline Cellulose, Polydextrose, Silicon Dioxide, Stearic Acid, Titanium Dioxide, Triacetin, and Water.
Surprisingly all of these additives are completely harmless and okay to consume daily for very long periods of time (essentially lifetimes). To be more precise, all but one.
Titanium Dioxide.
In truth, the story with this one is kind of a funny one. It illustrates marvelously how food industry thinks when creating and selling you processed food, and how also the supplement industry gets affected by that thinking.
Titanium Dioxide was once a completely harmless additive occurring naturally in nature. Not anymore [R, R, R, R, R, R, R].
Nowadays the natural form of Titanium Dioxide is seen as a flawed version of nanoparticle Titanium Dioxide. This is because the latter makes the white color of the tablet, capsule, food or anything else that it gets added to more appealing and pleasant to the eye [R, R, R, R, R, R, R].
Thus, resulting in more sales for the manufacturers. And this is to an extent that Titanium Dioxide is the second most produced nanomaterial out there [R, R, R, R, R, R, R].
However, as with any revolutionary idea of the food industry also this variation of the substance is harmful. Mainly this is due to the particles being too small for our organisms to effectively filter them out [R, R, R, R, R, R, R].
This leads to various potential adverse effects, like lung damage, brain damage, kidney damage, etc. But who cares, the manufacturer is making a bigger profit. And the tablets are more pleasant to the eye [R, R, R, R, R, R, R, R].
I mean it's pretty ridiculous if you count the fact that the additive is there only for the color, thus, essentially filling no fundamental role and could be perfectly done without.
Final Thoughts On Nature's Bounty Collagen
Nature's Bounty Collagen is a supplement that has a high chance of succeeding in helping you to improve your skin health. The present Collagen is all it takes.
There are also other nutrient additions but they're not that significant. However, there's a huge downside to the supplement.
While it has lots of additives and most are harmless, there is one that has the potential to seriously harm your health. Thus, it is without a doubt – it would be best to avoid this supplement.
While this may seem like a big loss, it's actually not.
This is because there is a supplement that can do all that the Nature's Bounty Collagen can do only much, much better. And it is without any harmful additions when it comes to the additives. In essence, it's the perfect alternative. The perfect choice.
The supplement I'm talking about is the LiveWell Collagen Peptides (full review).
Above all, I hope this Nature's Bounty Collagen review helped you find the information you were looking for.