|  Overview  |  Vitamin Forms  |  Vitamin Amounts  |  Additives  |  Conclusions  |
In this Nature's Bounty B-Complex review, we'll immerse ourselves into everything that there is to know about the supplement and its properties.
Thus, we will go over quite a few things. First, we'll take a look at the claims that the manufacturer makes. Second, we'll explore the effectiveness of vitamin forms and their amounts. Third, we'll look at something most other reviews overlook – additives.
All to make as accurate of an assessment about the Nature's Bounty B-Complex as possible.
The goal here is to create a review so thorough that there would not be a need for you to ever look at another supplement review for this specific supplement. Therefore, if there is a section or aspect I haven't covered but you're interested in, let me know. And I'll add that to the review.
---
Nature's Bounty B-Complex Review – Overview
---
Nature's Bounty B-Complex is a supplement built and focused towards providing a boost of various B vitamins for anyone who chooses to.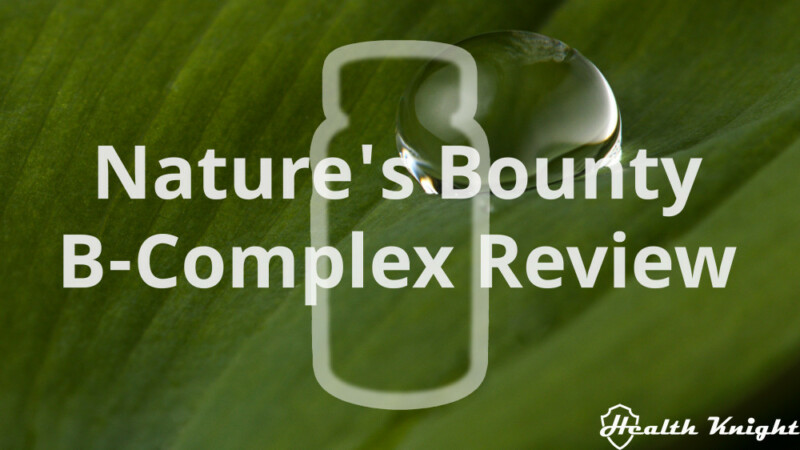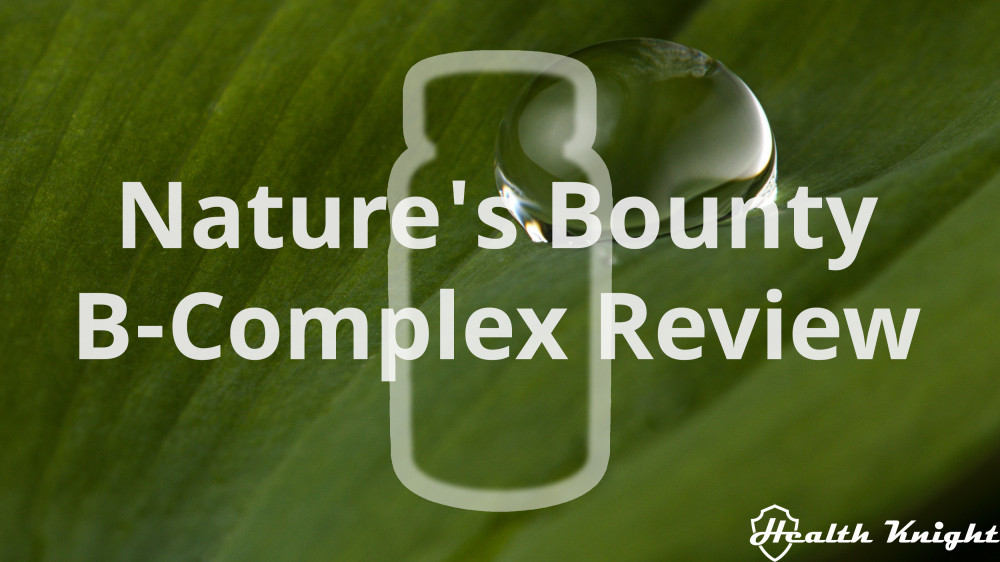 Superficially there are loads to cover what regards the description page. There is a section for overall description (including supplement facts), related products, related information, and reviews [R].
Additionally, you're provided with FAQ's, where you can ask questions that come up for you.
On that same note though, in truth, there's not a lot to cover as apart from the description, the other sections barely provide any information and some none.
It's not the most expansive description I've come across but I guess it gets the job done.
There the supplement is also claimed to support the heart and the health of the nervous system.
It is said that it additionally will be a good support for the occasional stress of daily living, which adds also vitamin C to the blend for more heart support, as well as antioxidant activity and immune system's function.
Ultimately, the Nature's Bounty B-Complex is said to be suitable for vegetarians while also being free of all major allergens and harmful substances.
Non-GMO, No Artificial Color, No Artificial Flavor, No Preservatives, No Sugar, No Starch, No Milk, No Lactose, No Soy, No Gluten, No Wheat, No Yeast, No Fish, No Sodium.
Overall, sounds good. But is it really?
---
Vitamin Forms Are Among The Worst
---
Not all nutrient forms (and vitamin forms as well) are equal. In fact, there can be huge differences between them in the sense of how absorbable (bioavailable) they are for our bodies and how much benefit is actually gained.
Thus, it's excruciatingly important what kind of vitamin forms (or mineral forms in other supplements) are used.
When it comes to the Nature's Bounty B-Complex, it's in a very bad space.
In truth, the supplement offers the most common forms for all the vitamins, regardless of those forms actually being solid for a benefit or not.
Vitamin B1 in the form of Thiamin Mononitrate is generally an okay form that is very commonly used in all kinds of supplements. Taking into account that the Nature's Bounty B-Complex is a specialized supplement for B vitamins it's really a disappointment they don't have that Benfotiamine here, the superiority of which has been proven by many studies [R, R, R, R, R, R, R].
Vitamin B2 and B3 are fine. Yet also these are the most common forms for these vitamins among supplements [R, R, R, R, R, R, R].
Vitamin B6, B9, and B12, while can provide some benefit, generally are very poor forms. Definitely, something that shouldn't be expected from a specialized vitamin B supplement [R, R, R, R, R, R, R, R, R, R, R, R, R].
As for the vitamin B7 and B5, they are okay. Again, vitamin B7 – among the most commonly used forms. Whereas vitamin B5 form is the only one that has to be commended as it's in its natural form. For this one, usually, the synthetic form is used [R, R, R, R, R, R].
Lastly, we have that vitamin C, which is another vitamin that is in a form not impressive at all. It will amount for a benefit but arguably a form of mineral ascorbates would be miles better [R, R, R, R].
Overall, there really is nothing to brag about in the favor of the Nature's Bounty B-Complex.
In essence, it is a compilation of very cheap and averagely or poorly absorbable vitamins.
---
Vitamin Amounts Are Among The Weakest
---
While there are many possibilities and potential options as to what kind of guidelines to follow, Prime Daily Values is arguably among the best choices.
This is because these have been developed specifically identifying how much it is that people should consume vitamins and minerals through supplementation daily while also eating healthy to ensure optimal health.
In that sense, Nature's Bounty B-Complex is a supplement that is about helping you avoid disease rather than having great health [R].
Meaning, it focuses on providing you with vitamins in amounts that are at least above 100% Daily Value. Which isn't the best approach for health as it's primarily based (but not for all) on the idea of how much nutrients you need daily not to get sick [R].
Or in other words, not to develop a deficiency disease. But needless to say, that avoiding disease is something entirely different from the notion of having the best health possible.
Nature's Bounty B-Complex offers 5 mg of vitamin B1, B2, and B6, while the ideal amounts would be between 25 and 50 mg for each of these vitamins.
Vitamin B3 is offered in amounts of 25 mg. Ideally, for this one, you should, however, strive towards having 50-100 mg of it.
The same kind of shortcomings is also evident for vitamin B9 and vitamin B12. The supplement offers 400 mcg and 250 mcg, respectively. Whereas you should have 800 mcg and 500-1000 mcg, respectively.
The same problem is also with vitamin B5 that is of amounts 10 times lower than the lower margin of the necessary amounts. Vitamin C is also 4-8 times fewer than what would be ideal.
Only the vitamin B7 seems to stand solid when it comes to proper vitamin B7 amounts.
Overall, this is by far less than optimal.
I mean, don't get me wrong you can still find benefit in this. But there's a much better chance of it not living up to it. Ultimately, I do believe this is not the best approach for vitamin B supplementation.
---
Additives Are Generally Amazing
---
Additives, additives, additives… Many condemn these. Others overlook them. I feel neither of the approaches is quite on point.
These are necessary for the making of 99% vitamin supplements, thus, you can't really go without them. At the same time, not all of the ingredients will be there to not hamper you the best health. They can also be quite excruciatingly painful and devastating (for example, High-Fructose Corn Syrup).
In respect to the additives for the Nature's Bounty B-Complex, it's quite surprising but – they're all good.
Surprising this I find because mediocre supplements usually tend to struggle with using harmless additives. But for this one, it's not the case.
There are six different ones – Vegetable Cellulose, Dicalcium Phosphate, Vegetable Stearic Acid, Natural Palm Leaf Glaze, Silica, Vegetable Magnesium Stearate – which may seem a lot, yet comparing to supplements that have 18 or 19 it certainly does not.
Either way, as I mentioned already, these should not cause any side effects or adverse effects long-term even if you choose to use the supplement for 10 years straight or something.
It does not, however, guarantee that these can't cause some random allergic reactions to very few people. Because sometimes even with what is found to be generally side-effect free can affect a few select people negatively.
It's true for foods, supplements, and medicine.
We all are different, so no need to fuss about it, stuff like that happens. Just be on a lookout for a replacing supplement with one, few or completely different additives.
---
Final Thoughts On Nature's Bounty B-Complex
---
Ultimately, I believe Nature's Bounty B-Complex is not worth your time.
As a vitamin B specialized supplement, while it does offer all the vitamin Bs, it does so in a very poor manner. Through generally poor or average vitamin forms in less than sufficient amounts.
Additives are okay but they alone are not enough to justify the use of a supplement.
Thus, I would suggest avoiding the Nature's Bounty B-Complex.
On that same note, if you are looking for something that can potentially provide an energy boost or you're seeking to solve any other issue that can be battled by a bunch of various B vitamins do consider a proper multivitamin supplement.
All of those offer everything that the Nature's Bounty B-Complex does but in a much more better quality and quantity. And all this while also providing other nutrients that can go a long way into helping you address whatever it is that you're seeking.
Above all, I hope this Nature's Bounty B-Complex review helped you find the information you were looking for. But if not, I'll be happy to hear any advice in the comments on how I could further improve it.
Other than that, if you get a chance, even one line in the comments helps a ton and will be highly and sincerely appreciated.
Hope to see you in another article!
Cheers, Stay Healthy & Have a Great One!