|  Overview  |  Nutrient Form  |  Nutrient Amounts  |  Effectiveness  |  Additives  |  Conclusions  |
In this Nature's Bounty Biotin Review, we'll go in deep into everything there is worth knowing about the supplement before making that purchase.
Consequently, in this article, we will start by going over the claims made. After that, we will expand on the supplement by analyzing its primary beneficial ingredient and the additives it has. Additionally, we will also look into whether or not such supplement can actually help you improve hair, skin and nail health.
Nature's Bounty Biotin Review (5000 mcg & 10000 mcg) – The Overview
Nature's Bounty Biotin (5000 mcg & 10000 mcg) is a singular vitamin supplement that is geared towards improving the health of your hair, skin, and nails.
The description page (sale's page) besides the benefits already listed also lists benefits to energy support (The description pages are identical between both of the Nature's Bounty Biotin versions – the 5000 mcg one and the 10000 mcg one) [R, R].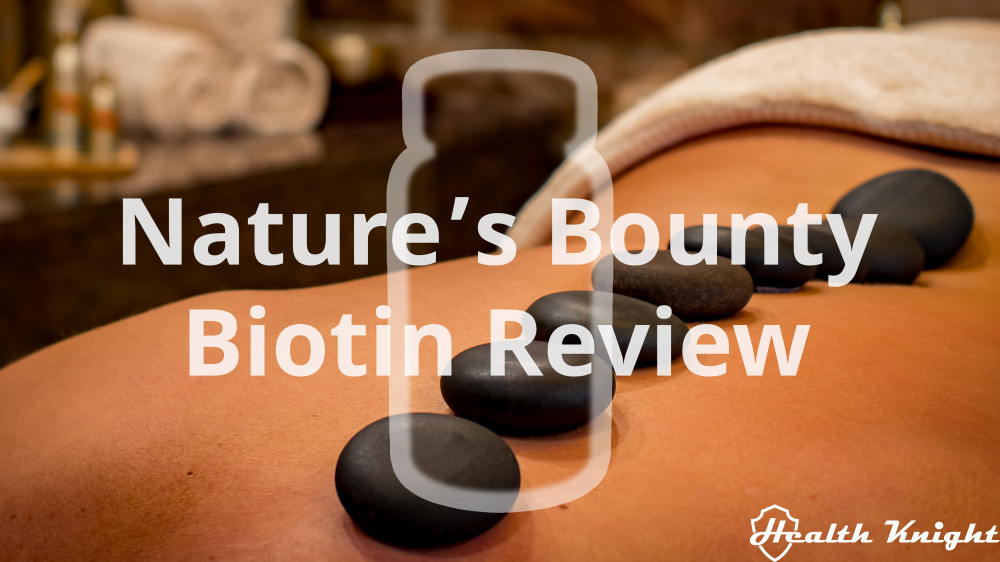 But other than that it doesn't really contain that much information. Furthermore, both of the description pages are identical, same as the supplements – the only difference being the two various dosages.
The supplement is said to contain no Artificial Flavors or Sweeteners, no Preservatives, no Sugar, no Starch, no Milk, no Lactose, no Gluten, no Wheat, no Yeast, no Fish, while also being Sodium Free.
Additionally, the page contains also a few basic facts about Biotin or otherwise known as vitamin B7. For example, that the vitamin is a water-soluble one and that it is naturally found in oatmeal, vegetables, and soy.
And that pretty much exhausts the information findable on the description page of the Nature's Bounty Biotin supplement.
At the end of the day, you are probably in this for the benefits for hair, skin, and nails.
So, let's see if it will deliver.
Biotin Form Is The Best There Is
Nutrient Forms determine how beneficial the nutrients are within the forms they are present in the supplement.
Or in other words, various forms of the same vitamin do have different capabilities in terms of absorbability. Thus, making specific vitamin forms more effective and way more likely to provide solid benefit than others [R, R, R].
As for Biotin (Vitamin B7) in the Nature's Bounty Biotin, it is the best form of vitamin B7 available for the supplements, also considered to be the natural form of the vitamin (d-Biotin) [R, R, R].
Thus, in essence, there is no doubt that the supplement at hand has the potential of inducing the benefits associated with the use of Biotin.
But has it got the amounts?
Very, Very Potent In Terms Of The Amounts
Nature's Bounty Biotin comes in two different options nutrient dosage-wise. There is the 5000 mcg version and the 10,000 mcg version.
Other than that, as I already mentioned earlier, the supplements are absolutely identical.
As regards to the Biotin (Vitamin B7) amounts, Prime Daily Values (the values established for thriving health) state that for optimal health you need to have between 150 mcg and 1000 mcg of the vitamin daily.
As it is apparent both version – the 5000 mcg and the 10,000 mcg one – go quite beyond that what is recommended daily. So, a consequent question may arise – is it safe to take that much Biotin daily?
The truth is that it's hard to say.
There is this thing called Upper Tolerable Intake Levels, which essentially identify the highest amount of a particular nutrient that may be consumed daily and that poses no risk of adverse effects when used for a lifetime [R, R].
Or to put it in other words, if you happen to exceed these levels formulated, there is a risk of acquiring an adverse condition or a disease that is related with the overconsumption (overdose) of a particular nutrient.
Although this would reveal the absolute maximum level of intake you shouldn't exceed by supplementing with Biotin (vitamin B7), for this specific vitamin this value is not established [R, R].
Therefore, as I said, it's hard to assess this.
Generally speaking, vitamin B7 is a water-soluble vitamin. And this group of vitamins is known to be easily excretable if the body recognizes that there is too much of the particular vitamin [R, R].
Thus, in theory, if you were to have too much or approach the level of close to starting to experience adverse effects due to overconsumption the body should be able to self regulate. And get those B7 levels back in check by excreting that what is in overabundance.
On that same note, however, even the water-soluble vitamins are known to cause adverse effects if used for too long in too large doses as it is, for example, the case with Vitamin B6 [R, R].
So, at the end of the day, even if you do want to try consuming such a dose and see if it benefits you I would recommend to not do it for more than a month at a time for the 10,000 mcg version and two to three months at a time for the 5000 mcg version. But do what feels right to you.
Seek out additional knowledge and help of appropriate professionals. But above all, be careful with your health as it's the most precious thing you'll ever have.
At the end of the day, if you do decide to go with it is there any evidence that 5000 mcg or 10,000 mcg of Biotin has the potential of improving your skin, hair, and nail health?
Is This Effective In Having Great Hair, Skin, and Nails?
The internet is filled with all kinds of reviews of Nature's Bounty Biotin and of other similar products having that same key ingredient in the same amounts. And most of the people who've tried it on themselves swear by it.
So, I guess it is unnecessary to elaborate that in theory, this approach could potentially help you with the growth and condition of your hair, skin, and nails [R, R, R, R, R].
On that same note, touching what I mentioned earlier, this should not be used as your long-term strategy as ultimately it can potentially backfire and cause quite a bit of damage to your health and well-being.
Thus, I would suggest considering other alternatives, like oils and potentially also various herbs depending on what is your exact goal – improved hair, skin or nail health.
Titanium Dioxide Can Be Extremely Detrimental; GMOs?
All that aside there are some potential problems with some substances that the Nature's Bounty Biotin has. And those come in the form of additives.
Many supplements do struggle with this and the supplement at hand is no different.
Nature's Bounty Biotin employs the following five – Soybean Oil, Gelatin, Vegetable Glycerin, Yellow Beeswax, Titanium Dioxide Color.
Of these, Vegetable Glycerin is harmless and completely okay to use. Whereas Gelatin and Yellow Beeswax can be considered to be beneficial [R, R, R, R, R, R, R, R, R, R, R, R, R, R, R, R, R, R, R, R, R].
However, the two rest can potentially do very much harm.
Titanium Dioxide (In Europe known as E171) used to be a completely and absolutely harmless additive [R, R, R, R, R, R, R].
Then the food industry came up with this revolutionary idea that making the substance of nanomaterial was more pleasant to the eye, and thus, led to more sales [R, R, R, R, R, R, R].
Consequently, nowadays Titanium Dioxide is the second most-produced nanomaterial on the Planet. Therefore, you shouldn't really rely on any Titanium Dioxide that you encounter – be it in food or be it in supplements – to not be of nanoparticles [R, R, R, R, R, R, R].
But as with any revolutionary idea of the food industry, it's completely at the disregard of people's health.
The main issue here is the size of Titanium Dioxide nanoparticles, which is too small for the human digestive system to filter. This, thus, lead to those particles being able to move freely across the body and cause inflammation, whenever they find themselves [R, R, R, R, R, R, R, R].
Therefore, the list of possible adverse effects is pretty unlimited. They find themselves in the lungs? Lung damage. They find themselves in the brain? Brain damage. And on and on, and on [R, R, R, R, R, R, R, R].
But this by no means exhaust the problems with Nature's Bounty Biotin.
Do you remember that assertion "no Artificial Flavors or Sweeteners, no Preservatives, no Sugar, no …" we discussed earlier in the Overview?
Where's the No-GMO writing, claim, assertion or whatever you want to call it?
Well, probably it's not there because the supplement contains GMOs. Otherwise, it wouldn't make sense the manufacturer to have it not be written on the label along with 12 other "free of" claims.
And the scapegoat of this most likely is the ingredient that is by far most of the time GMO produced. I'm thinking Soybean Oil [R, R, R, R, R, R].
While the consumption of it is on most part associated with many health concerns being of GMO only adds to the hazardousness of the substance [R, R, R, R, R, R].
For example, Soybean Oil promotes chronic inflammation, which is the root cause of all chronic diseases in existence including cancer. Additionally, Soybean Oil can also cause infertility, block protein digestion, mineral deficiencies,  and other very unpleasant adverse effects [R, R, R, R, R, R].
So, I mean, does it still look attractive?
I sincerely hope not.
Thus, at the end of the day, even if you do opt for simply increasing your biotin intake, you should seek an alternative supplement.
Final Thoughts On Nature's Bounty Biotin
There are many who swear by Nature's Bounty Biotin and thus, the benefits of.
However, they forget to address the issues or are negligent towards the harmful additives present in the supplement.
In essence, the supplement can potentially help you to achieve the improved hair, skin, and nail health if that is what you're after.
However, do also consider that although the negative effects of the additives are not immediately noticeable, later they can come back to bite you real hard.
On that same note, do recognize that there might be other more effective ways how to achieve the outcome you want. Especially because high doses of Biotin over long periods of time can also potentially be detrimental and backfire at your health.
At the end of the day, if you're really into trying Biotin you could try either Now Foods Biotin 5000 mcg or the 10,000 mcg version. They also have a 1000 mcg version available. All of these are very affordable, have no harmful additives. And thus, should definitely work better than the Nature's Bounty Biotin.
But also, do consider that vitamins and minerals most of the time work in conjunction with one another. Thus, the overall good health of your hair, skin, and nails can be a simple question of not complimenting your diet with a proper multivitamin. As well as other possible scenarios might be at play.
Other than that, I hope this Nature's Bounty Biotin review helped you find the information you were looking for.
This article was last updated on March 4th, 2019.