|  Overview  |  Fish Oil Purity  |  Fish Oil Amounts  |  Additional Beneficial Substances  |  Additives  |  Conclusions  |
In this Nature's Bounty Fish Oil Review, we'll examine each and every single one of the Nature's Bounty Fish Oil supplements. A complete number of 13 supplements.
But do not be frightened, my friend, I will keep it as concise as humanly possible while also providing all the key insights. Thus, we'll look at the claims, the quality of the fish oil and its amounts. On top of that, we'll also look into additives and whether or not they're fine for long-term consumption.
Nature's Bounty Fish Oil Review – Overview
When considering Nature's Bounty Fish Oil a complete number of 13 variations of the supplement pop-up.
All of these, however, does not account for absolutely different supplements. And thus, can be somewhat categorized in 4 different groups [R, R, R, R, R, R, R, R, R, R, R, R, R, R].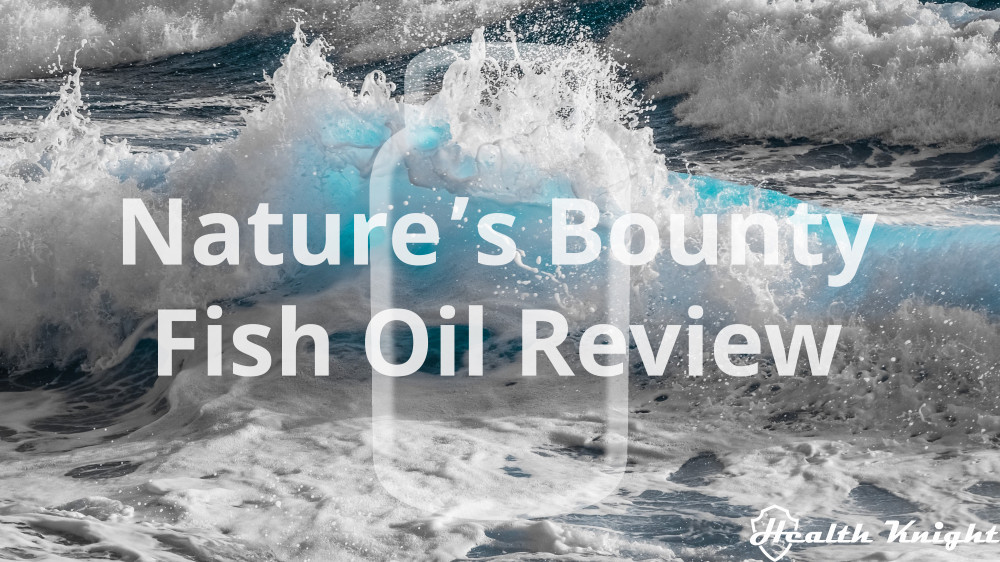 The first of the groups involves three Fish Oil supplements. All of these are all about 1000 mg of Fish Oil. Whereas the packaging size and additives are different. There are two different Coated Softgel Versions providing amounts of either 120 or 220. The third one of the pack is a Rapid Release Softgel version with 145 pieces within it.
The second group consists of six different supplements. This time they are all about 1200 mg of Fish Oil. Again, packaging size and additives do vary. And one of them also adds an additional beneficial substance.
So, there are three Rapid Release Softgels – one containing 120, one 200, and the last 320 Softgels. Then there are the Coated Softgel versions coming in 60 and 200 pieces. And lastly, there's a Nature's Bounty Fish Oil supplement that also contains vitamin D3.
The third group consists of three supplements that offer more than 1200 mg of Fish Oil. To be more exact, there's a version containing 1290 mg that is referred to as Mini (35% smaller Softgels). There's also a 1400 mg version containing 39 Coated Softgels, as well as a version of 2400 mg of Fish Oil.
Finally, kind of a fourth group consists only of one supplement. The Omega-3 Gummies of Nature's Bounty Fish Oil. These are all about having that awesome taste of a gummy every time.
All of the supplements seemingly offer an abundance of information on any of their respective description pages. Supplement Facts, Supplement Description, Related Information, Reviews, a section of Related Products and even a section with FAQ's.
However, the information on all 13 description pages is largely the same. A lot of copied content.
This content mentions some of the facts about the Omega-3 Fatty Acids benefits, they contain in essence a quality pledge and elaborate on fish oil being sourced in an ecologically friendly way directly from Peru.
And this is further emphasized by claims of how good everything is in Peru, well managed and everything. All to supposedly deliver premium quality.
Overall there are some insignificant alterations between some of the description pages. But in truth, it's nothing really worth adding apart from what I've already mentioned.
Additionally, there are also a bunch of 'free of' claims, which although vary slightly but generally include the following – Non-GMO, No Artificial Color, No Artificial Flavor, No Artificial Sweetener, No Preservatives, No Starch, No Milk, No Lactose, No Gluten, No Wheat, and some others depending on which supplement you ultimately choose.
While it all may seem nice, let's explore much more in detail what the supplements are about.
Fish Oil Purity – Assured Only By Some Random Peru Lab
One of the most important things when it comes to any fish oil supplement out there is that of the purification quality.
This is especially important because nowadays we're facing significant pollution in our seas and oceans. This pollution would be harmless if it wouldn't accumulate in the fatty tissues of the fish. But it does.
Thus, any fish oil supplement ever must be properly purified or else it poses seriously adverse effects to your health. I'm talking effects so adverse that consumption of the kind of fish oil arguably outweighs all positive effects typically affiliated with Omega-3 fatty acid intake.
Therefore, there is, without a doubt, a true necessity for proper purification methods and practices.
In this regard, Nature's Bounty Fish Oil supplements are said to be tested by some random third-party lab in Peru. This is the lab that supposedly has approved the potency and purity of the 13 supplements.
While this is probably better than to state that the potency and purity have not been tested, this is very far from the best practices in this regard.
To truly assure that the fish oil in any supplements is properly purified and the potency of it is corresponding with the label there are only two solid organizations the tests of which you should trust.
The IFOS and NSF. Of which the former is the better alternative but both are great for quality assessments [R, R, R].
Needless to say that Nature's Bounty Fish Oil supplements are on neither of the approved lists by these organizations [R, R].
Thus, although it is said that some Peru third-party laboratory has tested the purity, it is, in truth, largely a mystery.
And I would definitely advise you against putting your well-being in the hands of some random third-party laboratories. It's just not worth it.
Fish Oil Potency Is Also Largely A Mystery
The Fish Oil potency (often times also referred to as quality) is largely determined by the EPA to DHA ratio of the Fish Oil.
Ideally, you would want for every 1000 mg of Fish Oil at least 300 mg of EPA and 200 mg of DHA. This twice daily [R, R].
But regardless of the total EPA and DHA amounts, it is said that the best approach is to have it correspond with 3:2 ratio [R].
Taking into account that fish oil amounts vary quite a bit among the 4 different groups we categorized Nature's Bounty Fish Oil supplements in, we'll look at them separately.
Group One offers 1000 mg of fish oil per Coated or Rapid Release Softgel. The recommended dose varies – for Coated it's 2000 mg a day but for Rapid ones 3000 mg. It's said to contain 300 mg of Omega-3 for every 1000 mg. However, the exact EPA and DHA amounts are unspecified.
This is a huge red flag though. These amounts are really important to be specified because that is the good stuff and the more of those are there in that Omega-3 amount the better – higher the considered quality.
As that 300 mg is said to contain all three – EPA, DHA, and other Fatty Acids – the combined amounts of EPA and DHA can be as low as 100 mg. And as it's not specified differently (or approved by IFOS or NSF) there is no viable reason to believe otherwise. Which ultimately really is not worth your time.
Group Two offers 1200 mg of fish oil per Coated or Rapid Release Softgel. Similarly, as it is with the Group one, Coated Softgel versions are recommended to be taken twice a day (2400 mg), yet Rapid Release versions – 3 times (3600 mg).
For every 1200 mg of fish oil, these supplements offer the combined amounts of 360 mg of Omega-3s comprised of EPA, DHA and other Fatty Acids.
Yet again, their precise amounts are not specified, thus, it's a very wild guess as to how beneficial they can actually be. Which is something that can't really be typically said about high-quality fish oil supplements – they always specify everything.
Group Three is one that comprises of various total fish oil amounts. There's one referred to as mini softgels. It contains 1290 mg of fish oil of which 900 mg is Omega-3. However, again the precise EPA and DHA amounts are not specified.
Then there's the 1400 mg version containing 980 mg of Omega-3. This time the overall EPA and DHA amounts are specified though. It's said that it contains 647 mg EPA and 253 mg DHA.
And although it's significantly higher than many of the previously discussed supplements, it is still not within the range of the ideal amounts daily.
Then there's the 2400 mg version containing a total daily amount of 636-720 mg of EPA and 408-480 mg of DHA. This daily amount consists of 2 Softgels, which can be taken twice daily – once in the morning and once in the evening – conveniently.
Other than that, the Nature's Bounty Fish Oil 2400 mg falls above the minimum recommended amounts of fish oil, EPA, and DHA daily. Which is great.
Lastly, we have Group Four, which is just one supplement. The Nature's Bounty Fish Oil Omega-3 Gummies.
The amounts of fish oil it provides is quite on the miserably scarce side. For every two gummies or one serving you get 266 mg of fish oil, of which only 81 mg is Omega-3s – 58 mg DHA, 12 mg EPA, and 1 mg other fatty acids.
Overall, a very poor attempt for Omega-3 Fatty Acids supplementation. Furthermore, the DHA and EPA ratio is reversed.
At the end of the day, also Fish Oil quality (potency) wise the Nature's Bounty Fish Oil supplements do not have too much going for them.
For Some Supplements Some Additional Vitamin D
The Nature's Bounty Fish Oil supplements generally do not contain any additional beneficial substances to them.
However, two of them can be considered as exclusions from this rule.
Both Nature's Bounty Fish Oil + Vitamin D3 and Nature's Bounty Omega-3 Gummies do contain some additional vitamin D.
The former contains 25 mcg or 1000 IU of it, whereas the latter is improved only by 5 mcg or 200 IU of the vitamin.
The vitamin in both supplements comes in the best and most absorbable vitamin form possible. In fact, it's that same vitamin form our skin produces when being exposed to sunlight [R, R, R, R, R, R, R, R].
Although these additions are pretty insignificant, it's still awesome they do have them. On that same note, however, not having any is by no means a flaw that should be considered as such.
Additives – Polysorbate 80 & Incredible Amounts Of Sugar
Additives typically are a very crucial part of any supplement. Only about 1% of all supplements can do without additives and this mostly is the case when it comes to various herbs.
Additives are necessary for the formation of a capsule, tablet or in this case softgel. The most tricky part about them, however, is that not all of them are healthy or even harmless.
Thus, the wrong kind of additives can either seriously undermine the efforts of the supplement to provide benefits or essentially even negate them completely. Or have the very opposite effect on your overall health.
Although many manufacturers tend to use the same additives when it comes to a particular supplement brand, it is not the case for Nature's Bounty Fish Oil.
There is a great variety present. And a great variety of harms as well.
Seven of thirteen Nature's Bounty Fish Oil supplements employ an additive called Polysorbate 80, in Europe also known as E433. It's a synthetic compound used in a variety of products – in supplements generally to improve consistency or dispersion of pills [R, R, R, R, R, R, R, R, R, R, R].
Overall though this is probably one of the most harmful additives out there. It can easily cause side effects like stomach pain, coughing, and irritation. Furthermore, it's very capable of summoning extremely severe allergic reactions down upon you. Other serious concerns make it even more of a must avoid [R, R, R, R, R, R, R, R, R, R, R].
In one of the supplements, there is a substance called Natural Caramel Color. While it can be okay and it may not pose any health risks. The opposite can also be true. Ultimately, it's kind of a gamble with this one [R, R, R, R, R, R, R, R, R, R, R, R, R].
Then there is one that goes crazy on sugar. The Omega-3 Gummies has both Sugar and Corn Syrup, latter of which is actually known to be an alternative name for High Fructose Corn Syrup [R, R, R, R, R].
And that is a substance of immense detriment to health. It's one of the worst forms of sugar for your health, as well as it's easily one of the absolute most harmful additives to any food or supplement [R, R, R, R, R, R, R, R, R, R, R].
So much so that for someone who unintentionally or intentionally consumes it daily to eliminate it from his/her diet completely will result in various health benefits and all kinds of positive changes to your body and mind's capacity.
Lastly, the rest four of the Nature's Bounty Fish Oil Supplements actually do stuff in a harmless way. These have only 3 additives each. All of them completely harmless and okay for long-term consumption [R, R, R, R, R, R, R, R, R, R, R, R, R].
The four supplements that are without devastating or shady additives are Nature's Bounty Fish Oil 1000 mg Rapid Release Softgels and all three Nature's Bounty Fish Oil 1200 mg Rapid Release Softgels.
Final Thoughts On Nature's Bounty Fish Oil
While Nature's Bounty Fish Oil brand offers a variety of supplements, none of really is a viable choice.
Additive wise there are only 4 supplements that will not potentially harm your health.
However, even these 4 supplements are flawed for at least two reasons.
Their purity is of unknown and possibly shady origins. Some third-party lab in Peru has approved their purity. Which is not sufficient. It should be something like the IFOS or NSF.
Then you can be sure that they're properly purified and that you are not in truth just poisoning and killing your body and mind.
And their quality (potency) should be viewed as something seriously flawed. There is no way of indicating how much of the good stuff (EPA and DHA) are you getting. So, it can be excruciatingly low and we wouldn't even know it.
Thus, ultimately, I would seriously suggest to not bother with Nature's Way Fish Oil supplements. They're just not worth it.
For some proper ideas on what you could go for, here's a fruit of weeks of my labor.
Other than that, I hope this Nature's Way Fish Oil review of all 13 Nature's Bounty supplements helped you find the information you were looking for.