|  Initial Thoughts  |  Core Ingredients  |  Potential Benefits  |  Additives  |  Success Rate  |  Final Thoughts  |
This NeoCell Marine Collagen review is about exploring and uncovering every little bit that's worth knowing before making a decision on the supplement.
In this one, we will look at the promotional materials. Within those, we will take note of the proposed benefits. Then we will immerse ourselves into the beneficial ingredients, how good they are, they're amounts, as well as we will not forget about the inactive ones, also known as additives. This we will finish off we a look at the customer reviews and global success rates.
NeoCell Marine Collagen Is Not Here To Impress But Rather To Deliver
The NeoCell Marine Collagen supplement goes by the tagline of "Nourish your beauty from the inside, with Marine Collagen." According to them, it's about using "the dynamic duo for [the achieving of] radiant, healthy skin." This duo being Marine Collagen and Hyaluronic Acid [R].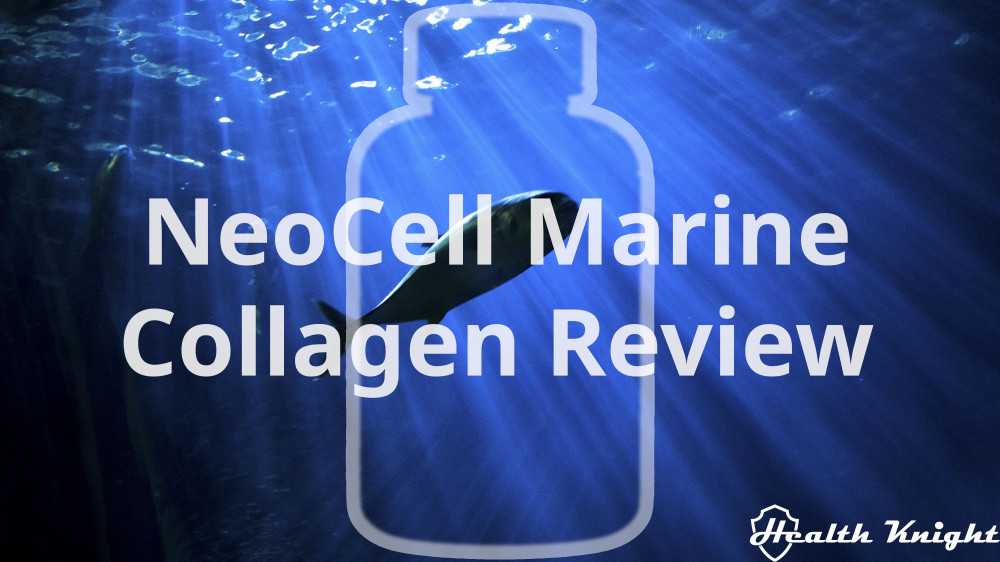 As they put it, "Marine Collagen activates your natural beauty." Whereas "combined with hyaluronic acid, this supplement helps hydrate your skin for a youthful, radiant glow." Which kind of directly throws us into the proposed benefits [R].
So, with the NeoCell Marine Collagen, they are promising a radiant, hydrated, and healthy skin that makes for a youthful and radiant glow. They're also persisting on benefits to hair and nail health. And also, the idea of anti-aging activity gets implied. Which is then enriched by noting that there are also other things in our bodies that Collagen as a protein promotes (without going into further detail).
Per their words, there are also an added, synergistically working, vita-mineral blend "to support healthy collagen formation and promote radiant, healthy and strong skin from the inside out." Which kind of repeats some of the stuff we already covered. However, that "Inside Out Beauty" is a very repeating theme throughout the page [R].
That said, overall, the description page of this one feels very light though. I mean, it's very similar to the kind of impression Garden of Life Collagen or Doctor's Best Collagen leave. Which is the complete opposite of Organixx Collagen or Pure Gold Collagen; pages that are strongly geared toward marketing.
Additionally, the NeoCell Marine Collagen is said to be Paleo-Friendly, Gluten-Free, and Non-GMO. And to that extent, it's actually very different from something like Great Lakes Gelatin Collagen Hydrolysate or Doctor's Best Collagen Powder. It's because, unlike these two, the Collagen of this review has obtained a third-party certification for Non-GMO-ness; it's certified by IGEN [R].
So, as of the first look, this Marine Collagen, I believe, looks really, really good. Now, on to ingredients.
The Collagen Might Be Fine But The Added Nutrients Are Just Low
As far as the nutrient contents go, the NeoCell Marine Collagen is a very similar supplement to something like the Applied Nutrition Liquid Collagen or the It Works! CollagenWorks. Meaning, in its very essence, it is very multivitamin-like. Though it has to be noted that it could never replace a proper multivitamin.
So, the supplement offers 2 grams or 2,000 milligrams of Fish Collagen, 20 milligrams of Hyaluronic Acid, 40 milligrams of vitamin C, 1.32 milligrams of vitamin B6, 0.4 micrograms of vitamin B12, 132 milligrams of Magnesium, 3.32 milligrams of Zinc, and 1.32 milligrams of Copper.
All of this might initially (and superficially) look great. But I feel it really isn't once we immerse ourselves in it.
Here's what I mean.
Twenty milligrams of Hyaluronic Acid isn't particularly much. Stand-alone supplements dedicated to particularly this substance typically offer about (or at least) 5 times more. Also, the vitamins and minerals provided (except Copper) are quite low even by the standards of Daily Values. Which I feel isn't really a good thing [R, R].
The picture is actually even uglier once we consider the nutrient forms which basically is one the most important aspects when it comes to how absorbable the vitamins and minerals are, and thus, how beneficial they can ultimately be [R, R].
Or to elaborate… For vitamins. Vitamin C as Ascorbic Acid is the most basic, common, synthetic form for the vitamin. Vitamin B6 as Pyridoxine HCl is the far more often used weaker form of the options. For vitamin B12, Cyanocobalamin is the cheapest, least effective, and the synthetic one option of a bunch of alternatives [R, R, R, R, R, R, R, R, R, R, R, R, R, R, R, R, R].
For minerals. Magnesium Oxide is the cheapest and most ineffective one for the absorption of this mineral; moreover, truly, a plethora of other far better choices here exist. For Zinc as Zinc Oxide, it's the exact same story that we just went over with Magnesium. Hence, really the nutrient form for Copper (as Gluconate) is the only decent one [R, R, R, R, R, R, R, R, R].
Lastly, the most important aspect, the core ingredient. Two thousand milligrams isn't much. I mean, typically, a proper powder supplement offers about 5-10 more. Still, the particular amount does remind me of supplements like Ancient Nutrition Multi Collagen and Code Age Multi Collagen Protein Capsules, both of which use the exact same number.
And both of these supplements had some pretty amazing success rates despite the fact (89.4% and 94.8%, respectively). So, although we potentially might not be looking at the full range of benefits, it feels that choosing such an approach can work and be overall beneficial. Even if not in the broadest spectrum of things.
I Would Say That This NeoCell Is Very Humble As Far As The Potential Benefits
So, a cause of limited benefits does exist. But what about that potential?
Well, generally speaking, as far as Collagen goes, the supplement has every reason to live up to the promised benefits. Additionally, we also could be looking at benefits like better gut health, improved joint health and sleep, augmented bone, teeth, and muscle health, enhanced blood sugar regulation,  as well as there may be several other benefits stemmed by the specific amino acid profile of the Collagen [R, R, R, R, R].
Similarly to Collagen, also Hyaluronic Acid is a substance naturally found in our bodies. Its main function is to help retain the water in the cells. Which then helps to keep them moist and lubricated. Which if supplemented can have a profound anti-aging effect [R, R, R, R, R].
Or to put it in other words, it can make for a healthier, younger-looking, more supple, and "dewier" skin. And additionally, the stuff can also reduce wrinkles, heal dandruff, aid wound healing, eliminate bags under the eyes, promote skin elasticity, assist joints, reduce dry eyes, help against sunburn and eye discomfort, as well as do a number of other things [R, R, R, R, R].
To that end, I feel I have to agree with NeoCell. It's definitely another beauty nutrient. One that complements Collagen quite nicely.
Though, as implied already, I would love some more of it in their Marine Collagen.
It Uses One Terribly Misunderstood Additive; It's Actually All Harmless
I've seen many people online promoting this delusion of additives being unimportant. Even if it's just implied through never paying attention to this part of supplements and never bothering to discuss it in detail. But that doesn't feel like the truth for me. And there's a lot of studies, research, and other authoritative sources to support that view.
So, what about those that we can find in the NeoCell Marine Collagen?
Well, there's really only three of them. Vegetable Magnesium Stearate, Silicon Dioxide, and Gelatin Capsule. Of the mentioned, I would say that it's almost universally agreed that Silicon Dioxide is one of the most harmless ones. Whereas while there are some extremely minor, irregular negative stuff to Gelatin like bad breath, it's generally a truly beneficial substance [R, R, R, R, R, R, R, R, R, R, R].
But when it comes to the Magnesium Stearate, it's far from being that simple.
Many, frankly, most internet, along with a bunch of otherwise extremely credible and authoritative sources, have coined this ingredient as a health hazard. And they're extremely black and white about it. They're so very, very certain. And they're so very wrong [R, R, R, R, R, R].
Please don't get me wrong, I do not know everything. However, I'm very sure I have a pretty good grasp on the arguments both for and against it being a harmful one. And really immersing in all the science, having spent a ridiculous amount of time on this seemingly small issue, I'm very confident with what the minority of high-profile doctors and scientists conclude [R, R, R, R, R].
It's arguably one of the safest additives there is. Period. A fan fact Stearic Acid, a constituent of Magnesium Stearate, the culprit of this whole non-sense, is a very abundant part of mother's milk that babies daily consume tons of; far, far more than we could ever as adults consume it with supplements [R, R, R, R, R].
So, no need to ever avoid it again if, for any reason, you have been previously lured into thinking that it's a bad one. Hence, NeoCell Marine Collagen does great additives. And as far as potential side effects, there essentially are none.
The Overall Success Rate Is Not That High But At Least They're Genuine
Now, looking at the ingredients and their theoretical aspects is important. But it's not the only thing. That's only a part of the whole equation. What I also love to look at are the real customer reviews and their overall global success rates.
There are many various supplement description pages out there that offer the chance to leave a customer review on them; Ancient Nutrition, Skinny Fit, and Further Food being just some of the examples. Sadly, I feel those don't always accurately represent the global success rates likely due to the manufacturer's being invested in how great the reviews are. It affects their marketing.
While it doesn't seem to be the case with this NeoCell Marine Collagen, I feel it's too early to tell because there's only one on-site review (which is a 3-star). For the record though, in the past, when I've looked at NeoCell (this was for their Super Collagen), it seemed that they don't actually edit or adjust those reviews.
Be that as it may, this leaves us with those ratings we can gather among all other sellers and retailers, which are selling the thing. And picking a truly comprehensive research showed that while it is quite well-received, there is definitely place for improvement.
Out of the total of 1287 NeoCell Marine Collagen reviews, I was able to find, 172 of them were 1- and 2-stared. Or as I coin it, negative ones. Thus, being at 1115 positive ratings (3-, 4-, 5-star) out of that total, it leaves us at the global success rate of 86.6%. Which likely is actually higher because people typically tend to be more eager to report negative experiences than positive ones.
So, is this a supplement worth investing in?
Maybe. Hard To Tell. Manufacturing Might Still Be An Issue
In that earlier article on NeoCell Super Collagen, a supplement that I mentioned in the previous section, I had to conclude that their manufacturing might not be the greatest. While that is largely speculation, their website literally doesn't offer anything to disprove that. Not even generic statements [R, R].
And I do find that to be quite a bit concerning.
I mean, sure. This particular Marine Collagen doesn't use flavors or anything like that where the manufacturing practices are of paramount importance. And it also possesses the IGEN seal. Which I reckon would mean that they do put attention on manufacturing. Which then could mean that it's potentially a supplement to consider [R, R, R, R, R].
For the time being though, I wouldn't risk it. There are plenty of other extremely viable options to pick. To illustrate, I would personally pick the Live Conscious (LiveWell) Collagen Peptides (full review with a summary) over this one any time of the day. Whereas if you're specifically after something that's available in capsules, I would go with Genacol Collagen (full review).
Above all, I hope this NeoCell Marine Collagen review helped you find the information you were looking for. The cheap approach to those added extra nutrients, what do you think of that? Is the supplement you see yourself picking up sometime? Let me know below.