In this New Chapter Wholemega review, we will go through everything there is to know about this particular Fish oil.
We will do some analysis on the claims and the promotional materials they use to sell the thing. We will also immerse ourselves into the beneficial ingredients and what those have to offer. We will also spend some time learning about the additives. And last of all, of course, some insight into the customer reviews and global success rates.
New Chapter Wholemega Review – Initial Thoughts & Overview
According to the manufacturer, New Chapter Wholemega fish oil "is sustainably sourced from 100% wild-caught Salmon, and is a whole-food alternative to heavily distilled fish oil pills that can isolate and reduce beneficial compounds." Per their words, it "has whole Omegas, Vitamin D3, and antioxidants for heart, brain, eye & joint support in men and women, as well as it will "support your heart health and overall wellness" [R].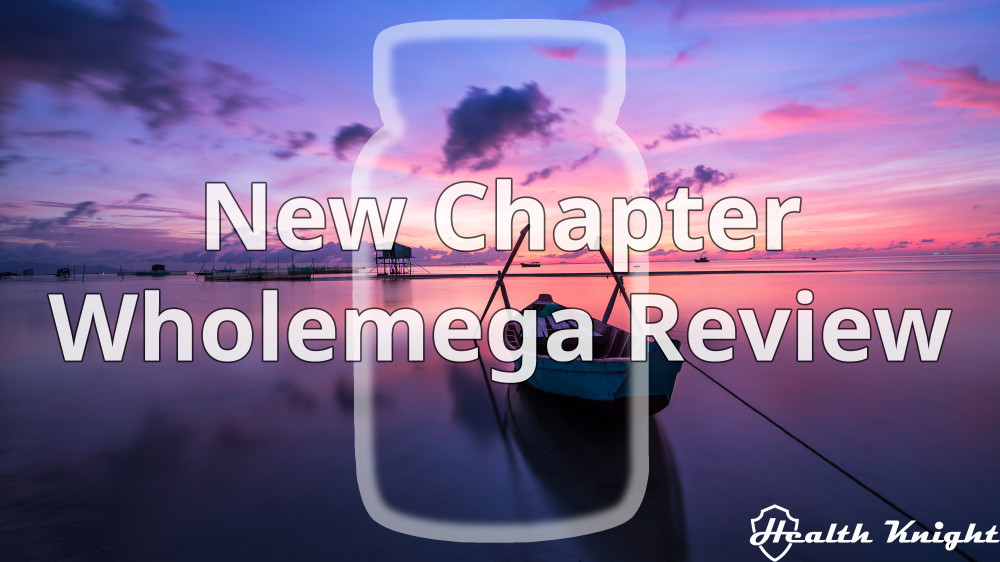 And thus, it also kind of covers all of the potential benefits they promise.
The product page itself is very laid back, collected, and, by no means, does overwhelm with information. Good structure, thoughtful approach to providing just the most crucial information.
Also, the marketing on this is very opposite of overbearing. I mean, if we're being completely thorough, there's quite a bit that's going on. For example, the more we buy right off the bad, the cheaper. We also get the option to subscribe and save 15%. There are also customer reviews, free shipping on orders over $50, as well as a 60-day money-back guarantee [R].
On top of all that, the New Chapter Wholemega's fish oil is said to be sourced from sustainable fisheries of Alaska, 100% wild fish (it holds a certification for that). It's said to be Non-GMO certified by Non-GMO Project Verified and Gluten-Free certified by NSF.
So, all in all, superficially, a really worth while product. But what about everything underneeth that?
Core Ingredients Sound Nice, But They Far From Great
Truth is, it kind of depends on how we look at it. If we're solely after high EPA and DHA amounts, as well as a fish oil that is also properly purified, this might not be that appealing. Whereas if our focus is fixed on doing it all as naturally as possible, it's a different kind of story then.
Per serving (two softgels), the New Chapter Wholemega offers 2000 milligrams of Wild Alaskan Salmon Oil. It includes 520 milligrams of Omega-3 Fatty Acids (180 milligrams of EPA, 220 milligrams of DHA, 120 milligrams of other Omega-3s), 20 milligrams of Omega-6, 95 milligrams of Omega-5 & 7, 300 milligrams of Omega-9, as well as 2.5 micrograms of each Astaxanthin and vitamin D3.
Additionally, there's also the B.A.S.S. Proprietary Blend which stands for Botanical Antioxidant Stability System. Which essentially is a blend comprised out of 12 milligrams of Organic Oregano and Rosemary extracts.
As far as the Omega-3 goes, it's a really low overall amount. We'd need three servings or six softgels daily to get over what is considered the lower margin of how much we preferably need daily. The EPA/DHA ratio is also not ideal for general health and well-being. The added Omega forms sure are nice but those are nowhere near as important (and lacking in average healthy diet) as Omega-3, specifically [R, R, R, R, R, R, R, R, R, R, R, R, R].
So, it would be a nice addition, only if it got the Omega-3 part right. Which, the way I see it, it doesn't.
As for the other additions, Astaxanthin, sure, is nice. But the amounts we get per serving of that very likely won't amount for any real gains. The same goes for the vitamin D. And that kind of goes for the B.A.S.S. blend as well [R, R, R, R, R, R, R, R].
I mean, the fact that these two are supercritical extracts (hence, essentially, a higher chance of beneficialness) doesn't change the fact that it's quite low in terms of amounts. I would even go as far as to say that these likely won't bring anything to the table apart from improving shelf life of the product. At least that's the way I see it [R, R, R, R].
At the end of the day, I feel that the beneficial stuff present in the New Chapter Wholemega doesn't really excite. I mean, they are fine. But definitely nothing mesmerizingly awesome.
Three Additives They Use, All Are Great Choices
While there are supplements out there that can do without additives quite easily, like the Collagen kind and MCT Oil kind, Fish Oils are not really like that. They almost 100% require at least some minor additions to help with the making of the supplement, especially when it comes to softgel products. And supplements like Kirkland Wild Alaskan Fish Oil and Spring Valley Omega-3 Fish Oil are also great examples of this.
But what about this Wholemega of New Chapter?
So, it uses three different ones.
There are tocopherols to help with the shelf life some more. Plus, they are also beneficial and can provide some minute gains. The same goes for the Halal Gelatin part. In of itself, also, a hugely beneficial thing. And last of all, Glycerin is a harmless one [R, R, R, R, R, R, R, R, R, R, R, R, R].
Thus, at least as far as the other ingredients go, New Chapter Wholemega is very awesome.
The Actual Success Rate Is Higher Than On Product Page
Going beyond the purely ingredient aspects, we have customer reviews and global success rates. Essentially, ways of learning how well the particular supplement in working for the customers that have purchased and tried it.
Unlike Fish Oils like NutraSea Omega-3 and Dr. Tobias Fish Oil, we do get some New Chapter Wholemega reviews on the supplement's product page. And really no surprise at all, according to these, the thing is very, very well received. Just one 1-star review and nine 5-star ones. Suggesting it might be something like a 90% success rate but too early to tell.
Also, we should never look at just the feedback on the manufacturer's website because not rarely it tends to be quite biased.
So, I did some researching. I looked at every single customer review out there by all other sellers and retailers to get a much more comprehensive picture. And here's what I found.
Out of a total of 1637 New Chapter Wholemega reviews, 105 were negative (1-star, 2-star) and a whopping 1532 were positive (3-star, 4-star, 5-star). Hence, a global success rate of 93.6%.
Which is something actually higher than what we get from their product page. This is not a common trend. It's usually the other way around. And hence, I believe it does indicate that New Chapter is a value-first kind of brand.
I Believe This Wholemega Is A Supplement To Consider
Despite the rather high success rate, great additives, and somewhat decent active ingredients, I don't think the New Chapter Wholemega supplement is a good buy.
I mean, don't get me wrong. There's nothing inherently bad about it. It will likely prove to be beneficial. And only beneficial. It doesn't have any harmful additions or ingredients, moreover, it's also properly purified and tested.
To that end, I think it's fair to rate it as something to consider but nothing more. I wouldn't shortlist it, I wouldn't just go right ahead and recommend buying it either. It's just not that good.
I mean, the way I see it, here's the biggest downside. If we were to go for this one, I feel we would need another Fish Oil supplement to offset the terribly low Omega-3 contents of it. And that kind of self-explains it. That's not a great Omega-3 supplement by my book.
Is it by yours?
Be that as it may, there are much better options out there. Here's the full list of them.
Above all, I hope this New Chapter Wholemega review helped you find the information you were looking for. What do you think of its contents? Is it worth it? Would you get one for yourself? Let me know below.