|  Initial Thoughts  |  Core Ingredients  |  Potential Benefits  |  Additives  |  Success Rate  |  Final Thoughts  |
This Organic India Turmeric Formula review will purely be focused on examining every single detail and aspect of the supplement at hand.
In that sense, we'll first look at the claims associated with it. After that, we'll transition into exploring all of the ingredients that it uses, which will also include the often overlooked additives. Of course, we'll also spend a few moments talking about the potential benefits of such supplementation. But last, of all, we'll look into global success rates and that how well it holds up when compared to the best in the industry.
Organic India Turmeric Formula Review – The Initial Thoughts Of It (& Claims)
As the name of the manufacturer (Organic India) suggests, the supplement is originally from India. Its ingredients are grown there, then packed into a supplement and exported to the USA (though you can buy it in India as well – it's not only for export).
And because of this, you can find two different description pages for this one online (on two different websites) [R, R].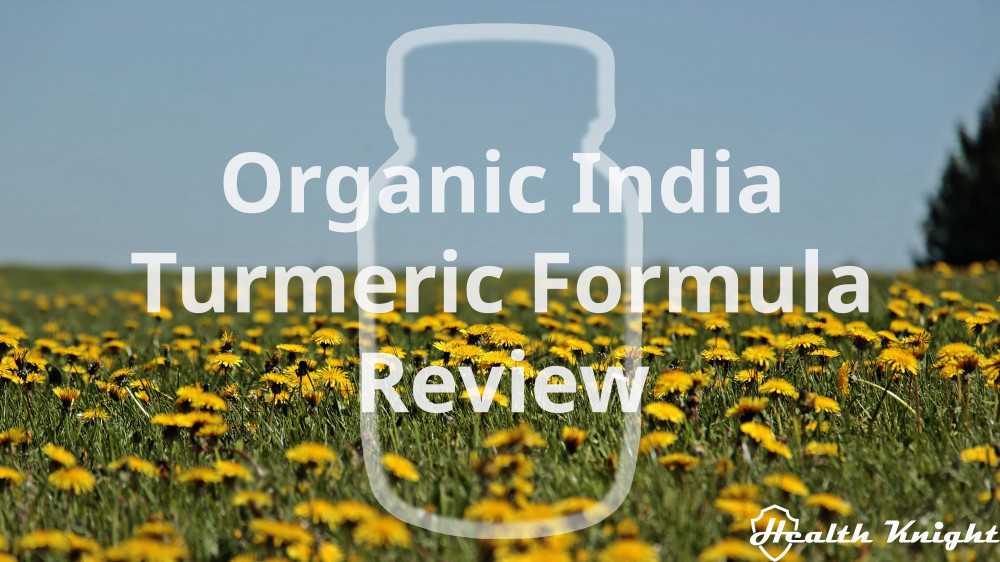 That said, the two description pages are unlike the ones we have found for PureNature Turmeric where both of them provide the exact same information about the supplement. Not at all, there are differences there though essentially much doesn't change.
Also, neither of those pages is like a massive sales page that is doing everything humanly possible to lure you into buying the supplement like it is for brands like Research Verified.
Instead, in their very essence, they're very laid back and simply inform about the Organic India product (rather similar to brands like CurcuminRich Theracurmin or Nature's Truth).
So, what about the claims that are associated with the use of this Organic India Turmeric Formula?
Well, it highly depends on which description page are you viewing.
The India version mentions such potential benefits as improvements to digestion and promotion of healthy inflammation response and overall well-being, plus it's said to support important blood functions, healthy joints, liver health, and skin health. Whereas the US version superficially (and as it seems initially) limits itself only to joint mobility and support.
On that note, however, the latter does imply through a number of statements (and even quotes) that potential benefits of Turmeric likely go far beyond just the single claim (which I feel is totally appropriate and accurate, see a later section).
They mention also benefits to heart health, digestive function, healthy immune response, as well as joint and muscle health.
Other than that, the supplement holds the seals of USDA Organic, Non-GMO Project Verified, as well as certified Halal and Kosher. Plus, they're also mentioned to be vegan and vegetarian compatible, as well as Gluten-free.
Each of the description pages also contains a reviews section, which overall has quite mixed response towards the supplement (and is a good sign as it suggests they don't just delete the bad reviews that brands like Vimerson Health or Bio Schwartz likely do).
But we'll get more into this in one of the later sections.
Overall, I have to say that superficially the supplement looks good. And it also offers a money-back guarantee. But will it actually be able to help you improve your health?
Let's examine the ingredients.
The Overall Ingredients Are Pretty Basic & Straightforward
When talking about the Organic India Turmeric Formula, there's a number of different ingredients there.
First, there's the Organic Turmeric rhizome (Curcuma Longa). It's basically the rawest version of an extract you can get. It's essentially like you would consume just plain Turmeric with your food or as a spice to a dish.
Of this, you get 740 milligrams.
Then, second, there's the impactful stuff – 170 milligrams of Organic Turmeric extract that is made in a way to contain no less than 90% Curcuminoids.
Some may wonder as to why exactly this is important… Here's the answer.
Curcuminoids are the compounds found in Turmeric that in most are responsible for all the benefits associated with the herb. So, essentially to a degree the more Curcuminoids you can find in a single supplement, the better it will be [R, R, R, R, R, R, R, R].
One other thing worth mentioning here is that turmeric naturally contains only 3% of these marvelous compounds. So, it kind of goes without saying that being created in a way to contain at least 90% is a good thing (there are a bunch of supplements that will try to sell you only the raw stuff though, like the Spring Valley or almost all raw like the Nature's Bounty) [R, R, R, R, R, R, R, R].
Lastly, Organic India Turmeric Formula also provides 90 mg of Organic Trikatu. It's essentially a blend that is made out of Organic Long Pepper fruit, Organic Black Pepper Seed, and Organic Ginger rhizome 30 mg of each.
And in its very core, it is a complimentary blend to the Turmeric Curcumin supplementation (more on this in the next section).
Better Health And Overall Well-Being
On the US description page, you will find a quote by Dr. David Frawley. It goes like this "If I had only one single herb to depend upon for all possible health and dietary needs, I would without much hesitation choose Turmeric" [R].
And I feel it's incredibly accurate and on point.
Curcuminoids have been studied a lot and they have every reason to bring about a number of very meaningful benefits.
They can improve heart health, liver health, vascular health, brain health, be truly significant in helping detoxify and protect against metal toxicity, help slow down aging, aid joint and muscle health, help battle pain and even Arthritis, help combat obesity, diabetes, high "bad" cholesterol levels, and cancer, as well as assist people in depression [R, R, R, R, R, R, R, R].
Furthermore, this doesn't even cut it. The realistic benefits reach far beyond what was just mentioned.
In that sense, it's said that Turmeric can even improve the health of otherwise like 200% healthy people [R, R, R, R, R, R, R, R].
Thus, I feel it can even be said that there's not one person out there that couldn't benefit from these substances (and such supplementation).
So, what about the other stuff that the supplement contains? What about that Organic Trikatu blend?
Beforehand I mentioned it's a complimentary blend to the Turmeric Curcumin supplementation, and here's what I meant.
Sure, each of these three substances can potentially provide on their own, like great antioxidant capability, reducing inflammation and helping treat a variety of conditions among much other stuff [R, R, R, R, R, R, R, R, R, R].
However, they are primarily in the supplement to help you get the most out of that Turmeric Curcumin that the Organic India Turmeric Formula contains.
To illustrate, Piperine, a compound found in Black Pepper, is said to and through studies proven to improve Curcuminoid absorbability by 2000% [R, R, R, R, R, R].
That's as if you were to have consumed 20 times more Curcuminoids!!! Which is pretty big deal to say the least.
Benefits out of the way, let's jump into the most under-discussed aspect of supplements on the internet.
Organic India Turmeric Formula Uses Only One Additive – A Harmless One
Almost any processed food you'll ever find will have additives added to them. While the functions and purposes of such additives differ slightly from those in supplements, they're still the ingredients that make all the difference between high-quality products and the worst ones.
Many people will try to lure you away from discussing them as many hold the misconception that they don't matter. Yet, they do. And they do so profoundly. As all else you'll ever put into your body.
So, what kind of additives the Organic India Turmeric Formula has?
It doesn't have many. It only has one. And they list it as Organic Vegetable Pullulan Capsules.
But what is that?
It seems to me that it's something made 100% out of HPMC or in full name Hydroxypropyl Methylcellulose, also known as Hypromellose [R].
But, again, what is that exactly?
Well, I've seen some people trying it to label as a harmful additive. Which is complete rubbish to be frank.
In truth, it's one of the most harmless and safe additives there is. In fact, some people even say that it's unlikely to be just harmless, instead, it's slightly beneficial as well. And one from all organic ingredients as in this case [R, R, R, R].
So, nothing to worry about and no dangers here.
Thus, overall, given all that we've discussed, I feel it's safe to say that at least from a theoretical standpoint, the Organic India Turmeric Formula supplement should work well for people, a decent supplement.
But what about the reality in this regard?
That we'll get into next.
Success Rates Are Decent, Still, It Compares Unfavorably With Its Rivals
The overall realistic picture is rarely visible just from the reviews present on the manufacturer's site. Moreover, oftentimes those are actually biased and likely edited to appear better than reality as we've seen with a couple of brands already.
So, to get a complete picture of where does Organic India Turmeric Formula stand, I did comprehensive research looking at every single customer review online I could find for it.
Here's what I found.
Of the complete number of 2116 clearly identifiable, real customer reviews that I could find, 138 of them were negative (ones where people weren't exactly happy with the product). Thus, given this, it can be said that Organic India Turmeric Formula enjoys what is almost a 94% global success rate.
On that note, in reality, it's likely even better than that as people typically tend to offer negative experiences way more often than positive ones.
Hence, overall likely an upwards of 94% global success rate. Which truly is really high.
But how does that stack against its competitors?
Pretty well actually.
Based on the global success rates alone it's a no worse supplement than the Gaia Turmeric Supreme (above 94% success rate), Life Extension Super Bio-Curcumin (above 93% success rate), or the Youtheory Turmeric (above 93% success rate).
But one's for sure, the supplement of this review definitely works and by far most people do enjoy it (again, that above 94% success rate).
So, then, the most important conclusion – is this an extremely viable supplement you could easily go for?
Hold on to your seats.
Some of you may be surprised.
It's A Fine One But I Don't Think You Should Go For It. I Would Not
So, let's sum it all up for the Organic India Turmeric Formula.
It offers raw Turmeric extract, Turmeric extracts standardized to 90% Curcuminoids, Trikatu blend that is all about improving the absorbability and benefits of those Curcuminoids, and only harmless additives. Furthermore, all of that is from organic material earning the USDA verification badge. Moreover, at least 94% of the people that have bought it globally, enjoyed it.
Thus, a must buy, right?
Well, not really.
Quite far from it actually.
Sure, the all-organic ingredients while not containing any harmful stuff is nice. Plus, the USDA organic certification only adds to all of that. There is, however, one rather significant concern with it.
The Curcuminoid amounts.
Those are far from the ideal amount. I mean, let's be real here – in the Organic India Turmeric Formula they're very scarce (preferably you'd need at least 5 times the amount).
Hence, don't get me wrong, even the very limited amounts of them will contribute and likely bring about a number of benefits.
However, there's not a doubt in my mind that you will find way more positives through supplements like Nutrigold Turmeric Curcumin Gold that actually contain solid amounts of Curcuminoids (at least 5 times the amount). Whereas if you're after the best, I've done the research. Here's the full review on it.
Other than that, I hope this Organic India Turmeric Formula review helped you find the information you were looking for. Did this particular supplement initially sound really good for you? Did you almost buy it? Or maybe just now realize how not optimal it is? Let me know below.
This article was last updated on July 9, 2020.