|  Overview  |  Ingredient Amounts & Benefits  |  Additives  |  Effectiveness  |  Conclusions  |
In this Research Verified Insomnia Relief Review, we'll take a comprehensive look at all of the supplement's ingredients and all that it can offer for you.
Thus, not only we will look at the claims promoted on the respective product page, but we will also assess a bunch of active ingredients, their benefits, as well as additives present. Ultimately, adding an overall assessment of the supplement's success rate among a few other considerations.
Research Verified Insomnia Relief Review – Overview
According to the manufacturer, Research Verified Insomnia Relief is not your conventional type of supplement for combating all of your sleeping problems while also being a fake or low quality that most products online are.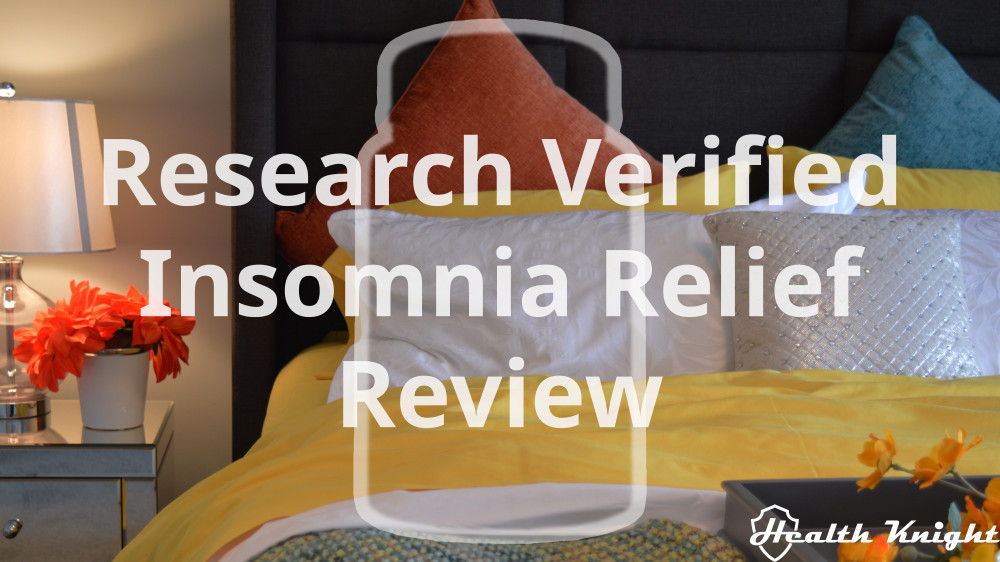 While most supplement manufacturers provide a description page for any of their respective supplements, Research Verified is somewhat of a different beast.
Instead of a description page's approach, it practices a solid sale page perspective. Meaning, it's more like a page that you get for various online courses or huge physical products than a supplement.
On that same note though, much does not differ across these kinds of sales pages for this particular brand. To get a better idea of what I mean in regard to this, you can compare this one with pages made for Turmeric Curcumin or Joint Relief supplements.
Or in other words, they all follow an established and very predictable pattern, a way of laying out information.
That said there's no chance that I can effectively summarize all of the information shared there. However, here are some core insights to consider.
The core idea is to make a supplement with clinically proven ingredients that work, make sure all of those contents are in congruence with Research Verified's criteria for effectiveness and safety, thus, ensuring the highest of quality. All of this while also providing (as they claim) a rock-solid 365-day money-back guarantee to leave 100% of customers happy.
A truly divine commitment if I can say so myself.
Then a bunch of studies for various ingredients are cited to establish the efficacy of those ingredients. And finally, a supplement containing all of those ingredients is pitched for you.
Thus, pretty much leaving no doubt for the capabilities of those ingredients to improve your and any other person's sleep.
Sounds great, right?
But let's dive a bit deeper and see how true all of this holds.
11 Different Ingredients To Collectively Overpower Insomnia
Overall, there is no doubt about it. Research Verified Insomnia Relief is a remarkably resourceful supplement.
Sure, supposedly every single of the 11 ingredients is geared towards improving and promoting sleep quality. Well, because sleep is one of the five crucial health aspects that must be taken care of for remarkable overall health and well-being.
However, these ingredients will provide other benefits as well. Purely because they don't confine themselves to only better sleep.
Let's have a look into those now.
First of the eleven ingredients is the L-Orthinine. This one is an amino acid that apart from improving sleep quality also improves athletic performance, promotes wound healing, accelerate hangover recovery, reduces cortisol levels, as well as has other benefits [R, R, R, R, R, R, R].
Valerian (Valeriana Officinalis) is the sleep-aiding herb that has been used for such purposes for almost 2000 years. Additionally, it also potentially helps those, who struggle with anxiety and stress management, eases menstrual cramps, lowers blood pressure, improves heart health, relieves digestive problems among other benefits [R, R, R, R, R].
Chamomile is yet another sleep and relaxation-promoting herb. In addition to that, it boosts immunity, reduces stress, treats cold, improves digestion, fights off cancer, promotes heart health, relieves stress, as well as has other benefits [R, R, R, R, R].
Passionflower (Passiflora Incarnata) is a flower typically grown in Europe and goes also by the names of maypop, apricot vine, passion vine, and passiflora [R, R, R, R].
It's great for many things including improving sleep, reducing inflammation and anxiety, lowering blood pressure, improving heart health and sex drive [R, R, R, R].
Lemon Balm (Melissa Officinalis) is a herb that has been effectively used for all kinds of stuff since the Middle Ages [R, R, R, R].
The overall benefit list is a pretty long one, however, some examples of potential ones include better sleep, reduced anxiety, increased longevity, reversed diabetes, and wound healing [R, R, R, R].
All of that while also displaying powerful antioxidant and anti-inflammatory properties [R, R, R, R].
Hops Flower (Humulus Lupulus) is a herb that helps treat insomnia through sedative and soothing qualities. On top of that, it also supports digestive health, treats headaches, enhances psychological health, improves skin health, combats cancer and displays a variety of other potential benefits [R, R, R, R, R].
Taurine is an amino acid that occurs naturally in our bodies. As far as I can tell, it's not really one that will promote sleep in any way. Nonetheless, it's a capable antioxidant, may improve athletic performance, heart health, as well as provide with a number of other benefits [R, R, R, R, R].
Magnolia Bark (Magnolia Officinalis) is a staple of traditional Chinese medicine. It's a long-used remedy not only for battling insomnia. It can also be very potent when it comes to treating depression, decreasing anxiety, reducing inflammation, as well as preventing and fighting cancer among other benefits [R, R, R, R, R].
Jujube Seed (Zyzyphus Jujube) is very similar to the previous one in a sense that it is also used in traditional Chinese medicine to treat sleep troubles like insomnia [R, R, R, R, R].
On that same note though, this one's also not only about improving sleep. It's great for immunity, digestion, uplifting, calming, blood pressure, weight, bones, cancer-preventing and other stuff [R, R, R, R, R].
Reishi Mushroom (Ganoderma Lucidum) is a type of fungus that commonly grows in hot locations of Asia and due to its properties is used in medicine there [R, R, R, R].
While it does somewhat contribute to better sleep, it seems to be a much less potent one than any of the previously discussed. However, it does boost the immune system, display powerful anti-cancer properties, improve heart health, stabilize blood sugar levels, fight allergies among other benefits [R, R, R, R].
Melatonin is a hormone naturally made by our bodies to help us relax and fall asleep easier among improving other sleep-related functions. On top of that though, it's great for reducing inflammation, supporting eye health, combating seasonal depression, improving neuroplasticity and fertility, as well as promoting a healthy immune system among other benefits [R, R, R, R, R, R, R].
I mean, I bet it's a lot to take in. Either way, one is definitely for sure (let's sum it all up in a single sentence).
The Research Verified Insomnia Relief has all the necessary ingredients to help anyone relax and tone down that anxiety but most importantly cure insomnia and finally enjoy some solid good quality sleep.
Only 4 Additives – All Of Them Pretty Awesome
Additives are somewhat of a controversial subject as there are many misconceptions regarding them.
Some consider all of them harmful and avoidable. Others say they can't hurt you, thus, you don't ever have to check them or worry about them. But be as it may neither of these extremes speaks the truth.
It really depends, additives can be harmless (like Silicon Dioxide or Cellulose) but they can also be extremely harmful (like High-Fructose Corn Syrup or Hydrogenated Oils).
So, the ignorant may do as they deem correct. But for you, I would always suggest checking them. Or if it's too time-consuming for you, we can happily provide you with all the necessary insights (no cost, no commitments involved).
The Research Verified Insomnia Relief is only about 4 additives. These four are Microcrystalline Cellulose, Silicon Dioxide, Magnesium Stearate, and Gelatin.
The first two are as harmless as they come. The third while has been considered controversial and deemed harmful by many, a deep dive into all the research suggests that the opposite is true. And as for the very last of the mentioned, it can be considered beyond harmless – if anything it's beneficial.
So, ultimately, the supplement seeks to be much more than just beneficial with all the active ingredients. It also seeks to be absolutely harmless. Which is a good thing.
Because not many supplements do.
Success Rate's A Mystery
Overall, when it comes to consumer reviews for the Research Verified Insomnia Relief, there are not that many out there.
Thus, I feel it would be quite premature to derive at least a somewhat accurate success rate. Therefore, look at the following with solid stricture.
As it stands now, it seems that the success rate is only about 40%, which is not a lot, to say the least.
Anyhow it must be noted that the overall review count is below 50. Thus, it's very likely to be extremely inaccurate.
Even more so, because people are generally more inclined to and tend to be more eager to leave bad reviews than good ones. Thus, many positive ones I am more than sure are not accounted for.
But regardless of that, supposedly you could pick it up and try it out. And then if it doesn't work just claim your money back through the manufacturer's 365-day money back guarantee.
On that same note though, people have complained that Research Verified does not stick to that claim.
Thus, if you are not satisfied with the product it's pretty much a gamble on whether or not you will get a refund.
By my books, this is far from okay, to say the least.
Final Thoughts On Research Verified Insomnia Relief
The Research Verified Insomnia Relief ingredient-wise is an amazing supplement. Not only does it has completely harmless additives but its beneficial substances contents are pretty incredible as well.
In truth, there is every reason for this supplement to be able to help anyone with sleep-related issues or insomnia.
But based on various consumer reviews around the internet it seems that it just doesn't pan out.
And it would be absolutely fine if the 365-day money back guarantee would be always honestly and fairly lived up to.
Purely because not all supplements work for 100% of people (at times even the best don't) and because the guarantee would make it so that regardless of the outcome you would not lose money.
However, I'm not a fan of the notion of claiming 365-day money back guarantee without backing up that claim. Thus, though the supplement from the ingredient perspective is still remarkable, I would recommend avoiding it.
Other than that, I hope this Research Verified Insomnia Relief review helped you find the information you were looking for.