|  Overview  |  Ingredient Amounts  |  The Benefits  |  Additives  |  Effectiveness  |  Conclusions  |
In this Research Verified Joint Relief Review, we'll do plenty of comprehensive look at all of its ingredients and all that it can offer for you.
On our list to assess and verify are a bunch of active ingredients, their benefits, additives, as well as all other things that you might want to know. This includes also a complete assessment of the overall success rate of the supplement.
Research Verified Joint Relief Review – Overview
According to the manufacturer, Research Verified Joint Relief is not your mainstream kind of typical joint health-improving supplement, it's not fake, it's not low quality like most products online.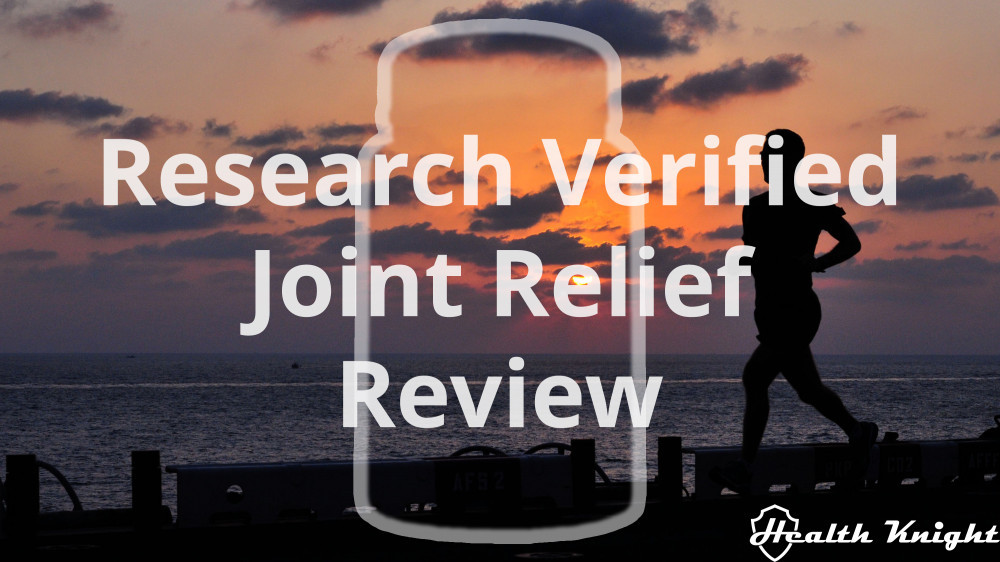 When it comes to its description page, however, it's unlike any other. It's a proper sale page that goes in pretty deep as to explaining what you should be looking for in a joint relief type of supplement.
Thus, naturally, it's one that contains loads of information. On that same note though, it follows kind of a typical outline that Research Verified practices.
Therefore, if you've ever come across other sale's pages for this brand there is a lot of duplicate content that you can essentially skim and read only the relevant parts for the particular supplement.
Overall, there's no chance that I can effectively summarize it all here. For that, you should check out that page yourself but it will be a solid 10+ minute read.
But the essence is simple. They truly create a fine line between what you want and what you don't want. And that, of course, while also at the end pitching their supplement, which is all that you want and nothing that you don't.
Quite typical. But has been proven to be extremely effective in driving sales.
In this regard, it is definitely not rare that these kinds of claims are slightly altered and biased. However, when it comes to the sale's page for the Research Verified Joint Relief I fell its none of that.
Ultimately, truth be told I feel that it could even constitute a proper and quite accurate buyer's guide.
Which is truly pleasant to encounter as so many supplement manufacturers are not really putting an emphasis on making sure the information they present is actually accurate (this one's common among the cheaper brands).
But to top it all off, Research Verified offers a 365-day money back guarantee. Which needless to say truly emphasizes how much they trust in their products to be beneficial.
Which also always creates this pleasant vibe around the supplement manufacturer. That they are not about BSing people.
So, overall, I believe it's fair to say that this Research Verified Joint Relief supplement might be the one to go for when addressing joint related issues.
But do the ingredients convey this message too?
15 Different Substances Within The Formula
As of itself, the Research Verified Joint Relief is a remarkably resourceful supplement.
It offers 15 different beneficial substances the combination of which will seek to improve your joints and overall well-being from various aspects.
Within these 15 you will find 3 that pretty much assemble the core of the supplement – Glucosamine Sulfate, Methylsulfonylmethane (MSM), and White Willow.
On that same note though, it can't be said that the rest of the ingredients are there just for the superficial impressiveness.
No, not at all.
Even the slightest amounts of these can contribute to potential benefits.
Overall, many of the active ingredients you will find are present in the "Standardized" form. For example, there's Boswellia that is standardized to 70% of Boswellic Acids, or Turmeric Extract standardized to 95% Curcuminoids among other examples.
This "Standardization" is very important as it guarantees that you are actually getting the good stuff of any respective herbs and not their raw counterparts [R, R, R].
To better understand this and emphasize the importance of this, an example to illustrate.
Curcuminoids are the core beneficial ingredient found in Turmeric that is responsible for almost all if not all benefits that we associate with Turmeric consumption [R, R, R, R, R, R, R, R].
While proper supplements are made in a way that 95% of the indicated mass is of Curcuminoids, raw Turmeric Herb contains only about 3% Curcuminoids of its whole mass [R, R, R, R, R, R, R, R].
To put this into perspective, in the Research Verified Joint Relief you get 50 mg of Turmeric Extract that is standardized to 95% Curcuminoids, which essentially means that you are getting 47.5 mg of Curcuminoids.
If you were to attempt to consume that amount of Curcuminoids only through the consumption of raw Turmeric herb you would need almost 1600 mg of it.
So, it is either 50 mg of Turmeric Extract (standardized to 95%) or 1600 mg of raw Turmeric. The benefits will be the same.
And, as you can probably tell, very similar things can be said about and apply to all the other substances and extracts that are standardized in the Research Verified Joint Relief.
The Potential Benefits Are Way Beyond Just Joint Relief
So, we have 15 different and very capable substances within the Research Verified Joint Relief. Let's look at some of the benefits.
One of the three core substances is the Glucosamine Sulfate (Glucosamine). The beneficial side of this chemical compound naturally occurs in both human and animal tissues. In essence, it serves as a building block for a variety of stuff within, however, primarily it is recognized for developing and maintaining cartilage within your joints [R, R, R, R, R].
Thus, consuming such substance supports healthy joints and is known as the natural relief from arthritis. On top of that, it also ensures better digestive health, decreased inflammation and less bone pain [R, R, R, R, R].
Methylsulfonylmethane (MSM) is another great substance for joint health. It is also one that is of naturally occurring substance within plants, animals, and humans (sulfur-containing compound) [R, R, R, R, R].
This one is known to decrease joint pain and Arthritis symptoms, to improve skin and digestive health, to have anti-inflammatory and Glutathione ("Mother Of All Antioxidants" – best antioxidant there is) levels increasing properties, to boost immunity, to speed up muscle recovery after exercise, and to fight cancer among other benefits [R, R, R, R, R].
Then we have the White Willow, which is a substance derived from white willow tree bark. This is a tree that is commonly found in Europe and Central Asia. The remarkable thing about it is that it has been used in medicine for nearly 5,000 years and just overall is considered to be well studied [R, R, R, R, R, R].
As for the benefits, this marvelous thing is known to be an effective natural pain reliever (used in Chinese medicine for more than 2500 years), inflammation reliever, weight loss, skin, and gut health improver, migraine eliminator, menstruation easer, anti-aging promoter, as well as it has other amazing capabilities [R, R, R, R, R, R].
As for the rest of the 12 substances – Boswellia, Holy Basil, Turmeric Extract, Cetyl Myristoleate (CMO), Ginger, Mythocondro, Bromelain, L-Glutamic Acid, Black Catechu, L-Cysteine, Hyaluronic Acid, Rutin – the overall combined potential positive effect on one's health is simply mind-boggling.
From these, there will be such benefits as improved brain function, detoxification and digestive health, pain healing and improved joint health, oppressed obesity and diabetes, improved Glutathione production, reduced inflammation and swelling, improved heart health and reduced risk of heart disease, lowered cholesterol levels, improved skin health along with various skin anti-aging benefits as well as many other benefits [R, R, R, R, R, R, R, R, R, R, R, R, R, R, R, R, R, R, R, R, R, R, R, R, R, R, R, R, R, R, R, R].
So, overall, even if you're not into this for all the joint health-related benefits, it can still serve you well.
The Blend Of Additives Are One Of The Safest
Additives are somewhat of a controversial subject as there are many misconceptions regarding them.
At the end of the day though, it's fair to say that not all of them are bad (many are harmless) but most importantly not all of them are good for you either (there are harmful ones out there)
For example, something like Silicon Dioxide is absolutely harmless. Whereas something like a High-Fructose Corn Syrup is the exact opposite.
Either way, it's always best to check whether or not the additives in the supplements you are or plan on using do subscribe to being harmless.
When it comes to the Research Verified Joint Relief, there are 6 different additives involved – Magnesium Stearate, Silicon Dioxide, Croscarmellose Sodium, Stearic Acid, Ditab, and MCC.
As for the first 4, they are known to be completely harmless. Ditab is just another shorter way to name Dicalcium Phosphate, which also is a harmless additive. Whereas MCC is the shorter name for Microcrystalline cellulose, which, again, is a marvelous and harmless inactive ingredient [R, R, R, R, R].
Thus, not only Research Verified Joint Relief seeks to be beneficial in all that it provides, but it also seeks to not be harmful in any way.
A true testament to the guidelines they themselves outlined.
75% Success Rate And Legitimate Concerns
Overall, I have to point out that there is a general lack of consumer reviews for this product (a comprehensive look at all that I could find).
It might be new to the market or there might be some other aspect at play as to why there are not that many. Either way, I don't feel it's enough to derive an accurate and consistent success rate.
That said, it seems that it might be around 75% or slightly above. Thus, it generally should work well for every 3 out of 4 people.
While it is true and perfectly normal that the Research Verified Joint Relief does not work for everyone (there is none such supplement in existence that does that) there is, however, one other thing that is NOT OKAY.
And it's a HUGE BUT in all of this.
What I don't appreciate (and I am sure you will not too) is the fact that, as far as I can tell, they are not always sticking to their 365-day money back guarantee claim.
Thus, if you are not satisfied with the product it's pretty much a gamble on whether or not you will get a refund.
Which, at least by my books, is far from okay, to say the least.
If you're not 100% committed to doing it you shouldn't claim it.
Final Thoughts On Research Verified Joint Relief
At the end of the day, Research Verified Joint Relief is a great supplement.
It offers many various substances that can help you improve not only your joint health but your overall health as well. Furthermore, it is absent from harmful additives.
All that said, there is no 100% guarantee that this supplement will help. I mean, it has every reason to work and improve your well-being. But even the best of the best supplements do not work for 100% of people.
Thus, the Research Verified's 100% money back guarantee is an awesome addition as it makes it so that you will not put your money to waste.
Or does it?
As can be concluded from various consumer reviews, the money back guarantee is not always issued despite every reasonable effort on the customer's part. They just seem to play dead.
Concerning this, I feel a company that does not hold up and sticks to its word like that is not worth to invest in.
Therefore, while the supplement itself seems to be a solid one, the company is not always.
And so, there are better options out there if you are struggling with joint pain or Arthritis. For example, probably among the very best choices in regards to this are proper Turmeric supplements.
These have been proven time and time again to effectively help people with exactly that, as well as they will provide many other meaningful benefits. For this, two supplements definitely worth checking out are the NatureWise Curcumin and Nutrigold Turmeric Curcumin Gold (Vegan alternative).
Other than that, I hope this Research Verified Joint Relief review helped you find the information you were looking for.