|  Initial Thoughts  |  Nutrient Forms  |  Nutrient Amounts  |  Beneficial Substances  |  Additives  |  Success Rate  |  Conclusions  |
This Smarty Pants Prenatal review is all about introducing you to the whole truth and nothing but the truth when it comes to the latest version of particular multivitamin of Smarty Pants (irrespective of all else).
In order to effectively do that, we will go through all the different nutrients (vitamins and minerals) the supplement contains, we'll look at the effectiveness of the nutrient forms used. We'll also go over additional beneficial substances and additives (and any risks associated with those). And to finish things off we will assess the global success rate and all that's related to it.
Smarty Pants Prenatal Review – Initial Thoughts & Claims
According to the manufacturer, Smarty Pants Prenatal is their enhanced prenatal nutrition multivitamin supplement specifically dedicated to women in that important period of their life.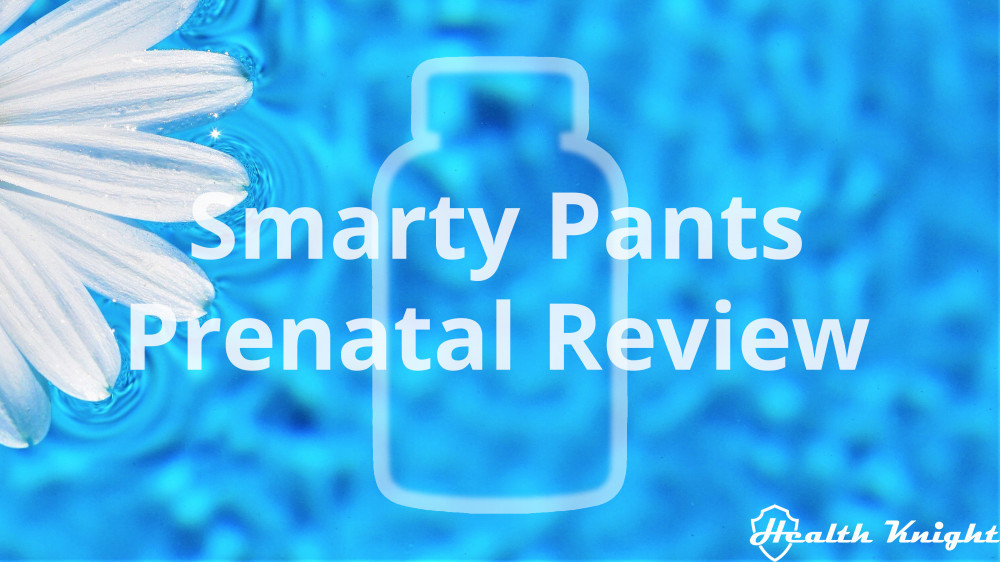 The description page of this one is quite an abundant one.
You get a summary of what each serving contains, you get information on what kind of flavors it has, as well as they're very straight forward about supplement facts. And there are FAQs and reviews available for the supplement as well.
As regards to this, the FAQs seem to be pretty abundant with information. Whereas reviews seem not to be tampered with as I have so observed among other supplement brands. Meaning, they don't delete or just get rid of the negative ones.
However, the best part (and to me, the most amusing one) about the page are the testimonials from Savvy Sassy Moms and Erin Lane (aparentingproduction.com). I will dive into these later but for now, let's just leave it at that.
Other than that, you also get all kinds of different 'free of' claims. No Synthetic Colors, No Artificial Sweeteners, No Artificial Flavors, No Artificial Preservatives, and No High Fructose Corn Syrup, as well as No GMOs, No Gluten, No Wheat, No Eggs, No Peanuts, No Soy, and No Dairy.
But above all Smarty Pants also claims that they are called "The Good Gummy" for a reason. Contrary to that, however, I do not see a single reason why that should be or is the case.
Let's dive deeper.
Nutrient Forms Are Decent Most Of Time
One of the most important things about any supplements is the particular vitamin and mineral forms that a supplement uses.
This stems from the fact that not all of them are created equal.
For example, both Dl-Alpha Tocopheryl Acetate and D-Alpha tocopherol provide vitamin E to our bodies. However, the first one is the synthetic form of the vitamin, which is also only half as effective as its natural counterpart [R, R, R].
And the same applies for essentially all vitamin and mineral forms out there. They're often very different in their properties and characteristics, so beneficialness of them also consequently differs [R, R].
When it comes to the Smarty Pants Prenatal Formula, it uses decent vitamin forms most of the time.
Meaning, we have available the very beneficial forms for preformed vitamin A, D3, E, B2, B3, B5, B6, B7, B9, and B12. We also get Zinc in a decent one and Iodine in the best form possible.
Vitamin C and B1 are also fine. Whereas for vitamin K1, Selenium, and Choline – the forms of these I'm not a fan of. But most of them can work.
That out of the way, let's have a look at nutrient amounts more closely.
It Hardly Ever Lives Up To 100% Daily Values
When speaking of the nutrient amounts there are at least two different approaches you can take.
The first and more traditional approach is what I refer to as the conventional one. Or choosing a multivitamin based around 100% Daily Values. The other one is the more exotic and lesser-known approach (unconventional approach), which goes by aligning your multivitamin's nutrient amounts with the values defined as the best practices.
Of these two, Smarty Pants Prenatal is a prime advocate for the less demanding conventional/traditional approach.
Still, it even struggles to keep up with this one.
My point being, of the 16 crucial vitamins and minerals (not including vitamin K2) that this supplement offers, only 6 of them meet the necessary (at least) 100% amount of Daily Values.
Whereas such crucial nutrients as Iron, Calcium, Magnesium, Copper, Manganese, Chromium, Molybdenum, Boron, and Vanadium – a complete number of 9, the Smarty Pants Prenatal supplement doesn't offer at all.
Furthermore, a bunch of important nutrients doesn't even meet the 50% Daily Values mark, like vitamin A, C, K1, B1, B2, Zinc, and Selenium.
Which is unacceptable. Thus, I believe it's fair to say that this supplement is a massively flawed one.
Meaning, you can't possibly expect to be making up for any nutritional gaps or additional body needs that arise for a women's organism when in pregnancy through this one.
To be honest it's quite a marketing joke.
And that joke's on you.
The Added Fish Oil Is Of High Quality. NOT
Okay, there is something that seemingly somewhat helps to remedy the situation and make the supplement a little bit more viable.
It's the presence of high-quality fish oil.
In this regard, I have to admit that I'm not particularly a big fan of the substance being added to multivitamin supplements and this is for two reasons.
First, it kind of always ends up being not enough amount-wise what regards how much you should be taking daily. Thus, you're pretty much always forced to spend money on an additional proper fish oil supplement nonetheless. So, why should you bother looking for a multivitamin with omega-3 if you'll still need to buy an extra fish oil one?
To illustrate, in this particular case Smarty Pants Prenatal offers 132 mg of Omega-3 Fatty Acids per serving (daily amount) of which 66 mg is EPA and 48 mg is DHA.
Whereas the best practices say that it should be 1000 mg of Omega-3 of which at least 300 mg is EPA and 200 mg is DHA twice daily. Hence 2000 mg of Omega-3 (600 mg EPA and 400 mg DHA).
This basically means that it doesn't really matter whether or not and how much exactly the multivitamin contains this crucially important fatty acid. You will still have to buy a separate supplement to make up for that which Smarty Pants Prenatal Formula doesn't provide.
Second, these kinds of multivitamin-integrated fish oils tend to not be properly tested for quality, potency, and purity. Thus, at the end of the day, potentially bringing more harm than good.
My point is it's by now common knowledge that we have pretty polluted oceans. Whereas this pollution accumulates within the fatty tissues of the fish. Hence if it's not properly purified before the making of the fish oil, you're getting all those toxins and pollution dumped into your organism.
Which is not good. In fact, I would go as far as to say that you're better off without fish oil if you can't ensure or be certain that it's a properly purified one.
In this regard, speaking of Smarty Pants Prenatal it has been somewhat properly purified. My point being, there's an older version of the supplement named SmartyPants Prenatal Complete, which has been approved by third-party organization IFOS (which is incredibly good).
However, when it comes to the newer version of the supplement named SmartyPants Prenatal Formula, despite the IFOS logo being on their label, it hasn't actually been approved by them (as of the writing of this article).
And thus, they are, in my opinion, effectively deceiving customers.
Hence, not only is this fish oil a bad choice based on the sheer scarcity of those Omega-3s in it, but also the fish oil itself might be a hugely harmful one (why on Earth have they not tested it?).

Apart from this likely detrimental fatty acid content, the supplement also adds 5 mg of Inositol.
It's a substance known to provide positive effects to brain function and brain health. So, Inositol's all good despite it being a little on the scarce side [R, R, R, R, R, R, R, R, R].
But overall I think it's fair to say that it's pretty rocky so far.
Still, there's more stuff to talk about. Stuff that will for sure undermine any positives you'll ever get out of the Smarty Pants Prenatal supplement.
And that we will get into next.
Sugar, Sugar, Sugar, It's 10x The Nutrients
Smarty Pants Prenatal would already be a pretty mediocre supplement (mostly because of the poor nutrient amounts and a bunch of crucial nutrients flat out missing) even if we weren't to discuss additives ("the other ingredients").
But since we will, it really goes downhill here.
You see additives are not something to gloss over as unimportant or unimpactful. Quite to the contrary, they can affect your health and well-being both in a harmless or a harmful way (there's also the third beneficial way which is the more uncommon one).
So, it's a good idea to always immerse yourself into researching all about the potential dangers of any additives a supplement does have.
That aside, what's so downhill about it?
In a word? – Sugar.
Smarty Pants Prenatal contains incredible, just ridiculous amounts of sugar.
Just imagine, essentially for every bit (milligram) of nutrients you're also getting almost 10 times the amount of sugar (6000 milligrams of sugar vs 632.355 mg of total vitamins and minerals). To me, that's outrageous.
In this regard, many hold the misconception that if sugar's organic (which in this case it is), then it's fine. It's healthy. You don't have to worry about it. But nothing can be further from the truth [R, R, R, R, R, R, R, R, R, R].
Sure, it might be slightly better as your typical table sugar as it's processed differently and it's not grown with pesticides. However, in reality, it still is processed sugar which can the direct cause heart disease, diabetes, eating disorders, cancer, depression, hyperactivity, learning difficulties (especially in children), as well as flat out stupidity among other unpleasant outcomes [R, R, R, R, R, R, R].
I mean, you might have trouble learning and remembering but all that it really might be are you having too much of processed sugar in your diet (and supplements).
Plus, to add to that, the supplement potentially contains also one of the very worst forms of sugar – High-Fructose Corn Syrup. This is because Tapioca Syrup is identified as one of the alternates & deceiving names for this harmful substance [R, R, R, R, R, R].
Thus, over time likely leading to high blood pressure, liver damage, coronary artery disease, leaky gut, and a whole bunch of other serious health conditions already mentioned regarding sugar consumption [R, R, R, R, R, R, R, R, R, R, R, R, R, R, R].
And this is without even discussing the notion of processed sugar likely inhibiting your body's very ability to absorb the vitamins and minerals you're taking to improve your health [R, R, R].
Wait…
Wasn't Smarty Pants Prenatal said to not contain High-Fructose Corn Syrup?
Yes, it was. However, I wouldn't take my chances. It might as well be just another General Mills' Vanilla Chex story. Long story short they claimed to not use High Fructose Corn Syrup when in fact they did, they only had invented a different name for it [R].
Either way, I doubt any of the dangers of sugar consumption were in your mind when you decided you probably need a multivitamin.
Sure, the Smarty Pants Prenatal Formula supplement will be sweet and tasty but that's about it.
Wouldn't you rather prefer one that will help you battle nutritional gaps, help you improve your health and well-being, as well as ensure that you have enough nutrients for both you and your baby?
Don't Trust The Success Rate, It's Hugely Biased 
Success rates are a tricky thing. And that's exactly why they must be addressed, especially when it comes to supplements like Smarty Pants Prenatal.
When looking at every single real customer review I could find online, I came to conclude that in terms of the global success rates, Smarty Pants Prenatal is an incredibly well-received supplement. Or to be more precise, above 86% of people, who bought it, were happy with it.
Thus, it may seem like a really good supplement, indeed.
However, there's a danger here.
I mean, many people seeing that the supplement has so many positive reviews blindly trust that opinion and are more than likely to go for it especially if they've been considering it. Furthermore, to add to this notion and improve sales there are also testimonials from two high-profile women.
But the thing about success rates is that they only matter if a supplement itself contains zero potentially hazardous and harmful substances.
Plus, you have to realize that this positivity revolving around success rates is largely due to the supplement being a tasty form of nutrition, which has little to no regard to its actual beneficialness.
Sure, people might feel some benefits but those will be short-lived. In the long term (and even short term) the additives (the incredible sugar amount) is for sure to come back to bite you.
As for those testimonials, you should see them as something that they truly are and nothing more – a persuasion technique.
No matter how high the social status or work positions of these women are, it's rather clear that they lack basic understanding and awareness when it comes to the ingredients of this particular supplement.
Don't give in to their superficial knowledge.
It's absolutely paramount.
As not only are you potentially compromising your own health when going with a supplement like Smarty Pants Prenatal but also your unborn child's as well.
A Terrible Example Of A Prenatal Multivitamin
There are many various prenatal multivitamin supplements out there. In that sense, Smarty Pants Prenatal is a very popular option and many websites and organizations even mention it among the very best multivitamins for pregnant and lactating.
But please don't give in to this outrageous raving.
Evaluating Smarty Pants Prenatal as a whole reveals that the supplement is all about providing a tasty experience instead of actually serving you the nutrients you'll need for a healthy baby and healthy yourself.
Sure, most of the time it offers proper nutrient forms. However, it profoundly lacks nutrient amounts, as well as many of the very important nutrients it doesn't offer at all.
Plus, this "great" taste is a result of having almost 10 times the sugar for every bit of vitamins or minerals you get.
A sugar, which is likely to come in some of the most harmful and detrimental forms for your health out there.
Personally, I would never let my wife take a supplement like this during her pregnancy or right after it. It's NOT a supplement with your well-being 100% in mind.
That said if you're interested in learning about proper multivitamins that you could introduce to your routine during and right after pregnancy, take a look at the article on the best multivitamins for women.
Above all, I hope this Smarty Pants Prenatal review helped you find the information you were looking for.