This Terry Naturally Curamin Extra Strength review is all about dissecting and learning about every single aspect there is to know about the supplement.
In this one, we will start off with the promotional materials and the claims they make for the thing. That we will continue with an exhaustive look at the beneficial ingredients and how those can help us. Then we will turn to the additives, ingredients added for the making of the supplement. And finally, it will be all about customer reviews and global success rates.
Terry Naturally Curamin Extra Strength Review – Initial Thoughts & Overview
According to the manufacturer, Terry Naturally Curamin Extra Strength is the answer "for Extra Powerful Relief." As they put it, it embodies "even more of the effective ingredients you've come to rely on for pain relief." It's kind of the big brother of Terry Naturally Curamin (Pain Relief) [R].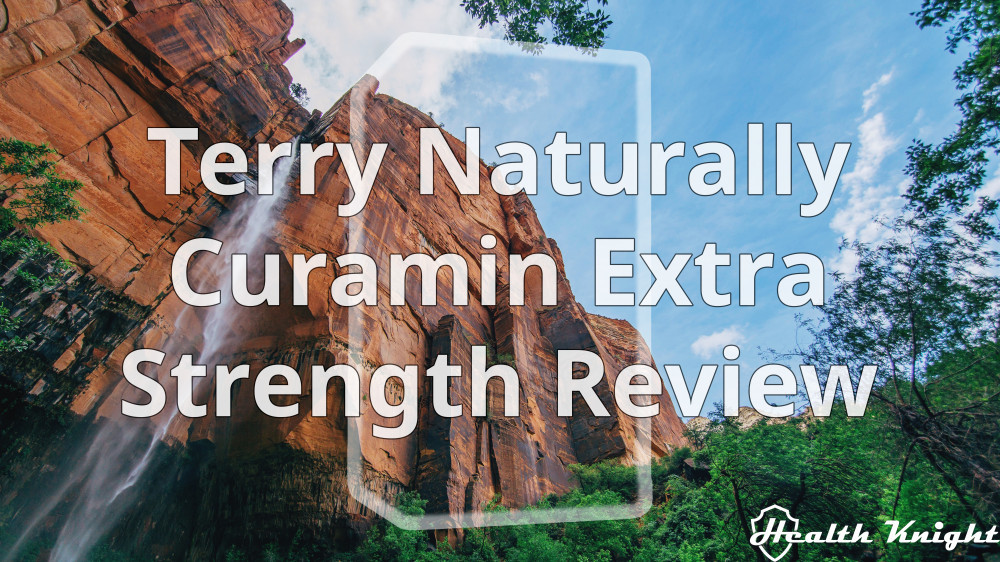 But to really portray the whole essence of it, they note that "Curamin Extra Strength combines clinically proven curcumin and boswellia with DLPA and nattokinase to create an award-winning product for pain relief.† When pain is the problem, Curamin is the answer" [R].
Then there's a very brief explanation of each of the ingredients, a very brief video, supplement facts, FAQ section, and testimonials instead of a review section we typically get an have seen it with so many supplements including Curcumin2K and Finest Nutrition Turmeric. And, of course, there are some supplement rewards present as well which are quite similar in kind to their CuraMed thing.
Hence, the whole description page feels very straight to the point, no fluff. Much like we've seen with supplements like Life Extension Curcumin Elite or Doctor's Best Curcumin. They also offer a money-back guarantee which is not limited to any number days. Still, probably should be used within a reasonable timeframe [R].
The main claim? Yeah, as I feel is very clear, it's all about pain relief. Or "Experience Safe and Effective Pain Relief," as they put it.
But can it truly deliver exactly that?
The Core Ingredients In This One Uses Look Quite Promising Overall
So, the Terry Naturally Curamin Extra Strength uses four different ingredients to achieve that pain relief. Have to admit, reminds me terribly of something like the Nature Made TripleFlex and Research Verified Joint Relief in the sense that it uses multiple different substances to really get that main effect across. From what I can tell it looks quite promising.
The supplement of this review uses 2,706 milligrams of a Proprietary Complex consisting of BCM-95, Boswellia, DLPA, and Nattokinase. The exact amounts of each they do not, however, disclose. And it's terribly questionable whether they would disclose them if I was to drop them an email about it. But without that, it's as good of a guess as any. So, we're really only left with theoretical speculations about the potential of the ingredients (at least until the section on global success rates).
Or are we?
The way I see it, we do have some room for speculations based on what we do actually know. And so, I believe ultimately we can assess very well what the potential of each ingredient might be here.
It starts with 2,706 milligrams of DLPA, Boswellia (BosPure), BCM-95, and Nattokinase. I list them here in this order because that's how they are listed on the label. And on labels, according to the existing regulations, ingredients must be listed in sequence starting with the largest one by dry amounts [R].
So, here the total DLPA amounts will be higher than that of Boswellia, total Boswellia amounts will be higher than BCM-95, and BCM-95's amounts will be higher than those of Nattokinase. Or all of them, can be of the exact same amount. And I think that's the perfect place to start.
So, let's assume that each of these four contains 676.5 milligrams.
Now, for a Nattokinase, that's a terribly high amount. It's more like a 100-200 milligrams being the ideal amount. Similarly, with BCM-95 and BosPure. For both of these, it's more like 500 milligrams and, then, the more the better. Whereas with DLPA, it seems to be the case of 750-1000 milligrams or more. (All rough estimates [R, R, R, R].)
So, if we were to sum all of those values together, that leaves us at approximate total amounts of 1850-2200 milligrams. But the Terry Naturally Curamin Extra Strength is about 2,706 milligrams. Hence, at least 506 milligrams more than what we estimated (given the roughly viable dosages).
Or in other words, an extra 506 milligrams that contribute to either of those substances, 506 milligrams of a safety net for our imperfect estimations. So, which of those substances do this surplus contribute exactly to, it doesn't matter that much. What matters is that there's a very, very high chance for each of these four being in those highly viable, beneficial, significant amounts. And thus, the supplement truly living up to that title "Extra Strength."
Now, this is not as safe as the banks of Switzerland. It's just an educated assumption. There's still a fair chance for the ratios between those ingredients to be totally different.
However, what I meant to show with this is that the total amount of the Proprietary Blend has more than enough juice to make every single of its constituents truly matter. And so, I believe its worth discussing the potential benefits of each of those substances with the perspective of they're all likely possible.
The Likely Benefits Are Many, BCM-95 & BosPure Leading The Charge
So, for all I can say, this Extra Strength Curamin seems like a truly promising one. Now, let's discuss each of its active ingredients.
BCM-95 is a patented curcumin formulation shown to have a 27-fold increase in absorbability when compared to simple 95% standardized Curcuminoids. That's 1.35 times the absorbability we get from so widely available options with 95% Curcuminoids plus Black Pepper or Piperine like we've seen in supplements like Me First Living Turmeric Curcumin and GNC Turmeric Curcumin Extra Strength.
This particular formulation is one of the most studied ones. It's very safe and very effective. And through that, it has the capacity to heal joint pain, improve brain function, aid liver health and detoxification, help combat Arthritis, depression, obesity, heart disease, and diabetes, slow down aging, help manage cholesterol levels and offer other gains.[R, R, R, R, R, R, R, R, R].
Then there's the Boswellia, also known as Indian Frankincense, which in this one also comes in a patented formulation known as BOS-10 or BosPure. Apart from working really well versus Rheumatoid and Osteoarthritis, it can also be a great help in lover inflammation, fostering hormone balance, combat autoimmune diseases, fight off viruses, infections, and even cancer, as well as improve digestion among other benefits [R, R, R, R, R]
Then there's the DLPA which stands for DL-Phenylalanine. It basically is a form of painkiller. How it works is it blocks the breaking down of enzymes that work as natural pain-killers in our bodies, thus, improving our tolerance to pain and reducing it. It can also help battle depression, as well as a variety of other health conditions like Vitiligo, Parkinson's, and other [R, R, R, R, R, R].
Finally, there's also Nattokinase which is an enzyme extracted from Natto, a popular Japanese food. It's main undertaking in its beneficialness seems to be heart and vascular health. But it can potentially do well also against other conditions. Still, I don't quite see how exactly is it contributing to pain relief. Maybe only through this notion of it being capable of averting thrombosis [R, R, R, R, R, R, R, R].
So, at the end of the day, all in all, I feel that with the Curamin Extra Strength of Terry Naturally pain relief is just one thing. Effectively we'll likely be getting much more out of this one. At least that's as far as I can tell.
The Added Other Ingredients Are What This One Cares About
I've encoutered my fair share of not optimal supplements in terms of additives. They're very common among multivitamins (Centrum Silver Men and its equivalent Women supplement are just some of the very many examples). But there are also a fair share of those when it comes to Turmeric Curcumin ones.
A great example to illustrate is the Qunol Liquid Turmeric. It uses Potassium Sorbate which can be responsible for creating proper allergic reactions, DNA damage, nutrient deficiencies, cancer, and tons of other problems. Then there's also stuff like Solgar Curcumin and a few others [R, R, R, R, R, R, R, R, R, R].
But what about this Terry Naturally Curamin Extra Strength?
It uses six different ones. Cellulose powder, Stearic acid, Silica, Vegetable Source Magnesium Stearate, Croscarmellose Sodium, Ethylcellulose.
Of this list, the first, third, and last are all fine, typically very harmless stuff. The second and fourth are hugely misrepresented across the whole internet. The ultimate truth, though, is that they're probably even more harmless than that first group. Whereas as far as Croscarmellose Sodium, that one's great as long as it's Non-GMO which with this supplement it is [R, R, R, R, R].
Hence, no real dangers as far as the added extra ingredients for the making of the supplement go.
I Have To Admit, The Global Success Rate Was Not As Good As I Expected
Terry Naturally Curamin Extra Strength is not like most supplements. No, this one does not use a customer review section on its product page. Instead of those customer reviews, it uses testimonials.
From a pure marketing perspective, I do believe that that's the better option. However, when it comes to assessing the global success rates and just customer reviews in general, just the good isn't enough. We must also learn about the bad.
And so, I did some researching. All in efforts to try to collect all of the customer reviews available online. Definitely got most of them. And let me just say that there are so many people that absolutely swear by it. So, here's what I found.
In total I found 1687 Terry Naturally Curamin Extra Strength reviews. They were dispersed like this: 136 one-star, 78 two-star, 95 three-star, 168 four-star, and 1210 five-star. Thus, a total of 1473 positive reviews vs 214 negative ones. Hence, 87.3% global success rate.
Which despite being likely higher than that (because people tend to report negative experiences far often than positive ones), does not look too hot, so to say.
I mean, don't get me wrong, it's a great success rate. However, it does supposedly pale a little bit when compared to it's viable Turmeric Curcumin competition. Nutrigold Turmeric Curcumin Gold has an above 89%, Youtheory Turmeric Extra Strength has an above 93%, and Gaia Turmeric Supreme clocks in at above 94%.
Yeah, yeah… I know. This is more than just a Turmeric Curcumin supplement but still. The primary benefit for pain relief does still apply. And within that realm, it seems to be performing a bit lower than the others. However, I would never say that this makes it a somewhat obsolete option. Quite the contrary.
Something Definitely Worth Shortlisting, Maybe Even Prefering
The thing about this Curamin Extra Strength of Terry Naturally and why it's, in my opinion, a choice you should absolutely shortlist is that it attacks pain relief from multiple directions. It embodies more than one substance that is geared towards removing that problem. And so, it feels that it can help a lot more people than just Turmeric Curcumin supplements can.
I mean, think about it.
Global success rates haven't really been a too accurate means of assessing value a supplement provides. It gives an overall idea, yes. But many signicantly worse supplements in terms of the ingredients they use like NatureWise Curcumin or Angry Supplements Ultra Pure Turmeric have had incredibly high success rates. Much, much higher than any actually good (what I call viable) supplements typically have.
Still, that alone doesn't make them a great product.
Whereas in this case, everything's there. As far as I can tell, Terry Naturally Curamin Extra Strength is a marvelous piece of supplementation. The only kind of stone in its garden may be considered the fact that they don't do third-party testing on the end-product. Which is a shame. But if you can live with that, this is arguably one of the best pain relievers out there. At least that's the way I see it.
And, yes, it might not work for every single one of you. But isn't that the story of any supplement you'll ever find? Or, frankly, any product ever (not just supplements)?
Above all, I hope this Terry Naturally Curamin Extra Strength review helped you find the information you were looking for. Do you enjoy what this thing brings to the table? Do you look forward to picking it up? Let me know below.