In this Vegansafe B12 Review, we will investigate the supplement in its entirety.
To be more precise, we will assess the supplement as a whole by looking at the vitamin B12 forms it offers, we will analyze how effective they are, we'll also check the amounts of the vitamin forms within, as well as explore information on its additives.
Vegansafe B12 Review – The Overview – Claims
Vegansafe B12 is a supplement manufactured by the Global Healing Center. They are, however, not only about supplement manufacturing, they are all about educating primarily. Supplements are kind of a cool extra to all of that.
Or to put it in their words their mission is to provide access to natural health information and products that revolutionize anyone's journey to better health. They believe in cleansing your internal and external environment to restore your body's self-healing mechanisms.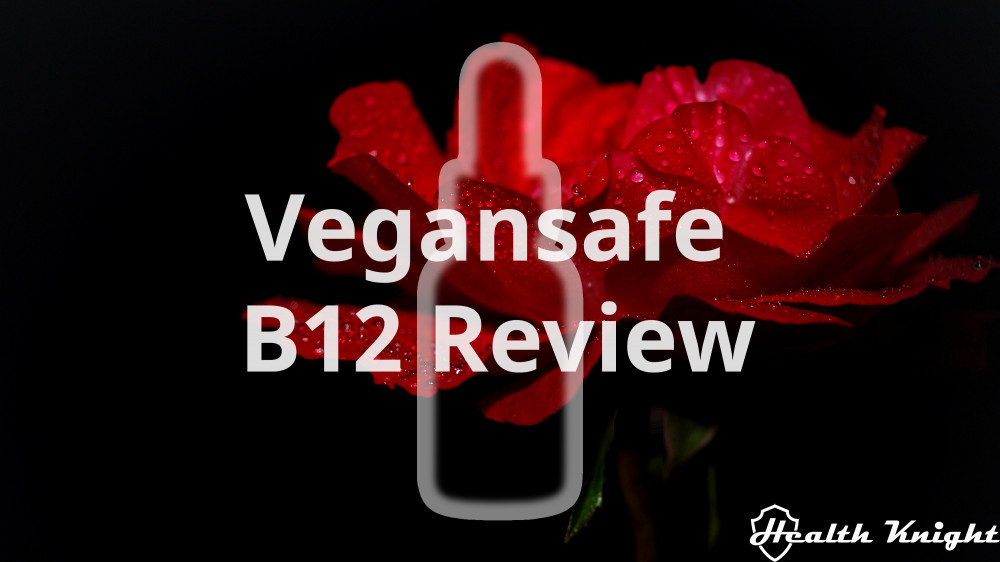 They define the Vegansafe B12 supplement as a certified organic, vegan formula that contains methylcobalamin and adenosylcobalamin, the two most bioactive forms of B-12.
On the description page (sale's page) of the supplement, you can find a lot of information about vitamin B12 supplementation as such. Surely, it's geared towards marketing the supplement, however, I feel they don't really brag about their supplement that much.
Vegansafe B12 possesses a list of various and compelling certifications like USDA Organic, GMO-Free, Vegan, Gluten-Free, as well as they aspire to 'No Animal Testing'.
On top of all that, they also offer a 100% No-Risk 180-Day Money Back Guarantee. Which only proves how incredibly confident they are in the fact that the supplement will improve your well-being. I mean, I believe I've never seen such lengthy money back guarantee for supplements specifically.
So, let's examine further… What is the supplement all about?
Methylcobalamin & Adenosylcobalamin – Both Natural Forms Of B12
Vegansafe B12 offers both bioavailable forms of vitamin B12 – Methylcobalamin and Adenosylcobalamin. In this regard, this is a pretty unique combination as rarely do supplements offer the combination of both forms. The reason behind this is that Adenosylcobalamin is a quite an unstable form of the vitamin and in so also hard to manufacture [R, R, R, R].
This is also where the superiority of this supplement lies.
Although Methylcobalamin is the most effective form and is often marketed in specialized B12 supplements very abundantly, the Adenosylcobalamin is also something that we can benefit greatly from [R, R, R, R, R, R, R, R, R].
Furthermore, the latter can't be replaced by the former.
Thus, in truth, both of these forms are compatible and complimentary for the most benefit to your health.
And the best thing about these both forms is that our bodies can utilize them immediately, there is no conversion needed [R, R, R, R, R, R, R, R, R].
The Supplement Is Abundant In B12
By no means, the Vegansafe B12 falls short in terms of delivering proper amounts of vitamin B12.
The supplement offers 2000 micrograms of Methylcobalamin and 500 micrograms of Adenosylcobalamin. Thus, it's very, very abundant [R].
Some may even consider it to be too abundant as the recommended daily amounts that you should actually get for superior health is between 500 and 1000 micrograms (see Prime Daily Values).
However, by no means, the particular dosage of the supplement will make it so that you'll overdo it. Or in other words, there is no risk of overdosing on B12 even if you use it daily for the rest of your life.
Various studies have attempted to identify the daily upper tolerable limit to assess how much of the vitamin you should consume daily to experience negative side-effects. What they discovered was that even at doses up to 5000 micrograms a day for long periods of time no test subjects showed any signs of overdosing or experienced any adverse effects [R, R, R, R].
Thus, it's safe to say that you can easily use the Vegansafe B12 daily for the rest of your life and you won't experience any adverse effects. All you'll encounter will be many different benefits that come with the vitamin being in adequate amounts in your system.
It's Amazing In Terms Of Additives
Many supplements, even the singular ones, tend to have many various additives in them. Most of the time they are neither beneficial nor harmless to one's health.
It is, however, a completely different story with the Vegansafe B12.
This supplement has only two additives, one of which shouldn't really be considered as an additive.
So, the additives it has, are certified organic vegetable glycerin and triple distilled water. Latter of the two isn't really an additive as it's just multiple times purified water to achieve the highest purity levels [R, R, R].
Whereas certified organic vegetable glycerin is a pure version of a completely harmless additive [R, R].
Thus, while many other supplements struggle with additives, often times compromising your health and well-being, this particular supplement does not.
Final Thoughts On Vegansafe B12
Vegansafe B12 is, without a doubt, among the very best and most potent vitamin B12 supplements out there.
It offers the two bioactive forms, which our bodies are able to use immediately after consumption. It offers abundant amounts of the vitamin without the possibility of harming your health even if you use it daily for the rest of your life. And on top of that, it employs completely harmless additives. Plus, it's vegan!
Thus, there really is no reason, why you should not pick it up if your vitamin B12 levels are what you want to improve.
If you happen to be interested in other great vitamin B12 supplements be sure to check out this article.