|  Overview  |  The Core & Benefits  |  Additives  |  Conclusions  |
In this Nature's Bounty Ginkgo Biloba Review, we'll uncover all that there is to be and get uncovered about this specific supplement.
So, we'll first work our way through various promises and claims that the manufacturer makes. After that, we'll explore the core ingredients of the supplement, as well as the benefits associated with them. Lastly, we'll look into the additives and explore how good they are for your health and prolonged consumption.
Marketing's Typical To What We Usually See By This Manufacturer
Nature's Bounty Ginkgo Biloba is a herbal supplement that contains a herb that has been used in Chinese medicine for more than 1,000 years, and in so offers ancient wisdom of improved health.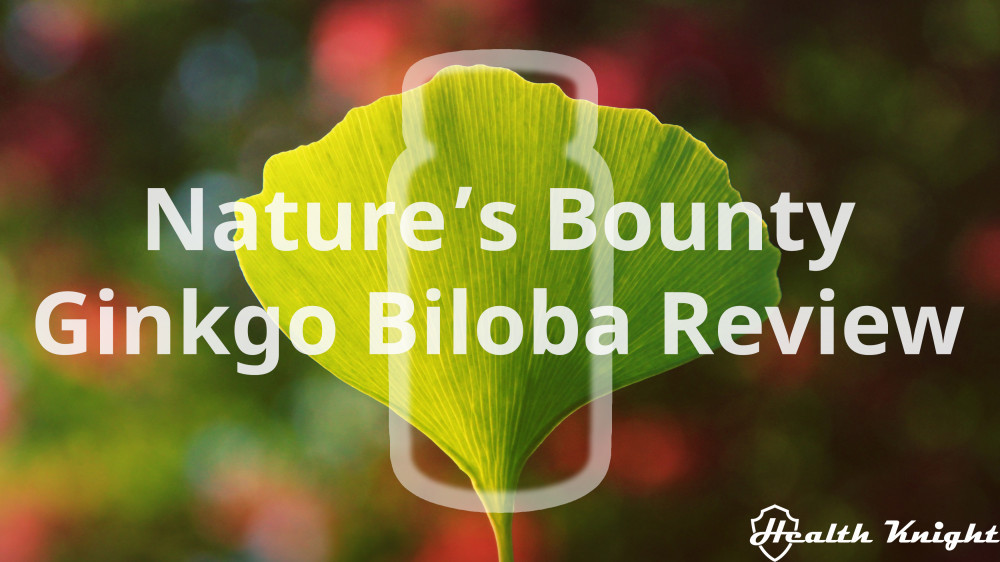 There are 2 various capsule-form Ginko Biloba supplements available by Nature's Bounty. Although both of them have their own separate product page, those are barely different at all, moreover, both supplements also are practically identical [R, R].
On those description pages, apart from supplement facts, absolutely the same information on the supplements is offered. And it's extremely scarce. Just two sentences to be exact.
I mean, it does seem that there's a lot of information there as the page offers sections on highlights (next to the supplement to the right), description, FAQ's, related products, related information, and reviews.
But most of these sections have barely any information there. For example, there is just one review available, one piece of content when it comes to related information available, whereas, it actually seems rather unrelated to be honest.
So, the two sentences, in essence, proclaim that either of these supplements as the benefits offers improved brain function and mental awareness, as well as promote healthy circulation to the extremities (arms, legs, and brain).
It does not, however, specify what kind of circulation is meant? Blood circulation? Because although it's less likely other kinds of circulations also might have been meant with that expression.
At the end of the day, this probably sounds pretty straightforward and pretty awesome to anyone, who wants to improve their brain function and mental potential.
So, is this supplement actually great for this? Let's explore.
It's Not What Most Believe, AKA Ginkgo Biloba's Not For Memory
As I mentioned earlier, despite there being supposedly two different Nature's Bounty Ginkgo Biloba supplements both of them are exactly the same.
That is everything apart from different amounts and one less additive for the less potent option (otherwise having exactly the same additives as the more potent one does).
The less potent option offers 60 milligrams of Ginkgo biloba leaf that is standardized to contain 24% Ginkgo Flavone Glycosides (or 14.4 mg) and 6% Terpene Lactones (3.6 mg). Whereas the more potent option is exactly the same only twice the amount.
Or just to make it perfectly clear and the math is right, 120 milligrams of Ginkgo biloba leaf that is standardized to contain 24% Ginkgo Flavone Glycosides (or 28.8 mg) and 6% Terpene Lactones (7.2 mg).
This is how the manufacturer puts it, so I imagine some of you might not be familiar with the term 'standardized'.
In truth, it is just a fancy way of saying that it's guaranteed for the Ginkgo Biloba extract to contain at least 24% of Ginkgo Flavone Glycosides and 6% Terpene Lactones while also providing recalculation of that percentage in milligrams [R, R].
So, generally speaking, it's usually the good stuff that gets standardized. And no surprises there, it's also the case for this supplement. And thus, most of all Ginkgo Biloba's benefits revolve around the consumption of these substances [R, R, R]
Above all Ginkgo Biloba is a really, really cool herb. On which there is a lot of hype that (it gets also so marketed that way) it improves memory. However, this has been proved to not be the case by some really high standard studies in otherwise healthy individuals [R, R, R, R, R, R].
The truth is that it only helps and improves memory in people who are ailing from diseases like dementia and Alzheimer's [R, R, R, R, R, R].
Nonetheless, Ginkgo Biloba is still very beneficial proven to have truly great antioxidant and anti-inflammatory capabilities, to improve sleep quality, to inhibit anxiety, to improve blood flow and mood, to help restore vision, to reduce muscle pain, to prevent fatigue, to promote healthy skin, and provide with other awesome benefits [R, R, R, R, R, R].
Thus, all in all, it could be said that the claims displayed for Nature's Bounty Ginkgo Biloba supplement are somewhat accurate. It definitely improves brain function in some capacity, as well as the blood flow.
About that mental awareness, I'm not that sure though. Well, it does indirectly stem from stuff like improved mood and reduced anxiety as these states of mind will without a doubt hamper your mental awareness.
But none of the many sources I explored covered improved awareness as the benefit. Meaning, you probably won't improve your awareness if you are otherwise generally happy, enthusiastic, and imperturbable human being.
The Additive Choice Is Great, It's Quality The Way I See It
People generally tend to look at additives as something bad. This is, however, not the full story. In truth, additives often times are very necessary and in actuality absolutely crucial for the possibility of a supplement.
Meaning if there never were any 99% supplements and medicine, as well as all processed food, would not be possible. In that sense, while I wouldn't mind the latter, the two former would definitely be a detriment to the society and its health.
Thus, additives are really important, however, they don't always come at no cost to your health. This is why it's always important to either avoid the kind of additives or to the very least know how they can potentially affect you.
In that sense, when it comes to the Nature's Bounty Ginkgo Biloba there is nothing to dislike in either of the two variations of the supplement.
The more potent version uses additives like Rice Flour, Gelatin, Silica, and Vegetable Magnesium Stearate. Whereas the less potent option's only difference is that it does not contain Silica while containing the rest of the three.
All of these are absolutely harmless and okay to use long-term. I mean you can get something like an unpleasant feel or smell in the mouth from Gelatin but other than that it's amazingly beneficial. Or you might get confused about Magnesium Stearate as it's hugely controversial but at the end of the day, no worries, it's harmless [R, R, R, R, R].
Moreover, the very modest amounts of the additives and the good quality of those also guarantees that the Nature's Bounty Ginkgo Biloba subscribes to various free-of claims.
To that account, these definitely hold true – Non-GMO, No Artificial Color, Flavor or Sweetener, No Preservatives, No Sugar, No Milk, No Lactose, No Soy, No Gluten, No Wheat, No Yeast, No Fish Sodium Free.
So, not only are the additives harmless but also they guarantee that a wide range of people that need to or want to avoid certain allergens can easily do so with this supplement.
Which needless to say is amazing.
This Nature's Bounty Seems To Be Good Enough To Shortlist
If you're in the market for a solid Ginkgo Biloba supplement Nature's Bounty Ginkgo Biloba is a decent choice.
It offers good amounts of the herb while also ensuring that some of the good stuff is definitely there. On top of that, the additives it uses are among the most harmless there is.
Ultimately, there really is no reason you should not pick it up as it can only add to your health and well-being.
Other than that, I hope this Nature's Bounty Ginkgo Biloba review helped you find the information you were looking for. But if not, let me know in the comments.