In this Garden of Life Vitamin Code RAW B12 review, we'll pick the thing apart. And we'll do it properly.
My intention is to not only look at it from a pure marketing and customer reviews perspective. But also to look at and assess all of the ingredients within (both active and inactive), as well as look at pricing and where does that stand when compared to its rivals.
Marketing
According to the manufacturer, the Garden of Life Vitamin Code RAW B12 "is whole food nutrition, specifically formulated to deliver 1,000mcg and 16,670% of the Daily Value of Vitamin B12 in the active Methylcobalamin form" [R].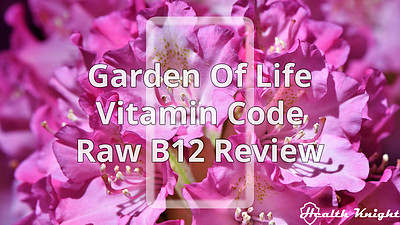 Per their words, "RAW means no high heat, synthetic binders or fillers, artificial flavors, sweeteners, colors or additives commonly used in tablets." Whereas Whole food means RAW Food-Created Nutrients are blended in a base of 23 fruits and vegetables that add supporting antioxidants, vitamins and nutrient cofactors" [R].
So, I believe to say it sounds promising would be a complete and utter understatement. It sounds so much more than that. But at the same time, the product page itself is very collected, well-structured, without that ton of marketing like what we've got with the Stop Aging Now MAX B12 (review) or the Global Healing Center B12 (review).
Also, I like the fact that, basically, Garden of Life does not have 10 or 15 different B12 supplement versions like Nature's Bounty B12 (review) or Nature Made Vitamin B12 (review). So, it's much easier to choose.
As for the benefits, the Vitamin Code RAW B12 offers five. First, it's about mental energy. Second, about physical energy, Third, healthy metabolism. Fourth, healthy digestion (because live probiotics and enzymes). Fifth, anemia support.
As for certifications, they offer Non-GMO Project Verified, Vegan-Certified by Vegan Action, and Kosher-Certified. Plus, it's also Gluten-Free. Hence, is it actually worth to buy?
Core Ingredients
The Garden of Life Vitamin Code Raw B12 is not your typical vitamin B12 supplement. Meaning, it's very unlike Jarrow Formulas Methyl B12 (review) or Vitafusion Extra Strength B12 (review); it's not just that core vitamin alone. It's a few extra stuff on top.
So, per serving (one capsule), the supplement of this review offers 1000 micrograms of vitamin B12, 60 milligrams of Raw Probiotic & Enzyme Blend, and 20 milligrams of Raw Organic Fruit & Vegetable Blend. We get 30 such servings (capsules).
As for the B12, the amount is awesome; very solid for general health and well-being. It also comes in the form of Methylcobalamin which is basically the most preferred and bioavailable form of the vitamin. Whereas the notion of it being "from the culture of Saccharomyces cerevisiae," in essence, it doesn't necessarily make it the better thing. It's just a different way. I believe it's whatever.
As for that Probiotic & Enzyme mixture, it's basically exactly that. There are combined amounts of 0.5 billion CFU probiotics of two strains (Lactobacillus plantarum and Lactobacillus bulgaricus). Which is coupled with a bunch of different digestive enzymes and a few other digestion-improving substances. The core attempted benefit – nutrient absorption and digestion.
As for that Fruit & Vegetable Blend, the idea of that is not in its constituents or even the vitamins or minerals of that. It's more about the natural cofactors that such provide. To mimic the idea of food. And so, to possibly improve absorption and the ultimate benefit. Which to me, personally, looks very appealing, I really like the idea.
Generally speaking, sure, there is not a lot of those blends. But that's not a bad thing, right? I mean, it's not like we're considering the Garden of Life Vitamin Code Raw B12 for its blends. Yes, it's nice it has that natural addition but we're doing the supplement for its B12 contents.
And to that end, this one feels very potent.
Additives
When it comes to vitamin B12 supplements, they don't always use the most harmless of additives. There are many examples of that as I've come to learn. But to give at least one, CCL Advanced Vitamin B12 Complex (review). It uses Xylitol and the unknown origins of Berry Flavor. Not the worst of "glue ingredients." But not the most harmless either.
On that note, how does the Vitamin Code Raw B12 do in that respect?
This Garden of Life actually does pretty darn well. It uses just two additives.
So, for the supplement of this review, it is about Vegetable Cellulose (capsule) and Organic Rice (hull).
Vegetable Cellulose is basically natural dietary fiber molded for the purposes of a capsule. It's really one of the safest options. It's just a very quality choice by the manufacturer. Whereas as far as Organic Rice, that's the better sibling of what so many people are eating regularly. In of itself, I see it only as ever bringing more gains to the table.
Overall, I'm confident that neither of the additives with the Vitamin Code B12 will bring any health concerns. Both are just too safe of options.
Success Rate
So, then, from a purely technical standpoint, the supplement is amazing. What about the RAW B12's practical aspects though? Has it been actually helpful to people?
Unlike many other supplements out there, those of Garden of Life don't have a customer review section on their product pages. So, no insight to be gain there. However, there is plenty of feedback when it comes to all other sellers and retailers out there. Truly many are selling this one.
So, in total, I managed to find 843 Garden of Life Vitamin Code Raw B12 reviews. Of these, 72 were negative (1-star and 2-star) and 771 (3-star, 4-star, 5-star). Hence, being something that is of 91.5% global success rate. Which is pretty incredible.
What's more, it's probably even higher than that given that people typically are considerably more eager to report negative experiences than positive ones.
As far as the good reviews, obviously and without surprise, there were quite a few people swearing by this. Typically, some even went as far as to say this is the best thing out there. Others were just happy that B12 was possible to be vegan.
Whereas, when it came to the bad reviews, many expressed concern that it seemed that their supplement has been tampered with in some way. Others were disappointed by the large container and so few capsules. One customer even got a container void of any capsules. And quite a few were troubled by the fact that Garden of Life is now a supplement brand Nestle.
Which is something we'll touch upon in the last section as well (more sections to come).