This Purely Optimal Probiotics review is about going through and absolutely discovering everything that this supplement can help us do.
We will start off by looking at the promotional materials and the claims for the benefits they make. We will transition this into doing a comprehensive look at all of the beneficial ingredients. This we will then transition into the inactive ingredients, the glue that kind of holds it all together. And, of course, some customer reviews (or rather all) and global success rates to assess.
Purely Optimal Probiotics Review – Initial Thoughts & Overview
According to the manufacturer, Purely Optimal Probiotics is "the Ultimate Probiotic for optimal health formulated with organic prebiotics and digestive enzyme complex." As they put it, "Your body deserves the best, which is why we've created this complete Probiotic supplement." So, there's a ton of hype for this product [R].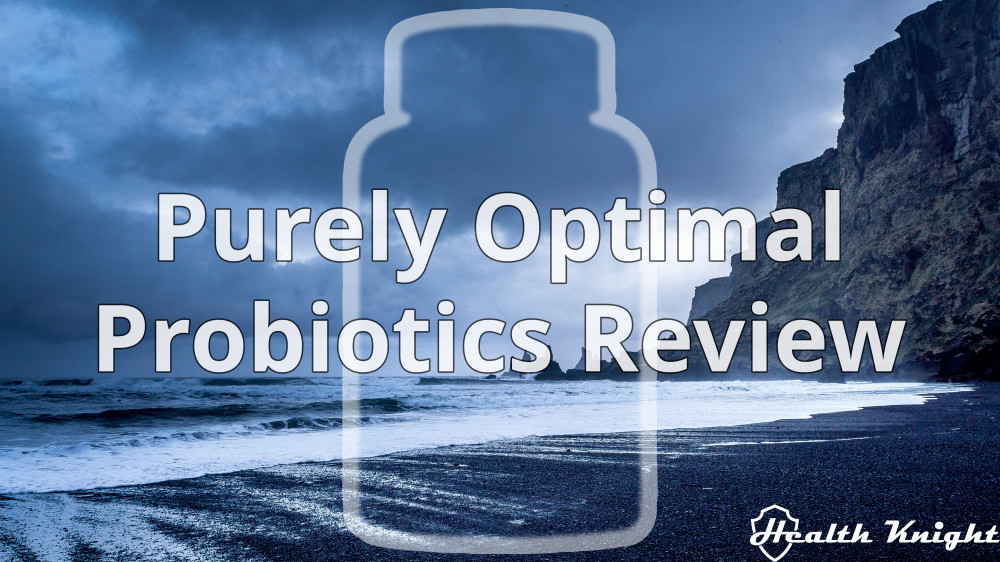 As for the product page itself, it's quite flashy. A lot of cool images, a lot of promises, a lot of great customer feedback, and quite a few other marketing tactics. Like the more we buy the less we pay for a unit, money-back guarantee, and even the scarcity bias screaming, "Hurry! Only only a few units left in stock!" (which may or may not be true) [R].
There are kind of two things that stand out for me on the page.
First, there's a lot of emphasis on the benefits, what the supplement provides, and how that translates into gains for us. For example, they promise that this will support digestive health, improve nutrient absorption, boost the immune system, foster brain function, aid mental clarity, reduce gas and bloating, enhance mood and well-being, and pose a few other positive health outcomes.
Second, there's a lot of attention put on the quality. The right kind of quality. I'm not talking about just GMP facilities in the USA and a product that does not use Gluten, Corn, Soy, Peanuts, Wheat, Eggs, Dairy, Shellfish, Hormones, and Antibiotics. No, I'm talking about the best form of proving quality – third-party testing for purity and potency.
So, it sounds nice. But are the Purely Optimal Probiotics really worth our time and investment?
There's Nothing I Would Improve, It's Essentially Perfect
All in all, as far as the beneficial ingredients go, it's really hard to imagine, even if just theoretically, a better Probiotic supplement than this Premium Probiotics product of Purely Optimal. I mean, they really get everything right.
Per serving (one capsule), the thing offers 60 billion CFU of Multi-Strain Probiotic Complex, 200 milligrams of Digestive Enzyme Complex, and 150 milligrams of Organic Prebiotic Complex. Whereas per container, we get 30 of such servings.
As for the probiotic contents, there are ten different strains here. And that I believe is a really great number. Plus, most of those are pretty darn powerful as well. And to add to all that, 60 billion CFU is an awesome count. I mean, it's higher than what the best practices prescribe but still reasonable. And thus, likely to prove out to be extremely beneficial [R, R, R, R, R, R].
As for the digestive enzymes, they're looking good as well. Seven different kind of baseline enzymes to pretty much improve the digestion every food form from protein to starches to milk stuff (to more) imaginable. And that's in addition to Bromelain and Papain to further augment the digestive health, help fight allergies and cancer, promote weight loss, and other stuff. And all of that comes in what I believe are decent combined amounts [R, R, R, R, R, R, R, R, R, R, R, R, R, R].
As for the prebiotics, those consist here of Organic Agave Inulin and Organic Jerusalem Artichoke Root. Or in other words, a powerful mixture for complementing the gut health positive effects of probiotics in every way possible. The way I see it, the much better choice than what we saw with the New Chapter Probiotic All-Flora [R, R, R, R, R, R, R, R, R, R, R, R, R, R, R].
And so, as for the potential gains through the three branches of substances, Purely Optimal is not exaggerating. All of what they say is very possible. Even quite beyond that, actually.
So, all in all, as I mentioned at the beginning of this section, it's hard to imagine a better composition than what we have with the Purely Optimal Premium Probiotics here.
Uses Only The Best Additives, Plus A Patented Capsule Thing
There are a lot of probiotic supplements out there that don't get the additives part quite right. With the Nature Made Digestive Probiotics, we had Glucose Syrup and potentially Artificial Colors. With the TruNature Digestive Probiotic, it was the Titanium Dioxide part. And with supplements like Digestive Advantage Probiotics, it was Maltodextrin and Titanium Dioxide, too.
Whereas when it comes to the Purely Optimal Probiotics, there is no such thing.
It uses four different additives – Hypromellose, Magnesium Stearate, Silica, and Microcrystalline Cellulose. All of these are very good choices, even despite Magnesium Stearate quite commonly getting a bad rap. But immersing in research does reveal that it's 100% BS. But an insanely confusing subject nonetheless [R, R, R, R, R].
Either way, what's really awesome about the additives is that it uses patented technology to ensure that the capsules with all of the probiotic contents actually make through the stomach acid into the gut to deliver the gains. Because, truly, there are probiotic strains (many, many of them) that are not very resilient to the stomach acid [R, R].
Hence, that patented insurance to fix that.
But overall, I have emphasized, a really thoughtful, resourceful, quality approach to things. Personally, nothing I see here that I would want to improve. Well done, indeed, Purely Optimal Probiotics.
I Did Expect A High Success Rate, Not So High Though
But how do all these ideal choices translate into real life? Have the customers been happy with this probiotic supplement? Has Purely Optimal truly done a great job?
Well, incredibly, incredibly, they have done it. At least that's what we get from the review section on the product page. Out of the total of 942 Purely Optimal Probiotics reviews not a single 1-star, 2-star, and even 3-star rating. Hence, all of them either 4-star or 5-star. Which is busted beyond measure. At least so it seems.
We're far too familiar with this notion of manufacturers likely adjusting and editing the on-page reviews. Because they help sell. So, why would they not?
Hence, they don't really help us much if we're after the truth. And so, a research of reviews by all other sellers and retailers I did.
Turns out, it's still something awesomely well-received. Out of the total of 3987 reviews, 3883 were positive (3-star, 4-star, 5-star) and 104 were negative (1-star, 2-star). So, yes, it's not exactly a 100.0% global success rate. However, with 97.4%, the Purely Optimal Probiotics still holds its ground pretty darn steady.
Plus, it's likely that it's even higher than that given that people are often just inherently far more willing to report negative experiences than positive ones.
Hence, the impressive choices of active and inactive ingredients do translate very well into the real-life experiences as well.
Truly, It's Hard To Imagine A Better Probiotic Set-Up
All in all, I said this before and I'm saying it again. It's hard to even theoretically come up with a better probiotic supplement. With Purely Optimal Probiotics, everything's just there.
The CFU amounts are more abundant than even the best practices suggest while at the same time not too abundant. Great different probiotic strain count. Even better than harmless additives ensuring that the gains are truly delivered. And then, third-party testing and just busted global success rates on top of all it.
That's ideal, the way I see it. And the price is also definitely not bad. For what it provides, I think it's a great value.
So, should you avoid it, consider it, shortlist it, or just go right ahead and buy it? I believe this does qualify as a buy worthy option. In fact, while I haven't been in the probiotic space for too long, this might actually be one of the best probiotic supplements out there. But if you're after the very best both in terms of quality and price, check out this one.
Other than that, I hope this Purely Optimal Probiotic review helped you find the information you were looking for. What do you think? Is there something that this one is missing? Let me know below.