|  Marketing  |  Ingredients  |  Additions  |  Additives  |  Reviews  |  Overall  |
In this Bragg Apple Cider Vinegar review, we'll be completely devoted to uncovering everything about the drink. And to ultimately, conclude whether it's worth it.
To properly do that, I like to start with the promotional materials and all of the promises to kind of get the baseline of things. After this, we will immerse ourselves thoroughly in the ingredients that it uses, both the active and the inactive ones. But to also get a sense of how it is performing in real life, we'll explore essentially almost all customer reviews online. And we'll do pricing aspects as well.
This Bragg Apple Cider Vinegar Review To See If It Has Reasons To Brag
According to the manufacturer, Bragg (Organic) Apple Cider Vinegar is a product "made from the finest, delicious organically grown apples." The way they put it, it "is full of zesty natural goodness and contains the amazing 'Mother of Vinegar'." Which in essence is something that "occurs naturally as connected strand-like chains of protein enzyme molecules and used it for its amazing natural cleansing qualities" [R].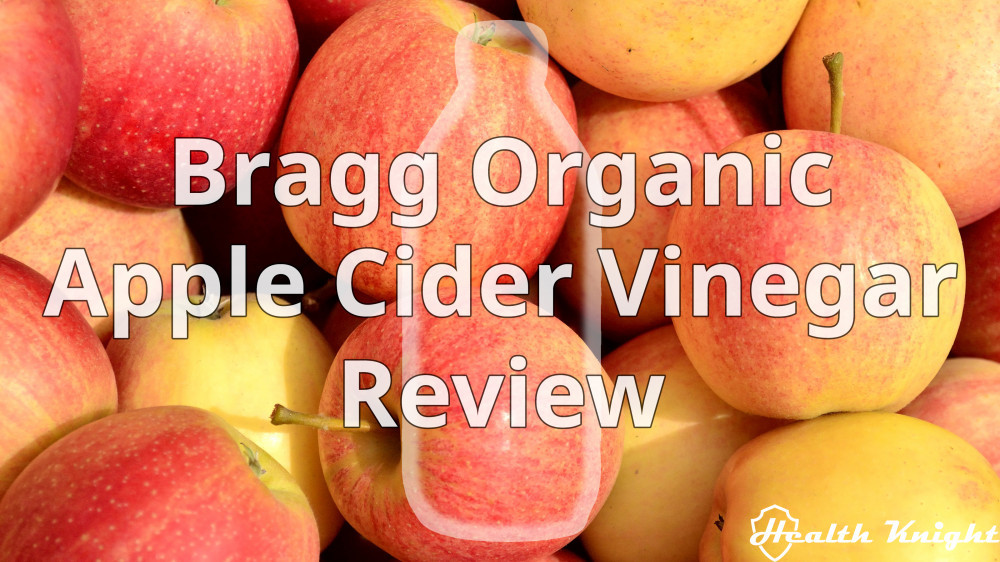 So, does it not sound pretty great already?
What adds even more to awesomeness is the fact that this can be both used internally and externally. Meaning, we can both consume it and apply it to our skin for different gains.
For example, with the former, they promise to help manage a healthy weight, support gut health, immune health, and foster healthy glucose levels. Whereas with the latter, it's all about helping maintain good skin health.
As for the product page itself, the couple of paragraphs above kind of summarize it in full. They are quite brief in their description. Plus, there are no marketing tactics they use to help sell the thing.
One other great thing about it is that it's USDA-certified Organic, Non-GMO-verified by Non-GMO Project Verified, and certified Kosher by KSA as well.
So, is this something worth investing in?
To Review The Beneficial Stuff, It's All About Apple Cider Vinegar
The Bragg Apple Cider Vinegar product is what LiveWell Collagen Peptides (review) is for Collagen or Sports Research MCT Oil (review) is for MCT oil. It does not use anything extra. It's all about the main thing.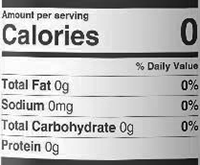 So, the thing offers 15 mL or one tablespoon of Organic Apple Cider Vinegar diluted to 5% acidity. Whereas to get all the health benefits, they're persisting of the necessity for two servings per day. Hence, 30 mL or two tablespoons. Which is equivalent to about 500 milligrams of the substance [R].
Is that a decent amount?
From what I can tell, it certainly seems to be so. Furthermore, the potential gains are not quite limited to only what they promise [R, R].
This thing can also help fight diabetes, reduce blood sugar levels, improve heart health, aid in battling dandruff, and help kill bacteria and various pathogens [R, R, R, R, R].
Plus, the organic-ness will only further add to the notion.
Additives Here Are As Old As The Earth Itself
So, Organic Apple Cider Vinegar… Is there anything else that gets added to it?
Yes, but no worries. It's nothing like what we've seen with Goli Apple Cider Vinegar Gummies (review). It's nothing like what we've seen with supplements like Centrum Performance (review) or just Vitafusion supplements in general (review). It's nothing of that sort. There is nothing bad within this one.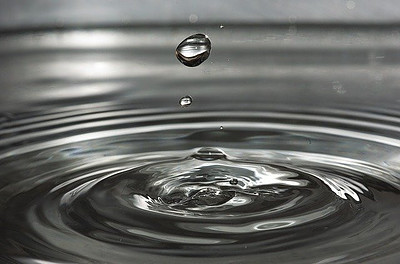 In fact, the only other thing that the Bragg Apple Cider Vinegar uses is Water.
Make sense, right? If it's a drink that isn't just undrinkable 100% concentrate of the stuff, then there should be at least some Water involved. But depending on how we look at it, for some just the idea of Water may not be an appealing one.
That's because this implies that there are no added ingredients to make the tasteless… Well, bad. Interesting. Unconventional. Not exactly pleasant or ideal. Call it whatever you want. Not everyone will enjoy the sheer taste of it.
But while it may make things not as tasty, it's not what we should focus on. The focus is always on the gains. So, let's look past the taste with stuff like this. See it as a daily challenge. See it as something you're stronger than.
On that note, however, to make things a bit more bearable, there's always the option to mix it with or just flush it down with something of great flavor. Personally, I would suggest berries, a fruit, or a quality juice. Prefer not to reach for sugary or artificial-sweeteners-filled drinks (or candy).
It's Definitely A Valuable Product Based On Customer Reviews
Given that the Bragg's Apple Cider Vinegar product page is essentially as simplistic as they come, it doesn't have a customer review section. Hence, there's no way of telling what the customers are generally thinking based on that page alone.
However, the internet is a big place. And throughout it, I managed to find a total of 14,965 Bragg Apple Cider Vinegar reviews.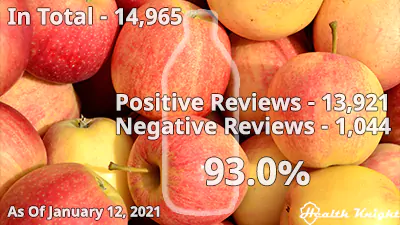 Quite a bit, eh? Yes, well the supplement has been around for more than 10 years. So, there kind of has to be a lot of feedback available. And there definitely is.
What's even more fascinating is how well the thing is received. I mean, out of those almost 15k reviews, 13,921 were positive. Hence, this one enjoys a 93.0% global success rate. Which is bonkers. Furthermore, the fact that it has been around for so long. Yeah, proper quality stuff according to most reviewers.
But what about those that do not enjoy this?
Well, from time to time, there is a review where a person claims that this did not live up to his or her expectations. But the vast, vast majority of ratings have to do with receiving the bottle broken in some way. Apparently, by far mostly Amazon is not doing a good job in packing this safely. Which is a shame. But there is one an even bigger shame.
It seems extremely likely that this is another one of those products that are being plagued by fakes on Amazon (which if wasn't the case, would make it have even higher success rates, for sure). It's something that I have recently started to notice at an alarming rate (here's to read more about that).
To this particular point, at least a couple of people have reported that the awesome, quality thing that they have been buying from a typical store for years is nothing like the forgery we get from Amazon. So, whatever our seller of choice, let it not be Amazon. To be on the safe side if nothing else.

The Price Feels Reasonable For An Organic Liquid That It Is
While there were at least a few customer reviews disappointed with the price, is that something genuine? Meaning, is the product actually an expensive one, or are those few just being unreasonable?
The Bragg's Apple Cider Vinegar has a typical price of $8.99 for the 32 ounces option. A bottle like that holds 63 servings or 63 tablespoons (15 ml). This means that it costs about $0.14 per serving. Or for the sake of comparing supplements about $0.29 per every 30 ml or about 500 milligrams of the stuff.
If we compare it to something like the Natural Factors Apple Cider Vinegar, it doesn't look so tempting. I mean, the Natural Factors option costs typically $7.49 for 180 capsules each of which is 500 milligrams. Hence, it's about 4 cents per serving or 7 times less the price than Bragg.
Still, Natural Factors offers none of the USDA Organic. But it is also Non-GMO certified and, on top of all that, third-party tested for purity. Thus, the way I see it, it feels like an extremely competent rival to Bragg.
Whereas it feels quite balanced when compared to other organic liquid options, like the Dynamic Health Laboratories Raw Apple Cider Vinegar. With it's $4.45 per bottle of 16 ounces, it basically has the same cost. However, it offers a few fewer certifications and it mixes in honey no longer being the 100% pure stuff.
So, it definitely feels less value than our Bragg Apple Cider Vinegar friend.
The Supplement Is A Time-Tested Quality, It's Fine To Just Go & Buy
The Bragg Organic Apple Cider Vinegar feels like a genuinely valuable product. It doesn't rely on almost any type of marketing to sell, yet it still sells. Quite a lot actually.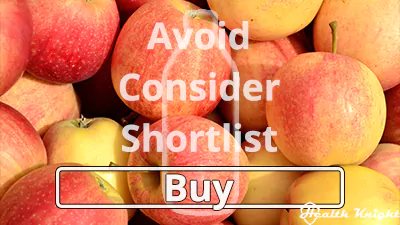 And there is a good, good reason for that. It's a genuinely great product. Great beneficial contents, great third-party certifications, great additives (no sugar or unnecessary sweeteners), great (even somewhat busted) global success rates. Plus, the price is reasonable.
So, taking all of that into account, I believe that it's definitely a worthy buy. By all means, it can help you achieve your Apple Cider Vinegar goals if you let it.
Above all, I hope this Bragg Apple Cider Vinegar review helped you find the information you were looking for. What do you think of it and its third-party certifications? Is this something you'd enjoy trying? Let me know below.