|  Overview  |  Fish Oil Purity  |  Fish Oil Amounts  |  Additives  |  Conclusions  |
In this Dr. Tobias Fish Oil Review, we'll go in deep to dissect all that there is worth knowing about the supplement.
Therefore, in this article, we will first go over the claims associated with the supplement. Then we will look at all what regards to the kind of fish oil that is uses and how potent and of quality it is. Lastly, we'll also go through all that there is necessary to know about the additives used in the supplement and whether or not they are harmless in nature.
All to make as accurate of an assessment about the Dr. Tobias Fish Oil supplement as possible.
The goal here is to create a review so thorough that there would not be a need for you to ever look at another supplement review for this specific supplement. Therefore, if there is a section or aspect I haven't covered but you're interested in, let me know. And I'll add that to the review.
Dr. Tobias Fish Oil Review – The Overview
Dr. Tobias Fish Oil is a supplement all about providing you with all the necessary Omega-3 Fatty Acids from wild fish in an ultra-pure, refined manner to improve brain function, neuroplasticity, as well as have other significant health benefits.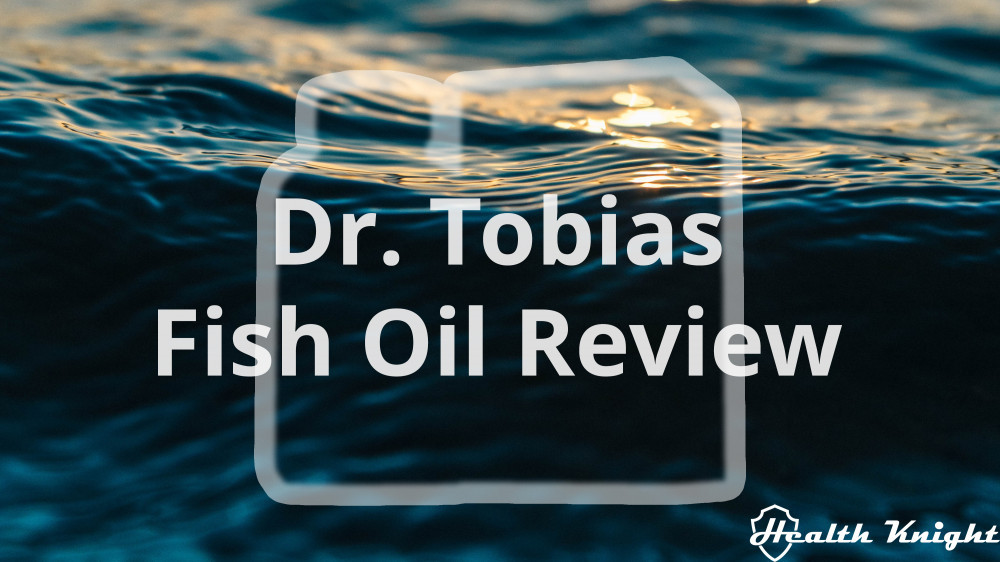 The description page of the supplement is very straightforward, not overstuffed with unnecessary information. Which makes it a very pleasant one to visit.
On that page, they claim the Fish Oil to be sourced from FDA Registered & Inspected and GMP-certified Facility, the product itself to be certified by NSF. There are also statements of being Non-GMO.
They also assert that the supplement utilizes an Advanced Delivery System through Enteric Coating, which will help to prevent fishy aftertaste.
Above all, they promise 2,000 mg of Fish Oil with 1400 mg Omega 3s (800 mg EPA, 600 mg DHA) per serving, one serving being two capsules.
And at the end of the day, they list quite a few claims associated with the consumption of high-quality Fish Oil such as improved heart and brain health, joint health, mood & mental state, skin, and hair health.
While it all looks nice, let's dive right in to see what it's really about.
Fish Oil Purity – Seems Pure Enough
One of the most important things about any fish oil in any supplement is that of what kind of purity it embodies.
This is especially important because due to industrial activity various seas and oceans are filled with harmful chemicals. And these chemicals do accumulate in the fatty tissues of the fish.
Therefore, any fish oil derived from wild fish (which is the case for this supplement) will be filled with those.
Thus, they must be purified to not affect our health in an extremely negative way. The truth is that not properly purified fish oil will arguably outweigh any positive effects associated with Omega-3 fatty acid intake.
So, it's extremely important and goes without saying that it's a must for the fish oil to be properly purified.
The best organization to affirm the Fish Oil purity is the IFOS (International Fish Oil Standards Program). They exercise the most stringent quality measures there is. Thus, consequently, many manufacturers trust precisely this organization to attest the purity of their Fish Oil.
Whereas, IFOS then list online those that have adhered to the highest of standards.
As for Dr. Tobias Fish Oil, it has not been tested by IFOS, which I see as a huge drawback. In truth, the best approach is to never go with Fish Oil that is not IFOS certified.
In this regard, some may wonder what does exactly the NSF certification means?
NSF is one of the most respected independent product testing organizations out there.
They do toxicology and label reviews to verify product formulation and marketing claims, formulation reviews to identify and quantify dietary ingredients declared on the product label, contaminant testing to ensure that no unsafe levels of contaminants are present, as well as Good Manufacturing Practices (GMP) facility inspection [R, R].
All of these must be adhered to to earn the NSF certification.
Thus, one could say that the NSF certification is enough to attest to the purity of Fish Oil. While this may be true, I myself much rather prefer the tests and verification of a specialist (IFOS) rather than a generalist (NSF).
But it might be different for you.
Nonetheless, some certification of the ingredient purity is better than none.
Fish Oil Quality Is Of Pretty High | The Ratio A Bit Off
Dr. Tobias Fish Oil is of pretty high quality, not the highest I've seen but sufficient enough for great health and all the health benefits mentioned earlier.
The Fish Oil quality is largely determined by the DHA to EPA ratio.
Ideally, you would want at least 1000 mg of Fish Oil of which there is 300 mg of EPA and 200 mg of DHA [R, R].
On that same note, Dr. Tobias Fish Oil contains 400 mg of EPA and 300 mg of DHA for every 1000 mg of Fish Oil. Which I would say is better than what was mentioned in the previous paragraph.
In essence, the more of EPA and DHA you have the better. However, also their corresponding ratios do matter. In this regard, it is considered that it's best if they correspond to 3:2 ratio. But I do not see why 4:3 would not work either [R, R].
Either way, it's much, much better to have that than no fish oil (EPA and DHA) at all.
The only thing left mentioning is the fact that you should take 2000 mg of fish oil daily – 1000 mg in the morning and 1000 mg in the evening.
In regards to Dr. Tobias Fish Oil, this is exactly what they recommend.
As for additional beneficial substances, the supplement does not offer any.
It's a clean, pure, all about Omega-3s to your daily regimen type of supplement.
Most Additives Are Great – Enteric Coating's A Mistery
While many supplements struggle with employing harmless additives, Dr. Tobias Fish Oil it's not of that kind. However, there are 2.5 beneficial ones, 1.5 harmless ones, and one that is largely a mystery.
Here are the five additives present in the supplement: Gelatin (bovine), Vegetable Glycerin, Purified Water, Enteric Coating, and Natural Vitamin E.
Vegetable Glycerin, as well as Purified Water both are completely harmless. That is the case if you're consuming enough water. If not that Purified Water part will also be beneficial to you. (But please consume enough water, it's incredibly important for your health.) [R, R].
As for the Gelatin, it offers an abundance of amino acids, which translates to benefits for joint, gut, skin, and brain health. Whereas, Natural Vitamin E is there to not only preserve freshness but will also provide some incremental Vitamin-E-related benefits [R, R, R, R, R, R, R, R, R, R].
Whereas Enteric Coating is something that I see first time present in a supplement.
Its main purpose is to place a barrier over the capsule to prevent it from dissolving until after it passes through the stomach. In practice, this results in not feeling a 'fishy' aftertaste, which is pretty common after popping a capsule of Fish Oil, I have it too sometimes [R, R, R, R].
While enteric coating seems to be beneficial in Fish Oil supplements, this is not for certain, furthermore, there is no telling of what is it actually made of. For example, it can potentially be made out of Shellac, which isn't exactly good for your health [R, R, R, R].
Other than that, it can also be potentially made of various blends of polymers, plasticizers, glidants, pigments, binders, opacifiers, anti-tacking agents, surfactants, anti-foaming mechanisms, fillers, and extenders [R, R, R].
In this regard, I do strongly believe that it would be best to avoid any kinds of Enteric Coatings, especially ones that do not list the ingredients they are made out of.
If you're concerned about 'fishy' burps or aftertaste when consuming Fish Oil there are two simple ways how to combat this, without the need to go for a supplement that contains Enteric Coating.
First, you can take the supplement right before the meal. Alternatively, you can also freeze the capsules in the freezer before ingesting them. This will make it so that there are no unpleasantries in regards to the consumption of Fish Oil.
Final Thoughts On Dr. Tobias Fish Oil
Dr. Tobias Fish Oil is generally pretty good as a fish oil supplement.
It offers great quality with plenty of DHA and EHA, as well assessment of purity by NSF. The additives are great for the most part, only the Enteric Coating being kind of an unpredictable substance within it.
At the end of the day, I mean it's completely up to you.
As I mentioned earlier, I personally wouldn't trust my Fish Oil to be certified by a generalist (NSF).
Furthermore, there are plenty to choose from the ones that are IFOS certified. And they are not necessarily more expensive.
Furthermore, I'm not a fan of Enteric Coating. I do believe it's completely unnecessary and potentially exposes you to some unpleasant additives that may come back later to bite you.
In fact, it does not really benefit you either (there are other effective ways how to combat 'fishy' burps).
Thus, if you're looking for a proper fish oil supplement I would suggest one of the very best ones.
Other than that, I hope this Dr. Tobias Fish Oil review helped you find the information you were looking for.