|  Overview  |  Core Ingredients  |  Potential Benefits  |  Additives  |  Effectiveness  |  Conclusions  |
This Nature's Way MCT Oil Review is for all you out there who seek insights on the MCT Oil by Nature's Way.
In this article, we will not take any claims for granted. Instead, we'll challenge them. We'll look at all the ingredients – both the active ones and the passive ones. We'll make sure to create a solid feel for the potential benefits. As well as we'll look at most up-to-date success rates to see whether or not people tend to find value in this.
Nature's Way MCT Oil Review – The Overview
When considering the Nature's Way MCT Oil, there's the spotlight supplement they typically use in all their marketing videos and marketing campaigns in general. And then there are 3 other MCT Oil supplements.
The tricky part about them is that they are all referred to as the Nature's Way MCT Oil supplements. Thus, it can be somewhat confusing when identifying or trying to discuss a particular one.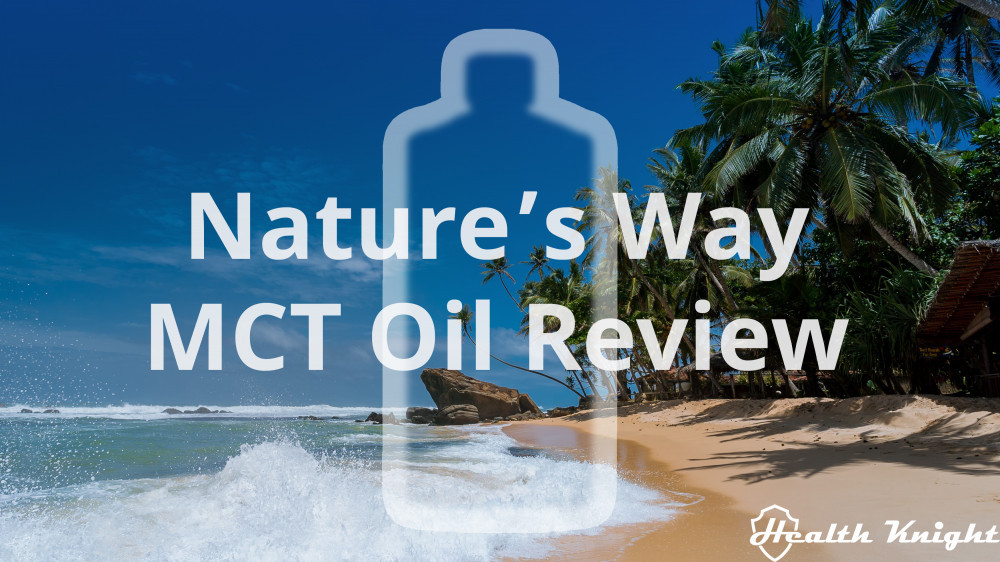 But we'll try.
First, we have the spotlight supplement, which essentially is the original version of the brand. It goes by the name of Nature's Way 100% MCT Oil.
This one is Vegan Certified, Paleo Certified, Keto Certified, Non-GMO Project Certified, USDA Organic Certified, Gluten-Free, Hexane-Free, and above all – the bottle's BPA Free.
The next of the pack is what they refer to as Nature's Way 100% Organic MCT Oil 30 oz. In essence, this is the exact same supplement as the spotlight supplement enjoying all the same certifications, same serving size, and the same free of BPA bottle, as well as the qualities of colorless, odorless and flavorless – everything is the same.
The only difference?
This one is of the bigger container. Thus, instead of offering 16 FL OZ (480 mL) Liquid, it offers amounts of 30 FL OZ (887 mL) Liquid.
The third is again of a very similar name – Nature's Way 100% MCT Oil from Coconut (the both previously discussed versions are also of 100% Coconut). However, in essence, this is a completely different supplement.
For starters, it's all about softgels. Consequently, also the serving size is considerably smaller. Furthermore, this one enjoys way fewer certifications. Compared to the previous two, this one is only Vegan Certified, Gluten-Free, Hexane-Free, and BPA-Free Bottle type of supplement.
Either way, it's great for those people that do enjoy softgels much more than any other supplementation form.
Lastly, we have the supplement that is referred to as Nature's Way MCT Oil (Single-Serve). And this one's also not as top-notch certified as the spotlight supplement. Apart from the certification that the Softgel version enjoys, this one additionally is Non-GMO Project Certified.
Other than that it shares the original serving size of the spotlight supplement. But the unique thing about it is the fact that it comes in a completely different serving size – Packets (0.5 fl oz (15 mL) each Packet).
Having discussed all this, it pretty much exhausts all the information found on any of the description pages for the supplements. In that sense, one unique thing is the fact that not all of them contain claims as regards to potential benefits.
Instead for that, they have a separate umbrella page that features all 4 Nature's Way MCT Oil supplements and shares some insight on MCTs as such, as well as inform about the three potential benefits – brain and body fuel, quickly digested and converted into energy, helps you to feel full.
Overall, taking the description pages into account alone, I profoundly enjoyed these supplements.
And in that sense, I bet you have too.
But let's dive deeper, let's explore all there is about them.
Caprylic And Capric Acid Seem To Be Name Of The Game
Not all MCT (Medium-Chain-Triglyceride) Oil supplements are the same. Or to put it in other words, not all MCT Oil compositions are exactly the same when it comes to various supplements.
There are four different acids that typically are or can be a part of the overall composition within a single supplement. There's the Caproic Acid (abbreviated as C6), Caprylic Acid (C8), Capric Acid (C10), and Lauric Acid (C12).
In that regard, there are many of MCT Oil supplements that fully disclose their contents on their respective labels. Supplements like the Sports Research MCT Oil, Now Sports MCT Oil, or the Onnit MCT Oil all are great examples of this.
Then there are those that don't the various acid composition. Here we have supplements like the Melrose MCT Oil, Bulletproof Brain Octane Oil, or Bulletproof XCT Oil supplements.
But the latter of both is not really the ideal approach. Mostly because all these various acids display somewhat different qualities and benefits (there are many that overlap though) [R, R, R, R, R, R, R, R, R, R, R, R, R, R, R, R, R].
So, at least to some extent, it's pretty important that the manufacturer is straightforward about it.
In that regard, Nature's Way MCT Oil supplements are kind of in-between. The reason being some of their supplements do identify the composition clearly, others do not give two hoots.
It's actually 50:50.
The spotlight supplement and its identical but bigger counterpart are among those that clarify the compositions fully, whereas the softgel version and the packet version refrain from doing so.
So, what are their compositions?
The Nature's Way MCT Oil spotlight supplement offers 14 grams of 100% Coconut Oil sourced MCT Oil per every tablespoon. Of these 14 grams, 7.7 grams are said to be of Caprylic Acid and 5.0 grams of Capric Acid.
Whereas the bigger version of this same supplement is the exact same (as you can tell already).
The Softgel version offers 3 grams of unknown composition MCT Oil per every 3 softgels that you consume (serving size). The only thing we really do know is the fact that this one is sourced from 100% coconut oil.
And the same can also be said about the last one of the Nature's Way group – also 100% coconut oil stuff. 14 grams of unknown composition of MCT Oil per every packet of the supplement.
That said, there is something that the manufacturer does share in the case of the latter 2 supplements. And that is the fact that for either are of caprylic and capric acids.
So, overall, even though the exact amounts are not shared, this does not mean that they will shy away from benefiting you.
Benefits – Weight Loss, Brain Protection, Energy & More
So, remember those 4 acids that MCT Oils are typically comprised off? Caproic Acid (C6), Caprylic Acid (C8), Capric Acid (C10), and Lauric Acid (C12)?
And the fact that all of them provide benefits both individually and in conjunction with each other?
Good.
Nature's Way MCT Oil, however, does not embrace all of those 4.
They are focused on and mainly about only 2 of them, as we already discussed in the previous section – Caprylic Acid (C8), Capric Acid (C10). Given that, let's look into some of the potential benefits.
Caprylic Acid (C8) is great for lowering cholesterol levels, improving skin and mouth health, protecting brain function, battling acne, making sure antibiotic resistance does not happen, as well as combating inflammatory digestive disorders [R, R, R, R, R, R].
Additionally, this acid also provides various kinds of antibacterial, antifungal, antiviral, and anti-inflammatory benefits [R, R, R, R, R, R].
Whereas the Capric Acid (C10) – it's first and foremost awesome for improving energy levels. Then there are all kinds of beneficial antiviral and antimicrobial properties, it also promotes digestive health and weight loss, positively impacts cholesterol levels, as well as has other cool ways of letting you know of its presence [R, R, R, R, R, R, R].
Other than that, sure, there's also a number of benefits you'll encounter by using this to fuel ketones and stuff alike.
So, overall, definitely solid.
All Of The Additives (When Present) Are Harmless
Additives are some very common ingredients not only among many supplements but also processed food and medicine. When it comes to food they're the culprit of modern chronic diseases. When it comes to medicine they're the reason for many health devastating effects.
When it comes to supplements – they can be either one of those.
Thus, it goes without saying that you should always and in every product avoid the kind of additives that can mess with your health.
When it comes to MCT Oils, supplements of that kind have proven that they can be among the 1% of supplements that can do completely without the additives.
And this is exactly the story of Nature's Way MCT Oil spotlight supplement and its bigger-sized counterpart.
However, this does not mean that the rest of the supplements are much worse off. Quite the contrary.
I mean, sure, they do use a few additives in their blend. However, none of them are harmful. In fact, some even may be considered beneficial.
Thus, not only are the Nature's Way MCT Oil supplements solid when it comes to additives.
No…
They promise to not compromise your health in any way.
Only the benefits are what you will be encountering when regarding these.
Success Rate – Great For Some, Likely Good For Others
While Nature's Way MCT Oil supplements are not reviewed as abundantly as something like the Bulletproof MCT Oil or Sports Research MCT Oil supplements, they are very popular nonetheless.
A full-out comprehensive in-depth research that involves all customer reviews I could possibly find across the internet revealed that about 90% of people who tried the original spotlight supplement (either of the versions) were very satisfied.
Furthermore, given that generally, people tend to report negative experiences way more often than positive ones, there is not a doubt in my mind that the actual success rate, in reality, is even higher.
What regards to the softgel version and the packet version of Nature's Way MCT Oil supplements, they're perceived very good as well.
However, I do refrain from calling out any specific success percentages as there are just not enough customer reviews around at the moment.
Overall, This One's Such A Sweet Deal
Overall, all of the 4 Nature's Way MCT Oil supplements are definitely among the most solid MCT Oil supplements out there.
They are certified like no other, they source their MCT Oils only from Coconut Oil, there are only harmless or no additives at all, and they enjoy ridiculously high success rates.
That said, it's also no doubt that the spotlight supplements (the original versions) of the supplement are the most superior ones.
Thus, if you ever do decide on going with the Nature's Way MCT Oil – go with the spotlight one or it's the bigger-sized counterpart.
And do it even if you're not necessarily a fan of the liquid form.
They're well worth it.
Above all, I hope this Nature's Way MCT Oil review of all 4 supplements helped you find the information you were looking for.