|  Marketing  |  Ingredients  |  Side Effects  |  Reviews  |  Pricing  |  Overall  |
According to the Garden Of Life Vitamin Code Raw D3 reviews posted by customers, this has really brought some success in terms of health.
Many reported that this has helped them improve their vitamin D levels. Which resulted in successfully combating all kinds of ill-health outcomes and improvements to immune health. Very many were genuinely delighted with the supplement.
So, in this Vitamin Code Raw D3 review, we will look at what this product offers and can it optimally contribute to our health.
Hence, the idea is to be no extension of the manufacturer's marketing or other BS. This is all going to be about what I feel is the truth, the whole truth, and nothing but the truth. And we'll do that in assessing for marketing, ingredients, side effects (additives), customer feedback, and pricing. We'll do it the truth-seeking way.
Marketing | Garden Of Life Doesn't Really Invest In Persuading To Buy
According to the manufacturer, the Garden Of Life Vitamin Code Raw D3 is "whole food nutrition, specifically formulated [..] to support bone, breast, prostate, and immune system health." Per their words, "fat-soluble vitamin D3 is delivered in a whole food lipid base of cracked wall chlorella to promote absorption." So, sounds neat [R, R].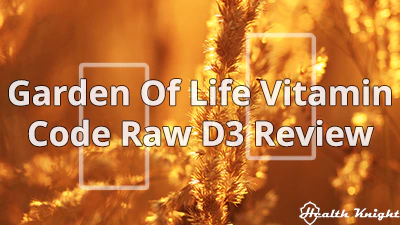 As for the product page, it's a lot more to my taste than it used to be. And I liked the previous version as well. This just feels way better.
So, for benefits, we have the already mentioned breast, bone, prostate, and immune health. On top of that, it's also said to help joint and digestive health. So, a lot more promises than with something like the Bluebonnet Vitamin D3 (review).
As for marketing tactics to persuade people into buying, we have just the section full of unnaturally positive Garden Of Life Vitamin Code Raw D3 reviews.
As for free-of claims, we've got a few certifications. It's Non-GMO Project Verified, NSF Gluten-Free, and Star-K Kosher Certification. Additionally, Garden of Life is also Certified Carbon-Free, as well as Dairy-Free, Soy-Free, and Vegetarian-Friendly.
So, is this a supplement worth investing in?
Ingredients | To Review Contents, Vitamin Code RAW D3 Is Awesome
Typically brands offer at least a couple of different supplements when it comes to their vitamin D supplement line-up. To illustrate, the Doctor's Best Vitamin D3 (review) and Nature Made Vitamin D3 (review) are some classic examples of that. But not all vitamin Ds are like that. Still, we do get some choice with this Garden Of Life Vitamin Code Raw.
So, per serving (one capsule), the supplement of this review starts with either 2000 IU (50 mcg) or 5000 IU (125 mcg) of vitamin D3.
Then, regardless of the version, both get coupled with 250 milligrams of High Omega-9 Cracked-Wall Chlorella and 60 milligrams of Raw Probiotic & Enzyme Blend. And then, depending on the version, it's either 110 milligrams (2000 IU version) or 150 milligrams (5000 IU version) of Raw Organic Fruit & Vegetable Blend.
Here's to break that down a bit.
So, we've got vitamin D3 fermented with Saccharomyces cerevisiae which is a form of yeast. Whole-food nut-heads go crazy about this stuff. But I don't really see why because it's not real whole foods. Yes, it's fermented stuff but there is controversy about the ingredient. I mean, in my opinion, not only does it have any real advantage over the typical Lanolin source but also it's potentially a dangerous one [R, R, R, R, R, R, R, R, R, R, R].
Regardless of that, vitamin D3 is the form of the vitamin that we want. It's the same one that our bodies produce when exposed to sunlight. And it's the most beneficial vitamin D form of all. The D2 alternative has been shown in research to be the inferior and cheaper to produce option. It never makes sense to prefer it [R, R, R, R, R, R, R].
So, the Garden Of Life Vitamin Code Raw D3 got at least that aspect right.
What I believe plays a huge role in the viability of a vitamin D brand is how flexible it can be. Because our nutritional needs for the specific vitamin can vary greatly depending on our lifestyle and our diet. Hence, it has to be flexible in the dosages per capsule that they offer.
This Vitamin Code isn't that flexible. I mean, yes, we get the 2000 IU and 5000 IU versions. And those will be fine and very adjustable for most adults (fine for both maintenance and tackling a deficiency). But the kids likely won't be having any of it  [R, R, R, R, R].
As for High Omega-9 Cracked-Wall Chlorella, it is an oily substance that perfectly goes together with vitamin D's fat-soluble nature (will help to absorb it). In fact, we can kind of cut it in two halves. Omega-9 and Cracked-Wall Chlorella.
So, Omega-9 itself offers such benefits as reducing the risk of heart disease, increasing in energy, enhancing the mood, decreasing anger, boosting the immune system, improving memory performance in people ailing from Alzheimer's disease among other benefits [R, R, R].
Whereas Cracked-Wall Chlorella just means that the Chlorella present in the supplement is available in an easy-to-digest and absorb form for our bodies as it's otherwise hard to get the good stuff out of it [R, R, R].
Then, we've got a bunch of powdered organic fruits and vegetables which are basically all about fiber (benefits to digestive health and antioxidant properties) and can help as Prebiotics to the Probiotic and Enzyme Blend [R, R, R, R, R, R].
And so, the idea behind the latter is to mainly aid in improving our gut health. I mean, the combination of various Enzymes and a few Probiotics can improve digestion and absorption of nutrients. Thus, it can be very helpful but never will it really replace a great Probiotic like the Live Conscious Pro-45 (review) or the Gives Health Wholesome Probiotics (review) [R, R, R, R, R, R].
Now, another thing to discuss is manufacturing quality.
I mean, I used to trust in Garden Of Life completely. And I'm pretty sure they used to do third-party testing before the brand was acquired by Nestle. Since that time people have reported a fall in quality. Moreover, Nestle itself hasn't been the most trustworthy, people-oriented company either. They're very revenue-driven and there is other real ugly stuff about them [R, R, R, R, R].
Side Effects | There Are Just Two Additives In This & Both Are Fine
Side effects are typically the product of additives. Whereas additives are the "glue" ingredients typically added to supplements to make all these ways of supplementation like capsules, tablets, liquids, etc., possible. But they can also go wrong with them.
I mean, something like the uses Kirkland Vitamin D3 (review) uses both Soybean Oil and Corn Oil. And neither of these are great substances to have. I mean, especially when GMO, both of these promote inflammation like crazy, and thus, they can easily lead to a wide variety of different chronic conditions [R, R, R, R, R, R, R].
So, we don't want ingredients like that in our supplements. Does Garden Of Life Vitamin Code RAW D3 have any such things?
No, fortunately, it doesn't.
It uses two different ingredients. Vegetable Cellulose (capsule) and Organic Rice (hull).
I mean, the former is something that exists in all plants, vegetables, and fruits, naturally. Namely, it's something that we consume daily anyway. So, having that little bit of extra through consuming some capsules will literally never be detrimental [R, R, R].
Whereas the latter (rice) is kind of a more quality option to what else could be used. Given that it's an Organic thing here and that the Vitamin Code RAW D3 supplement also holds a Non-GMO certification, I don't see how it can be harmful. In fact, it will very likely only have positives (better heart health, anti-inflammation properties, etc.) [R, R, R].
Reviews | Customer Feedback Is Above 95% Which Is Dope
In terms of practical aspects, we have to look at what the customers have been saying. Hence, we have to do some research on Garden Of Life Vitamin Code Raw D3 reviews. Even more so because the manufacturer's page doesn't provide any trustable insights.
I mean, granted, there are some 138 pieces of customer feedback total. But they do feel all unnaturally positive. I mean, there's like 1 one-star and 2 two-star ratings. The rest are either four-star or five-star.
Plus, it has to be taken into account that these reviews can be easily adjusted and otherwise manipulated to fit the marketing needs of Garden Of Life better. I mean, as far as I can tell, that's what typically happens. And there is no reason why that is not the case also here.
So, I did some digging. Here's what I found.
In total, I came across 3,774 Vitamin Code Raw D3 reviews. Of these, 3,627 were positive and 147 were negative. Hence, a global success rate of 96.1%. Which is kind of like what we had with the NatureWise Vitamin D3 (review).
So, yes, it has been very successful. To that end, there definitely is a good number of people that absolutely swears by it. But what about those that don't?
Many people didn't appreciate the fact that Garden Of Life was sold to Nestle. For many, it was a matter of horrible side effects (rash, nausea, hives, burn, etc.). Others found objects in the bottle that shouldn't be there. And devoted customers of many years just generally reported that the quality and ingredients have not been what they used to be since Nestle took over.
And then, for a number of people, the product sent was after it has been expired, literally empty bottles were sent, tablets instead of capsules were sent, or it smelled and tasted horribly (like plastic).
Pricing | Vitamin Code RAW D3 Is Unique But It's Definitely Expensive
Looking through the negative Garden Of Life Vitamin Code Raw D3 reviews, I didn't find anyone loathing the pricing aspect of it. But would that mean that this is a very reasonable and fairly-priced supplement? Let's do some math to assess that objectively.
So, per container (60 capsules), the 2000 IU supplement of this review typically costs $16.09. That's 26.8 cents for every unit of 2000 IU of vitamin D3. Thus, how does that compare?
Not very good. I mean, it's among the most expensive vitamin D3 supplements there are; it doesn't come cheap at all.
For example, if we are only focused on purely vitamin D (which we should be with a standalone supplement), NOW Foods Vitamin D3 (review) makes a lot more sense. Yes, it doesn't add all the fancy blends and Chlorella and whatnot. But it doesn't have to.
It's arguably higher quality in terms of manufacturing. It offers only the best additives. It literally has 99% success rates. And it costs typically 3.4 cents for every 2000 IU of vitamin D3. That's like 8-fold cheaper. And the same result. Improved vitamin D blood levels.
And then, even if we want to go fancy and have something unconventional, the Bluebonnet Vitamin D3 (review) just feels like a so much better alternative.
Yes, again, Bluebonnet doesn't add all the fancy blends. But I would trust their quality more. And they skillfully do it in a tasty way. Meaning, we get a gummy without any sugar or other bad ingredients. And it costs less than half of what the Garden Of Life Vitamin Code Raw D3 does.
Still, it has to be said that the supplement of this review does its vitamin D products in a very unique way. And so, we kind of have to give it some credit for that. To that end, I guess the price should be considered reasonable given all it has in terms of contents. But it's, for sure, expensive for a vitamin D supplement.
Overall | Yes, It's Unique But It's Such A Ridiculous Overkill
I think that Garden Of Life Vitamin Code Raw D3 is kind of like ligers (hybrid offspring of a male lion and female tiger). I mean, ligers can be done by breeding a lion with a tiger but it's absolutely retarded, the way I see it. Similarly, adding all kinds of blends to a vitamin D supplement can be done but it makes little to no sense whatsoever.
In other words, yes, for positives, the supplement brings to the table all kinds of substances. But they feel like a ridiculous overkill for a vitamin D supplement. We don't need more fiber or all those enzymes. We should care for a separate supplement containing the vitamin to improve our vitamin D levels. Not all the other stuff.
Yes, it has additives too and great success rates but I hope it comes across as to how rubbish the idea of such a hybrid supplement is.
Plus, for negatives, we have potentially very deteriorating quality, the fact that the company is owned by Nestle, and that it costs so much more than its rivals. It's basically the most expensive vitamin D supplement on the market.
Hence, (out of avoid it, consider it, shortlist it, buy it) I think we should just consider the Vitamin Code Raw D3 of Garden Of Life. As noted, it's a very unique approach, and hence, we have to give it some credit. But I wouldn't ever buy it.
On that note, if you're interested in something genuine and truly useful when it comes to your vitamin D levels, immune health, and all the other benefits that come with proper vitamin D levels, I would propose looking into this supplement (my full review).
Above all, I hope this Vitamin Code Raw D3 review helped you find the information you were looking for. What was your biggest takeaway? Let me know your thoughts below. And do feel free to leave your own personal reviews on the products as well.