|  Marketing  |  Ingredients  |  Additives  |  Reviews  |  Pricing  |  Overall  |
According to the Gives Health Wholesome Probiotics reviews, this is the best Probiotic supplement ever. Quite a few people reported their digestive issues being 100% solved after picking this up. Others even went as far as to say that this supplement changed their life. And others more simply pointed out the fact that this is much better than so many other options out there. Hence, in this Gives Health Wholesome Probiotics review, we'll test if it's as Godsend as much of the feedback suggests.
Hence, the goal is to cover everything starting promotional materials and ending pricing while also discussing ingredients, additives, and success rates. This is about making it as thorough as possible.
This Gives Health Wholesome Probiotics Review To Test If It's Incredible
According to the manufacturer, Gives Health Wholesome Probiotics is all about the expression "health begins in the gut." To that end, they emphasize that an unhealthy gut can lead to more than just digestive issues, it can also contribute to compromised immune response, neurological disorders, psychiatric disorders, malnutrition, weight gain, and cardiovascular disease to name a few." Hence, this supplement is all about helping to turn the tide in our favor [R].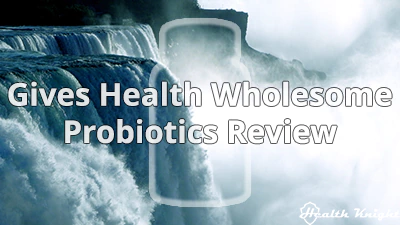 The product page itself is extremely similar to those we've seen by Align Probiotic (review) and Purely Optimal Probiotics (review). Meaning, it's essentially the same structure.
But it's a great structure. It's very easy to read with plenty of white space, and they even use references which is always a good thing.
As far as marketing tactics go, there aren't that many. They do use an overwhelmingly positive customer review section. And they also offer this notion of buy more right off the bat and get a decent discount. And third, they offer money-back guarantee (90 days).
As for the benefits, Gives Health Wholesome Probiotics implies that it's more than just digestive health (as cited earlier). However, they also have just these general gains. These are balanced gut microbiome, healthy immune response, and normal digestive functioning.
And then, there's also just useful information with references just in general, all of which hints at the idea that gut health can be negatively affect by many things but it's extremely important that it's healthy.
As for any free-of claims, we've got Non-GMO, Soy-Free, Gluten-Free, Preservative-Free, and Vegan-Friendly.
So, the Gives Health Wholesome Probiotics are looking very good, the way I see it. The question is, however, is it genuinely fine in terms of the ingredients as well.
To Review The Ingredients, It Couldn't Be Any Better
There are all kinds of different Probiotic supplements these days. Some are geared towards just strictly gut health alone like the Healthy Origins Probiotic (review) or the Nature's Way Pearls Acidophilus (review). Others prefer to add few more extra substances like the Nutrition Essentials Probiotic (review) or Dr. Ohhira Probiotics (review). The supplement of this review belongs to the former.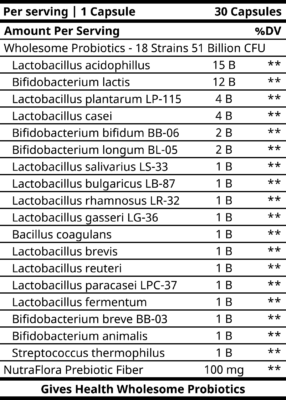 So, per serving (one capsule), the Gives Health Wholesome Probiotics offers 18 different Probiotic strains in total amounts of 51 Billion CFU while also being transparent as to how much of each is there. Plus, we also get 100 milligrams of NutraFlora Prebiotic Fiber.
For Probiotics, we have Lactobacillus acidophilus, Bifidobacterium Lactis, Lactobacillus plantarum and casei, Bifidobacterium bifidum and longum, Lactobacillus salivarius, bulgaricus, rhamnosus, and gasseri, Bacillus coagulans, Lactobacillus brevis, reuteri, paracasei, and fermentum, Bifidobacterium breve and animalis, and Streptococcus thermophilus.
So, what does it all mean? Here are the core of things.
The total amount is 51 Billion CFU. And that's a really potent number. By means of benefits, I think it should more than ensure all of what typically is associated with Probiotics. I mean, it definitely promotes gut and digestive health. But I think it's capable of reaching far more than that as well [R, R, R, R, R, R, R, R, R, R, R, R, R, R, R, R, R].
As for the total number of different strains, I'd say that, generally speaking, anything above 10 is great. And here, we certainly have that [R, R, R, R].
Another great thing is that Gives Health Wholesome Probiotics also adds Prebiotics. And it doesn't just do in a cheap way. Instead, it uses the NutraFlora which is a patented source of Prebiotics. The whole purpose of it is to enhance the ability and capacity of all the Probiotic strains. In other words, to make them more powerful, effective, advantages, and so, to provide not only gains to digestive health and immune system but general health as well [R, R, R, R, R, R, R, R, R, R, R, R, R, R].
In simple terms, this is essentially the ideal way how to do it. And then, on top of that, the Wholesome Probiotics of Gives Health is third-party tested. Which is the way to do it when it comes to ensuring purity, potency, safety.
All in all, the way I see it, as far as beneficial ingredients go, the supplement of this review is perfect.
For Additives, We Have What I Believe Is The Way For Probiotics
And truth be said, it isn't any different with the additives either. I mean, yes, supplements can go very wrong with choosing the wrong kind of additives. I mean, we see it all the time. Be it Titanium Dioxide in something like the TruNature Advanced Digestive Probiotic (review) or Sucralose in something like the TheraBreath Probiotics (review). It's bad either way [R, R, R, R, R, R, R, R].
But the Gives Health Wholesome Probiotics doesn't do that.
It uses DR Capsule (Veggie Caps), Microcrystalline Cellulose, Nu-mag, and Silica.
Of these, DR Capsule (Veggie Caps) is a patented way to ensure that none of the Probiotics die in the stomach acid. It makes a capsule to be dealyed-release (made out of Hydroxypropyl Methylcellulose and Gellan Gum). Hence, none of the good guys get wasted in the process, and all of them get to benefit our health. It's really the preferred way how any Probiotic should ensure the survivability of its strains [R, R, R].
Then, Microcrystalline Cellulose is an additive as harmless as they come (often used for placebo or dummy pills in studies). Whereas Silica is a natural element which is absolutely harmless [R, R, R, R, R, R, R, R].
Lastly, Nu-mag is another patented ingredient. This one is comprised out of Rice Extract, Rice Hulls, Gum Arabic, and Sunflower Oil. All of these, generally speaking, are fine to ingest. I mean, Sunflower Oil is certainly not the most optimal option when it comes to choosing an oil but that's fine. As a whole, the ingredient is a (Magnesium) Stearate replacer. Which isn't really necessary based on what I've found in my research. But it's fine [R, R, R, R, R, R].
Overall, there is literally nothing more we could ever need. The additives are great with this Probiotic supplement.
However, one thing that we could theoretically hold against the Gives Health Wholesome Probiotic is the claim of being Preservative-Free. From my experience, people typically understand Preservative-Free as in free of additives. Which, in this case, the supplement isn't at all. Hence, yes, it's Preservative-Free as in free of ingredients that are there to preserve freshness. But it's certainly not additive-free.
There Is A Void Of Customer Reviews & Don't Just Trust On-Page Ones
I looked at what can be found on the supplement of this review. Meaning, I did some research and looked all that I could as far as Gives Health Wholesome Probiotics reviews by customers go. And there wasn't much that I could find.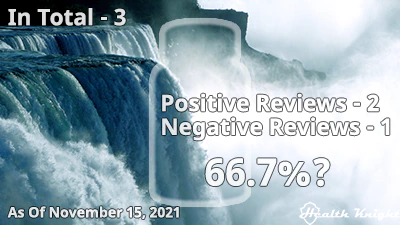 I mean, apart from very few customer ratings on Amazon, there are only those provided on the manufacturer's page.
But those typically are not the most trustworthy, the way I see it. And the pages for supplements like the 1MD Complete Probiotics Platinum (review) and Biotrust PRO-X10 Probiotic (review) definitely do attest to that.
I mean, that's because it's kind of common knowledge these days that word of mouth improves sales. And customer reviews are exactly that. Hence, manufacturers are inherently interested in having better feedback. Because it means more sales.
Thus, we naturally look at what is available on third-party sites that are, at least to an extent, harder to manipulate. But with this Gives Health Probiotic, we have no such data. I mean, it was literally one five-star, one four-star, and one one-star review.
Thus, we're essentially left at the mercy of Wholesome Probiotics reviews found on the manufacturer's page. And do not just take their word for granted. I wouldn't.
Therefore, personally, I just wouldn't give them any weight. Yes, there are plenty of good ones but until we have more of Gives Health Probiotics reviews on third-party sites, we won't really know for sure. And I think we should just leave it at that. At least for now.
Pricing-Wise The Gives Health Is Great, It Outranks Many
Looking through all the positive feedback on the manufacturer's page, I don't think I saw anyone praising the price for this Gives Health product. Would that mean that it's a rather expensive supplement? Well, not necessarily. But let's properly look at that.
So, the supplement of this review typically is sold for $49. We can also get it for $33 a container if we order three right away or $29 a container if we get 6 right off the bat. So, the standard price would be $1.63 per serving or $1.10 and $0.97, respectively. The 3 container option right off the bat seems like a decent one, even for new customers, hence for math purposes, we'll be using that.
Namely, with the serving being 51 Billion CFU, the Gives Health Wholesome Probiotic typically comes for 21.6 cents for every 10 Billion CFU. Now, how does that compare?
So, it's not as affordable as the Dr. Mercola's Probiotic (review) which comes for 17.3 cents for every 10 Billion CFU. Still, there are many aspects that I would consider the Gives Health getting it better.
To illustrate, the Dr. Mercola product comes with either 70 or 100 Billion CFU per capsule. And that's a bit too much for regular kind of use, the way I see it. Another thing is that Dr. Mercola's option doesn't offer any Prebiotics. Which is fine but not ideal. And there's no third-party testing with Mercola Probiotic.
In other words, the price difference is well worth it.
That being said, there are many options out there that are both more expensive and don't offer nearly as much value. One such example is the Natren Healthy Trinity (review). It comes for $69.95 a container or $2.33 per serving, or 77.7 cents for every 10 Billion CFU.
Natren also offers third-party testing. It also has great additives but what it doesn't have is any Prebiotics. Furthermore, it offers only three different strains. And, yes, it's three-fold the price.
Not really worth it when compared to Gives Health Wholesome Probiotics.
This Is Buyable, For Sure, No Doubt About It Whatsoever
I have to admit, I didn't think much of the Give Health Wholesome Probiotics. I don't know. Just something about it didn't quite feel great. Maybe the fact that it's not the greatest looking supplement. Maybe the product page which I've essentially seen copies of structure-wise across the internet. But ultimately, that first hunch didn't prove right.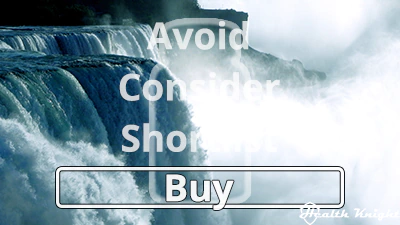 I mean, yes, for negatives, the supplement hasn't really been customer-reviewed yet. Hence, we're not able to say what the success rates might be like. And then, sure, there are more affordable Probiotic supplements out there. But both of these negatives I feel are really minor.
I mean, the positives fully negate any negatives, the way I see it. It's got 18 different Probiotic strains when even the most capable rivals typically limit themselves to 11 or 12. Then, we have 51 Billion CFU per capsule which is abundant; yet still, not overdoing it. Great additives, patented Prebiotics, and patented delayed-release capsule, and third-party tested. And a great price for the value.
Thus, the Wholesome Probiotic of Gives Health is just a genuinely awesome supplement. Hence, (out of avoid it, consider it, shortlist it, buy it) I would easily go for it myself. I think it's very buyable. I like it a lot.
Above all, I hope this Gives Health Wholesome Probiotics review helped you find the information you were looking for. How did you learn about it? Does it speak to you, too? Let me know below. Also, feel free to leave your own personal reviews on the product.