This Nutrition Essentials Probiotic review is about uncovering the full truth about this and picking apart all that it contains to provide the most thorough insight.
To do that, we will push through a couple of things. First, that is going to be about looking at the promotional materials and all the claims they make. Second, it will be about the beneficial ingredients. Third, we're going to make it about the inactive ingredients. And fourth, it will be devoted to customer reviews and global success rates.
The goal here is to create an article so thorough that there would not be a need for you to ever look at another supplement review for this specific thing. Therefore, if there is a section or aspect I haven't covered but you're interested in, let me know. And I'll add that as well.
Nutrition Essentials Probiotic Review – Initial Thoughts & Overview
The idea of this section is to essentially look at any given product based on the manufacturer's perspective. But I couldn't find the manufacturer's website for this Nutrition Essentials Probiotic. At least at first. I was surprised to learn that buynutritionessentials.com was actually their official website. It just did seem too low quality for a manufacturer established seven years ago [R, R].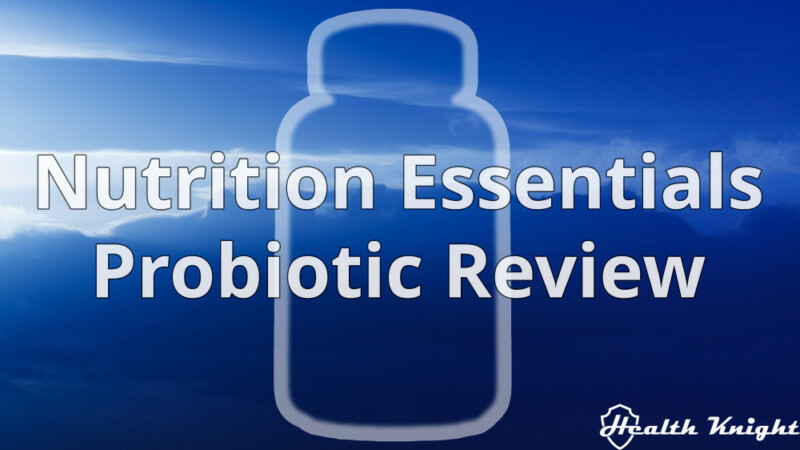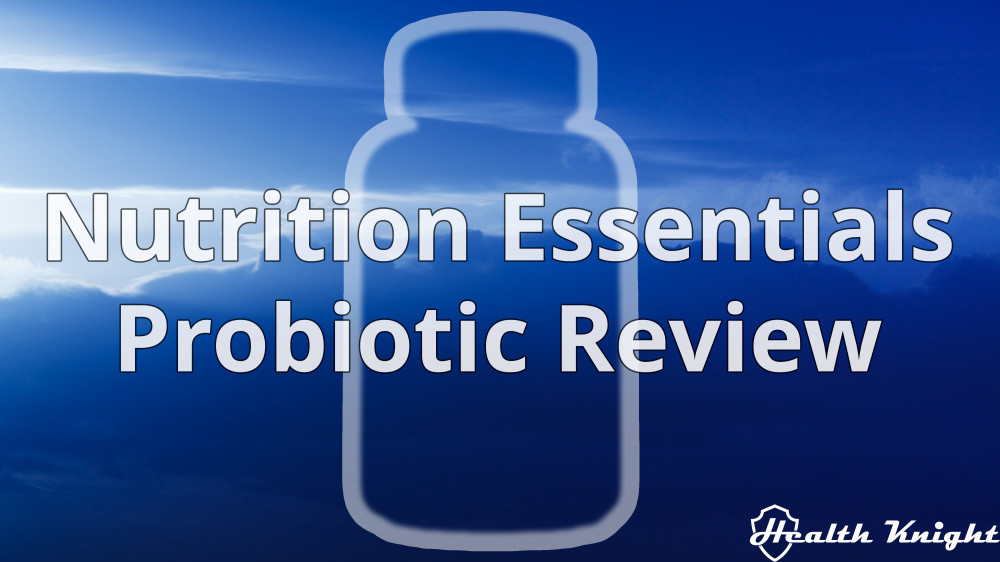 And that's kind of the deal. They don't actually sell their supplements on their website. Instead, they just point to Amazon every time. And hence, the product page they have on the website is an extremely low-quality one. Whereas what they have on Amazon, that's actually pretty decent [R, R].
So, the potential benefits. They promise quite a few. They say this one's about healthy digestive balance, promoting of the immune system's function, and replenishing of healthy bacteria, as well as improving energy levels and helping control appetite and weight. Then, there are also promises to help with gas, constipation, and bloating. So, quite a few but that's not all.
They even go as far as to say that "if you're ready to live your best life, add Nutrition Essentials Probiotic to your daily diet regimen." Hence, they basically imply that this is the best Probiotic supplement we'll find. And it also comes with a money-back guarantee, as well as some terribly generic self-affirmed claims for the kind of quality the supplement embodies [R].
And there are other claims as well (some of which we'll explore in the later sections).
So, really, at the end of the day, I'd say it is quite far from looking professional and real quality. And so their claim of being the #1 rated Prebiotic & Probiotic (arguably their most obnoxious claim of all) just doesn't seem to fit, sit well, be in line with the reality.
A Single Strain In Amounts Of 1 Trillion CFU Per Tablet?
There are the Probiotic supplements that provide only that – Probiotics (Health Balance Complete Probiotic (review) and Nature's Bounty Probiotic 10 (review) are great examples). There are supplements that provide both Probiotics and Prebiotics like New Chapter Probiotic All-Flora (review) and one of Nature Made Digestive Probiotics (review). And there are supplements like Nutrition Essentials Probiotic which in addition to what the previous group offers, brings also something a bit extra.
So, per two tablets (one serving) this thing offers 75 milligrams of Super Probiotic blend. This is comprised out of a patented formulation of 15 billion CFU of Bacillus Coagulans called Uni-Bact CF-15 and Lactase. And this gets coupled with a patented formulation of 500 milligrams of Fructooligosaccharide called Nutri-Fructo B-88.
So, Uni-Bact CF-15 is kind of the main culprit of benefits. It's one of the most capable strains out there. It can boost immunity, improve "good" cholesterol levels, elevate the levels of other beneficial bacteria, help relieve Rheumatoid Arthritis, enhance protein absorption, reduce blood insulin levels, bloating, vomiting, constipation, diarrhea, stomach pain, and, of course, among other gains it's massively helpful to the digestive health just in general. Great total amounts as well (15 billion CFU) [R, R, R, R, R, R, R, R, R, R, R, R].
Then, there's Lactase that is an enzyme that helps digest all dairy foods. And Fructooligosaccharides through the Nutri-Fructo B-88 formulation to help augment the gains of Bacillus Coagulans and in so, provide extra wins for gut health [R, R, R, R, R, R, R, R, R, R, R, R, R, R, R, R, R, R].
So, generally speaking, the active contents seem to be very solid. However, I'm not a fan of one particular thing. That claim of the Nutrition Essentials Probiotic being 900 billion CFU a capsule.
Sure, it might not be what they actually mean because 60 tablets per container, 15 billion CFU per capsule, hence, 900 billion CFU per container. However, I feel that the way they word it around that 900 billion CFU (plus, the statements like "900 billion CFU Maximum Strength") for any typical customer it will seem that the supplement contains 900 billion per capsule [R, R].
Which may actually be the sole or prime reason why people buy this Probiotic of Nutrition Essentials (because they mistake it for an abundantly full of Probiotics supplement for what is a great price for that). But such interpretation is not true at all.
Quite A Few Additives, But All Are Harmless If Not More
Additives are a tricky aspect of any supplement. But that I feel is especially true when it comes to the Probiotic ones. Quite a few don't choose the potentially most harmless of these ingredients. For example, with TruNature Digestive Probiotic (review), the problem was Titanium Dioxide. But with Digestive Advantage Probiotics (review), the problem was typically the sugar.
What about the Nutrition Essentials Probiotic though?
Well, it has quite a few of them. But despite that, all of them fall within the categories of either harmless or slightly nurturing.
Microcrystalline Cellulose and Silicon Dioxide are some of the most harmless added ingredients there is. Dicalcium Phosphate is an in nature findable mineral, often used also as a beneficial ingredient to provide Calcium. Croscarmellose Sodium is a decent, likely harmless additive if it's not GMO. Whereas Hydroxypropyl Methylcellulose is a thing considered to bring minor gains on top of being harmless.
As for Stearic Acid and Vegetable Magnesium Stearate, the story there is a bit more complicated. I mean, try reading any average health blog, and people will tell you that these two are cancerous ingredients. But nothing could be further from the truth. In fact, Stearic Acid is something babies consume quite a lot of through mother's milk. More than we could ever through supplements [R, R, R, R, R].
So, as far as inactive ingredients, I'm certain, there are no problems or reasons to avoid with the Nutrition Essentials Probiotic.
Reviews Are Good On Most Part, Fakes Also Seem To Be Involved
Taking the Nutrition Essentials Probiotic to all the customer reviews online I could find, it gives another perspective. A more kind of "how much people have actually benefited from this" type of perspective.
From what I can say, there are truly a lot. A total of 16,869 Nutrition Essentials Probiotic reviews from which 15,476 were positive, hence, a global success rate of 91.7% illustrates that point perfectly, at least the way I see it.
However, there is a concerning trend emerging.
Either the manufacturer has very slightly changed the outlook of the supplement and the visual appearance of its contents (and suddenly does not care about the quality as much) or it's a fake that people lately have been getting sold on Amazon. From the customer reviews, it appears that it's far more likely the latter (and because the former makes no sense from the manufacturer's perspective).
Which, by the way, is something that likely plagues a lot of other supplement categories that I have explored as well [R, R, R, R].
Which brings me to this very weird notion for this Nutrition Essentials Probiotic in particular because its primary way of selling is through Amazon. Really not sure how this works.
I Wouldn't Bet My Money On This Nutrition Essentials Probiotic
So, is this #1 Best Seller in Amazon's category for Lactase Nutritional Supplements a truly great buy? A something that we should all in a way strive for and embrace?
Well, it all kind of depends on how we look at it.
From a pure ingredient standpoint, I'd say it's a safe bet. I mean, the beneficial ingredients are great and the inactive ones are very much that as well. However, if we look at it from a quality perspective and reliability (where do we actually buy it to get the real thing?), it's not great, to say the least.
I mean, sure, they, of course, promise us that they're of the utmost quality and everything but it's all self-affirmed, not a single third-party certification. Plus, inconsistencies (on Amazon it's claimed to be third-party tested, but their official website contains no such statement). Plus, I find the promotional materials to be excessive, even misleading. Plus, there are just other better options for the same or a better price.
If you're interested in Probiotic supplements like that, check out this review I did. As for the one of this review, I reckon we should avoid it.
Other than that, I hope this Bragg Apple Cider Vinegar review helped you find the information you were looking for. But if not, definitely let me know in the comments on how I could further improve it.
If you have as much as 15-30 seconds to spare, even one line in the comments helps a ton and will be highly and sincerely appreciated.
See you in another article!
Cheers, Stay Healthy & Have a Great One!