In this Sports Research Collagen Peptides review, it's all about getting to the core of it. It's about providing every single detail on both the unflavored and the flavored versions of the supplement for anyone who wants to learn more in-depth about it.
And hence, we will be going through the promotional materials and promised claims. We will also be putting emphasis on the beneficial ingredients, as well as those used for the making of the supplement. And we will not leave out a proper look at customer reviews and global success rates either.
The Product Pages Are Very Down To Earth And Humble, A Pleasant Place To Be
According to the manufacturer, Sports Research Collagen Peptides "provide 11 grams of low molecular weight peptides." Per their words, they are "great in coffee and protein shakes," and they "are an easy way to supplement collagen into your daily routine." So, no fancy definitions or anything like that. All pretty simple, all pretty straight forward [R].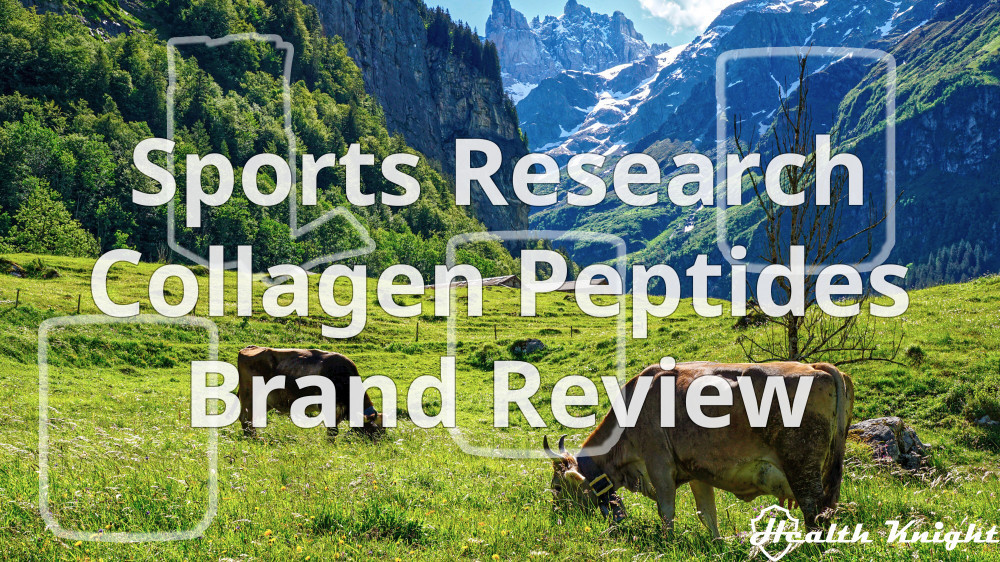 Overall, the product page feels very brief. Quite similar to what we've seen with supplements like Orgain Collagen Peptides or NeoCell Collagen Beauty Builder. But what I appreciate the most is the fact that it isn't marketing heavy, people-drowning thing like product pages for supplements like Ideal Collagen, Organixx Clean Sourced Collagens, or BioTrust Ageless Multi Collagen.
That said, if we were to strictly look for health claims they make for this unflavored version, there are none. Whereas the flavored versions are not shy about that. As the product page for those put it, "Sports Research naturally flavored Hydrolyzed Collagen Peptides provides low molecular weight peptides which may help support the integrity, elasticity, regeneration and strength of bodily connective tissues – including skin, bones, cartilage, ligaments and tendons" [R].
Frankly, this is like the only difference (apart from supplement facts, of course) between the pages. The general layout and other information it provides all are extremely similar.
But arguably one of the best things about Sports Research products in general, as well as these Collagen Peptides is the fact that they do third-party testing. Which is trackable and completely available to us; just provide the Track Lot Number. Also, all of these supplements much like NeoCell Marine Collagen or Super Collagen are IGEN Non-GMO Tested. Which only further adds to the quality they provide and strive for [R, R, R].
And so, as far as quality of ingredients go, they're busted. But is that true for their choice of ingredients as well?
One Step At A Time To Avoid Confusion – Ingredients, Benefits & Additives
With Sports Research Collagen Peptides, we're typically talking about three different supplements. There's kind of a flagship one and two different flavored versions. Additionally, there's also a travel pack for the flagship. And apart from that, there are also Marine Collagen and Matcha Collagen which beg for a different article but I may add them here too in time (let me know in the comments if you need those).
But all in all, given that various even if minute differences exist, I believe it's worth looking at each of them separately. That mostly in efforts to avoid any unnecessary confusion.
So, in the sections to follow, we will discuss the ingredients, potential benefits, and additives for each of the separate supplements.
Sports Research Collagen Peptides Review – Great Protein Amounts With No Added Extras
Many Collagen capsule supplements like Vitauthority Multi Collagen or Nature's Truth Multi Collagen Complex and even powder ones like Youtheory Collagen or just doesn't come with significant enough amounts to really make a difference. But  the Sports Research Collagen Peptides supplement is an entirely different supplement.
With those 11 grams of Hydrolyzed Bovine Collagen Peptides per single serving, it's as potent as they come. Sure, 20 grams are likely to offer a bit more benefits. However, the way I see it, we typically want at least 10 grams from the Collagen ones. Which if is the case can always be transformed into 20 or 20+ grams just by adding one extra scoop a day [R, R, R, R, R, R, R, R, R].
And with that in mind, I believe there's every reason for benefits they promise by the flavored options of the thing. Namely, benefits to skin, bone, cartilage, ligament, tendon health, as well as those for hair health, nail health, and overall anti-aging among a number of other gains [R, R, R, R, R].
Whereas as for the additives, it's the same story that it is with other beneficial ingredients in this one. Meaning, Sports Research Collagen Peptides doesn't use either additives or other beneficial ingredients. It's all Collagen. And nothing but the Collagen.
On that note, if I'm being 100% honest, it heavily reminds me of Live Conscious (LiveWell) Collagen Peptides. Essentially the same everything apart from this one crucial difference that Sports Research makes their third-party testing certificates available. So, a bit (or, frankly, a lot) more transparency, eh?
Sports Research Collagen Peptides Travel Packs Review – Inherently Viable But Unreasonable In The End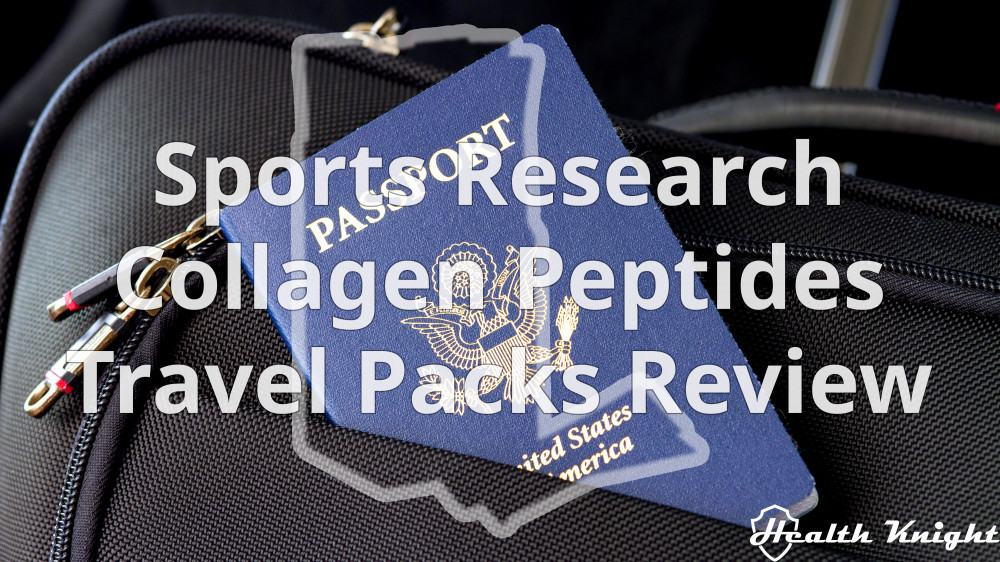 The Sports Research Collagen Peptides Travel Packs is very similar to what the Sports Research Collagen Peptides supplement is… Well, okay… That's a lie. It's the exact same as the flagship product.
With one core difference.
It's no longer a powder that comes in a container. It's now packets each containing the exact serving size of Collagen (11 grams).
One could think that it's a great option not only for traveling but also to always be sure we're getting the exact amounts intended per serving (scooping is quite tricky in this regard, right?). However, this option comes with a somewhat undesired side-effect.
It costs twice as much. Here's the math.
The typical price for standard Collagen Peptides in a container is $30.00. The typical price for a set of packets is also $30.00. The huge difference though is that with the container it's 41 serving whereas with packets that's 20. So, it's really not worth doing packets regularly. If someone needs them while traveling that's fine. But even that's not, for sure [R].
I mean, I feel quite the same as I have with Vital Proteins Matcha Collagen Peach Sticks. The price difference is just too big to ever opt for packets. If I was on the move or traveling, I would still go for the 41-scoops-containing Collagen Peptides of Sports Research container.
Sports Research Collagen Peptides Vanilla Bean Review – Largely The Same But Different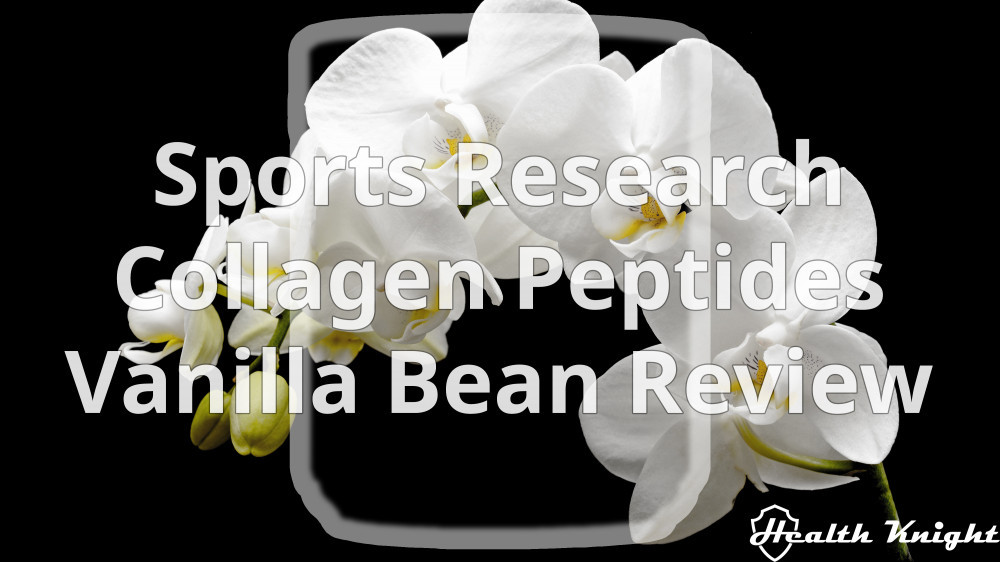 The Sports Research Collagen Peptides Vanilla Bean builds on the core of the original, unflavored Collagen Peptides supplement. But there are a few rather minor changes. It starts with beneficial ingredients and ends with additives.
So, the Vanilla Bean version uses that same 11 grams of Hydrolyzed Bovine Collagen Peptides. That gets coupled with 27 milligrams of Calcium. Which I strongly believe is just an ingredient incidentally there.
What I'm trying to say is that when they created this supplement, they're goal or masterplan wasn't to add 27 milligrams of Calcium to the mix (at least that's what I believe happened). Instead, all they were trying to do was to achieve a viable Vanilla-like flavor. Which asked for extra ingredients added to the Natural Flavor. Which then brought Calcium in the picture.
And so, it just kind of happened.
What didn't kind of just happened, however, are the additives. This Vanilla Bean version of the brand uses two.
First, it's what we already kind of touched upon – Natural Flavors. It's basically an ingredient that consists on usually many other ingredients (hence, that Calcium). Many people think that these are the healthy version of flavoring. But they can actually be quite detrimental too. I mean, don't get me wrong, these can even be beneficial. But all depends on manufacturing practices [R, R, R, R, R, R].
With poor ones, it's not surprising to encounter various admixtures and contaminants. Whereas with solid ones, you'll never see such a thing [R, R, R, R, R, R].
With that in mind, one of the best parts of Sports Research as a brand is that they do third-party testing. And any such poor manufacturing would show up in the certificates of analysis. But it doesn't. Because Sports Research is extremely solid with that [R, R].
Second, it's an ingredient known as Luo Han Guo or Monk Fruit extract. It's basically a healthy version of sugar. It helps sweeten up whatever it gets added to and it has none of the health risks. Quite to the contrary. This herb can be extremely beneficial as well. In a nutshell, it's the high-quality option when we want to make stuff taste sweeter [R, R, R, R, R].
So, really. The Sports Research Collagen Peptides Vanilla Bean is a marvelous piece of supplementation.
Sports Research Collagen Peptides Dark Chocolate Review – Cocoa Adds Quite A Few Changes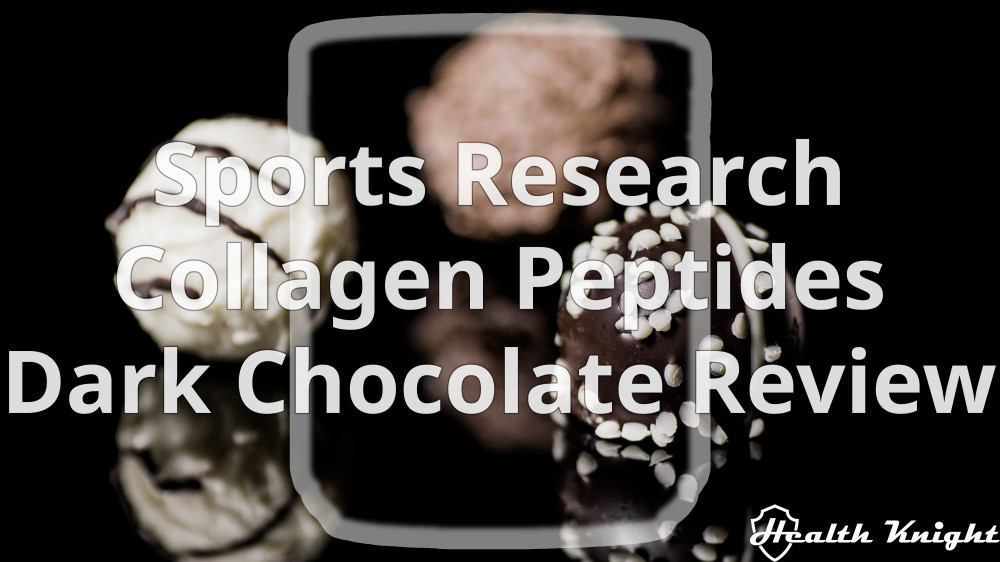 When compared to either of the previous ones, ingredient-wise the Sports Research Collagen Peptides Dark Chocolate is a completely different beast. It adds a bit more beneficial stuff, as well as there's the addition of quite a few additives.
I mean, the core is still the same for this one. 11 grams of Hydrolyzed Bovine Collagen Peptides. However, beyond that it comes with a number of different minerals. Or to be more specific, it adds 28 milligrams of Calcium, 2 milligrams of Iron, 13 milligrams of Phosphorus, 22 milligrams of Magnesium, and 94 milligrams of Potassium.
But this, again, is what I believe was never intended similar to what we discussed with the Vanilla Bean option. The intention was to create a decent, good-tasting Dark Chocolate version. And so, they added Cocoa Powder, Natural Flavor, Sea Salt, Stevia Leaf Extract and Monk Fruit but those extra minerals kind of just happened. And that's fine.
But what about these additives? Are these promising or a complete waste?
In a nutshell, they are, again, a very high-quality choice. On that note, the likely beneficialness behind Natural Flavor and Monk Fruit we already discussed in the previous section, here let's focus on those that are left.
Cocoa is a highly popular, antioxidant-abundant, health-augmenting thing. It has the capacity to support brain function, promote cardiovascular health, fight cancer, lower and regulate blood sugar and cholesterol, reduce fatigue, battle depression, enhance mood, have neuroprotective and anti-bacterial properties among a plethora of other things [R, R, R, R].
Sea Salt is also an awesome thing. It can boost the immune system, improve heart health, aid weight loss, foster digestive health, help battle Rheumatoid Arthritis, help fight depression, support skin health, promotes brain, nervous system, and muscle function, prevents dehydration, enhance nutrient absorption, as well as it's a rich source of minerals among a number of other things [R, R, R, R].
Lastly, Stevia Leaf is kind of a replica of Monk Fruit in what it's about. It's another sweetening option that doesn't involve the hazardous effects of sugar, artificial sweeteners, or anything else along those lines. Instead, it's not only something that's tasty but it's also something that can bring a number of positives and gains. Another awesome herb, in plain words [R, R, R, R, R].
All in all, I would lie if I was not to say this Sports Research Collagen Peptides Dark Chocolate isn't a yet again marvelous piece of nutrition.
There Are Many Bad Customer Reviews But The Positive Ones Even Them Out
Shifting gears from theory to a bit more practical aspects, we have customer reviews, a whole bunch of them across the internet actually. And they're decent at reporting how promising are each of the Sports Research Collagen Peptides products. But before embracing the global thing, let's look first at what we've got at their product pages.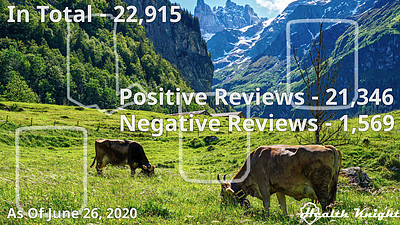 To cut to the chase, they don't have much there. All I managed to find was seven Sports Research Collagen Peptides reviews for the flagship and travel pack supplements (they have combined ratings for those). There was nothing there for any of the flavored versions. It was scarce like that [R, R].
For those seven it almost reminded me of what we've seen with supplements like Skinny Fit Super Youth or Code Age Multi Collagen. Namely, all of the reviews are highly positive giving off the impression that they may have been tampered with and thus, are not trustworthy. However, that's not necessarily true given that there are so few of them. To that end, it's too early to tell.
That being the case, it's almost unbelievable how much feedback there has been for these supplements globally. By looking at every single real customer review I could find online, everything I was able to gather from all kinds of sellers and retailers, a total of 22,915 reviews is what I found. That's a lot for a brand that barely has any on their product pages. Which I assume is because they've probably added the section very recently.
But let's get into the specifics for each of them now.
For the flagship Collagen Peptides of Sports Research, I managed to find the most feedback. It clocked just over 20 grand with 18,670 being of positive opinion (3-star, 4-star, 5-star) and 1,334 expressing dissatisfaction or bitterness towards the product. So, a lot of unhappy people but even more happy ones. Ultimately, a global success rate of 93.3% which, quite frankly, is busted high.
For the Travel Packs of the thing, I found a total of 305 reviews. Here 275 were positive and hence, 30 negative. This gives a global success rate of about 90.2%. Which while may not be as high as for the main supplement, it's pretty damn impressive still. Whereas the ratings for flavored versions were quite massively different.
For the Vanilla Bean option, I found 1,011 reviews. With these 889 were positive and 122 were negative. Hence, 87.9% success rate which is still something quite high, just not as good as for any of the others. But when it comes to the Sports Research Collagen Peptides Dark Chocolate it has the highest success rate of all. With a total of 1595 of which 1512 are positive, it comes in at 94.8%. Which, again, is something busted high.
Speaking of busted high, it's also kind of a deal with the whole Sports Research Collagen Peptides brand. The 93.2% average across their whole lineup is a testament to that. In fact, it's probably even higher than that given that people generally are more prone to reporting negative experiences than positive ones. Hence, it should be properly referred to as above 93.2%.
However, as the success rates suggest, it's not all sunshine and rainbows. There are quite a few horror stories on Amazon about these products as well. That said, based on the customer reviews there, it seems to me that people may actually not be getting the real thing (at least from time to time). Not sure how that works exactly but it's a concerning trend we've also seen to likely be the case with a bunch of other supplements including Vital Proteins Collagen Peptides and Live Conscious (LiveWell) Collagen Peptides.
With that in mind, I would highly suggest avoiding to order from Amazon.
Overall, I feel Sports Research Is A Brand Well Worth The Investment
I know there are quite a few people out there that see Sports Research Collagen Peptides as a scam. They have tried it. It didn't work. Or tasted bad. Or they think had fewer scoops than promised. Or any combination of the three. But the global success rates indicate a completely different overarching trend that's hard to ignore.
It's also hard to ignore that they do source their Collagen properly, have them have proper amounts of the protein, as well as they use proper high-quality ingredients to make the flavors. Plus, above all, they do third-party testing to approve purity and potency. All in all, it doesn't get much better than this apart from maybe doing two scoops instead of one. But it's pretty much infallible.
That said, personally, I feel the Live Conscious (LiveWell) Collagen Peptides (full review with a summary) and Vital Proteins Collagen Proteins (full review) might have a slight edge over this. But they don't offer the luxury of providing the certificates of analysis… It's your call.
Above all, I hope this Sports Research Collagen Peptides review helped you find the information you were looking for. Which is the most awesome supplement for you from the entire line-up? What do you make of the success rates? Let me know below.