In this NeoCell Collagen Beauty Builder review, we will everything possible to get a good feel of what the supplement is and what is it exactly about.
To make that happen, we will make our way through the promotional materials and all their claims. Then we will turn to evaluate the beneficial ingredients and then also to the additives. Lastly, we'll find and assess customer reviews and global success rates.
NeoCell Collagen Beauty Builder Review – Initial Thoughts & Overview
The NeoCell Collagen Beauty Builder goes by the tagline of "feed your natural beauty inside and out." This they further elaborate with "Formulated for youthful, radiant skin and healthy hair and nails, [it] hydrates the tissues with Hyaluronic acid and lets your inner beauty shine through" and "Collagen Beauty Builder activates your body at the cellular level, and our hydrolyzed collagen can provide some of the amino acid building blocks our bodies need to make collagen and promote natural beauty from within" [R].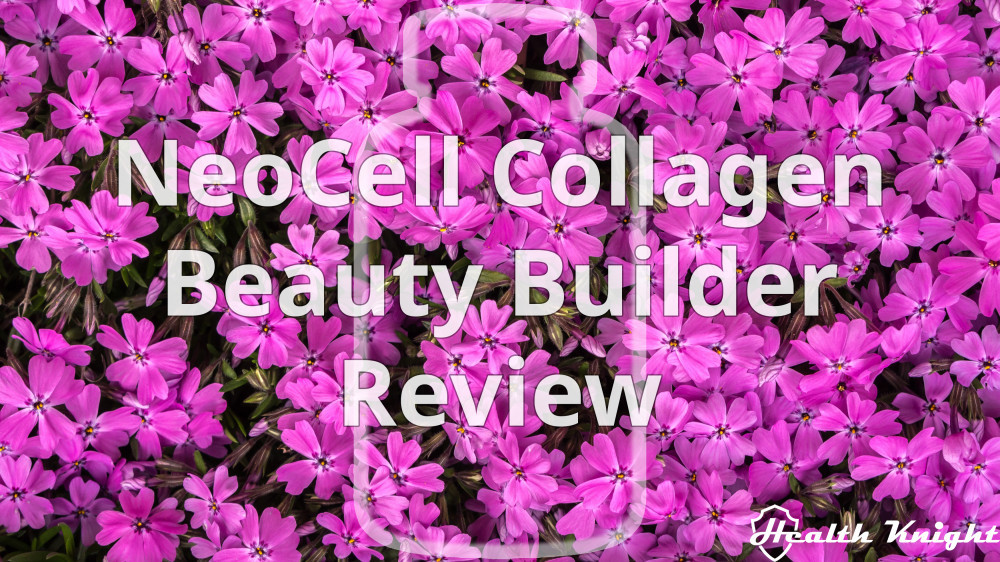 So, in other words, we're getting a supplement that's, as they put it, about creating that beauty from within. And it does so through improving skin, hair, and nail health, as well as providing amino acid building blocks and hydrating all our cells. Apart from that, the description page also holds mention to better joint health and "supports [..] more" (whatever that is) [R].
Additionally, the page also implies anti-aging as something to achieve with this.
Generally speaking, the page resembles those created for other NeoCell supplements, like Super Collagen, Super Collagen + C, and Marine Collagen. At its core, it is very collected, readable, and not overwhelming one bit which can't quite be said about supplements like BioTrust Ageless Multi Collagen or Ideal Collagen. Thank God, they have also not half-assed the page like they did it with their Liquid Collagen; it was quite a sad (and uncomfortable!) thing to witness.
What I like specifically about the NeoCell Collagen Beauty Builder that I'm pretty sure I did not see by the other four I have looked at, is the fact that this states to be Grass-Fed. Additionally, it's also Gluten-Free and Non-GMO, the last of which they actually have an IGEN certification for, which is really awesome quite rare. I mean, we won't find that with Great Lakes Gelatin Collagen Hydrolysate, Doctor's Best Collagen, and so many other brands. Their Non-GMO-ness is all self-proclaimed [R].
As for marketing tools they use to help sell this, they are very subtle. So, so different from what we've seen with supplements like Organixx Clean Sourced Collagens or Ancient Nutrition Multi Collagen Protein. But I like the subtlety, the not-so-in-our-face type of approach. It's refreshing.
So, as I see it, they're not hard-selling this thing. But is it worth getting? Can This NeoCell truly provide our hair, skin, and nails with the necessary "beauty from within"?
Off to ingredients.
The Idea Behind Core Ingredients Is Pretty Good, The Execution, However, Not So Much
There are a ton of different Collagen supplements out there. And there are quite a bit of different approaches they use. Some do only Collagen; great examples of this are Wellpath Renew and Primal Harvest Primal Collagen. Then there are those that add one or two extra substances; great examples here would be Garden of Life Collagen and Vital Proteins Matcha Collagen.
Then there are those that are kind of almost multivitamin-like It Works! CollagenWorks and Pure Gold Collagen. Finally, there are those that use unique Collagen formulations like Reserveage Collagen Booster and Genacol Collagen. And there are other approaches as well. So, overall, it can get quite complicated.
And with this NeoCell Collagen Beauty Builder, it kind of does. It's a fusion of Hydrolyzed Collagen plus four other substances. And to be fair, it kind of underdelivers on every single one of them. That's the way I see it.
Per three tablets of the supplement (one serving), we get 3 grams of the Grass-Fed Hydrolyzed Bovine Collagen, 30 milligrams of Hyaluronic Acid, 25 milligrams of Alpha-Lipoic Acid, 30 milligrams of vitamin C, and 1,500 micrograms of Biotin. And here's how they all create the picture.
That Collagen part, 3 grams is not a lot. In fact, that's very scarce. I mean, in theory, Collagen can definitely account for all of its claimed benefits. However, as I see it, with such low amounts, the gains are to be limited at best. It may stick with our skin, or hair, or nails, or joint, or more. But I'm quite confident it won't be everything. For that, we would need at least 10 grams [R, R, R, R, R, R, R, R, R].
With Hyaluronic Acid, it's a similar story. Ideally, we'd want 100 milligrams to make a real difference or to the very least 50 milligrams. With 30 milligrams, it can, for sure, contribute to some anti-aging, wrinkle eliminating, joint health improvements, bags under eyes and dry eyes reducing, skin elasticity, dandruff beating, skin moisturizing, and other benefits. However, there's a high chance these will too be quite limited [R, R, R, R, R, R].
Again, the same with Alpha-Lipoic Acid; singular supplements containing the beneficial substance typically go for either 300 milligrams or 600 milligrams. Needless to say, that's considerably higher than what this Beauty Builder offers [R].
So, can meaningfully contribute to reducing skin aging, healthy nerve function, preventing cell damage, improving weight loss, fostering muscle regeneration, fighting inflammation, promoting mitochondrial function, lessening bad cholesterol levels, decreasing blood sugar levels, protecting the brain, and overall just healthier skin among other benefits. Likely not [R, R, R, R, R, R].
As for vitamin C, I have quite mixed emotions. On the one hand, it's in a very capable form easy for our bodies to absorb and thus, benefit from. On the other hand, it comes in amounts of 33% of the Daily Value and 3.3-6.6% of what is considered the best practices for nutrient amounts. Which is not ideal. Sure, it's not meant to replace what a proper multivitamin will provide but still. This is quite poor (though, again, the great form does make up for it somewhat) [R, R].
Finally, Biotin, also known as vitamin B7. Heightened amounts of it are considered to provide additional strength and gains to hair, skin, and nail health. That said, 1,500 micrograms don't exactly fit that mold. I mean, 2,500 micrograms are much better. Whereas 5,000 up to 10,000 micrograms is what we typically want if there's nothing else of meaningful amounts (which is the case here)[R, R, R, R, R].
So, generally speaking, I feel that the NeoCell Collagen Beauty Builder is kind of great from a shear perspective of ingredient diversity. Sadly, as far as the execution goes, I don't think it's a great example.
Additives Are High-Quality Stuff; Though I Reckon Not Everyone Would Agree
Supplements with decent additives are not rare. They're rather common, there are a ton of examples. That said, there are also does that use ingredients like High-Fructose Corn Syrup or Artificial Flavors which have been proven time and time again to be nothing but cancer-inducing, diabetes-bringing nuisance. Examples of Collagen supplements that struggle with this include Health Direct AminoSculpt Collagen and Applied Nutrition Liquid Collagen [R, R, R, R, R, R, R, R, R, R, R, R, R, R, R, R, R, R, R, R, R].
So, how well does the Collagen Beauty Builder of NeoCell manage this aspect?
Quite well, actually. It uses only three of such ingredients. Microcrystalline Cellulose, Vegetable Magnesium Stearate, Silicon Dioxide. The first and the last bring no trouble. Whereas the middle one although it is harmless, it's commonly put in the other category (harmful) [R, R, R, R, R, R, R, R, R, R, R, R, R, R, R].
But the most ridiculous thing about all this is the fact that it all stems from a faulty interpretation of the available research. Putting it all right as well as reasoning every other negative thrown at it, pretty clearly indicates there is no problem. Ultimately, to claim otherwise would be to argue that a mother's milk is actually harmful to babies. Which is absolute and utter non-sense [R, R, R, R, R].
So, this one is without any real side-effects.
Global Success Rates Are Decently High; Not That Many Reviews Though
Coming soon.
Personally, I Would Opt For Something Else, Something I See As Far Better
Coming soon.