In this Nature's Truth Ultra Collagen Powder review, we'll do some profound digging on the thing.
We will go through all of their promotional stuff and claims. We will also look at every single ingredient that the supplement contains, both the beneficial ones and the inactive ones. Lastly, we'll do some profound research on customer reviews to get a better sense of how this one is performing in real life and to assess the global success rates.
Nature's Truth Ultra Collagen Powder Review – Initial Thoughts & Overview
According to the manufacturer, the Nature's Truth Ultra Collagen Powder's sole purpose is to "feed your inner beauty." It's said to be "specially designed to support your skin's natural glow, gorgeous hair, and strong nails by providing you with two vitalizing Collagens – Type I and Type III." Also, it's said to be "made from grass-fed, pasture-raised bovine, our Collagen Powder provides you with 20 grams of collagen and 18 grams of protein per daily serving, making it an easy addition to your wellness routine" [R].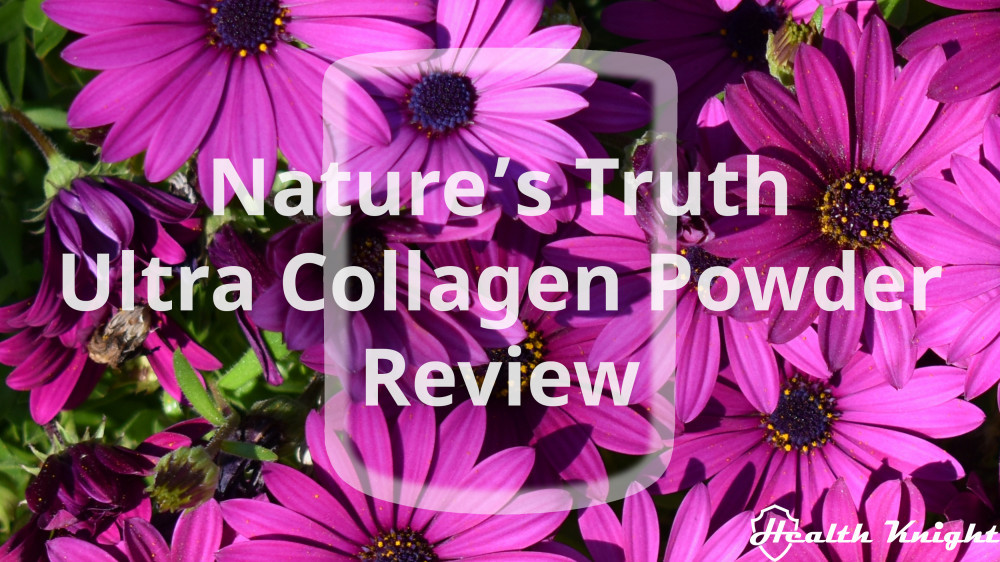 And that pretty much summarizes the whole page. I mean, apart from another sentence within the general description ("featuring a completely odorless and unflavored formula, our Collagen Powder easily mixes with any hot or cold drink, smoothie, or favorite recipe"), that's it [R].
To that end, it seems to be truly brief much like the pages we've seen with Great Lakes Gelatin Hydrolysite Collagen or Nature's Life Marine Collagen. However, a deeper insight does reveal that it's actually more like NeoCell Super Collagen + C or Amandean Marine Collagen in how it divides all the information in sections.
As for the supplement itself, based on the citation above, it's pretty clear. In terms of claims, they are not going with many, many various benefits like we've seen by Organixx Collagen or Taut Collagen. But rather they are promising all the most typical, most basic gains there associated with Collagen. Like improvements to hair, skin, and nail health. And yes, somewhat definitely feeding that inner beauty.
Other than that, the supplement, of course, is promised to be of highest quality, hence, the grass-fed, pasture-raised stuff. It's also said to be Non-GMO, with zero Gluten, Wheat, Yeast, Milk, Lactose, Soy, and a bunch of other stuff.
So, overall, a pretty nice looking supplement that comes without an overbearing, marketing-heavy description page.
But is it truly worthwhile?
Supposedly Quality Collagen That We Can Dose Easily; Ideally, Three A Day
At it's core, the Nature's Truth Ultra Collagen Powder doesn't differ much from supplements like Youtheory Collagen or NeoCell Super Collagen. It's about the same amount with no other added beneficial ingredients.
Or to be more precise, this Nature's Truth Collagen offers 6.7 grams of pasture-raised, grass-fed bovine Hydrolyzed Collagen (Type I & III) peptides. That's the amount per single scoop. Pasture-raised and grass-fed we have no way of testing but that's the case for almost all Collagen supplements. We just kind of have to take their word for it. And given where that is globally, that's fine.
What I don't, however, quite get is why they persist on this "20g of Collagen per daily dose." I mean,  I somewhat get it. I mean, they are kind of free to say that given that they recommend 1-3 scoops a day. That said, if we were to pursue the 3-scoop version of the supplement, a single container would only last 10 days.
Which means that to get a month's worth of Collagen, we would have to get three containers. A typical container price multiplied by three and we get a supplement that costs almost 25% more than Garden of Life Collagen Peptides per month with, as far as I can tell, nowhere near as high of quality. Or Vital Proteins Collagen Peptides that costs about the same with, again, nowhere near as high quality, not even mentioning the third-party testing they do.
I mean, clearly, this Ultra Collagen Powder of Nature's Truth is not a cheap supplement. However, I feel it should be a capable one. Especially given how abundant it is with those 3 scoops a day [R, R, R, R].
And so, I believe the claims they make are all true. Even beyond that. The supplement could also potentially positively affect joint, bone, teeth health, boost metabolism, heal leaky gut, help with blood sugar regulation, reduce cellulite and wrinkles, as well as just have profound anti-aging benefits all and throughout [R, R, R, R, R].
Hence, the potential for great benefits are there. But it's not exactly cheap when we compare it to what else is out there.
Are Additives A Nuisance Here? Far From It
For quite a bit of Collagen supplements, additives have been a stay and true struggling point (for example, Vim & Vigor Collagenate is just one of many). I mean, it's not anything as common as we see it be with multivitamin supplements or just singular vitamin or mineral supplements in general. However, it does happen. And when it does, it's usually not pretty [R, R, R, R, R, R, R, R, R, R, R, R, R, R, R, R, R, R, R, R, R].
Nonetheless, as far as the Ultra Collagen of Nature's Truth goes, it's much like any decent, unflavored Collagen powder supplement. Namely, it's much similar to supplements like Further Food Collagen or Live Conscious (LiveWell) Collagen Peptides.
Meaning, there are no additives at all in this one.
Which is a rather rare and a great thing. I mean, most supplements definitely can't do without. And they really don't have to as not every additive is potentially harmful or dangerous. But still, it's a nice thing to not expose our bodies to when that's not necessary.
To compare, flavored Collagen powders almost always use the means of Natural Flavoring like we've seen with the Skinny Fit Super Youth. Still, there are others like Vital Proteins Matcha Collagen that take the true high road and manage to avoid flavorings to create awesome flavors. Obviously, not everyone's that devoted.
But either way, as far as the Nature's Truth Ultra Collagen Powder goes, it has every reason to be a safe, side-effect-free thing (for what I can tell manufacturing also seems decent despite somewhat paling in comparison to some other Collagens) [R, R, R, R]
Customer Reviews & Success Rate
Coming very soon.
Final Thoughts
Coming very soon.