|  Marketing  |  Ingredients  |  Additives  |  Reviews  |  Pricing  |  Overall  |
In this Nature's Truth Ultra Collagen Powder review, we'll do some profound digging with the idea of learning everything there is to learn about the supplement.
We will go through all of their promotional stuff and claims. We will also look at every single ingredient that the supplement contains, both the beneficial ones and the inactive ones. Then, we'll do some profound research on customer reviews to get a better sense of how this one is performing in real life and to assess the global success rates. Lastly, it will be about the price and how it compares.
This Nature's Truth Ultra Collagen Review To Really Bring Out Truth
According to the manufacturer, the sole purpose of Nature's Truth Ultra Collagen (Powder) is to "feed your inner beauty." It's said to be "specially designed to support your skin's natural glow, gorgeous hair, and strong nails by providing you with two vitalizing Collagens – Type I and Type III." Also, it's said to be "made from grass-fed, pasture-raised bovine, our Collagen Powder provides you with 20 grams of collagen and 18 grams of protein per daily serving, making it an easy addition to your wellness routine" [R].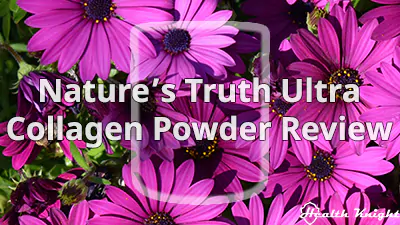 And that pretty much summarizes the whole page. I mean, apart from another sentence within the general description which basically brings about the idea that it is a completely odorless and flavor-free thing.
Generally, the product page loves to divide things into sections, much like we've seen with NeoCell Super Collagen (review) or Amandean Marine Collagen (review). But it isn't marketing-heavy at all.
I mean, Nature's Truth Ultra Collagen product page is essentially marketing-tactics-free. Which is always a liberating and fresh thing to see.
I also like the fact that they don't go really ham on the benefit claims like the Organixx Collagen (review) or PureNature Collagen Ultra (review). But rather they are promising all of the most typical, most basic gains there are associated with Collagen. Like improvements to hair, skin, and nail health. And yes, somewhat definitely feeding that inner beauty.
Other than that, the supplement, of course, is promised to be of great quality, hence, the grass-fed, pasture-raised stuff. It's also said to be Non-GMO, with zero Gluten, Dairy, Wheat, Yeast, Lactose, Soy, and a bunch of other stuff.
So, overall, a pretty nice-looking supplement that comes without an overbearing, marketing-heavy product page. But is the Ultra Collagen Powder of Nature's Truth truly worthwhile?
Supposedly, It's A Quality Collagen That We Can Dose Easily
At its core, the supplement of this review doesn't differ much from supplements like Orgain Collagen Peptides (review) or Garden of Life Collagen Peptides (review). It's about that same approach of not mixing Collagen with other stuff.
Meaning, per serving (one scoop), the Nature's Truth Collagen offers 6.7 grams of Pasture-raised, Grass-fed bovine Hydrolyzed Collagen (Type I & III) peptides. No other thing's in there.

So, that's all good. But one of the first things that I feel any potential buyer will first notice is their on-label-promise of 20 grams of Collagen per daily dose. However, that I don't quite understand. Here's what I mean.
I believe that any potential customer will be lead to think that this one offers 20 grams per scoop, especially in the context of there being 30 servings per container. But we do actually only get 30 servings of 6.7 grams of Collagen or 10 servings of 20 grams of Collagen.
I mean, people don't really expect just 10 servings when they buy a container of a product. To me, it feels like an absolute waste and somewhat of a marketing trick. Because it will absolutely feel cheap to anyone buying it for the first time. But then, it contains a discourteously low serving number if 20 grams per serving is what we expect.
Other than that, if we do ultimately sticking with those three scoops a day, the Ultra Collagen will, for sure, be a very capable product. In contrast, I don't believe a single scoop will be enough to deliver on the full range of gains [R, R, R, R].
But best-case scenario, we can definitely expect more than just benefits to hair, skin, nail health. The supplement could also potentially positively affect joint, bone, teeth health, boost metabolism, heal leaky gut, help with blood sugar regulation, reduce cellulite and wrinkles, as well as just have profound anti-aging benefits all and throughout [R, R, R, R, R].
Another thing they don't quite expand on is the notion of being Hormone-Free. Because you see, even Pasture-Raised, Grass-Fed Collagen can be without Hormone-Free. So, it's kind of mandatory to have that claim as well. And I guess, needless to say, the Nature's Truth Ultra Collagen doesn't really have that.
Which at least to me begs the question. Is it really Ultra? Doesn't seem that way as far as sourcing goes.
Are Additives A Nuisance Here? Well, They Are Not A Problem At All
For quite a bit of Collagen supplements, additives have been a stay and true struggling point. I mean, stuff like the Vim & Vigor Collagenate (review) and Applied Nutrition Liquid Collagen (review) are just some of the many examples. I mean, it's not anything as common as we see it be with multivitamin supplements or just singular vitamin or mineral supplements in general. However, it does happen. And when it does, it's usually not pretty [R, R, R, R, R, R, R, R, R, R, R, R, R, R, R, R, R, R, R, R, R].
Nonetheless, as far as the Ultra Collagen of Nature's Truth goes, it's much like any decent, unflavored Collagen powder supplement.
Meaning, there are no additives at all in this one.
Which is a rather rare and a great thing. To elaborate, most supplements definitely can't do without. And they really don't have to as not every additive is potentially a harmful or dangerous substance to consume.
But still, it's a nice thing to not expose our bodies to even the harmless ones when that's not necessary.
To compare, flavored Collagen powders almost always use the means of Natural Flavoring as we've seen with products like the Skinny Fit Super Youth (review). Still, there are others like the Vital Proteins Matcha Collagen (review) that take the true high road and manage to avoid flavorings to create awesome flavors. Obviously, not everyone's that devoted.
But either way, as far as the Nature's Truth Ultra Collagen Powder goes, it has every reason to be a safe, side-effect-free thing (as far as I can tell, manufacturing also seems decent despite somewhat paling in comparison to some other options on the market) [R, R, R, R].
Customer Reviews Are Pretty Great, Seems Like A Great Option Per Them
Now, I know I mentioned that there are no marketing tactics on the Nature's Truth Ultra Collagen product page. That is not, however, entirely true. Because what it does have is a customer review section which is something that typically helps to sell. In this case, however, there are no reviews there yet.
But that's certainly not the case with every seller of the supplement.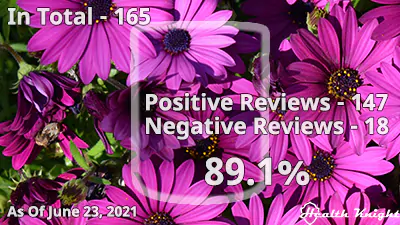 In total, I managed to find 165 Nature's Truth Ultra Collagen reviews. Which isn't a lot for a supplement that I'm pretty sure has been around for a while. Still, that's enough to draw some general conclusions.
So, out of those 165 pieces of feedback, 18 of them were negative whereas 147 were positive. Hence, basically, for every unhappy customer, there were nine others that did enjoy the product. Namely, it's got a 89.1% success rate.
And that's certainly not bad given that people far more often report negative experiences than positive ones. But regardless, not everyone were delighted with our Nature's Truth of this review.
I guess the most prominent complaint was that this wasn't a Collagen truly tasteless and odorless. I mean, some even went as far as saying that it feels as if there's a roadkill in this one. Others were unhappy with how it dissolved. And for others more, it just didn't feel well. But for every complaint, there are those nine people that report the opposite observations.
Which, frankly, might be just a question of bad batches. Or it could be a much more deep-rooted problem in the form of fake products being sold on Amazon or poor storing conditions in the warehouses.
This Nature Truth Product May Seem Like A Cheap One But It Isn't
Pricing I feel is a very tricky thing with this Ultra Collagen Powder of the Nature Truth brand. The thing is that it's something that has every reason to appear cheap and affordable. Yet, that's not so true when we consider that it's only 10 servings per container if we're after 20 grams of the protein per day.
But I guess the real question is whether or not it compares well with how the other Collagens on the market are priced.
So, the supplement of this review comes at a typical price of $16.99. It's said to contain 30 servings. But given that the recommended daily amount is 1-3 servings, that's anywhere between 10 and 30 day's-worth. So, the former would mean that it costs $1.70 per serving, whereas the latter would entail 56.6 cents per serving.
Hence, it varies greatly depending on the approach we would take. Still, it doesn't change the fact that it costs 85.0 cents per every 10 grams of Collagen.
To compare that, let's take, for example, the Vital Proteins Collagen Peptides (review). It's a supplement that typically costs $21.25 per container. Similarly to the supplement of this review, it also holds a rather low number of servings, namely, just 14. But per 10 grams of Collagen, it prices at 75.9 cents.
So, that's good 10% less than what Nature's Truth costs. Furthermore, not only do Vital Proteins offer Non-GMO, Grass-Fed, Pasture-Raised Collagen, but also it's third-party tested for purity. In other words, even with Vital Proteins being the rather expensive brand, it still costs less and offers more quality than Nature's Truth.
Another example to compare it with is the Live Conscious Collagen Peptides (review). This one offers everything what the Vital Proteins option offers (including third-party testing). The crucial difference is that it's also Hormone-Free and almost 30% cheaper than what the Nature's Truth costs.
I mean, sure, these are just some examples of what is available on the market. Still, I think the conclusion is a rather straightforward one. Meaning, even though the Nature Truth Ultra Collagen Powder may seem like a cheap supplement superficially, it's actually a rather expensive one. They're just really smart in how they market it.
Personally, I Believe This Is A Shortlistable Supplement
Overall, I really like the Nature's Truth approach to Collagen with this Ultra Powder notion of things. It's not the ideal product but it's certainly very close to that.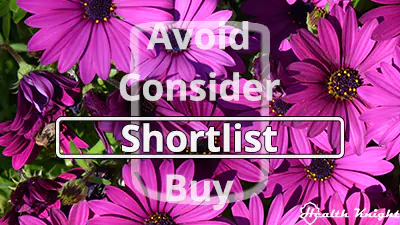 The sourcing is great with it being Grass-Fed and Pasture-Raised. It could be better by Hormone-Free and third-party testing. The global success rate of 89.1% is very decent but it, of course, could be better still. Also, the price seems to be rather okay despite there being just better options in terms of cost-efficiency.
Whereas when it comes to additives, it's the ideal thing.
And so, (out of avoid it, consider it, shortlist it, buy it) I think the Nature's Truth Ultra Collagen is worth shortlisting. Yes, it isn't the ideal one. But I think it's rather high up there. And with that in mind, personally, I would prefer the Live Conscious Collagen Peptides (full review with a summary) over this one.
Above all, I hope this Nature's Truth Ultra Collagen review helped you find the information you were looking for. Will you go for this one? Have you tried it already? Or will you instead focus on the other options I mentioned? Let me know below. Also, feel free to leave your own personal reviews on the product.