In this Vim & Vigor Collagenate review, we will dive deep into everything that the supplement is and has to offer.
In the process of that, we will have a look at their promotional materials and the claims they make. Then we'll hop on to exploring the beneficial ingredients, as well as those added for the making of the supplement. And finally, we'll embrace some customer reviews and assess the global success rates.
Ultimately, you could even say that my goal here is to help you save time by creating the most resourceful review around. But, if by any chance, you find a section or aspect I haven't covered but you're interested in, let me know. And I'll add that to the article.
Now, The Description Page Is A Disaster – An Unreadable Bulk Of Text
According to the manufacturer, the Vim & Vigor Collagenate "is a specially formulated liquid collagen supplement." It's said to be a "collagen protein [..] uniquely processed and then combined with an organically grown, cold-processed Aloe Vera to produce a high quality, bio-available protein supplement called Collagenate." And it's "designed to promote a healthy, lean body" [R].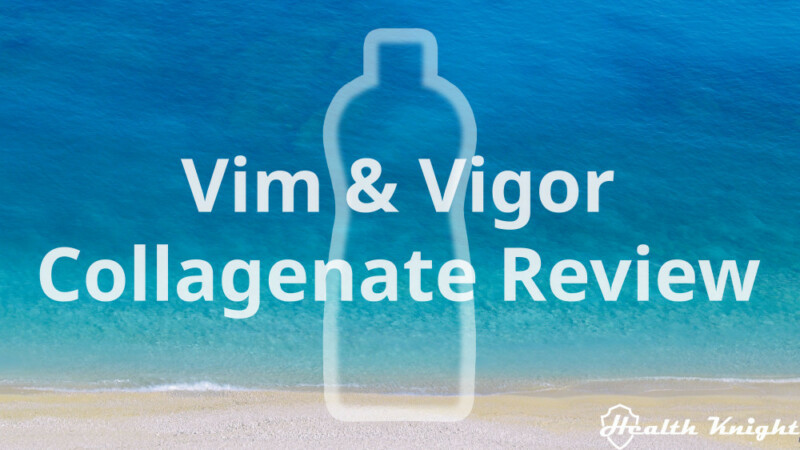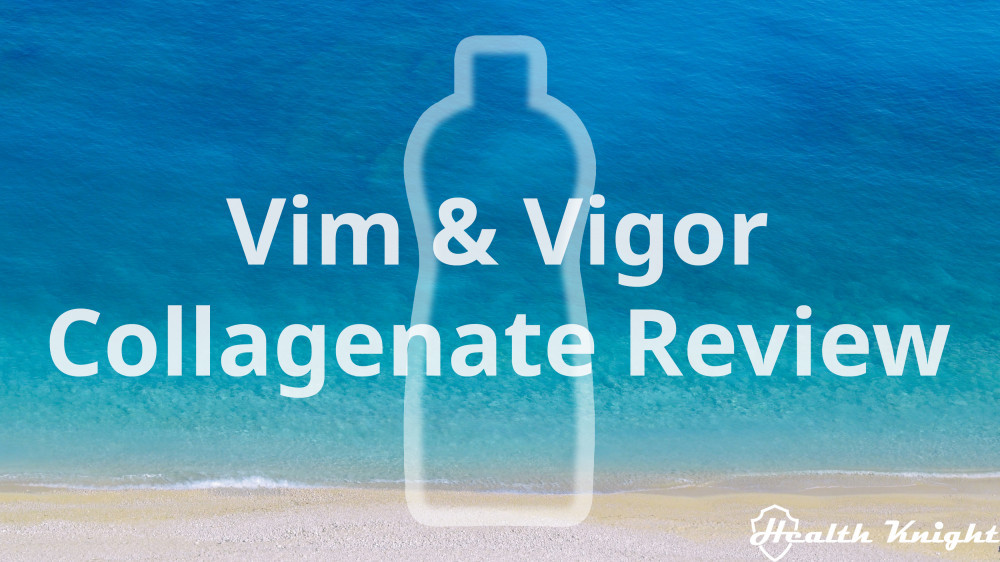 But lean body is not the only benefit they are pushing. Per their words, "Collagenate® is designed to improve fat metabolism, which in conjunction with a healthy lifestyle can be effective in helping people lose unwanted fat and inches without losing muscle. Collagenate® is also designed to rejuvenate the strength and health of muscles, joints, skin, hair and nails" [R].
So, supposedly a bunch of different gains. Gains that, frankly, get repeated and regurgitated over and over again throughout the page. But speaking of the page, well, let's just say it's no NeoCell Super Collagen + C or LiveWell Collagen Peptides.
To tell the truth, to me, it looks like something out of the 80s TV commercial. To that end, I feel it's easily the worst looking Collagen supplement description page I've ever come across.
The picture does not sinc well with the text at all. Whereas the readability of the content is just horrible. I mean, it reminds me of what Organixx Collagen or Taut Collagen does to its prospects. Namely, drown them in information. Only this is much, much worse because there are no paragraphs, the text changes sizes without any apparent reason, plus, there are at least 5 different colors the text comes in.
The thing is though. There's not that much text if we were to boil it down to raw word count. But the way it's presented is just nothing short of unreadable. In fact, I would go as far as to say that due to the "low-quality" of the page, it doesn't bread trust. So much so that I imagine no amount of testimonials or return policies can really help to make up for that.
Is Collagenate Hiding Its Core Beneficial Ingredients? Why?
There is one more thing about the Vim & Vigor Collagenate that kind of bugs me and which in of itself is extremely unconventional. It's something we'd never find among brands like Further Food or Doctor's Best.
With all the text, they forget to include proper info or a picture which clearly indicates what the supplement contains. I mean, we do get a vague list of them which gives away that probably the only two beneficial (active) ingredients in this one are Organically Grown Cold Processed Aloe Vera and Collagen.
But that's about it. Neither they nor any other source online cares to elaborate on how much of each the supplement actually contains. And that makes no sense whatsoever.
I mean, there's a pretty huge difference between supplements that contain about 1 gram of Collagen like Nature's Life Marine Collagen or AHS Super Collagen, 6-12 grams like Youtheory Collagen or Ancient Nutrition Collagen, or 20 grams like Vital Proteins Collagen or Garden of Life Collagen. Plus, it's not like this isn't true for that Aloe Vera part either [R, R, R, R].
I mean, they could have at least provided the combined amount of the two if it's that big of a secret. That would at least give us some vague idea of how much there is to go around. Because for all we know, there may not be. And hence, is there really a need to talk about any benefits?
I don't think so [R, R, R, R, R, R, R, R, R, R].
Personally, I'm not fond of the kind of dodgy, zero-transparency attitude. As I said, it makes no sense. And, by no means, does it evoke trust. Even if it has a money-back guarantee.
The Additives In This Vim & Vigor Stuff Are Also Not Ideal; Far From It In This Case
Like the mystery with active ingredients wouldn't be enough, the Collagenate of Vim & Vigor also is not great when it comes to additives: ingredients that help keep all of the nutrients together and ensure specific delivery form (among potentially other things).
In this particular supplement, we have Purified water, Natural Fruit Flavors, Stevia Leaf Extract, Citric Acid, Potassium Benzoate, and Potassium Sorbate. Which if I think about it, does remind me of the NeoCell Liquid Collagen one, only without sugar. Which would still not be good enough in this case.
First, there are those Natural Fruit Flavors. The harmlessness or harmfulness of these highly depend on the actual manufactuing practices in place. Which in case of the Collagenate is not promising at all. I mean, it's all self-proclaimed, vague, generalistic statements with no third-party certifications or laboratories to approve anything of it [R, R, R, R, R, R].
Which can mean admixtures and contaminents that can translate a wide range of negative and unpredictable health effects. Not exactly ideal to say the least [R, R, R, R, R, R].
Second, there's Citric Acid. It's, generally speaking, a fine additive. That is unless it's a GMO, which in this case it likely is (because they mention just about every other contains-none thing there is apart from that one. Plus, there's also the aspect it improving aluminum absorption and being otherwise harmful if consumed abundantly (a common ingredient in processed foods) [R, R, R, R, R, R, R, R, R, R, R, R, R].
Third, there's Potassium Sorbate. Various opinions exist on this one. What I feel is impossible to deny though are studies that have shown that this thing damages white blood cells. This in turn damages gene information which in turn takes its toll on genes themselves which can then lead to mutations. Which can mean cancer or DNA damage among other things. Plus, there are other concerns with this as well [R, R, R, R, R, R, R, R, R].
Are these potential dangers something you had in mind when you first encountered the supplement? I doubt.
Global Success Rate Is Beyond Miserable; Given It, It's Effectively A Scam
Going a step further, we have customer reviews and global success rates. Their product page doesn't really offer any. I mean, there are quite a number of testimonials that all praise the thing. But that's not exactly what we're after.
So, given that their page contains no Vim & Vigor Collagenate reviews, I conducted an online research as thoroughly as possible in efforts to find every single real customer review out there. And what I found was quite surprising, to say the least.
It turns there is only an exact number of 15 customer ratings for this supplement. And half of them are bad.
Or to be more specific, I found five 5-star reviews, two 4-star ones, one 3-star one, none 2-star, and seven 1-star. Hence, more 1-star reviews in total than 5-star ones. Which usually isn't a good sign. Given the presence of some 4-star and 3-star ratings, the global success rate is just over 50% (53.3% to be exact). Which is extremely low. One of the lowest ones I've seen for any supplements, not just Collagen ones.
Granted, it's quite early to tell, if this is a success rate that will stick because there just isn't enough feedback on it yet. But given how it's going, I wouldn't be surprised if there won't ever be. Either way, it's not looking promising at all.
I mean, I wouldn't ever pick this to reach my weight loss goals, for sure.
It Will Only Waste Your Time And Money; This Collagenate Is Utterly Pointless
Overall, I believe this Collagenate of Vim & Vigor is a very second-hand, unpromising, avoidable product.
I mean, start with its description page… A complete nightmare. Very mysterious and secretive about the active ingredients. Some pretty bad additives. No real information about the manufacturing practices in place whatsoever. And global success rates… I mean, those just suck. The way I see it, there is absolutely nothing going for it.
It's just bad in every facet of the word imaginable.
That said, if you are looking for a proper Collagen supplement, I would suggest looking into this one (review) or alternatively, this one (review). If you are, however, looking for a way to effectively lose weight, fasting and a proper MCT Oil (here's a review on what I would pick) is probably the best course of action. Here also exogenous ketones may play their part (here's a review on which I would choose).
Other than that, I hope this Vim & Vigor Collagenate review helped you find the information you were looking for. But if not, definitely let me know in the comments on how I could further improve it.
If you have as much as 15-30 seconds to spare, even one line in the comments helps a ton and will be highly and sincerely appreciated.
See you in another article!
Cheers, Stay Healthy & Have a Great One!