In this Olly Collagen Peptides review, we will shed a very bright light on to the supplement. We will discuss every aspect imaginable.
First, we'll start off with some analysis of the promotional materials. That we will continue by looking at the beneficial ingredients and what they have potentially to offer. Third, we'll do it about the additives. Fourth, we'll discuss and assess customer reviews and global success rates. Fifth, we'll spend a few on the price as well.
The Promotional Side Of Olly Collagen Makes It Look Really Great
According to the manufacturer, Olly Collagen Peptides is the "multi-tasking superstar [..] essential for that beautiful glow we all long for. It's also a key protein throughout our entire body so there are many benefits to our health—resilient skin, strong nails & healthy hair, just to name a few.* We'll drink to that!" A massively helpful supplement from what it seems while also carrying a very upbeat kind of vibe [R].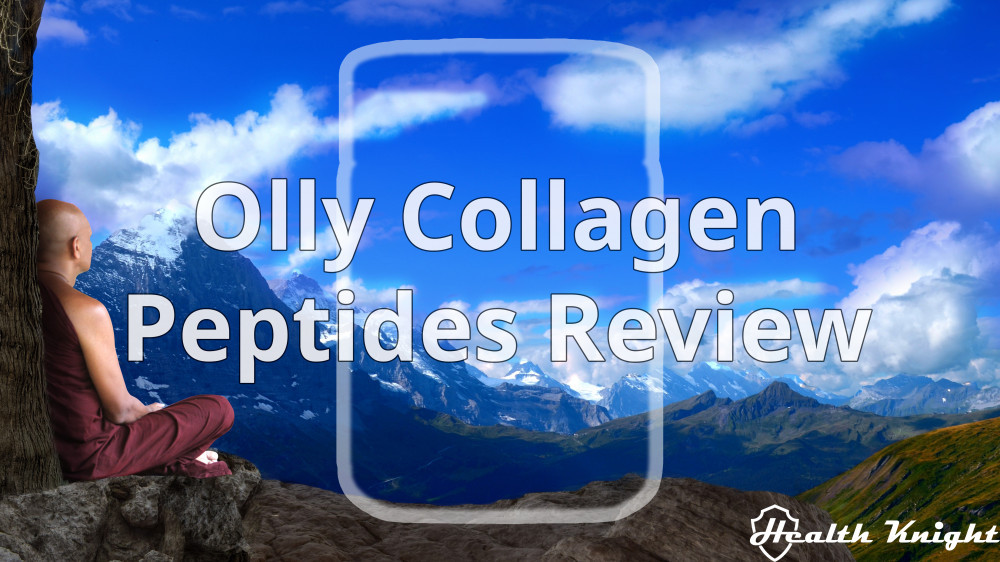 Still, despite all that hype, it's said to be capable of supporting just "glowing skin, healthy hair & strong nails." Which is kind of a standard when it comes to all Collagen supplements. I mean, just about any other product being primarily about the protein will promise the same thing. Wellpath Renew Collagen (review), Perfotek Collagen (review), and Nutra Organics Collagen (review) are just a few examples of that [R].
So, very powerful and quite captivating first words. But then, it doesn't seem to be more capable than the average thing.
The product page itself of the Olly Collagen Peptides is a classic Olly, very much like its siblings of Glowing Skin (review) and Vitamins Kids (review). It's very readable, quite spacious, not overwhelming in any way.
As for the marketing, there are a few bits. They offer free shipping over orders of $50. There is the 30-day money-back guarantee. There's also 15% off if we order a whole box (three) right off the bat. And, of course, a customer review section which has plenty of great reviews.
Are these Collagen Peptides of Olly Nutrition truly worth it though?
What About The Collagen Peptides Sourcing? Very Likely Poor
As far as just the beneficial ingredients, it certainly seems so. The Olly Collagen Peptides doesn't do that half-as*ing type of approach we've seen with other supplements of the brand, like Olly Women's Multi (full review) or their Undeniable Beauty (full review).
So, with the supplement of this review, per serving, we get 10 grams of bovine hide Collagen Peptides. Which from a purely amounts perspective is decent. And thus, it does seem to be something that can deliver on those three core benefits that they persist on within their promotional materials [R, R, R, R, R, R, R, R, R].
Well, because if we look at the product page there is not a single statement or any sort of claim that this Collagen is of Grass-Fed, Pasture-Raised animals. And hence, if there isn't such a thing, the Olly Collagen Peptides is likely not sourced that way. Which is very, very far from the ideal, to say the least [R, R, R, R, R].
I mean, the protein from those likely Corn-Fed, Pasture-Deprived, Over-Hormoned cows just doesn't have the capacity for promoting wellness that properly sourced Collagen does. Which is kind of a huuuuuge shadow over the Collagen of Olly.
I mean, why would we ever consider a product with such a high probability of being poorly sourced?
We shouldn't, ever. There are just too many quality options available that not only match the price but even outrival it. LiveWell Collagen Peptides (full review) being just one great example of that.
It's Sad With Additives, There Are Likely GMOs Among Them
Typically, Olly haven't been the greatest supplements when it comes to the additives. They usually oversugar things. But this time it seems they have refrained from doing that. But despite that, I believe this Olly Collagen is in the same village with stuff like NeoCell Beauty Bursts (review) and Vim & Vigor Collagen (review). The village of "likely not that great additives."
So, what does the supplement of this review use?
They go with Natural Flavors.
Many consider that to not be a bad thing. But, in reality, it all depends on the manufacturing. While I have been very wary of that in the past, it seems to me currently that they are actually doing a pretty good job. I mean, as far as I can tell, they don't seem to third-party test their products but in-house testing is what they do not omit. Which is a good thing [R, R, R, R, R, R, R].
All that said, there is one other thing that bothers me a bit.
You see, any Natural Flavor is a mixture of a number of different substances. All of which are not necessarily good for us. I mean, they can be and thus, a flavor of such sorts can even be considered slightly beneficial. However, given that they do not make a single claim or have a third-party certification for the Olly Collagen to be Non-GMO, it might actually contain such ingredients [R, R, R, R, R].
Again, we can't know, for sure. This is just a speculation of what I feel is the most likely. But if it's true, then also the additive part of the supplement is far from ideal. And hence, another potential reason why to give this one a pass.
Coming To Customer Reviews, There Is Not A Single One To Be Found, Almost
Now, shifting the gears a little bit, how well does the Olly Collagen Peptides work in the real life? While we can't assess this with an objective 100% accuracy, we can still look at the customer reviews and what learn from those.
As many other Collagen brands out there, like Skinny Fit Super Youth (review) or Physician's Choice Collagen Peptides (review), also the product of this review has a customer review section on its product page. And the reviews there are mostly good.
We get a default preview the 5-star ones, obviously. There are actually some bad ones as well. Out of the total of 24, three of them were 1-star or 2-star. Which is not as one-sided as we've seen it to be with supplement like Code Age Multi Collagen (review) or LAC Taut Collagen (review). Either way, it doesn't still give any proper insight into the truth. Especially because these are manipulable by the manufacturer.
So, I did some researching across the internet for Olly Collagen Peptides reviews.
As surprised as I was, I managed to find only two reviews, both 5-star ones.
Which is definitely not enough to even at least somewhat accurately assess the global success rate. But more importantly, I wonder why that is. It's probably a really new one. Which kind of indicates that Olly might be just trying to get on the Collagen hype and make some money. But who knows. Again, that's just a guess.
But whatever the case, it leaves us at this notion of too early to tell yet.
To Finish The Review, This Olly Is Definitely To Avoid, Don't Waste Your Time
Here's my final assessment of the Olly Collagen Peptides… It's an expensive, likely poorly-sourced Collagen supplement with potentially GMO-containing additives and realistically no record of being helpful to people.
Is that something we should buy?
God no! Avoid this one. The way I see it it's an absolute waste of time.
If you are after a great Collagen supplement, I believe the LiveWell Collagen Peptides (full review with a summary) is one of the best if not the very best currently available. And that's both in terms of the price and the quality it brings to the table. So, be sure to check that out. And let me know what you think.
Above all, I hope this Olly Collagen Peptides review helped you find the information you were looking for. Have you been compelled by Olly before? What do you think of them not sourcing Collagen from Grass-Fed animals? Let me know below.