In this Physician's Choice Collagen Peptides review, we will explore every single characteristic about the supplement.
And so, we will go into everything starting from its promotional materials to claims to beneficial ingredients, to additives, to customer reviews, and even success rates.
Physician's Choice Collagen Peptides Review – Initial Thoughts & Overview
According to the manufacturer, Physician's Choice Collagen Peptides solve "the common absorption problem of most collagen supplements, [their] collagen peptides powder gives [us] glowing, healthy and younger-looking skin." Which may suggest that they are all about doubling down on skin's benefits alone with this one [R].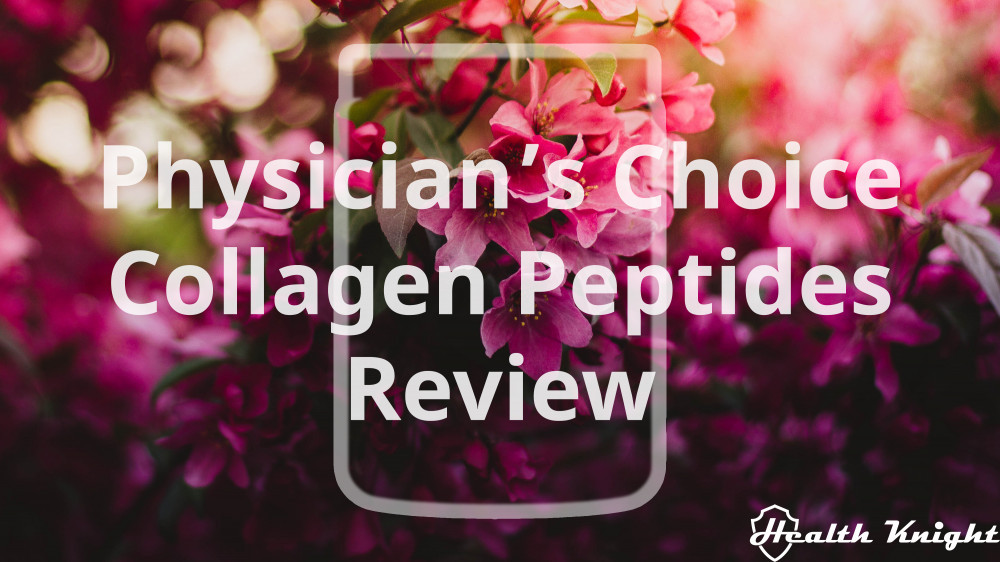 However, that's not at all their intention. They also make a case for less brittle nails and reduction of cellulite and wrinkles that they reference with relevant studies. Apart from that, they also imply that potential gains may be brought also to muscles, joints, and hair [R, R].
Whereas the idea of improved absorption comes from the fact that they add a special digestive blend. With the presence of which "this ensures that Physician's Choice Collagen Peptides are the most bioavailable and effective on the market." Which is a claim extremely bold and, frankly, it sounds very much over the top, much like it was the case with Genacol Collagen superficially [R].
As for the description itself, it on the surface seems nice and collected, similar to those made for supplements like Nature's Truth Multi Collagen Complex or NeoCell Marine Collagen. But a deeper look reveals that there's much that repeats. And thus, overall, the page feels very sloppy. Reminds me of AHS Super Collagen and Vim & Vigor Collagenate.
It basically feels as if they have nothing else to say. And so, they're trying to drag out (and regurgitate over and over again the same information) likely in efforts to persuade people to buy. But those are not the only marketing tactics used.
There's also the review section with tons of positive feedback. There's also the option of saving 15% if we subscribe to a monthly refill. They don't, however, offer a money-back guarantee like Code Age or Further Food. But there is something that they do go out of their way to ensure.
And that's quality. From what I can tell, they are third-party testing their finished products. And thus, they ensure that not only do they contain what they claim to contain, but also that they're free of contaminants and other harmful admixtures. Which truly is the way to go.
But does that cut it?
The Idea Behind It All Is A Pretty Unique One; The Execution – Pretty Robust As Well
Well, just because something is third-party tested does not inherently mean that it's a good product. Or in other words, just because something is clean and has the ingredients claimed, does not guarantee that the supplement will be effective (contains enough of the good stuff to make a difference) or will not contain otherwise inherently harmful substances to consume (what we'll discuss in the next section).
So, what are the beneficial ingredients that the Physician's Choice Collagen Peptides supplement brings to the table?
First, it's 7,000 milligrams of grass-fed, pasture-raised Hydrolyzed Collagen. Which, frankly, isn't really that abundant amount. I mean, sure, it's more than what we find in supplements like Doctor's Best Collagen Protein or It Works CollagenWorks. But that's still not a lot, especially if we want to make the full range of benefits more likely (or inevitable) [R, R, R, R].
To which end, 2-3 times that amount would likely be the significantly better alternative. However, it would come at a pretty steep cost.
Be that as it may, the benefits of this protein have the potential to be all of what the claims prescribe. And even beyond that. Not only can this improve hair, skin, nail, joint, and muscle health, but also it can make for stronger bones and teeth, promote blood sugar regulation, improve metabolism, as well as improve anti-aging pretty much in every way among a ton of other stuff [R, R, R, R, R].
Second, it's 50 milligrams of that DigeSEB Digestive Enzyme Blend. The blend consists of Protease, Amylase, Cellulase, Lactase, Lipase, and L. Acidophilus probiotic strain.
The first five are various digestive enzymes which basically help digest and absorb specific nutrients or types of food. With these, we get improvements to protein, starch (carbohydrates), plant fiber (complex carbohydrates), milk products, and fat digestion. Furthermore, each of them can bring different other gains as well [R, R, R, R, R, R, R, R, R, R].
So, this one is not only about improving the digestion and absorption of that Collagen. It's about pretty much making that happen in every facet of the food we consume. And then there's that L. Acidophilus on top of all of that to offer even further digestive wellness including a couple of other gains like cholesterol reduction, cold, flu, diarrhea prevention, ease allergies, help battle depression, promote weight loss, and more [R, R, R, R].
Thus, as I see it, it's an incredibly thoughtful combination. One that works synergistically very well together.
Additives Bring No Harm In This Physician's Choice; There Actually Aren't Any
Additives are the ingredients necessary to add to help make it easy to consume dosage forms such as capsules, tablets, lusunges, gummies, and a plethora of others. These added ingredients can also account for different tastes, smells, colors of those capsules, tablets, gummies, and all the other, as well as ensure specific dissolution mechanisms and whatnot.
That said, though many do not recognize, they are a tricky thing. Namely, it goes both ways – not everything is harmless and not everything is harmful. For example, stuff like Microcrystalline Cellulose and Gelatin are of the harmless/beneficial bread. Whereas stuff like High-Fructose Corn Syrup and Artificial Colors are stuff that can bring cancer among many other hazards.
When it comes to the Collagen Peptides of Physician's Choice, it's actually a bit simpler than that.
The product actually doesn't carry any additives at all.
In of itself, that's not a common thing at all but we have seen this with other Collagen supplements like Amadean Marine Collagen or Nature's Truth Ultra Collagen Powder. Furthermore, it's something that I've also witnessed with other supplement categories like MCT Oils and Carotenoids. But most supplements definitely can't do without.
Either way, as for this one, there's all the good stuff, and no concern for the bad part.
The Customer Reviews Reveal That It's A Truly Value-Oriented Supplement, Quite Busted
That's also pretty self-evident when it comes to the Physician's Choice Collagen Peptides' customer reviews and overall global success rates. Looking at these typically give a pretty good idea of how well any given supplement is performing in real life. And thus, how helpful they have actually been.
So, how well is this Collagen supplement of Physician's Choice actually performing?
Looking at their homepage's review section, it's incredibly overwhelming in a positive sense. At the time of writing this article, there we can find a total of 4,826 ratings. Or to be more specific, we have 18 of 1-star, eight of 2-star, 17 of 3-star, 774 of 4-star, and 4009 of 5-star. Thus, a ratio of 26 negative reviews versus 4800 positive ones, hence, a superficial global success rate of 99.5%. Which is absolutely bonkers.
And quite frankly, it seems too positive to be true. But, generally speaking, that's something pretty common as manufacturers do hold full control over what kind of reviews are posted, kept, deleted, or even how they are adjusted to fit their marketing needs better. It's a likely tendency we have seen with supplements like Skinny Fit Super Youth, Ancient Nutrition Multi Collagen Protein, Pure Gold Collagen, and many others.
So, I feel it's necessary to not limit ourselves to only looking at the on-page feedback (even more so, because it can be biased). Instead, we need to look at everything that can be found by other sellers and retailers. And that is exactly what I did.
In total, I managed to find 13,610 Physician's Choice Collagen Peptides reviews. Of these, 714 were negative (490 of 1-star, 224 of 2-star) and 12,896 were positive (338 of 3-star, 2211 of 4-star, 10,347 of 5-star). This means that the actual global success rate is likely at about 94.8%. Which, however, is likely even higher than that given that people are far more prone to reporting negative experiences than positive ones.
And so, although 94.8% is no 99.5%, it's still beyond busted. It's one of the highest I've seen of all Collagens that I've looked at.
I mean, with that in mind, there is no doubt. This is a truly value-oriented supplement.
Overall, An Amazing Product, The Very Upper Echelon of Collagen Supplements
As far as I can tell, the Physician's Choice Collagen Peptides is one of the best Collagen supplements we'll ever come across. It got so much going for it.
It's full of quality ingredients. The added beneficial substances are amazing. It doesn't contain any additives. It has been third-party tested for purity and contents. The only thing that I would consider a slight drawback is that it doesn't contain more Collagen per serving. But that's something we can easily adjust if we choose to just by scooping a bit more.
So, overall, a very worthwhile supplement. That said, I do believe there are some even slightly better options than this one. Live Conscious (LiveWell) Collagen Peptides (full review with a summary) is definitely one of them (it similarly couples Collagen with probiotics), check that out. And then, Vital Proteins Collagen Peptides (with Hyaluronic Acid) is another awesome one.
Above all, I hope this Physician's Choice Collagen Peptides review helped you find the information you were looking for. How did you like its active (beneficial) ingredients? Will you give this one a go? Let me know below.