In this Genacol Pain Relief review, we will analyze and study the supplement in its utmost entirety (this article may as well be called Genacol Joint & Mobility review given it's US market name).
And so, we will pick apart their promotional materials and promised claims. We will then look into all of the ingredients – both the active ones and the inactive ones. And that we will finish off with a proper insight into customer reviews and success rates.
The goal here is to create a review so thorough that there would not be a need for you to ever look at another supplement review for this specific supplement. Therefore, if there is a section or aspect I haven't covered but you're interested in, let me know. And I'll add that to the review.
Genacol Pain Relief Review – Initial Thoughts & Overview
According to the manufacturer, "Genacol Pain Relief is a natural product that reduces joint pain in less than 5 days! The combination of AminoLock Collagen and Natural Water-soluble Eggshell Membrane relieves joint pain and inflammation." Which, frankly, sounds beyond amazing [R].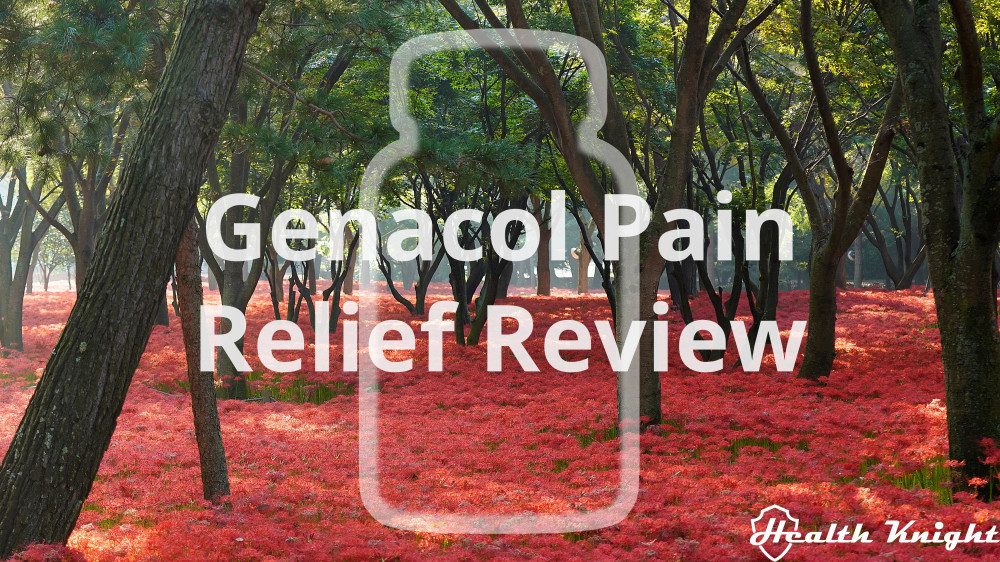 This they then further emphasize through statements like "AminoLock Collagen reduces joint pain associated with osteoarthritis" and "Natural Soluble Eggshell Membrane quickly relieves inflammation and improves joint flexibility." Which basically is the whole description page of theirs. Furthermore, it kind of fully encompasses what the supplement is truly about [R].
Meaning, it's basically much like the Genacol Collagen, only augmented with that Eggshell Membrane to bring more joint pain removing and healing aspects to the table. Yeah, it's all about those joints.
Overall, I would say that the page is a very collected one. It doesn't overwhelm us with information, as well as it's far from heavy marketing like we've seen with Organixx Collagen or Taut Collagen. It reminds me more of NeoCell Super Collagen or even the Great Lakes Gelatin Collagen Hydrolysate.
Other than that, their US page with the changed name of Genacol Joint & Mobility (the same ingredients and everything, just different names) is, however, a bit more expansive. Especially with claims. Namely, not only is it said to help joint pain, flexibility, and inflammation but also they persist on strengthening tendons, cartilage, and bones, as well as promoting deeper sleep [R].
Non-GMO (IGEN certified), Gluten-free, Pasture-raised, Grass-fed are also something they totally subscribe to. The patent-pending technology is what they claim to use. But above all, any product of Genacol comes with a 30-day money-back guarantee [R, R, R].
All in all, all of this just sounds really nice and promising. But can it actually live up to that? Can it actually make joint pain go away in just 5 days?
Both Core Ingredients Are Looking Really Good; Studies Do Support Them
I believe that's a rather random, arbitrary number. Still, from what I can tell, the Genacol Pain Relief can absolutely deliver. It uses two key beneficial ingredients to make that happen.
First, there are 1,200 milligrams of bovine-sourced AminoLock Collagen. By the token of our typical Hydrolyzed Collagen, that's not a lot and likely are not to account for much. However, this is no ordinary Collagen we are so used to encountering in supplements like PureNature Collagen Ultra or Health Direct AminoSculpt Collagen. No, this is much different [R, R, R, R].
AminoLock Collagen is a patent-pending Collagen formulation that's proven to be very effective in fighting joint-related pain. And the best part about it is that we don't just have to take their word for it. There are three high-quality, gold-standard studies that prove exactly this notion. And with that in mind, I'm quite positive that this can actually outdo a number of Collagen powders like Youtheory Collagen or Doctor's Best Collagen Powder despite the relatively low amounts [R, R, R, R].
Moreover, while it may be proven to be great with joint health specifically, it doesn't remove it's inherent Collagen capabilities. These mean gains like better skin, hair, and nail health, stronger teeth, and bones, improved blood sugar regulation, metabolism, muscle health, and (to an extent) sleep, as well as profound anti-aging properties among some other stuff [R, R, R, R, R].
Second, there are 450 milligrams of Soluble Natural Eggshell Membrane. This is what has been proven in studies to help battle osteoarthritis, help reduce pain, and improve joint health. While these are the primary benefits, it also can provide anti-inflammatory properties, reduce swelling in joints, help treat gastrointestinal and periodontal disorders and diseases, and help tissue healing [R, R, R, R, R, R].
Hence, as far as I can tell, they're not really overpromising on the benefits. If anything, they are kind of selling themselves short.
Additives Bring No Worries; There Is Very Likely To Not Be Side-Effects With This Genacol
There are many, many supplements out there that struggle with the idea of harmless additives. Applied Nutrition Liquid Collagen and Nature Made TripleFlex Original are just some of the examples of how we don't want them to be. But there are so many more. And a plethora of ingredients that can especially in the long term be quite devastating [R, R, R, R, R, R, R, R, R, R, R, R, R, R, R, R, R, R, R, R, R].
Luckily with the Genacol Pain Relief, it's not what it is defined by. That said, I still wouldn't call it all smooth sailing.
The product uses three different inactive ingredients. There's Gelatin, which is basically much like Collagen only prepared differently but still, remarkably beneficial overall. Then there's Microcrystalline Cellulose which is a substance often used in studies for the placebo pills and in of itself is one of the safest, most harmless ingredients there is [R, R, R, R, R, R, R, R, R, R, R, R, R, R].
Finally, there's the Vegetable Magnesium Stearate which is the all-responsible one of that rough sailing.
You see, it's actually one of the most debated (and wrongfully deemed harmful) substances there is. Period [R, R, R, R, R, R].
However, that's extremely superficial. Personally, I've spent tens of hours researching this single ingredient alone. And what I feel is the truth is not what almost all of the internet proclaims. I mean, I have to agree with the minority of high-profile health professionals. It's a huge misunderstanding stemming from a single misinterpreted study. And so, I'm confident this is actually another incredibly safe additive [R, R, R, R, R].
This in turn means that the Genacol Pain Relief has been very wise in choosing the inactive stuff. Which is always awesome to note about any supplement.
The Global Success Rate May Not Be As High As I Expected But It's Still Very Good
Going a bit further than the rather theoretical aspects of all ingredients, we have customer reviews. This section is about doing some profound research on all that are available online. This in efforts to assess how well (or bad) it is performing in real life.
The Genacol Pain Relief also has an on-page review section where people can leave their feedback. It is, however, as dry as those we've seen for Nature's Truth Ultra Collagen Powder or Nature's Truth Multi Collagen Complex. Meaning, as of currently there are no ratings posted for this supplement.
That said, it is a slightly different story if we consider the supplement's US page. This one does actually hold some Genacol Pain Relief reviews. But all of them are extremely positive. Or to be more precise, there we can find three 4-star ones and 24 5-star ones. Which don't really give an accurate, comprehensive picture as to where it's at in reality (even more so because these typically tend to be biased as we've seen with Skinny Fit Super Youth or Code Age Multi Collagen supplements).
So, it was a must to look for all ratings I could possibly find across every single retailer and seller of the supplement (apart from, of course, what we found on their website). And truth told, I wasn't able to come up with much.
In total, I managed to find 97 reviews for the Genacol Pain Relief and 24 reviews for Genacol Joint & Mobility (again, these are exactly identical supplements; the first one is for Canadian market whereas the second – for the US). So, 121 rating total.
Of these, 106 were positive (3-star, 4-star, 5-star) and 15 were negative (1-star, 2-star). This leaves us at a global success rate of 87.6%.
Which is quite surprising really. I mean, generally speaking, in its essence, it's a Genacol Collagen plus Soluble Natural Eggshell Membrane. And so, one would expect that the global success rate should be higher than what we saw by that supplement because at its core it's kind of an improved version of the same thing. Still, the Genacol Collagen had a global success rate of above 93.9% or 6.3% higher.
I do suspect that at the end of the day this may be just the notion of there not being enough Genacol Pain Relief reviews in general. Yet. A bit over a hundred globally is definitely not a lot. Also, there's a bunch of other stuff that this can be related to without having anything to do with the product's actual efficiency. It may even be the aspect of it not managing to deliver the gains in just 5 days but still delivering only taking a bit longer [R, R].
For The Time Being, I Would Recommend Preferring The Original Genacol
Overall, I believe the Genacol Pain Relief (aka Genacol Joint & Mobility) is a worthy option. As I see it, it will work great both as a Collagen supplement for the hair, skin, and nail health and as a supplement geared towards reducing and releasing joint pain.
It may not deliver in just 5 days but the beneficial ingredients to make that happen are definitely there. Also, the additives are great. And the success rates are decent as well. Very solid overall.
That said, personally, if I were to go for Collagen in capsules or tablets, I somehow feel better about the original version of the Genacol supplement (review). Based on the ingredients alone, that should not be the case. However, the difference in those global success rates does have me somewhat puzzled. Hence, for the time being, I would recommend preferring that over this one.
Above all, I hope this Genacol Pain Relief review helped you find the information you were looking for. But if not, definitely let me know in the comments on how I could further improve it.
If you have as much as 15-30 seconds to spare, even one line in the comments helps a ton and will be highly and sincerely appreciated.
See you in another article!
Cheers, Stay Healthy & Have a Great One!