|  Initial Thoughts  |  Core Ingredients & Benefits  |  Additives  |  Success Rate  |  Final Thoughts  |
This Nature's Life Marine Collagen review is one that's entirely devoted to genuinely focusing in on the particular supplement and properly discussing all of its bits.
Hence, in the process, we will go over the sales materials they use, the claims they promise, the beneficial ingredients they use, the potential benefits associated with those ingredients, then discussing inactive ingredients (commonly referred to as additives). And lastly, we will also take a proper look at the customer reviews and assess the global success rates.
Nature's Life Marine Collagen Won't Bore You Or Lure You With Promotional Stuff
According to the manufacturer, Nature's Life Marine Collagen "is intended to provide nutritive support to help maintain healthy skin" [R].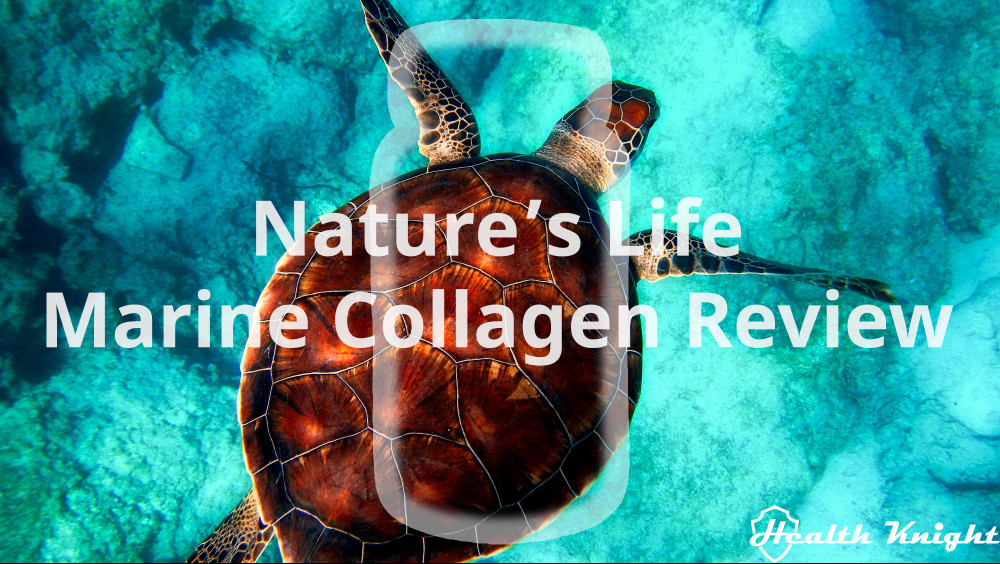 The supplement's description page is unlike I've ever seen for any Collagen supplement. It's so profoundly different from those of supplements like Organixx Clean Sourced Collagens or Further Food Collagen. I mean, I feel even supplements like Great Lakes Gelatin Collagen Hydrolysate or Doctor's Best Collagen Powder, which are extremely straight to the point, are (far) more elaborate with their descriptions.
The description page is basically one sentence (yeah, it's that same one I cited at the start of this section) and then supplement facts (all the labeled information).
Thus, there's a profound shortage of marketing tactics trying to lure people into buying. There are no special deals to get a better price, like applying for all kinds of subscriptions. There's also no such thing as this notion, "Hey, buy ten of these right off the bat and get a discount." Something that we've seen with brands like Ancient Nutrition Multi Collagen Protein (which is also true for their Capsules version of that).
Or there's no such thing as a pretty much-overflooded review section. Of course, only positive reviews, as we've seen with supplements Pure Gold Collagen or Skinny Fit Super Youth. But reviews likely edited and adjusted to better suit their marketing needs. So, while they look nice, they bring zero value to the objective truth seeker.
There is, however, one thing that the Nature's Life Marine Collagen does offer. And I don't think that's marketing here because they don't boast about it everywhere. It's regarding their return policy. As they put it, they believe in 100% customer satisfaction, which is why with any purchase, you get a 30-day money-back guarantee [R, R, R].
So, a brand clearly uninterested in marketing. But do they deliver true value?
Questionable Amounts Of Collagen With Some Added Vitamin C; Limited Benefits?
Generally speaking, there's a couple of different options as to how Collagen comes in a supplement. Many supplements are just about the Collagen like Youtheory Collagen. Then there are those that add a single nutrient or an additional substance to help get a bit better kick out of the thing like Garden of Life Collagen. Lastly, there's those that, while building on Collagen, they are almost multivitamin-like in terms of how much extra stuff they add like Applied Nutrition Liquid Collagen.
Of these, the Nature's Life Marine Collagen best fits with the second one.
It offers 1,100 milligrams of deep cold-water fish Marine Collagen augmented by 60 milligrams of vitamin C. This is the amount we get from 2 capsules, which is considered a serving size, which then is the suggested daily use. Which, if I have to be completely honest about, is pretty sad.
I mean, 550 milligrams per capsule is very low. That's, essentially, almost the lowest number I've seen among the capsule of tablet version supplements for Collagen (in the NeoCell Marine Collagen, it's even lower per capsule, but it's higher per serving there).
To illustrate, that's lower than 667 milligrams of Collagen and a bunch of other stuff we get per capsule in the Code Age Multi Collagen flagship supplement. It's also lower than the 1000 milligrams of Collagen we get in the AHS Super Collagen tablets. Or the 1000 milligrams per capsule we find in the Doctor's Best Collagen capsules.
And hence, I'm not really sure how beneficial this can be. There's almost every reason to doubt the efficacy of this thing. I mean, I had my doubts even with the supplements I just mentioned. But it's, even more, the case with the Nature's Life one.
And therefore, I feel they're not really far off with promoting skin health as the only potential benefit. I mean, it could be benefits to hair, nails, joints, bones, muscles, or several other Collagen-associated ones. But I believe it will certainly not be all of them. There will just not be enough of that Collagen to go around [R, R, R, R, R].
The Other Ingredients That Supplements Often Struggle With This One Doesn't
While in terms of the beneficial ingredients the Nature's Life Marine Collagen does not look like much, it certainly does look the part when it comes to the additives.
Additives are the inactive ingredients that typically get added to supplements to essentially make them possible. But they can also create a certain taste, color, or dissolution mechanism with a plethora of other things. And while they can be harmless, many aren't. So, choosing proper ones is, I feel, of paramount importance, especially for the long-term health [R, R, R, R, R, R, R, R, R, R, R, R, R, R, R, R, R, R, R, R, R, R, R, R, R, R, R, R, R, R, R, R, R, R, R, R, R, R, R, R, R, R, R, R, R, R, R, R, R, R].
So, what about Nature's Life Marine Collagen when it comes to this?
Well, I feel I kind of gave it away already with the title of this section. It uses just three: Vegetarian Vegetable Capsule, Magnesium Stearate, and Silica. But the conversation with one of them is actually an incredibly, terribly confusing one. The inactive ingredient I'm talking about is Magnesium Stearate.
The problem with it is that almost all resources out there persist on this notion that it's likely cancer- and immunity-response inhibitor. Which there's almost no research for. And the ones that do suggest that are a purely ridiculous misinterpretation. I mean, literally everything that they are throwing at the thing can be easily refuted [R, R, R, R, R, R].
Hence, after a ton of research and exploration of both sides of the argument, I have to agree with the minority of doctors and scientists that are calling out this BS as absolutely inaccurate. Ultimately, I feel, very confident about saying this – Magnesium Stearate is arguably one of the most harmless additives of all [R, R, R, R, R].
Thus, overall, at the end of the day, the Nature's Life Marine Collagen is awesome when it comes to this aspect of it.
Success Rates Were Much Higher Than I Expected
While I truly didn't really expect much from the Nature's Life Marine Collagen, I was in for a surprise. It's actually a very, very well-received one for how timid it is when it comes to that Collagen amount per serving.
And so, I did what I normally do. I went for fully-comprehensive research on every single real customer review I could find online. Every retailer, every seller that offered a customer review, I took into account.
And thus, I managed to compile a total of 149 reviews. Of these, 20 were 1- and 2-star ones and 129 were 3-, 4-, 5-star ones. Therefore, given all of the Nature's Life Marine Collagen reviews, the global success rate is at around 86.6%. Which actually is likely even higher due to people typically reporting negative experiences far more often than positive ones.
Hence, likely an above 86.6%. Which, again, for how little Collagen the supplement holds, it's very high.
So, yes, I reckon it might not be the full benefits (as we discussed earlier). However, it definitely is working and with that, providing at least some value. Which consequently, people are appreciating.
While This Marine Collagen May Be An Okay Option, Better Ones Await
Overall, I feel, at its core, there's truly nothing bad about the Marine Collagen of Nature's Life.
It adds Collagen, and it adds some vitamin C. It doesn't use any harmful additives or even just many of them. It's definitely not bombarding people with heavy marketing and luring people into buying the thing. And it also does have a very decent overall success rate. Which just implies that the stuff has been actually beneficial to people. I mean, there's really nothing bad about it.
However, I do think there are just overall much better options out there. Options that I feel can be significantly more impactful as far as the benefits go. To that end, my most favorite one is the Live Conscious (LiveWell) Collagen Peptides (full review with a summary), amazing price, busted quality.
Whereas if it has to be a supplement that offers Collagen in capsules, I would much rather prefer those of the Genacol Collagen (full review) or Physician's Choice Collagen (full review).
Above all, I hope this Nature's Life Marine Collagen review helped you find the information you were looking for. What might be the reason for those high success rates? Do you think they are legit or somehow inflated through marketing or other ways? Let me know below.