|  Marketing  |  Ingredients  |  Additives  |  Reviews  |  Pricing  |  Overall  |
This Nature's Life Marine Collagen review is one that's entirely devoted to genuinely focusing on the particular supplement and properly discussing all of its bits.
Hence, in the process, we will go over the sales materials they use, the claims they promise, the beneficial ingredients they use, the potential benefits associated with those ingredients. Then, we will also be discussing inactive ingredients (commonly referred to as additives), customer reviews (and global success rates), as well as pricing.
This Nature's Life Marine Collagen To Ensure Full Transparency
As it typically happens (or not), as I was writing this review, the manufacturer of Nature's Life Marine Collagen decided to update its product page rather significantly. So, much so that I basically had to rewrite this whole section. So, while it used to be a miserably generic and dull page, I don't think it qualifies to be called that way anymore.
According to the manufacturer, the Nature's Life Marine Collagen is a supplement that "works from the inside out to help support healthy skin". Which is basically the only claim they attribute to this fish-derived product [R].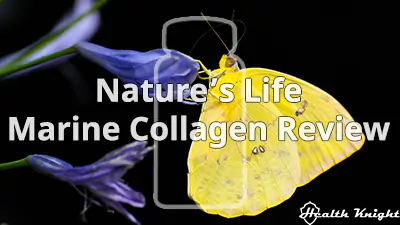 Other than the sort of definition, there are a few other useful insights mentioned. And they're removed the ridiculous generic-ness.
Hence, while it wasn't before, it's the kind of page that I would prefer over the pages like those of Vim & Vigor Collagenate (review) or Andrew Lessman Marine Collagen (review). Pages like those are just so much more unreadable.
With the supplement of this review, we certainly don't get that.
Other than that, there's a profound shortage of marketing tactics trying to lure people into buying. There are no special deals to get a better price, like applying for all kinds of subscriptions. There's also no such thing as this notion, of buy two or three containers and get a discount or a fourth one for free.
Also, there's no such thing as an unnaturally positive and overflooded customer review section, much like what we have seen with products like the Skinny Fit Super Youth (review) or the NeoCell Super Collagen (review). I mean, I'm not a fan of customer review sections because they can be easily (and likely are) edited and adjusted to better suit their marketing needs. Hence, while they look nice, they bring zero value to the objective truth seeker.
One other thing is that Nature's Life Marine Collagen used to offer a 30-day money-back guarantee. Which seems to no longer be the case. Hence, do they still believe in 100% customer satisfaction? It certainly doesn't seem that way. But in every other way, the supplement itself seems like a decent buy. But is it truly that?
To Review Ingredients, I Really Don't Like The Collagen Amount It Offers
Generally speaking, there are a couple of different options as to how Collagen as an ingredient can show up in supplements. Many supplements are just about this lone protein like the Perfotek Collagen (review). Then, there are those that add a single or two nutrients or a pair of additional substances to help get a bit better kick out of the thing like the Nutra Organics Collagen (review). Lastly, there are almost multivitamin-like options like the Applied Nutrition Liquid Collagen (review).

Of these, the Nature's Life Marine Collagen best fits with the second breed.
Per serving (two capsules), it offers 1,100 milligrams of deep cold-water fish Marine Collagen augmented by 60 milligrams of vitamin C. And, if I have to be completely honest about it, this is just really sad.
I mean, the amount per serving is just ridiculously low. To that end, I believe, for sure, that it isn't enough to grant any decent benefits. I mean, the way I see it, we'll be lucky if we come by any gains at all. This maybe is exactly why Nature's Life as a manufacturer doesn't put forward one claim [R, R, R, R].
Maybe they themselves are well aware that this is not the optimal amount. And so, one may be led to believe that because there's Collagen in this that it will improve skin, hair, nail, joint, bone, muscle health and provide tons of anti-aging benefits. But that will likely not be true for Nature's Life Marine Collagen [R, R, R, R, R].
Furthermore, they exactly promise the Collagen to be from wild-caught fish which I believe is the highest standard for Marine Collagen. Moreover, they don't third-party test the Collagen which is very important for Marine products in general due to the pollution. I mean, sure, their in-house lab-testing is better than nothing. But I wouldn't just bet on that alone.
As for that vitamin C, it's likely the cheap synthetic option. Don't get me wrong, it works great. It has even been proven to be as effective as its natural counterpart. Still, I would prefer the mineral ascorbates that the real quality supplements offer and that are believed to be absorbed significantly better overall [R, R, R, R].
Other Ingredients That Supplements Often Struggle With This Doesn't
While in terms of the beneficial ingredients the Nature's Life Marine Collagen does not look like much, it certainly does look the part when it comes to the additives.
Additives are the inactive ingredients that typically get added to supplements to essentially make them possible. But they can also create a certain taste, color, or dissolution mechanism with a plethora of other things. And while they can be harmless, many aren't. So, choosing proper ones is, I feel, of paramount importance, especially for the long-term health [R, R, R, R, R, R, R, R, R, R, R, R, R, R, R, R, R, R].
So, what about Nature's Life Marine Collagen when it comes to this?
Well, I feel that I kind of gave it away already with the title of this section. It uses just three: Vegetarian Vegetable Capsule, Magnesium Stearate, and Silica.
But the conversation with one of them is actually an incredibly, terribly confusing one. The inactive ingredient I'm talking about is Magnesium Stearate.
The problem with it is that almost all resources out there persist on this notion that it's likely cancer- and immunity-response inhibitor. Which there's almost no research for. And the ones that do suggest that are a ridiculous misinterpretation of the data. I mean, literally, everything that they are throwing at the thing can be easily refuted [R, R, R, R, R].
Hence, after a ton of research and exploration of both sides of the argument, I have to agree with the minority of doctors and scientists that are calling out this conviction by most as absolutely inaccurate. Ultimately, I feel, very confident about saying the following. Magnesium Stearate is arguably one of the most harmless additives of all [R, R, R, R, R].
Thus, overall, at the end of the day, Nature's Life Marine Collagen is actually awesome at least in this aspect.
Customer Reviews Rate It Unexpectedly High But I Wouldn't
While I truly didn't really expect much from the Nature's Life Marine Collagen in terms of customer reviews, I was in for a surprise. It's actually a crazy well-received one for how timid it is when it comes to that Collagen amount per serving.
And so, I did what I normally do. I did some fully comprehensive research to find every single real customer review online. Every retailer, every seller that offered a customer review, I took into account.
And thus, I managed to compile a total of 834 Nature's Life Marine Collagen reviews. Of these, 39 were one-star and two-star whereas 795 were the three-star, four-star, and five-star ones.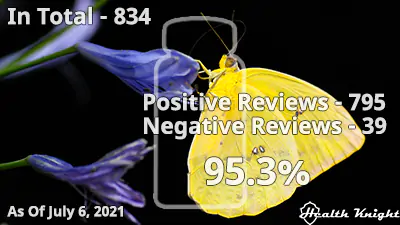 To do the math in terms of global success rates, that's 95.3% of success. Which is absolutely bonkers high.
I mean, we typically don't get as high success rates even with the genuine quality options. Hence, this is certainly working for quite many, even if it's very likely not the full range of the Collagen-enabled benefits. Furthermore, the success rate is likely even higher due to people typically reporting negative experiences far more often than positive ones.
That said, there definitely are some people who were not happy with the Marine Collagen of Nature's Life. What were the complaints?
For some, it was the trouble of feeling very sick and unwell after taking the pills. Others were really unhappy about the capsule size and how stone-like they were. For others more, it was the question of not feeling any benefit whatsoever. Whereas some even said that they got a container that didn't contain the claimed capsule amount.
Personally,  I think the notion of not feeling any benefit is an expected one. Whereas feeling sick or unwell can easily be a question of the Collagen not being properly purified. But these are just guesses. Ultimately, it seems that the Marine Collagen of this review is definitely working and providing at least some value. Which is always a good sign.
I Don't Think The Supplement Is A Bargain Or Even Just A Good Deal
Of all the Nature's Life Marine Collagen reviews that I did look at, I didn't really find anyone complaining about the price of it. Well, unless for the fact of people saying it was a waste of money because they don't feel any benefit. So, is it a good one in terms of the price?
Per container (60 capsules), the supplement of this review typically costs around $11.17. So, that's the price for 30 servings worth 30 days. Hence, a single serving costs $0.37. Which is $3.38 for every 10 grams of Collagen. And let me just say, this is not exactly affordable.
I mean, just throw it against something like the Amandean Marine Collagen (review). Granted, it's not something available in capsules. However, with the price of 75.5 cents per every 10 grams, I think it's well worth considering in place of the Nature's Life option. I mean, the supplement of this review is easily 4 times more expensive.
The trouble with the Amandean option is, however, the fact that it too doesn't offer third-party testing. To that end, I think the Truvani Marine Collagen is one of the best options for Marine Collagen. Yes, sorry guys, it's not in capsules either. But it has all of the quality (third-party testing, quality sourcing, great additives, etc.) while pricing a solid one-third less than the Nature's Life option.
Or to sum it all up, I don't think it's a well-priced, affordable product (though it might be just my bias for powders speaking).
While This Marine Collagen May Be An Okay Option, Better Ones Await
Generally speaking, I'm definitely not thrilled with the Marine Collagen of Nature's Life. However, at its core, it's an okay kind of option. I mean, there's nothing inherently too bad about it.
It adds Collagen, and it adds some vitamin C. It doesn't use any harmful additives or even just many of them. It's definitely not bombarding people with heavy marketing and luring people into buying the thing. And it also does have a very decent overall success rate. And they do in-house testing for it.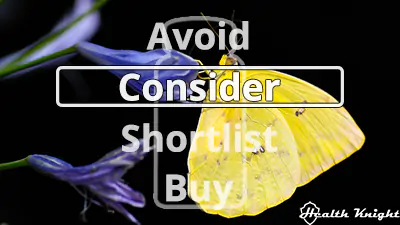 So, I guess it is an okay one to get. Hence, (out of avoid it, consider it, shortlist it, buy it) I would reckon we can consider the Nature's Life Marine Collagen.
On that note, I do think there are just overall much better options out there. Options that I feel can be significantly more impactful as far as the benefits go. To that end, my most favorite one is the Live Conscious (LiveWell) Collagen Peptides (full review with a summary), amazing price, busted quality.
Whereas if it has to be a Marine Collagen, I would recommend going with the Truvani Marine Collagen (full review).
Above all, I hope this Nature's Life Marine Collagen review helped you find the information you were looking for. What might be the reason for those high success rates? Do you think they are legit or somehow inflated through marketing or other ways? Let me know below. Also, feel free to leave your own personal reviews on the product.