|  Marketing  |  Ingredients  |  Additives  |  Reviews  |  Pricing  |  Overall  |
This Amandean Marine Collagen review will take an in-depth look at all of what this particular supplement has to offer.
Thus, throughout the article, we will dive into the promotional materials and all the claims, beneficial ingredients, potential benefits, additives, as well as we'll explore customer reviews, assess the global success rates, and look into pricing.
This Amandean Marine Collagen Review To Offer Most In-Depth Look
According to the manufacture, Amandean Marine Collagen (also known as Amandean Premium Anti-Aging Marine Collagen Powder) is a "graceful aging fish collagen powder sustainably sourced from wild-caught cod in the pristine waters of the North Atlantic." Per their words, it's about being " an easy part of your daily routine" and being of "the best ingredients on the planet." So, it's absolutely awesome sounding, right [R]?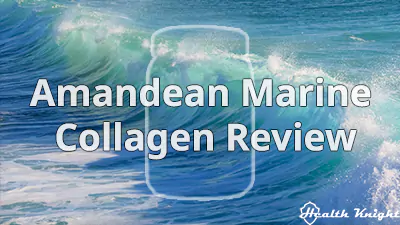 As for the product page itself, I believe it's a very well-designed one. It's properly spacious, really readable, and it has plenty of great visuals. It certainly leaves a great impression.
To that end, it's very unlike something like the Organixx Clean Sourced Collagens (review) or PureNature Collagen Ultra (review).
As for the marketing, it doesn't differ much from products like the Olly Collagen Peptides (review) and Orgain Collagen Peptides (review). Meaning, it's got the subscribe and save option. The Amandean also takes advantage of testimonials, customer reviews, free shipping, and a 90-day money-back guarantee.
As for the benefits, this Marine Collagen promises quite many. It insists on healthier joints, bones, hair, nails, and skin. It also promises that we're going to be more energized, flexible, and have higher endurance capacity. And then there's also a claim on supporting a healthy gut and faster recovery times after exercise.
On top of all that, it's also claimed to be Non-GMO, Gluten-Free, Fat-Free, and Shellfish-Free while also being 100% Natural.
So, supposedly truly plenty to expect and to love about the Amandean Marine Collagen. But is the supplement a truly great one?
The Core Ingredients Are Looking Pretty Solid & I Love The Abundance
There are a lot of Collagen supplements that are almost multivitamin-like. A perfect example of this include the It Works CollagenWorks (review). Then, there are those that tend to add just one or a couple of extra substances like the Garden of Life Collagen Beauty (review). Lastly, there are those that provide only Collagen like Great Lakes Gelatin Collagen Hydrolysate (review). Of all these, the Amandean Marine Collagen falls in the very last group.

So, per a single scoop of the thing, we are getting 10 grams or 10,000 milligrams of Hydrolyzed Fish Collagen from wild-caught, sustainably sourced cod of the North Atlantic. This is the single and only ingredient it offers.
The only other thing is that they also provide the typical amino acid profile. Which is always nice to have.
As for those promised benefits, I feel it has the capacity to deliver on all of them, to some extent. I mean, personally, I'm not that sure about it helping us be more energized but other than that, it's definitely within the realm of possibilities. Even more so, given all we've seen by other Marine supplements [R, R, R, R, R].
Meaning, if we compare it to other marine-sourced Collagen supplements, it's likely among some of the most abundant ones. To illustrate, Nature's Life Marine Collagen (review) only offers 1,100 milligrams whereas NeoCell Marine Collagen (review) is just 2,000 milligrams. Which is 5-10 times less than what we have here.
Obviously, it also has more capable rivals. Still, the point remains. It's got every bit of abundance to help us feel the full effect of Marine Collagen. I mean, 10 grams per scoop is a good, solid amount for a Collagen supplement to have [R, R, R, R].
Also, I love the sourcing in this one. Cod from North Atlantic is great. Hence, the only real downside I would say is probably the aspect of it not being third-party tested (which is what I believe is the highest quality standard). It is certainly not the end of the world but it is something I would very much prefer from a Collagen supplement.
To Review Additives, It's Basically The Best Way How To Go About It
Often additives get overlooked. Not only by customers, reviewers, or bloggers but also by a good amount of nutritionists and even a fair share of doctors. I feel many of them hold these without-solid-grounds-existing convictions. Convictions that additives (the added inactive ingredients to supplements, medicine, or processed food) can't harm us.
But as the famous philosopher Friedrich Nietzsche has said, "Convictions are more dangerous enemies of truth than lies" [R].
To illustrate, stuff like High-Fructose Corn Syrup or Artificial Colors is the stuff that frequently gets added to our food, supplements, and medicine. At the same time, these substances are known to be truly detrimental. I mean, we're talking diabetes, obesity, a wide range of different cancers. And there's a ton of other stuff. They're essentially everything but healthy [R, R, R, R, R, R, R, R, R, R, R, R, R, R, R, R, R, R].
So, what about the Marine Collagen of Amandean?
With it, we won't get any of those troubles at all. Moreover, the supplement does not use a single additive. It's additive-free. And hence, it's really fine to claim and being 100% Natural (despite me not being a fan of that claim in general at all)
But yeah, not having any additives is not a common occurrence with supplements. In fact, I feel about 99% of all supplements can't really do without them.
I mean, don't get me wrong. Additives are not something we must always avoid. There are a great number of harmless and even beneficial ones that there's no need to ever steer clear of. It's just that it's always nice to come across another supplement that has the capacity to not use any.
And so, I feel it's fair to say that not only does this particular product has every reason to be helpful, but also it really has no reason to be harmful.
As Far As Customer Reviews, I Appreciate The Transparency A Lot
Now, all of the theoretical aspects out of the way, let us have a dip in all of the practical ones. The customer reviews.
On the product page, we can find a total of 1,257 Amandean Marine Collagen reviews. It's a number that hasn't actually changed for more than a year when I first reviewed the product. Which is odd but still.
Either way, it overall doesn't really look like the type of supplement that likely edits, deletes, and adjusts the bad feedback as we've seen with stuff like Skinny Fit Super Youth (review) and Olly Glowing Skin (review). I mean, it does also have negative comments. Still, that doesn't quite guarantee that it's the truth.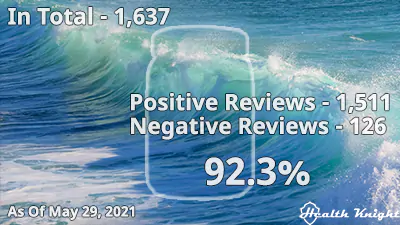 To that end, I feel it's never enough to just look at the on-page reviews displayed by the manufacturer on its website. It is also paramount to discuss and research for the Amandean Marine Collagen reviews that can be gathered among the third-party sellers and retailers out there. And so, I pursued exactly that.
In total, I managed to come across 1,637 pieces of input from customers. Of these, 126 were negative (72 one-star, 54 two-star) and 1,511 were positive (85 three-star, 207 four-star, 1,219 five star). This leaves us at 92.3%. Which is about 1.3% less than it was a year ago. But it's still very close to the success percentage they have on their page.
And so, as far as Amandean as a supplement manufacturer goes, I like them. I like that they pursue this honest and transparent philosophy with the reviews. It's always a liberating thing to come by.
As for the essence of the reviews, yes, there are plenty of those that are really satisfied with the product. But then, there are quite a variety of not ideals. Some say it smelled terrible. For others, the taste or poor dissolve was what got them. Also, others felt there was no benefit at all. And then, some said it just made things worse with stomach discomfort and breakouts.
It also seemed that this might be one of those supplements plagued by fakes or really poor storing conditions which result in a spoiled product. To that end, I would recommend sticking with the manufacturer's website just to be on the safe side.
It Does Offer Significantly Better Deals Than It's Most Capable Rivals
The other practical aspect I love to look at is pricing and everything that has to do with that. When looking at those Amandean Marine Collagen reviews, I didn't really come across any negative comments complaining about the price. Would that mean that it's actually a really great deal? Well, typically it's not a sure-fire thing.
So, per container (50 servings), the supplement of this review costs typically $41.95. We can get it with a 10% discount, however, if we subscribe. And given the flexibility available on the subscription (namely, the option to cancel any time), I believe it's the price we should be looking at. So, $37.76 per container.
Now, with the 50 servings, that's $0.76 per serving which is 10 grams. In other words, we're looking at 75.5 cents per every 10 grams of Marine Collagen. So, the question is how does that compare?
It actually compares quite great against something like the Vital Proteins Marine Collagen (review). That one typically costs $29.75 for a container of 18 servings which are 12 grams of Collagen each. Hence, $1.38 per every 10 grams of Marine Collagen.
I mean, yes, the Vital Proteins option has third-party testing to round it all off. But other than that, the difference is pretty huge in terms of the price between the two. I mean, Amandean's basically half the price.
It's rather similar also with the Truvani Marine Collagen (review). This one we can typically get for $38.24 per month. Which is $1.27 per serving of 12 grams. Which is $1.06 for every 10 grams of Marine. So, it's not as huge of a difference as with the Vital Proteins. But Amandean is still 37% cheaper. Granted, Truvani does also do third-party testing which the supplement of this review sadly doesn't.
Overall, I Think The Amandean Supplement Is Worth Shortlisting
I think that the Amandean Marine Collagen has quite a few good things going for it. I mean, it's got some great sourcing as far as the main protein. It's got no additives to mess things up. It's got some pretty competitive pricing even when compared to the most quality options. And it's got pretty fine customer reviews with a 92.3% success rate.
I mean, it is just a genuinely promising thing overall while also just being a great, honest, transparent brand to spend money on.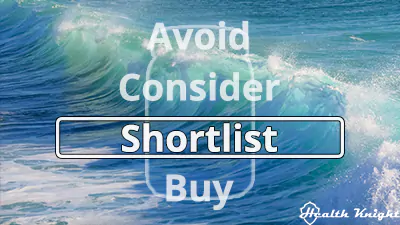 But there is one thing that we haven't really analyzed that I'm not so keen on. It's the thing with third-party testing which is something that the Marine Collagen of Amandean doesn't have.
I mean, while I haven't really emphasized this in this article, I believe third-party testing is actually a really, really important thing to have.
Because our oceans and seas are pretty heavily polluted these days, and so, given that all of this pollution typically accumulates one way or another in the fish I don't see how a fish Collagen can ever afford to not be tested for purity.
It might not be as bad as going for a Fish Oil supplement with no purity check but it still feels to be pretty suboptimal, to say the least. And so, (out of avoid it, consider it, shortlist it, buy it) I would reckon we should shortlist the Amandean Marine Collagen. It's great but third-party testing just feels too important.
On that note, if you're specifically after a Marine Collagen, I believe the Truvani Marine Collagen is the way to go. Other than that, I believe the Live Conscious Collagen Peptides (full review with a summary) is the best Collagen product there currently is. It's the one I prefer.
Above all, I hope this Amandean Marine Collagen review helped you find the information you were looking for. Is the supplement something you see yourself investing in? Or will you probably rather prefer one of the other suggested? Let me know below. Also, feel free to share your own personal reviews on the thing below.