|  Initial Thoughts  |  Core Ingredients & Amounts  |  Additives  |  Success Rate  |  Manufacturing Practices  |  Final Thoughts  |
This NeoCell Super Collagen review is about exploring the supplement to the deepest of depths and thus, provide the most comprehensive article around.
And to make that happen, we will be considering the claims, we will be evaluating the core ingredients, as well as the potential benefits you'll likely to come across due to these ingredients. On top of that, we'll also consider the otherwise often overlooked part of any supplement – the additives. And lastly, we'll also examine the global success rates in order to find if it has been working well for people or not.
Initial Thoughts & Claims Made For The NeoCell Super Collagen
According to the manufacturer, NeoCell Super Collagen is a supplement that nourishes your skin from within while also benefiting the health of your skin, hair, and joints [R].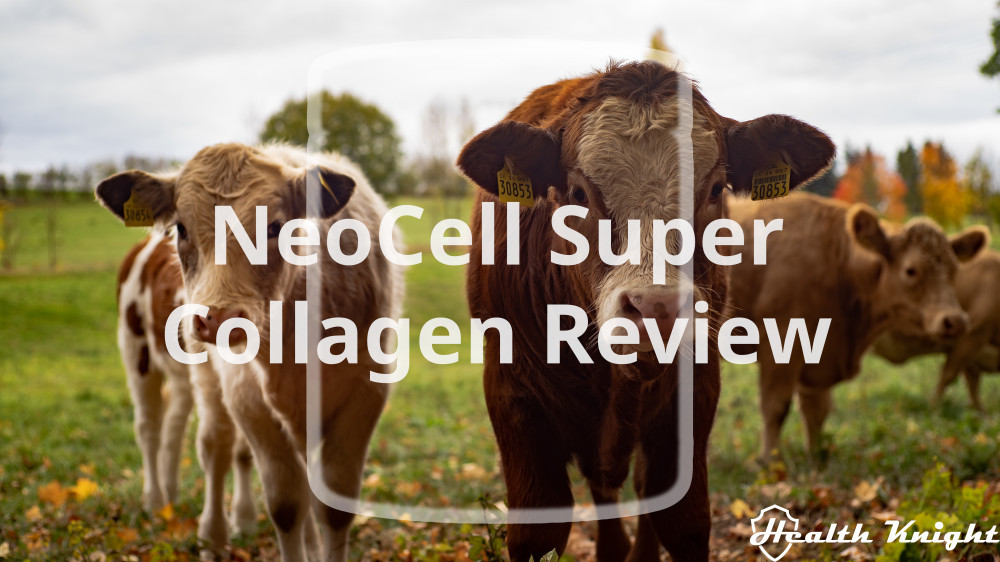 Its description page is one of the really concise ones. And in that, it does not remind me of the pages for supplements like Nature's Bounty Hair, Skin & Nails.
I mean, there's no lengthy texts or gabbling about the many benefits over and over again.
In that sense, it is very unlike what we've seen from Research Verified. Because it doesn't feel as if the page is doing every single trick and tactic just to get you to buy the supplement.
No, the promotional materials of NeoCell Super Collagen are very laid back. Furthermore, you won't have to spend any more than a few minutes to read the whole thing.
Moreover, it doesn't conspicuously regurgitate the likely benefits as we've seen with brands like PureNature.
As for the claims, they don't really go any further than persisting on benefits to skin, hair, nails, and joints, as well as promoting healthy collagen formation. Though it has to be mentioned that the background information does put forth this idea of you enhancing your natural beauty with this from within (which kind of derives from the basic benefits they promise).
Then there are some directions as to how to best use it. Of course, product pictures. As well as customer reviews that, as far as I can tell, remain the original version of the posted ones.
Meaning, the manufacturer doesn't just remove or edit the negative comments as it's probably has been the case with brands like Vimerson Health and Bio Schwartz. It's more like Onnit that embraces the negativity instead.
Also, the NeoCell Super Collagen is said to be Non-GMO, Gluten-Free, Paleo-Friendly, Soy-Free, Lactose-Free, Wheat-Free, Starch-Free, Corn-Free, without artificial flavors, and grass-fed.
So, all in all, at least as far as the promotional materials go, a solid supplement.
But is it really worth your investment? Let's dig deeper.
Claims Are Conservative But Benefits Go Beyond
NeoCell Super Collagen is all about the Collagen and nothing but the Collagen.
Per serving it offers 6.6 grams or 6600 milligrams of Hydrolyzed Bovine Collagen. One serving for this one equals one scoop. And you're getting 30 such servings/scoops per container/supplement.
In that regard, as far as I can tell, the active ingredient is in a pretty solid amount (per serving). I mean, it's essentially the same what other similar products that have proven to work use [R, R].
So, what kind of benefits are we potentially looking at?
Well, you'll get all of the claimed ones. However, that's not the end of it.
Meaning, on top of strengthening your nails, promoting skin elasticity and youth-like look, reducing wrinkles and cellulite, reversing skin aging, improving hair growth and joint health, it can also improve teeth, muscle, and bone health, better your blood sugar regulation, ease bedsores, boost metabolism, heal leaky gut, as well as improve your health in other ways [R, R, R, R, R].
So, if anything NeoCell are very conservative in their promotional materials.
Which I see as a good thing. But can to an extent undersell their supplement. At least superficially.
Additives – There Are Some Potential Side Effects To Some Flavors
This next section is about exploring the other ingredients that most people never notice and even fewer ever talk about. Additives.
These are the ingredients that are often necessary to make supplementation forms, like tablets, capsules, etc. possible. But they can also be used to add certain colors, flavors, and even alter the way the tablet or capsule dissolves, as well as affect and influence its other properties.
But more importantly, not every single addition a supplement can have is a harmless one. Namely, the wrong kind of additives can cause potentially very hazardous side effects. Thus, always know your supplement.
In this regard, when it comes to NeoCell Super Collagen, the additives added depend on the flavor you choose.
In total, there are three and each of them come with their own set of additives.
So, let's take a look at all of them.
First, we have the unflavored NeoCell Super Collagen. And in regards to additives, it's likely the best option as it has none. All you're getting is pure Collagen.
About 1% of all the supplements out there are able to avoid the added extra other ingredients completely. In that regard, it's definitely a rather rare thing. But a possible one (as you can see).
As for the second, we have the French Vanilla flavored NeoCell Super Collagen.
This one has two listed additives – Natural flavors and Citric Acid. That, however, likely are not two at all. Meaning, this notion of Natural flavors is likely comprising within itself a couple of them.
Many people "natural" immediately associate with healthy but that's a fool's game. In truth, while some natural flavors can be extremely beneficial, there can also be nothing natural and thus, healthy about them. It really all depends on the manufacturing practices that the manufacturer employs in any given case [R, R, R, R, R, R].
This is something we will touch upon more in a separate section. But for now, let's discuss the Citric Acid.
Generally, it's a very safe additive. And even more so when it's a Non-GMO kind. Which in this case it is [R, R, R, R, R, R, R, R].
However, some studies have suggested that it might actually improve aluminum absorption. Given that aluminum is not really a metal you'd want to be intensifyingly picking up, you should make sure that you do not consume such a supplement out of an aluminum container or stir it with an aluminum utensil [R, R, R].
Plus, there's this aspect of potential Citric Acid's toxicity if you otherwise consume it in abundant amounts from processed food. In that sense, not only can it create free radicals in excess amounts but also it can cause nausea, abdominal pain, tooth decay, diarrhea, vomiting, and other unpleasant side effects [R, R, R, R, R, R, R].
So, something to think about when going for that French Vanilla.
Third, there's also the option of choosing the Berry Lemon flavored NeoCell Super Collagen.
This one uses Organic Natural Flavor (they don't mention what kind exactly), Citric Acid, Stevia Leaf extract, and Beetroot. Of these, for the Organic Natural Flavor applies the same that applied towards the Natural Flavors, meaning, it's all about the manufacturing practices. Whereas the Citric Acid we already went over.
As for Stevia Leaf extract, it's arguably one of the very few actually healthy ways of sweetening any product. It doesn't mess with blood sugar levels and doesn't have the other devastating effects of processed sugar [R, R, R, R, R, R, R, R, R, R].
Whereas the Beetroot is a natural source derived color. And while this particular one does seem to not be of any health concern, there are other colors from natural sources that can be. Hence, just because a color is of natural origins, doesn't mean it can't bring havoc on your health [R, R, R, R, R, R, R, R, R].
So, all in all, I wouldn't say it's all marvelous, especially given the additional aspect we'll get to in a bit.
But before we do, let's look at the global success rates.
Global Success Rates Are Extremely High, Like Ridiculously High
So, how beneficial has the NeoCell Super Collagen been for people who've actually purchased it and done it for a while?
Taking a comprehensive look at almost every single real customer review I could find online, revealed that this particular one has been helpful to many, truly many people.
In fact, I found a lot of people that absolutely swear by it. And many have done the before and after pictures, which pretty much without a shadow of a doubt approve that there is an increase in, for example, hair length or nail strength/health.
But how many have experienced these positive results exactly?
Well, as far as my research showed, it seems that 94.6% out of all people who've done it, have found it at least to an extent beneficial (922 one- and two-star reviews out of 17,005).
Moreover, given that people are typically more prone to reporting negative experiences than positive ones, the actual global success rate is likely even higher than that.
So, the NeoCell Super Collagen is all good then?
A great supplement to buy?
Well, despite the truly positive success rates and beneficial outcomes it has had for an abundance of people, I feel there are risks too great also at stake.
Here's what I mean.
Manufacturing Concerns – They Do Not Reveal A Single Thing
One of the most important aspects of any supplement is something that typically does not get written on the label (though certain seals and certifications can imply high-quality). Manufacturing practices.
This, similarly as it is with additives, is often overlooked or disregarded but without any real reason.
This is because the actual manufacturing practices can make all the difference between a solid supplement and a terrible supplement irrespective of the actual ingredients.
Meaning, a supplement can have amazing core ingredients and only harmless additives but it can still be harmful as due to poor manufacturing practices all kinds of impurities and admixtures can happen. That needless to say can potentially unleash true hell on your health.
Now, this is not to say that this is necessarily exactly the case with NeoCell Super Collagen.
However, it potentially could be.
Moreover, given that they provide zero (not even exaggerating here), absolutely no information on their manufacturing practices and the quality of their supplements (at the writing of this article) [R, R].
Which makes you wonder what kind of quality are those Natural Flavors of. The very ingredients, the quality of which heavily depends on these practices.
At the time of creating this NeoCell Super Collagen supplement review, there are not even generic claims on their website that assure you that they are sourcing and purifying their ingredients properly, testing them, and making sure that they're of utmost quality [R, R].
Hence, as far as I can tell, I feel that they simply might not care about that supplement quality (definitely not enough to even simply write about it). And, to put it lightly, that's a massive red flag.
As any manufacturer that doesn't, I feel it is not a manufacturer worth investing in.
There Definitely Are Better Options Than This NeoCell Super Collagen
Superficially the NeoCell Super Collagen looks great.
It provides solid amounts of Collagen, additives to most superficially will also seem great. Moreover, there's a ton of reviews that approve that the product works, plus that insane 94.6% global success rate.
However, I feel a more meticulous look reveals that the supplement could actually be a hazardous one. Especially, given that we know nothing (and there's zero effort on their part to let us know) about how they make their products and what kind of quality they embody.
So, despite the fact that people have had success with it, you might be putting your health on the line and risking your well-being for no good reason.
Especially given that there are other supplements out there that are both created under decent manufacturing practices and have shown to be highly beneficial. One such great example is the Live Conscious (LiveWell) Collagen Peptides (full review with a summary).
Above all, I hope this NeoCell Super Collagen review helped you find the information you were looking for. Do you know anyone that has done this at least for some time? Do they recommend it to others? Was there something about this that you specifically liked? Let me know below.