|  Initial Thoughts  |  Core Ingredients, Benefits & Additives: Peptides, Turmeric, Beauty  |  Success Rate  |  The Best?  |  Final Thoughts  |
This Garden of Life Collagen review is about exploring the very core of this supplement brand, as well as all aspects related to it.
And to do that, we will analyze the claims, we will assess how true they are given the core ingredients and the associated benefits. We will also look past that and evaluate the ingredients others often ignorantly forget to talk about. And, of course, we'll also assess the global success rate, namely, how well this has worked for people who've actually tried it.
Garden Of Life Collagen Review – Initial Thoughts & Claims
I feel when speaking of Garden of Life Collagen it's not really enough to talk just about a single supplement. In truth, there are at least three supplements that need to be addressed – Collagen Peptides, Collagen Turmeric, and Collagen Beauty [R].
According to the manufacturer, these are the supplements to build your beauty from within.
All three of these products are said to be made out of grass-fed collagen that is also "Non-GMO tested and certified, Keto Certified, Paleo Friendly and NSF Gluten-Free".
So, as they put it: "Whether it's fortifying hair, skin, and nails or supporting healthy joints and mobility, we have the clean, convenient answer in our collagen powders" [R].
Whereas exploring each of their individual pages separately provides a bit more engaging look at each of the three individual supplements.
As of themselves, these description pages only provide the absolutely necessary information and in that sense, they don't overload you with text, much like we've seen with supplements of the NeoCell Super Collagen or the Nature's Bounty Hair, Skin & Nails.
Meaning, they're very apart from brands like the Research Verified or the PureNature, the description pages of which often (if not all the time) feel like they're doing every trick in the book just to sell.
All of the three supplements come in a powder form and are intended to be added to your daily diet through smoothies, shakes, coffees, drinks, even baking, and any other way that you deem viable. Namely, you can pretty much add them to any meal to make that even more nutritious, healthy, beneficial.
So, all in all, at least as far as I can tell from the promotional materials, all three of the Garden of Life Collagen options sound solid.
But is that also the case when we pull them apart and dissect them truly in-depth? Let's see.
Examining The Exact Ingredients, Benefits & Additives For Each
While there are brands that often create supplements where each supplement only incrementally differs from the next, it's not exactly the case for the Garden of Life Collagen.
For these, there's quite a variety in terms of ingredients (both active and inactive) they use and thus, what kind of benefits they are likely to manifest in people's lives.
Thus, for more clarity and straightforwardness, in the following sections, we'll take a look at the ingredients, benefits, and additives for each individual supplement separately.
Garden Of Life Collagen Peptides Review – The Most Collagen & Unflavored (No Additives)
Garden of Life Collagen Peptides is like their main, primary, flagship Collagen supplement. That the two other kind of build on.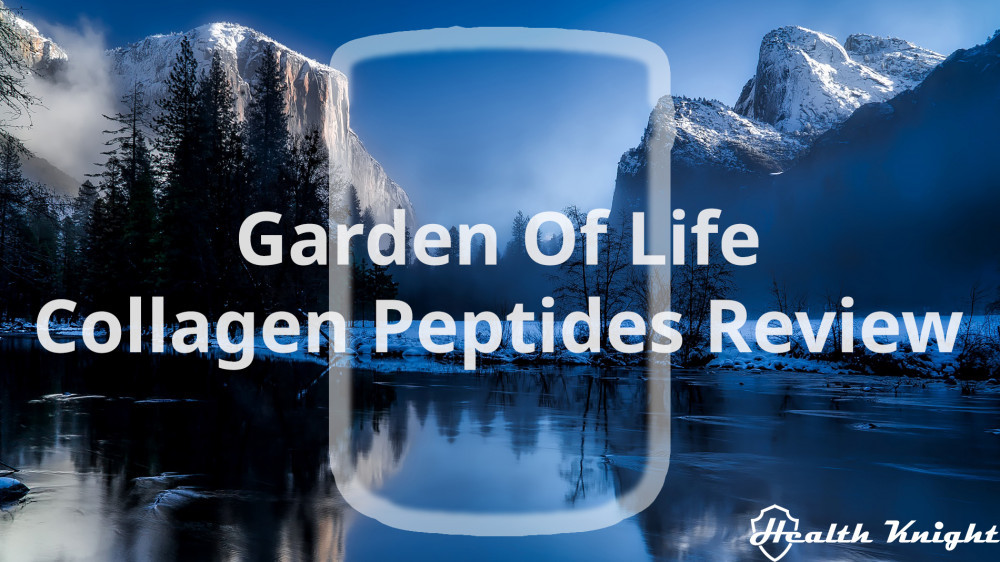 Per scoop (per serving) this one provides 20 grams or 20,000 milligrams of grass-fed Bovine Hide Collagen Peptides along with 10 milligrams or 1.5 billion CFU of Lactobacillus Plantarum (probiotic).
In that sense, the Garden of Life Collagen Peptides is extremely abundant as a Collagen source (but not too abundant to backfire on your health), and in that, I feel with time it can, for sure, bring all the benefits typically associated with such supplementation [R].
It can promote skin elasticity and youth-like look, reverse skin aging, strengthen nails, reduce cellulite, stretch marks, and wrinkles, improve teeth, bone, and liver health, promote hair growth, boost metabolism and regulate blood pressure, better your blood sugar levels, heal leaky gut, repair joints, ease bedsores, augment wound healing, as well as help, keep your muscles healthy among many other benefits [R, R, R, R, R].
As for Lactobacillus Plantarum, it's a probiotic strain, also known as pro-health bacteria that help our microbiome and digestive health in numerous ways [R, R, R, R, R, R, R, R, R, R, R, R, R, R, R, R, R, R, R, R].
In particular, this exact strain has been proven to be very resilient (survives stomach acid with ease) and is associated with benefits like better digestive health and immune system's function, reductions in blood triglycerides and "bad" cholesterol rates, improvements in skin health, as well as it helps against loose stools and abdominal pain [R, R, R, R, R, R].
It may also help fight, eczema, diabetes, obesity, anxiety, high blood pressure, and high blood sugar, assist wound healing, and dental health among other potential benefits [R, R, R, R, R, R].
So, if anything, the added probiotic strain is likely to improve the overall benefits you'll gain from Collagen while also just helping your gut health thrive and beyond that.
A great combination if you ask me.
As for the additives (ingredients that are often overlooked but can affect your health quite a bit both positively and negatively), the Collagen Peptides of Garden of Life has none.
This is not an often occurrence. However, from time to time it is possible to come across such supplements. That said only about 1% of all of them can be actually made that way. Hence, it should never be an end in itself. Moreover, because by no means are all additives bad. Quite the opposite.
But care must be taken (always make sure you know your additives).
Overall, purely from the ingredient perspective, Garden of Life Collagen Peptides is arguably one of the best Collagen supplements I've seen.
Garden Of Life Collagen Turmeric Review – Patented Collagen With The Miracle Of Turmeric
While its Collagen Peptides counterpart was all about the Collagen, the Garden Of Life Collagen Turmeric adds to the equation also Turmeric and Black Pepper. But in that, it does cut back on the total Collagen amount quite a bit.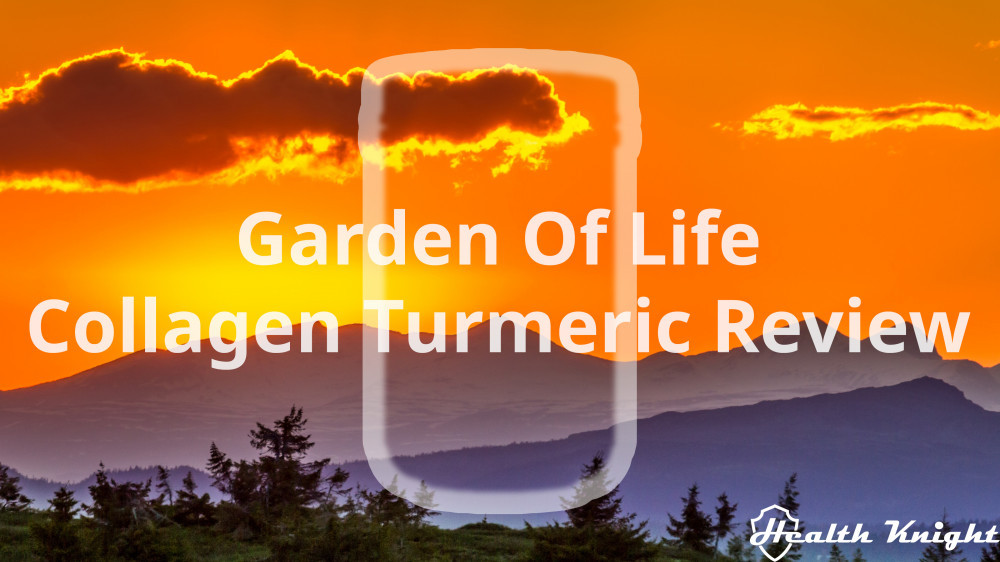 This supplement offers 10 grams or 10,000 milligrams of grass-fed Hide Collagen Peptides coupled with UC-II Chicken Cartilage with Undenatured Type II Collagen (a patented version of Collagen proved to be effective in various studies) [R, R, R, R].
On top of that, there's also the 563 milligrams of Turmeric blend that consists of Organic Fermented Turmeric Root, Organic Turmeric Root extract that is standardized to 95% Curcuminoids (50 milligrams), and Organic Black Pepper Fruit. As well as the supplement builds on that same idea of probiotics that the Collagen Peptides version does. Namely, 10 milligrams or 1.5 billion CFU of Lactobacillus Plantarum.
The benefits of Collagen and the particular probiotic strain we already went over. So, let's talk Turmeric, Curcuminoids, and Black Pepper.
Arguably the most beneficial part about Turmeric is Curcuminoids. They are the main culprit of most benefits typically associated with Turmeric as a herb [R, R, R, R, R, R, R, R].
Raw Turmeric typically contains only about 2-5% of Curcuminoids (averages at 3%). This is why these extracts often are standardized. Which really is just a fancy way of saying that the total Curcuminoid percentage of the extract is improved. For example, if it's standardized to 95% Curcuminoids, it means that of the total amount 95% are Curcuminoids [R, R, R, R, R, R, R, R, R, R, R].
Thus, in the particular blend, we get 50 milligrams of that part of the blend which is standardized. And 2-5% of it from the raw about 500 milligrams Organic Fermented Turmeric Root. Leaving us at about 60-75 milligrams total. Which is not a lot [R, R, R, R].
Then there's the added Black Pepper, that's sole purpose isn't to provide additional antioxidative properties (though it does that as well), but to improve the absorption, hence benefits of Curcuminoids. In this regard, studies have shown that this addition can improve the beneficialness of these Turmeric compounds by 2000% (20 times). A very necessary and desirable complement if you ask me [R, R, R, R, R, R, R, R, R, R, R, R, R, R].
So, what about those benefits?
Curcuminoids can improve brain function, aid immune system's function, promote liver and cardiovascular health, support joints, muscles, and digestive health, help battle depression, obesity, diabetes, aging, high cholesterol levels, free radicals, pain, Arthritis and a huge range of all kinds of nasty conditions. Additionally, they also possess powerful anti-inflammatory and anti-cancer properties [R, R, R, R, R, R, R, R, R].
As for the additives, this one is not without. There's the Organic Apple Flavor, Organic Cinnamon, Organic Stevia Leaf extract, and Potassium Chloride.
Of these, given the manufacturing culture they implement, Organic Apple Flavor is probably beyond harmless. The same goes for Organic Cinnamon and Organic Stevia Leaf extract (natural and healthy sweetener) [R, R, R, R, R, R, R, R, R, R, R, R].
Whereas Potassium Chloride though generally shouldn't cause problems it definitely can if you happen to have an allergy towards it (though that applies to all ingredients) or in case you're ailing from heart or kidney-related problems. However, it must be noted that it is also used as the active (beneficial) ingredient in Potassium supplements. Hence, by no means, as potentially dangerous to avoid completely and in all supplements [R, R, R].
Ultimately though, while I overall do like the supplement, its ingredients and that what they are trying to get at here, I don't think it's a worthy investment.
This is because, sure, the total Collagen amount is more than enough to confidently deliver benefits. However, I feel the amount of Curcuminoids is beyond miserable to make any real improvements a reality [R, R, R, R].
Thus, inevitably you would be missing out on quite a lot. Which really is not a good thing. Furthermore, there's also less Collagen than what you could be having.
I mean, I wouldn't say that the supplement is a complete waste as it delivers more (and better) Collagen than that what you find in both the above 94.6% global success rated NeoCell Super Collagen and the above 90% global success rated Youtheory Collagen.
Still, the Garden of Life Collagen Peptides offers twice as much. Whereas if you want that added Turmeric Curcumin benefit, there's no better way than a proper supplement. Something like the Nutrigold Turmeric Curcumin Gold.
Garden Of Life Collagen Beauty Review – Putting The Emphasis On Hair, Skin & Nail Health
Garden Of Life Collagen Beauty similarly as the Collagen Turmeric cuts back on total Collagen amount (but not as much) to add some additional ingredients for more emphasis on hair, skin, and nail health.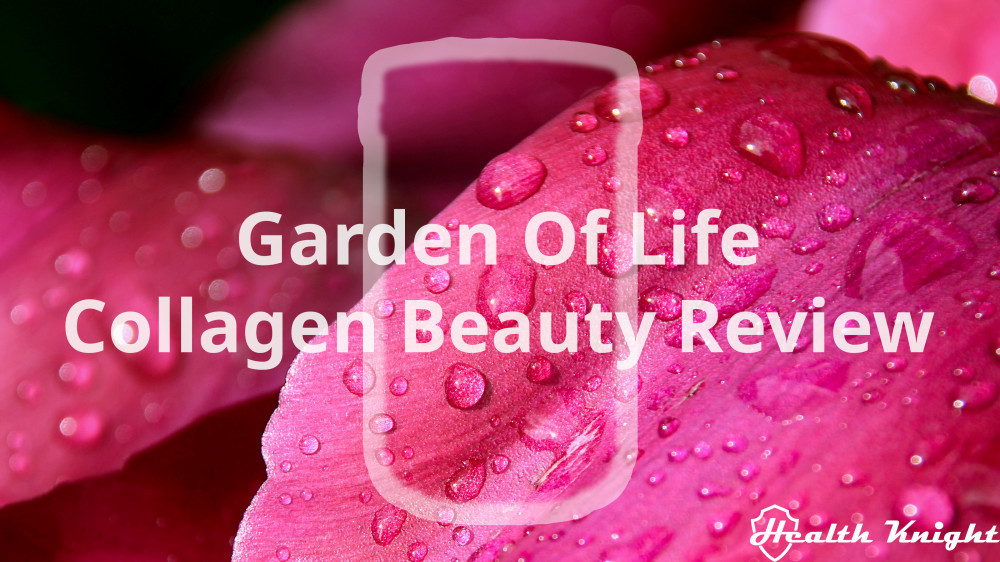 This supplement provides the foundation of a total of 12 grams or 12,000 milligrams of Collagen Peptides and 10 milligrams or 1.5 billion of Lactobacillus Plantarum. Plus, it gets, 10.5 milligrams of Silica derived from Organic Bamboo extract, 45 milligrams of vitamin C from Organic Emblic, and 2,500 micrograms of Biotin sourced from Organic Sesbania Grandiflora.
And on top of it all, there's also 204 milligrams of Beauty blend that consists of the three already mentioned herb extracts – Organic Sesbania Grandiflora Leaf extract, Organic Emblic extract, and Organic Bamboo extract.
As for the benefits, again, what regards to the Collagen Peptides and the Lactobacillus Plantarum, that we already went over.
Whereas Silica is an essential ingredient for joint, hair, bone, teeth, skin health and collagen production. Vitamin C is a vitamin crucial for proper immune system's function, body's healing (including collagen production), and protection against free radicals among other important functions. But Biotin or vitamin B7 arguably is the most capable additional force in making sure that there are loads of extra benefits to hair, skin, and nails [R, R, R, R, R, R, R, R, R, R, R, R].
Organic Sesbania Grandiflora is a herb originally from India (or Southeast Asia), almost all parts of which possess some sort of medical properties. As for leaves, they embody anti-fungal, anti-microbial, anti-cancer, anti-diabetic, anti-ulcer, anti-inflammatory, anthelmintic, diuretic, and laxative properties. They also improve gut, liver and can help treat fever, migraines, respiratory disorders, sinusitis, and other ailments [R, R, R, R, R, R, R].
Organic Emblic, more commonly known as Indian Gooseberry or Amla, is a fruit used in Ayurvedic medicine for millenniums. It's associated with improved hair health, digestion, and immunity function. It also helps lower cholesterol levels, prevent heart disease, promote eye and liver health, support anti-aging, as well as battle diabetes and cancer [R, R, R, R, R].
Organic Bamboo is an edible shoot that's a true health food. It's extremely nutritious and possesses anti-inflammatory, anti-oxidant, anti-cancer, anti-bacterial, antiviral, and anti-venomous properties while also improving digestion and appetite, promoting weight loss, boosting heart health, curing effectively respiratory disorders, and having other benefits [R, R, R].
Thus, the Beauty blend is for a different kind of beauty. Namely, it won't really much contribute to anti-aging or hair, skin, and nail health directly. But instead, it's all about creating harmony and essentially an indestructible fortress from within.
As for the additives, there's Organic Flavors, Non-GMO Citric Acid, Organic Beet Juice Concentrate, and Organic Stevia Leaf extract. Of these, for the Flavors and Stevia goes the same that we already discussed in the previous section, whereas the Organic Beet Juice Concentrate for the color, if anything, is likely more than harmless, namely, beneficial (despite this not always being the story with natural colors) [R, R, R, R, R, R, R, R, R].
But when it comes to Non-GMO Citric Acid, one must be reasonable with. In our bodies, we have a lot of it. And generally speaking, it's definitely a harmless additive (borderline beneficial) as it's essential to health [R, R].
However, overdoing it through processed foods (many have this ingredient) can be a true detriment. In studies, it has been shown to bring unnecessary havoc to health through creating harmful free radicals and unnecessary improving aluminum absorption [R, R, R, R, R].
Which isn't a good thing as it has been linked to diseases like Alzheimer's, Parkinson's, and others. Whereas those free radicals can damage all molecules within the human body including DNA. Plus, those excess amounts can also cause abdominal pain, tooth decay, nausea, vomiting, diarrhea, and a few other adverse effects [R, R, R, R, R].
I mean, I might be splitting hairs here. As it's an essential ingredient to human life. But even those kinds can be harmful if you use them in excessive amounts (free radicals and mentioned side-effects) or drink from, stir, or store them in dishes or utensils that are made out of aluminum.
So, either way, overall it should be more than fine if you are mindful and reasonable in how and how much you consume Citric Acid on a daily basis (basically don't consume it every meal and you should be good).
All in all, purely from an ingredient perspective, Garden of Life Collagen Beauty does seem like a very viable investment, especially if you're into such added additional harmony-making from within.
Global Success Rates Are Okay; Had A Feeling They'd Be Higher
Now knowing the theory side of the ingredients, how beneficial has each of the Garden of Life Collagen supplements proved to be to people who've actually purchased it and done it for a while?
Taking a comprehensive look at almost every single real customer review I could find online, showed that all three supplements have been pretty helpful to many people.
So, how well exactly are they doing?
Well, when it comes to the Garden Of Life Collagen Peptides, my research showed that about 86.7% out of all people who bought it, enjoyed it. For Garden Of Life Collagen Turmeric, this was 89.1%. Whereas for the Garden Of Life Collagen Beauty it was the case of 88.2%.
That said, it's highly likely that the actual global success rates for each of these supplements are even higher than mentioned. This is because people are typically more prone to reporting negative experiences than positive ones.
Still, based on the ingredients alone, I had a feeling that the overall global success rates for these supplements will be well above the 90% threshold. But they aren't.
And I think I have a good sense of why.
When you examine the customer reviews in detail, a few trends become evident. And in that regard, most negative reviews fall into one of the two categories.
The first has to do with people feeling ripped off as they report that a brand new supplement is only about half of the big container full. Which although I do get, none of the people really complained that it actually contained fewer servings/scoops than what's indicated on the label.
My point being, does it really matter how half full the container is if you actually get exactly what is written on the label (20 or 28 scoops based on the supplement variation)? I mean, why would they ever say 20 scoops and then actually contain like 60 of those?
Whereas the second category has to do with the fact that there were people who didn't enjoy the taste or didn't think that it actually fit the description well. Which, again, is a group that didn't exactly complain about the supplement not working.
The only group that did complain about either of the Garden of Life Collagen supplements not working, was kind of a third group of reviews (that gave bad rating). But those were the absolute minority.
So, does the global success rate actually accurately illustrate how beneficial the supplement has been?
No, not really. If anything, I feel if we took away those two biggest groups of people contributing to negative reviews (too big container and didn't like the taste), we'd have three supplements that likely reach past 95% success rate.
Which Is The Best Garden Of Life Collagen To Go With?
Overall, given the estimated global success rates of the Garden of Life Collagen variations, I guess it's fair to say that all of the three supplements work.
However, which would be arguably the best to go with (in theory)?
Well, it depends (this is without taking into account any of the aspects discussed in the very last section of this article).
But one thing is for sure. The Garden of Life Collagen Turmeric is not an option that's viable. While it has the highest success rate, that doesn't change the fact that the Collagen tradeoff for Turmeric is insanely inefficient. Especially given how little of Curcuminoids you actually get. Which at the end of the day will be more than likely incapable to deliver the full range of benefits.
So, why bother? Trade it for a proper Turmeric Curcumin supplement like Nutrigold Turmeric Curcumin Gold if Curcuminoid benefits are to your liking. And couple it with either of the two remaining Collagen supplements by Garden of Life.
But if I had to choose, which one of the remaining two I feel is the better one?
Well, I could make a case for both.
But if I had to choose, I'd say that the Collagen Beauty version is probably the slightly better one.
Sure, it has considerably less Collagen within it than the Collagen Peptides version, but let's be real here – 12 grams is already plenty. Thus, that extra 8 grams might not be that big of a difference-maker. Furthermore, you can always scoop a little more (or two scoops) if you feel that's necessary.
Whereas when considering the added benefit of Beauty blend, Silica, and Biotin, that's something that overall may have a bigger positive impact (than those additional 8 Collagen grams on top of the already 12).
But in no way, this is to say that the flagship Garden of Life Collagen Peptides is not viable. In fact, it's very viable and in its essence, the better option if you want to steer clear of additives completely (or if you're not that sure about how much Citric Acid you're getting daily already) or if you want to put emphasis purely on Collagen. Which I definitely get.
At the end of the day, all I'm saying is that if we had to put both of those supplements head to head, I feel the Beauty thing might be the incrementally better alternative. But both can definitely do great things for you.
Or so, I used to believe…
These Used To Be Great, I Don't Recommend For The Time Being
While it used to be that if we had to sum it all up, it's hard to imagine a purely Collagen supplement better than what Garden of Life Collagen offers, I don't quite believe that's true anymore.
You see, a while back Garden of Life got acquired by Nestle (obviously, it took time for the already manufactured products to run out). What they claimed was that the quality of the Garden of Life supplements will not change. And that made perfect sense the way I saw it. Because I believed Nestle bought it because they recognize the trends that are happening in the supplement industry and people growing more aware of the potential harms of GMOs. And so, Garden of Life was their step in a positive direction. Their step of ensuring their longevity [R].
However, unsettling comments have since circulated the internet. Long-time consumers feel that the quality of the products is not what it used to be. Whereas others through various well-founded examples simply put it this way. "Nestle is a company that is a known global bully for their laundry list of crimes against humanity and deception on the quality of their products" [R, R, R, R, R].
And that is something personally I strongly don't agree with. And something I don't want to promote. Little did I know about Nestle. Which is now also the Garden of Life. Sad…
And hence, I am of the opinion that all three of the Garden of Life Collagen supplements are now something to better avoid. At least for the time being.
All that being said, there are true value options out there still. This is my utmost favorite one both in terms of the price and sheer quality – Live Conscious (LiveWell) Collagen Peptides (full review with a summary). Alternatively, you can also look into the Vital Proteins ones (full review). The price is not nearly as good though.
Above all, I hope this Garden of Life Collagen review on all three supplement variations helped you find the information you were looking for. What do you think of this whole selling-out to Nestle thing? Was it something that Garden of Life willingly did or was it something they were maybe in a way forced into? Or was it just too much money to not sell? Let me know below.
This article was last updated on October 25, 2020.