|  Initial Thoughts  |  Turmeric Amounts  |  Piperine  |  Additives  |  Success Rate  |  Conclusions  |
This PureNature Turmeric Curcumin review is dedicated to explaining every single aspect and detail when it comes to getting to the truth regarding the particular supplement at hand.
In the process, we will go over the claims, the beneficial ingredients, as well as the additives in the supplement. We'll also get a good feel of what the potential benefits are. Plus, we'll explore the customer experiences and the global success rates to assess whether or not this supplement works also in real life.
PureNature Turmeric Curcumin Review – The Claims & Initial Thoughts
According to the manufacturer, PureNature Turmeric Curcumin "is an all-natural supplement made from a potent blend of turmeric curcumin extract and BioPerine (black pepper extract)" [R].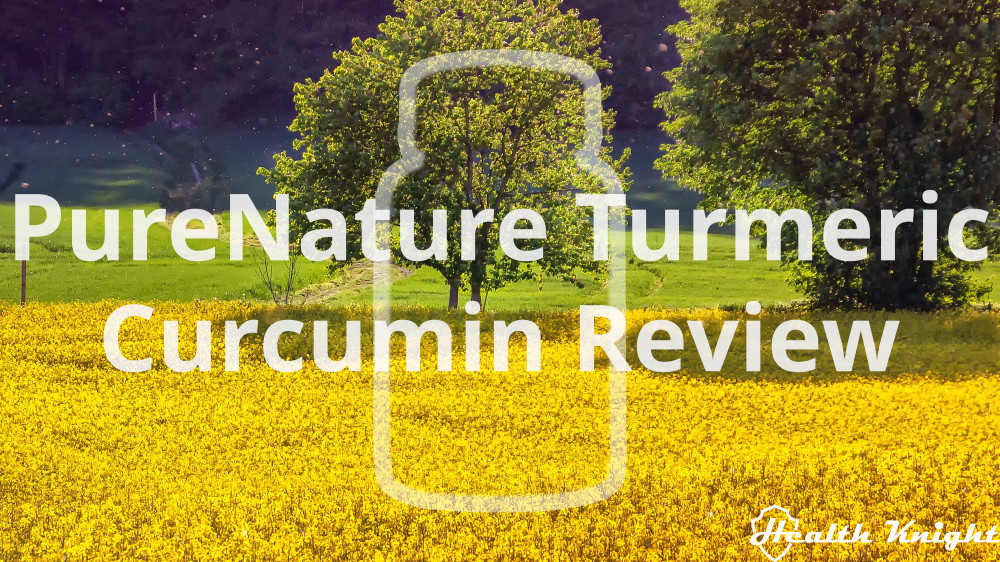 As they put it, "it's a blend specially designed to increase the body's antioxidant activities to better deal with health problems associated with aging. The antioxidant properties of PureNature Turmeric Curcumin target free radicals, a known trigger for several human diseases" [R].
But as far as the claims go, it's far from over.
This supplement is promised to relieve joint and back pain, boost brain function & memory, promote cardiovascular and digestive health,
Apart from the already mentioned, the supplement is also emphasized to contain all-natural ingredients, be GMP certified, as well as made in the USA.
Apparently they also make sure that their supplements are third party tested (which is always good). And you can even ask them for the respective certificate of analysis. Which I did. And we'll explore that a little later in this review.
As far as the description page itself goes, there's something you don't see very often. Most manufacturers make a single description page for a single supplement, sometimes they make one description page for multiple ones. Whereas PureNature (at least in the case with their Turmeric supplement) has two of those pages for a single supplement [R, R].
As far as I can tell, this is not deliberate.
Both pages contain 95% all the same information, both of them are definitely about the exact same supplement. The only thing that really differs is the layout of information R, R].
But generally the description pages offer both basic and some advanced information on Turmeric supplementation, they also offer a number of deals and discounts (if you go for more than one), and a list of customer reviews. Then there's also a FAQ section and some references in regards to some studies done on Curcumin and its interaction with Piperine.
Overall, by no means, it feels like a perfunctorily written thing.
But if all of the information that the page offers is insufficient to persuade anyone that buying PureNature Turmeric Curcumin is a good idea, they also offer a money-back guarantee [R, R].
They call it their "100% No-Risk Promise". Or in other words, if you're not satisfied with your purchase, you get a 1-year full refund.
So, they're very confident in the quality of their product, I can give them that.
But is it truly worth your money, or more importantly your time? Or is it just another well-masked disappointment?
Let's explore that in the following sections.
Curcuminoids Are Likely Scarce But Truly A Mystery
PureNature Turmeric Curcumin doesn't use any of the sophisticated Turmeric forms, like the Meriva, BCM-95 or the C3 Complex. Instead, it's all about the straight-up, simple approach to Tumeric supplementation.
In this supplement, you're getting 1300 mg of Turmeric (Curcuma Longa, root) with 95% Curcuminoids and 10 mg of BioPerine.
So, what are these ingredients exactly?
The idea of 95% Curcuminoids implies that a good amount of these incredibly important compounds, those that are typically associated with the positive effects of turmeric, should be present. But how much of them are there exactly [R, R, R, R, R, R, R, R]?
Well, I believe some would assume that all of that 1300 mg of Turmeric is standardized to 95% Curcuminoids. But that's a little bit hasty and it's not what I believe is indicated on the label.
You see typically when all of the amounts can be contributed to being standardized to contain 95% of Curcuminoids, it involves the term "standardized". Which really is nothing more than just a fancy way of saying that the supplement ensures the presence of at least 95% Curcuminoids [R, R, R, R, R, R, R, R, R, R, R].
But in this particular case, it's not how they put it.
Instead they've worded it with the word "with". Which implies something totally different.
Hence, I'm pretty certain that what you are actually getting is raw Turmeric Curcumin that is accompanied by some 95% standardized extract.
How much exactly?
No one knows.
Is it a good thing?
No. Because this basically means that just from the ingredients alone it's pretty impossible to tell if the PureNature Turmeric Curcumin supplement will actually be truly beneficial. And in that be a much better option than a number of its competitors, like those of Vimerson Health, Nature's Nutrition or even Research Verified.
I mean, for all we know there may be a truly insignificant amount of 95% Curcuminoids added. Which basically means that you'd have to completely rely on the regular about 3% you get from raw Turmeric. Which at the end of the day would be very insignificant (3% of 1300 mg equals only 39 mg of Curcuminoids) [R, R, R, R, R, R, R, R].
Hence, given that those Turmeric compounds are the very core, the PureNature Turmeric may as well be an incredibly useless supplement. Which is definitely true when compared to what other brands can offer.
Still, we will expand on this in one of the later sections.
For now, let's look into that BioPerine.
BioPerine Is Here To Add To Bioavailability (Thus, Improve Beneficialness)
BioPerine is the patented version of Black Pepper extract that is rich in its Piperine contents.
I've seen people being puzzled (and swear at this supposed uselessness). "Random ingredients that they don't need in their supplement" – they say. But this is only because they're completely unaware of the real reason Piperine being often present in Curcumin supplements.
Sure, it may add some inherent benefits on its own but as I said it's not the main purpose of it here.
The main and actually the sole purpose is that it significantly improves the absorbability of Curcuminoid contents.
How much exactly?
A lot.
It's estimated that when supplementing Curcuminoids with Piperine, a compound found in Black Pepper, the supplement becomes about 20 times more effective [R, R, R, R].
Which let's be real here – it's more than just a significant improvement.
In truth, it's a very necessary one. Otherwise, you're just not consuming all of the curcuminoids as efficiently as you could be. Which kind of means you're wasting your money.
Because I mean, which is better? Adding some minute amounts of Piperine or increasing the total Curcuminoid amount 20 times?
The benefit is likely to be the same from the overall supplement but I can tell you for sure that the latter is the significantly more costly option.
That out of the way, Turmeric and BioPerine are not the only ingredients present in the Turmeric Curcumin of PureNature.
Three Some Of The Safest Additives To Accompany The Active Ingredients
99% of all supplements out there use additives (also known as "the other ingredients"). And they do so for a good reason. Mainly because most formulas just wouldn't be possible without the addition of some assisting ingredients.
And that is also the case for PureNature Turmeric Curcumin.
Where it gets tricky though is that not all of these assisting ingredients actually have your best interest in mind. Some of them are outright harmful and thus, should be avoided whenever possible.
Hence, it's a good idea to always check those additives before embarking on a new supplement.
The additives we find in PureNature Curcumin are Cellulose (for the capsule), Microcrystalline Cellulose, and Silicon Dioxide.
None of these are harmful. Furthermore, even if you're someone that generally struggles with allergies, these still are additives that are very unlikely to cause any negative side effects.
They truly are as harmless as they come.
So, for PureNature Turmeric, the good side definitely is that it won't be any harmful. But as we touched upon already earlier the supplement may as well not be profoundly beneficial either.
On that note, is there a way to properly predict with high accuracy the likely beneficialness?
Success Rates. And that's exactly what we'll get into next.
So, The Success Rates Are Fine; How Is Marketing To Your Liking?
In theory, Curcuminoids should provide a myriad of various benefits. Such include better liver health and detoxification, promoting brain function, battling obesity and heart disease, easing depression, promoting massively joint health and helping beat Arthritis, slowing down aging. Furthermore, all of those other mentioned on PureNature Turmeric's description page is definitely possible [R, R, R, R, R, R, R, R].
But these benefits will only happen if the dosage is appropriate and the use is consistent (Turmeric Curcumin may take up to 8 weeks for the full benefits to take place) [R].
Given that the label of this supplement doesn't exactly transparently reveal if the dosage will be appropriate, we'll look at it from another perspective. Through global success rates.
Because if the success rates are decent, it would consequently mean that the dosage is solid.
But taking a comprehensive look at every single real customer review online, painted quite an interesting picture.
The thing about PureNature Turmeric Curcumin is that it's not really abundantly reviewed. At all.
Outside their description page, I found only 87 reviews for this supplement, whereas the description page offers 191. Which is a little crazy given that those 87 were across the entire internet (at the writing of this review) but 191 is just one page. Which happens to be the manufacturer's one.
And in that, you can say for sure that they are biased and the manufacturer has very likely altered them (deleted, modified, edited, etc.).
I mean, of those 191 reviews, there were only 4 that are 4-star ratings (5-star scale), the rest are all 5-star. Which kind of means that the supplement should be considered to have 100% success rate off of these alone. Which then should at least somewhat reflect also in global success rates from all other stores.
But it doesn't.
On Amazon, it's only 78% success rated. But if we take into account all other reviews found (of which 30 positive reviews come from a site I heard of the first time, pretty shady), it seems that the PureNature Turmeric Curcumin might enjoy 88% global success rate. Or maybe it's lower something like 80% or 85%.
Still, be that as it may, the difference between the global ones and the ones found on the manufacturer's website is just too significant. Plus, not a single bad review out of those 191, which just doesn't happen no matter how good a product is. Hence, a massive red-flag in terms of the honesty and integrity of PureNature.
They just want your money.
No hard feelings.
It's Best To Avoid PureNature & Go With Some Of The More Solid Options
On the paper (or should I rather say on the label) PureNature Turmeric Curcumin looks like a solid supplement.
Turmeric with 95% Curcuminoids. BioPerine. Only completely harmless additives. Colorful and bold claims. 100% money-back guarantee. 80-85% global success rate.
Still, I strongly believe it's not a good bet.
And that's for at least three reasons.
First, I'm not really into supporting any manufacturer that's not honest and honorable in its marketing practices. From what I can tell PureNature Plus (another name the manufacturer gets referred by, another one is simply Pure Nature) is effectively deceiving people about the reviews left on their website.
In this regard, they're probably not only deleting the bad and terrible ones but also generating good ones (many 5-star were just one-liners).
Second, remember that third-party analysis certificate?
Well, it's been 12 days now… Still, no reply. They're just playing dead. Which makes you wonder whether or not such analysis certificates actually exist. Which is again something an honorable company wouldn't do.
Third, there's a bunch of much more reputable companies with just better ingredients and great global success rates as well.
Examples of this include Gaia Turmeric Supreme (above 94% success rate), Life Extension Super Bio-Curcumin (above 93% success rate), and the vegan certified Nutrigold (above 89% success rate). Whereas if you're after the best, here's my full review on that.
So, there's really no need to waste your time with PureNature Turmeric Curcumin.
It's just not worth it.
Above all, I hope this PureNature Turmeric Curcumin review helped you find the information you were looking for. Do you believe this is still worth despite their on-page customer reviews? Is it still worth despite them (what seems) not caring about providing those third-party certificates when they are requested? Have you tried this? Let me know below.
This article was last updated on July 9, 2020.