|  Overview  |  The Core & Benefits  |  Additives  |  Additional Considerations  |  Conclusions  |
In this Nutrigold Turmeric Curcumin Gold Review, we will assess the supplement in full.
Namely, we are going to assess the promises associated with the supplement, the Turmeric amounts it possesses, the benefits that are likely to take place if you consume it regularly, and the additives that it has. And we will also discuss some additional considerations that you should be aware of.
Nutrigold Turmeric Curcumin Gold Review – The Overview
Nutrigold Turmeric Curcumin Gold is a Turmeric focused supplement that is seriously backed up by various claims and product highlights.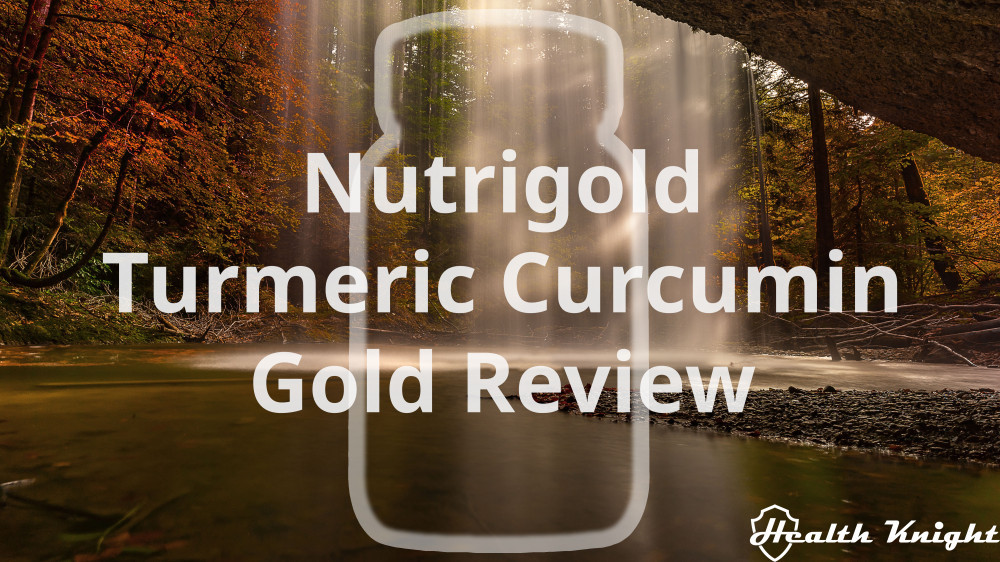 Overall I believe this particular supplement is one of the best looking supplements on the market. What do you think? Let me know in the comments [R].
But what's more important is that there's a lot to it. A lot of good stuff that is.
For example, it is Non-GMO verified, it's vegan certified, as well as Ko Kosher certified, and approved by ConsumerLab.com.
It's said to have no contaminants, pesticides, herbicides, harmful additives, residual solvents, magnesium stearate, hexanes, and is guaranteed to be free of 7 common allergens – soy, gluten, egg, milk, peanut, shellfish, and corn.
Furthermore, it is said to be of clinically proven ingredients that will help you get the most out of Turmeric supplementation in a safe way.
And you don't have to take their word for it. Not only do they send off their supplements to be tested by a third-party laboratory for purity and potency but they also provide you with the documentation of each tested batch. All absolutely transparent. All to ensure (as they put it) industry-defining quality standards.
The description page also, of course, contains supplement facts, which are accompanied by various info on Curcumin C3 Complex superiority over other forms and its clinical approvedness.
Thus, it's said to be proven to be beneficial for joint, cognitive, and liver health.
And for anyone curious in the history, background and basic information on Turmeric, there is also a section for that.
Overall, it is really apparent that not only much thought has gone into developing the description page but also in the development of the supplement itself. And again, a very solid looking supplement.
So, it's all great and seems incredibly solid. At least from the marketing perspective. But is it something that genuinely holds true about the supplement?
The Supplement Is All About The Beneficial Turmeric
They were not joking around when it was said that the Nutrigold Turmeric Curcumin Gold is of the Curcumin C3 Complex.
Meaning, there are 500 mg of Curcumin C3 Complex Turmeric Extract (Curcuma Longa root). Whereas this particular extract is one that is standardized to 95% Curcuminoids.
Curcumin C3 Complex ensures that all three Curcuminoid contents – Curcumin, Demethoxycurcumin, and Bisdemethoxycurcumin – come in the patented ratio that has been proven to work and improve health significantly.
As for the term 'standardized', it basically means that 95 % of that 500 mg of Turmeric extract contains Curcuminoids (450 mg), while any typical raw Turmeric extract only contains about 3% of that [R, R, R, R, R, R, R, R, R, R, R].
Thus, this is incredibly important and necessary because Curcuminoids are the actual substances that provide all the benefits, not the Turmeric itself [R, R, R, R, R, R, R, R].
So, it's definitely great content. And what I've found is that the potential benefits won't just attribute to joint, cognitive, and liver health. They are being modest here.
Curcuminoids are also known to slow down aging, heal pain, improve detoxification, combat obesity and diabetes, ease depression, lower cholesterol levels and the risk of heart disease, protect against metal toxicity among other marvelous benefits [R, R, R, R, R, R, R, R].
Moreover, the positive effects are said to be so profound that even if you are 150% healthy – eat healthily, take proper supplements, sleep 7-9 hours a night, practice mindfulness, and exercise daily – you can still benefit a lot from this [R, R, R, R, R, R, R, R].
In that sense, I believe Turmeric supplements are one of the most beneficial herbal supplements you can find nowadays. Period.
Another great thing about the Nutrigold Turmeric Curcumin Gold has to do with the fact that it contains 500 mg of that profound Turmeric extract per capsule.
Meaning, if by any chance you just want to consume more daily (1000 mg probably is the best option) you can just go for another capsule.
This also is definitely recognized by the manufacturer of Nutrigold Turmeric Curcumin Gold as they recommend to have anywhere between 1-3 capsules daily.
Thus, you can easily adjust to the amount you deem most relevant to you. Which, needless to say, is absolutely amazing (and in a way beneficial) to have that option too.
Other than that, what regards the active ingredients (those that provide benefits) there is also the Black Pepper Extract of BioPerine. Which in truth is not there for the pure sake of Black Pepper benefits but rather is tied to the Turmeric supplementation.
In what regard specifically we'll get into later though (read more on that in the Additional Considerations section).
Only Two Additives – Totally Safe Even For Vegans
Additives are somewhat the crucial ingredients of by far (almost all) supplements, medicine, and processed food out there.
Without them, the formation of capsules, pills, tablets, etc. or their specific qualities would not be possible. Without them, much of today's processed food would not be possible.
Thus, in many ways, they are helpful and necessary. However, you can definitely go wrong with them as not all of them are healthy or even okay to consume despite the fact that they have supposedly been approved for use by the appropriate authorities.
Thus, it's always important to check them. You can do it yourself or let us do it for you. No costs or any sort of payments or commitments involved.
When it comes to the Nutrigold Turmeric Curcumin Gold it has only two additives – Organic Rice Concentrate and Plant Cellulose (Vegan Capsule).
Thus, not only they are completely harmless and safe for long-term use but also they are vegan compatible. Which not many manufacturers can say about their supplements.
Arguably they could even be considered beneficial [R, R, R].
My point being, a very high-quality and thoughtful choice.
It definitely deserves some love for it.
Black Pepper For Improving That Absorption
There is one more ingredient in the Nutrigold Turmeric Curcumin Gold that we haven't really talked about yet.
It's the Black Pepper extract of BioPerine.
So, why it's there?
Well, turns out that Black Pepper or Piperine is the key component of any Turmeric supplement.
And this is due to the fact that it has the capacity of improving the absorption of Curcuminoids (the active beneficial ingredients in Turmeric) by up to 2000% [R, R, R, R].
Which might seem bonkers but is absolutely legit.
Meaning, it is as if the Turmeric supplement you're consuming becomes 20 times more powerful and beneficial.
So, being 100% honest here, it is a must for any solid Turmeric supplement. And it lets save costs by a huge amount (in comparison, for example, if you wanted the same kind of beneficialness without out the magic of Black Pepper Or Piperine).
One other thing worth noting is that Turmeric supplementation takes time to really kick in. It's said to may need to take up to 8 weeks of regular daily consumption for the full benefits to become apparent [R].
So, it's really important to not get discouraged if you're not feeling any improvements initially. Take your time.
Enjoy The Amazingness Of This Supplement
There are not many truly solid and authentic Turmeric supplements out there.
However, Nutrigold Turmeric Curcumin Gold beyond any doubt is one of the most solid ones.
The active ingredients are fantastic, the additives are incredible, the certifications are marvelous and extremely thoughtful, and thus, in short, mean that this is a supplement absolutely anyone can consume. Especially vegans.
Furthermore, the supplement is also properly tested, its potency and purity approved. Moreover, it offers a dosage that can be easily adjusted for anyone's needs.
All in all, the Nutrigold Turmeric Curcumin Gold is extraordinary in all its essence and everything that it is.
Just imagine all the things that you could do with improved mental ability, joint and heart health, detoxification capacity, and slowed down aging.
That said, I wouldn't call this the best Turmeric Curcumin supplement out there. If you're specifically after that, I've done the research. Here's the best (full review) both in terms of ingredients and price.
Above all, I hope this Nutrigold Turmeric Curcumin Gold review helped you find the information you were looking for.
This article was last updated on July 9, 2020.