|  Marketing  |  Ingredients  |  Side Effects  |  Reviews  |  Pricing  |  Ranking  |  Overall  |
According to the GNC Turmeric Curcumin reviews posted by customers, this is definitely helping with knee and lower back pain. Others are thrilled with the fact that this has helped with their arthritis and other conditions. Others more emphasize the great value for the price that this offers. And others yet enjoy the aspect that its capsules are easy to swallow.
So, this GNC Turmeric Curcumin review will be about both products going by quite similar names. This is about uncovering and exploring in proper detail everything they have to offer.
Hence, the idea is to be no extension of the manufacturer's marketing or other similar nonsense. This is all going to be about what I feel is the truth, the whole truth, and nothing but the truth. And we'll do that in assessing for marketing, ingredients, side effects (additives), customer feedback, and pricing. We'll do it the truth-seeking way.
Marketing | I Guess GNC Is Not Big On Claims, They're Pretty Brief
GNC does not tend to show any love to people from Europe. So, for this section, we'll have to limit ourselves to what promotional materials can be found on Amazon and what are the stuff we can conclude from the labels [R, R].
Many Turmeric Curcumin supplements push all kinds of claims onto their supplement labels. Whereas neither of the GNC ones seems to be doing that. Still, they don't exactly go without health claims at all, they're just not on the labels.
Both supplements are about providing that antioxidant support, as well as positively impacting the cell signals of thriving joint function. Which basically is just a fancy way of saying that it will contribute to joint health.
Other than that, at least as far as I can say, the promotional materials don't really overwhelm. Very unlike what we've seen with the PureNature Turmeric Curcumin (review). Very like the Terry Naturally CuraMed (review).
Whereas as for free-of information, there's almost everything imaginable. No Sugar, no Starch, no Artificial Flavors, no Artificial Colors, no Sodium, no Gluten, no Wheat, no Corn, no Soy, no Preservatives, no Dairy, and Yeast-Free. But what about GMO-Free though?
That we don't get a straight-up answer to. That being said, given the extensive free-of list without mentioning arguably the most important one, it does not feel like something a manufacturer would on accident do (namely, forget to mention it). What do you think?
Either way, I guess the supplements sound pretty okay. But are they truly worth the investment?
Ingredients & Side Effects | Core Ingredients Differ Between Two Versions
So, there are the two GNC Herbal Plus Turmeric Curcumin versions. One is the more simplistic one, the 500-milligram one. The other is the more advanced version of the same thing. That one holds the addition to the label "Extra Strength."
We'll have to look at each of them separately as, despite the very small difference in the name, the ingredients they use are quite different. Definitely more than it may superficially seem. Hence, in the upcoming sections, we'll discuss the core ingredients and the additives (which are the reason for side effects typically) for each of them separately.
But here's a thing that does apply to both supplements. It's the manufacturing quality.
As far as I'm aware, neither of these two products subscribe to the highest standard of quality which would be that they do third-party testing on their end products.
In fact, in the past GNC has proven itself to be a very unreliable brand in terms of quality. Unreliable to a point where it doesn't actually contain the herb it's claimed to contain. What's worse, as far as I know, they haven't really done anything and put their best effort forth since then to remedy and truly fix the situation (namely, still no third-party testing) [R, R, R].
All of which does give a pretty bad vibe to the supplements of this review.
GNC Turmeric Curcumin Review – Superficially It May Seem Okay But It's Not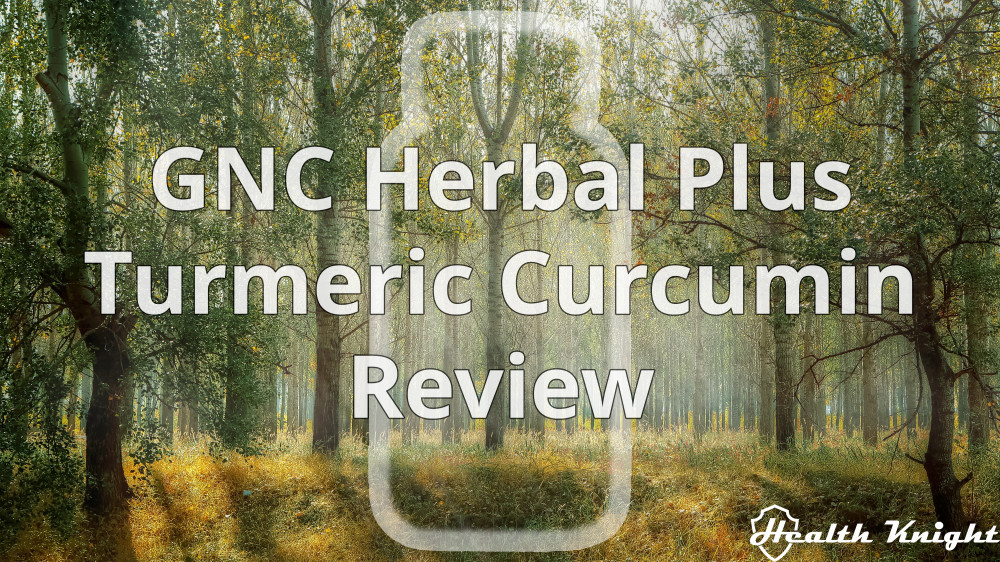 The simple version of GNC Turmeric Curcumin doesn't really look like much. It reminds me of the bad examples of Nature's Bounty Turmeric (review) and Jarrow Formulas Curcumin 95 (review). Here's what I mean.
Per serving (one capsule), the supplement of this section offers 500 milligrams of Turmeric Root extract which contains 95% or 475 milligrams of Curcuminoids. And there's nothing else there. Just these Curcuminoids.
Which isn't really a wise way how to do this. I mean, to the very least we want that addition of Black Pepper or Piperine extract. It's important because that stuff improves the absorption by 2000%. Which, I guess, needless to say, makes the possibility of benefits significantly more likely [R, R, R, R, R, R].
I mean, are we not after all the incredible stuff typically associated with Turmeric?
Well, if we were to go with this, it seems that we aren't. I mean, sure, the additives (Vegetable Cellulose Capsule, Cellulose; hence very likely without side effects) in this one are fine but the beneficial stuff is just such a poor attempt. Such a shame [R, R, R].
GNC Turmeric Curcumin Extra Strenth Review – Supposedly Significantly Better Alternative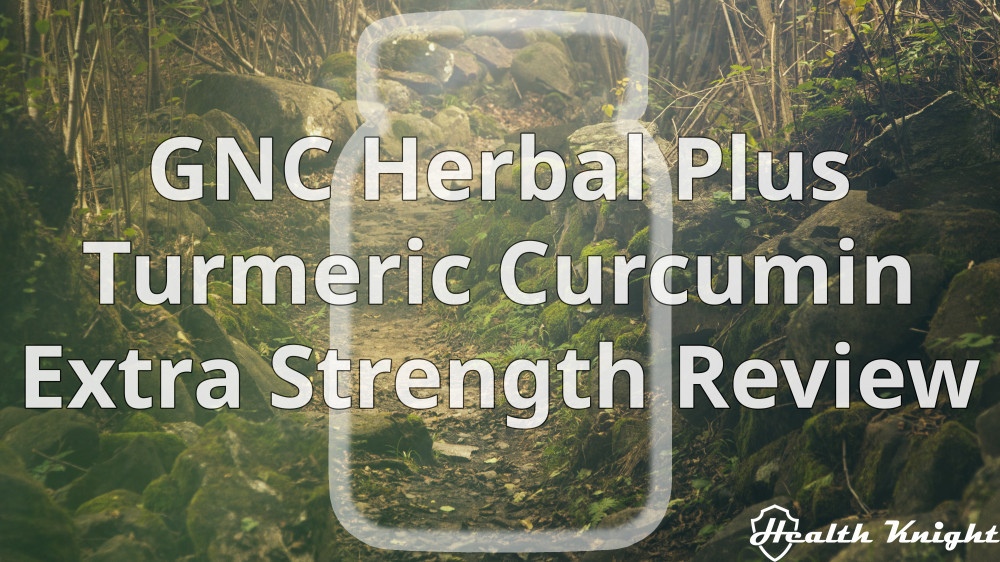 The GNC Turmeric Curcumin Extra Strenth is what we typically expect of a Turmeric Curcumin supplement. To that end, it's very similar to the supplements like the Kirkland Turmeric (review).
It's this idea of 95% Curcuminoids plus Black Pepper. And a decent amount of them.
Namely, per serving (one caplet), this Herbal Plus supplement offers 1053 milligrams of Turmeric Root extract which contains 95% or 1000 milligrams of Curcuminoids coupled with 20 milligrams of Black Pepper Fruit extract which contains 50% or 10 milligrams of Piperine.
This is definitely the more decent approach. And I reckon, it's something that can provide the full range of benefits. And hence, it makes the supplement much more capable of delivering what they suggest it would [R, R, R, R, R, R, R, R].
As for the additives though, I reckon there are far more of them than is really necessary (Cellulose, Stearic Acid, Calcium Silicate, Silica, Magnesium Stearate, Triacetin, Polyethylene Glycol, Oleic Acid, Diacetylated Monoglycerides). I mean, supplements like the Youtheory Turmeric (review) enjoy, essentially, the same beneficial ingredients but they do it with far fewer additives.
That being said, despite the rather long list of them and some being clearly controversial, I believe none should cause real concern (unless, of course, one proves to be allergic to one of them). Still, I'm not a fan of ingredients like Polyethylene Glycol [R, R, R, R, R, R, R, R, R, R, R].
Reviews | According To Customer Reviews, These Are Very Well Received
Now, let's turn to discuss customer reviews and the global success rates. Sadly, I've no way to access the actual GNC Herbal Plus Turmeric Curcumin product pages to see what the feedback is there like. Still, it's most of the time biased or likely adjusted as we've seen with supplements like Bio Schwartz Turmeric Curcumin (review) or Vimerson Health Turmeric Curcumin (review) to fit the marketing needs better.
So, not really a great source for information if we're trying to find the truth.
Hence, let's look at the feedback for these supplements by all third-party sellers and retailers. What do they have to say about them?
Well, in total, I managed to find 130 GNC Turmeric Curcumin reviews. Of these, 58 were for the simple version and 72 were for the extra strength one. According to them, the former hits the mark of 96.6% for its global success rate. Whereas the latter (despite it being the hands down better supplement) sits at 95.8%. So, what's the deal here?
Well, I think it's somewhat of a very common trend these days. This notion of even really ineffective Turmeric Curcumin supplements getting really great feedback. The truth is that I could name a bunch of them but even those are just a tip of a very large iceberg.
But be that as it may, I think it's a great reminder that customer reviews aren't everything. And most certainly it should never be the primary factor when choosing a supplement. I mean, you can really screw yourself overdoing that, not only monetarily but also straight out in terms of your long-term well-being.
Pricing | Frankly, It Doesn't Ever Make Sense To Go For Them
Another really important aspect to discuss is pricing. Because we wouldn't ever want an unreasonably priced product. To that end, when looking through the GNC Turmeric Curcumin reviews, I didn't really find anyone complaining about the price. Would it imply that it's decently priced? Let's do some math.
So, the simple version costs typically $26.24 for a container of 100 capsules. Which is $0.26 for a capsule or 52.5 cents for every 1000 milligrams of 95% Curcuminoids. Whereas the Extra Strength version prices at $79.99 for container of 120 caplets. Meaning, it's 66.7 cents for every 1000 milligrams of 95% Curcuminoids. Thus, how does it compare?
Well, it really depends on which product we compare it to. But, generally speaking, I wouldn't say that it's actually worth the price.
For example, yes, something like the Me First Living Turmeric Curcumin (review) is more expensive (it costs 90.0 cents for every 1000 milligrams of 95% Curcuminoids). But I'm not sure if I would ever prefer either of the GNC Turmeric Curcumin options over it.
I mean, for that price difference, Me First Living is Non-GMO and third-party tested. GNC is none of that. And the former has far fewer additives. Thus, it just feels to me to be far better.
But then, if we compare GNC to something like the NutriGold Turmeric Curcumin Gold (review), the difference between them is like the Grand Canyon. Here's what I mean.
Not only is Nutrigold cheaper (it prices at 61.3 cents for every 1000 milligrams of 95% Curcuminoids), but also it's got third-party testing to approve purity, third-party Non-GMO certification to approve that it's Non-GMO, Vegan-Friendly certification, and more.
Thus, I would even go as far as to say that pricing-wise, it doesn't really make sense to go for them.
Ranking | Where Does This Turmeric Curcumin Rank (In 2022)?
Overall | People May Like It, But I'd Say GNC Is Not Good For You
I know that a lot of people see GNC as a really reputable and high-quality brand. And I know that there are a lot of people that love these two GNC Turmeric Curcumin supplements as evident by the success rates. But I would invite you to be far more careful with them than many people believe.
I mean, yes, for positives, the supplements do offer 95% Curcuminoids (which is the juice of Turmeric benefits). And they both have incredibly high success rates. All that being said, I believe that the negatives do far outweigh any positives.
Namely, when it comes to the simple version, it's just too simple in its approach. And hence, we could get much better value for almost the same price, if only it was formulated better (it had Black Pepper). Whereas with the Extra Strength option, I feel that there are too many unnecessary additives.
But what I believe really seals the deal for this brand is the fact that they don't have a good record of their manufacturing quality. And they don't seem to be doing anything to turn that around.
Hence, (out of avoid it, consider it, shortlist it, buy it) I would certainly not buy it myself, and I would not recommend it to anyone. Meaning, I'd say that we should avoid these supplements.
That said, if you are interested in something that works and something that is high-quality, for sure, you might want to look into the Nutrigold Turmeric Curcumin Gold (review). But if you're all about the best, I've done the research. Here's the full review of what I believe is the most capable option, both as far as ingredients and price.
Above all, I hope this GNC Turmeric Curcumin review on their Herbal Plus sub-brand helped you find the information you were looking for. If you have any thoughts or questions, I'm all here for you. And do feel free to leave your own personal reviews on the product as well.