|  Overview  |  The Core & Benefits  |  Additives  |  Additional Considerations  |  Conclusions  |
In this Nature's Bounty Turmeric Review, we will dive deep into all that is worth knowing about the supplement.
Thus, this article will cover quite a few things. First, we'll look at the claims associated with the use of the supplement. After that, we will look into the potential benefits associated with the ingredient known as Turmeric. And to end off, we'll also evaluate the additives and whether or not they can come to bite you later on down the line.
All to make as accurate of an assessment about the Nature's Bounty Turmeric as possible.
The goal here is to create a review so thorough that there would not be a need for you to ever look at another supplement review for this specific supplement. Therefore, if there is a section or aspect I haven't covered but you're interested in, let me know. And I'll add that to the review.
Nature's Bounty Turmeric Review – The Overview
Nature's Bounty Turmeric is a turmeric root containing supplement geared towards providing you with amazing health benefits that come with the consumption of this substance.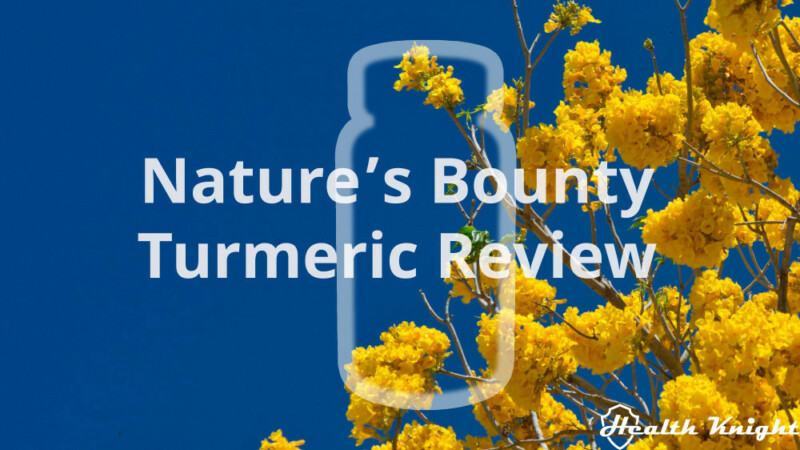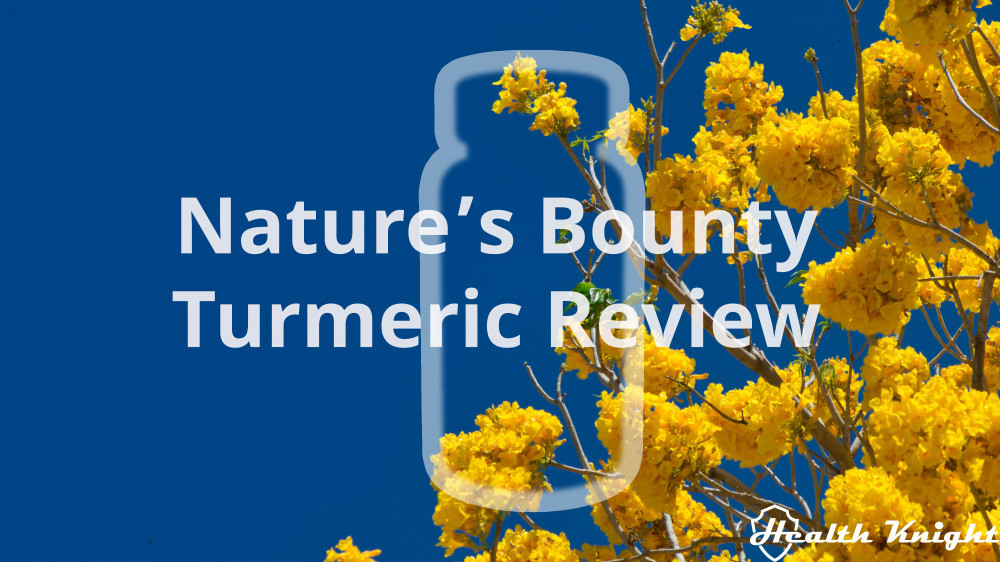 The description page of this supplement is very concise and straight to the point.
Thus, that page offers some general insight into Turmeric as a herb and the benefits that you can get through consuming it.
They list stuff like providing with antioxidants that help in fighting cell-damaging free radicals, thus, also oxidative stress, therefore, also preventing premature aging of cells.
The Nature's Bounty Turmeric is also claimed to have no GMOs, no Artificial Colors, Flavors, or Sweeteners, no Preservatives, no Sugars, no Starches, no Milk, no Lactose, no Soy, no Gluten, no Wheat, no Yeast, no Fish, and to be without any Sodium to the blend.
I mean there's almost nothing else you could possibly ask for when it comes to allergens and avoidance of harmful stuff like artificial colors and such [R, R, R, R, R, R, R, R].
So, is this alone enough though to call it a great supplement?
No. The ingredients are what we can't go without assessing. So, let's dive into those now.
The Turmeric Is Its Very Core [The Only Active Ingredient]
Nature's Bounty Turmeric, as the name suggests, is all about Turmeric.
It contains the root of Turmeric (Curcuma longa) and Turmeric Extract, which is standardized to contain 95% Curcuminoids (the most beneficial of them all – Curcumin). The former being present in 450 mg and the latter – 50 mg.
Being "standardized to contain 95% Curcuminoids" means that the manufacturer guarantees that 95% of this extract is Curcuminoids. Thus, in this case, they promise there to be at least 47.5 mg of Curcuminoids [R, R, R].
Curcuminoids are the specific compounds with medicinal properties that are primarily responsible for all the health benefits associated with Turmeric [R, R, R, R, R].
As such Turmeric is known to be one of the most effective anti-inflammatory compounds in the world. Other than that, it's also an incredible antioxidant that outperforms many of the available pharmaceuticals in its positive effects against several chronic and debilitating diseases while having virtually no adverse side effects [R, R, R, R].
Turmeric is great for improving brain function, lowering heart disease, preventing cancer and other chronic diseases, fighting Alzheimer's, treating depression and Arthritis, delaying aging, balancing hormone levels, improving digestion, liver health, as well as it has other spectacular health benefits [R, R, R, R, R, R, R, R].
Thus, there is no doubt that this truly is a marvelous substance to choose to consume.
Although Turmeric is the only active ingredient in the Nature's Bounty Turmeric, it's not the only ingredient overall.
Four Different Additives – All Compatible With Health
Whenever we talk about a supplement we also need to consider the additives that it has.
Many overlook this deeming it unnecessary as they presume supplements contain very little amounts of them. But while sometimes this is the case, even low amounts of truly harmful stuff can on a long enough timeline come back to bite you even if no negative effects initially are noticeable.
In this regard, the Nature's Bounty Turmeric contains Gelatin, Silica, Vegetable Magnesium Stearate, and Vegetable Stearic Acid.
Of these, Gelatin can be considered beneficial although it may at times cause an unpleasant taste in the mouth. Silica is a long known harmless additive. As for Magnesium Stearate and Stearic Acid, they've been debated a lot but ultimately are one of the most harmless additives there is [R, R, R, R, R, R, R, R, R, R, R, R, R, R, R, R, R, R, R, R, R, R, R, R, R, R].
So, to put it in simple terms it's all good when it comes to the additives.
Additional Considerations For Turmeric Supplementation
When it comes to Turmeric supplementation there are two more things worth noting.
Turmeric in of itself for our bodies, when taken orally, is not well absorbed. Thus, ideally, it should be taken together with Black Pepper or Piperine. This has the capacity of improving the absorption by up to 2000% [R, R, R, R].
But let me get one thing straight.
This does not make the Nature's Bounty Turmeric a bad supplement. It just implies that there are others out there that are likely to be more beneficial. Because a supplement that also contains black pepper or piperine within it will ensure far better absorption.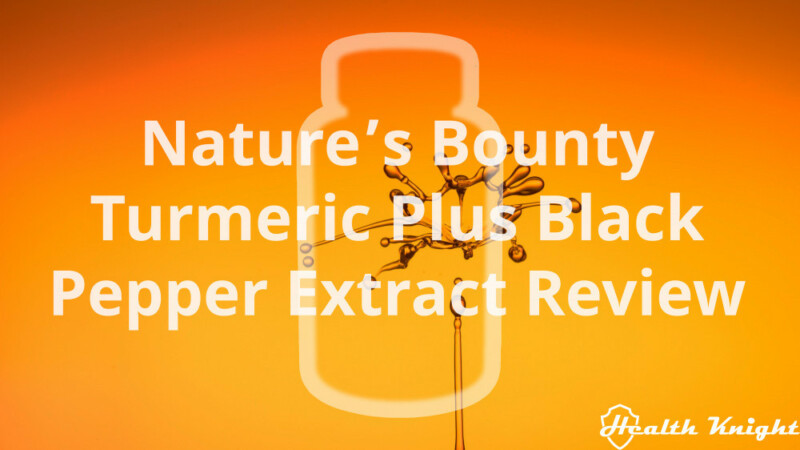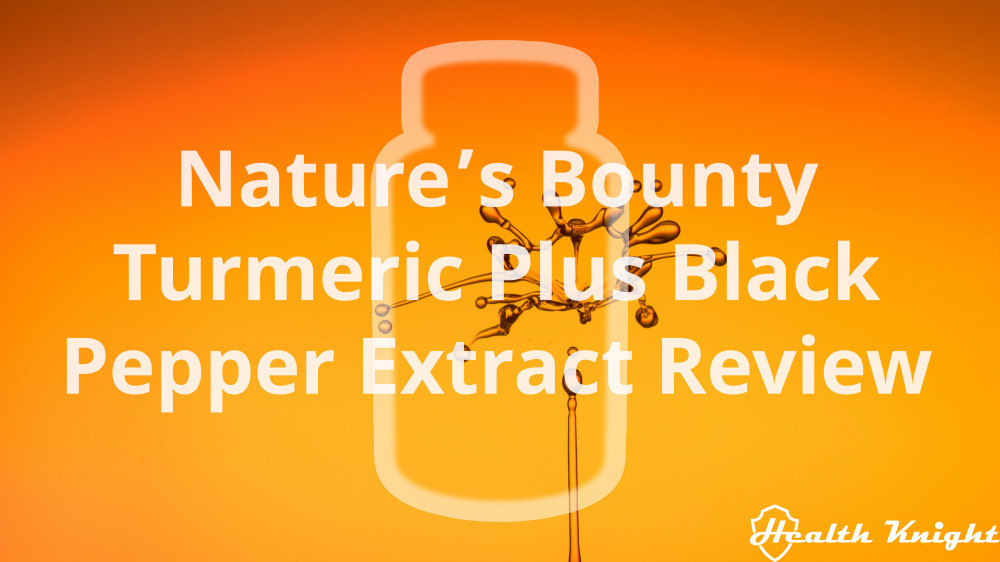 Which leads us to the bigger brother of Nature's Bounty Turmeric (1000 mg of Turmeric).
The bigger brother of Nature's Bounty Turmeric is a supplement containing twice the amounts of Turmeric that the little brother does.
Furthermore, it has only 2 additives of the ones that the little brother (Gelatin and Vegetable Stearic Acid) does.
But most importantly it contains 5 mg of Black Pepper Extract, which is that key ingredient for improved absorption.
Thus, making the bigger brother of the Nature's Bounty Turmeric far more effective in its benefits to health completely remedying any price difference between the two.
Lastly, the other thing worth noting is that the full benefits of Turmeric supplementation may not be apparent for up to eight weeks [R].
So, it is as they say: "Patience is a Virtue".
Final Thoughts On Nature's Bounty Turmeric
All in all, the Nature's Bounty Turmeric (450+50 mg) is quite a solid supplement.
It offers considerable amounts of Turmeric (including the standardized Turmeric Extract containing 95% Curcuminoids). And it uses only harmless additives.
However, it's the far less effective version than it's bigger brother – Nature's Bounty Turmeric (1000 mg). This is because not only the bigger brother contains twice the amount of Turmeric but also it has fewer additives and most importantly it has that added Black Pepper that is so incredibly important for solid absorption.
Thus, any price difference that there exists between the two versions of the supplement is well worth the value and improved health benefits.
So, at the end of the day, if you ever decide to go with a solid Turmeric supplement always choose the Nature's Bounty Turmeric (1000 mg) over the Nature's Bounty Turmeric (450+50 mg).
However, if you are rather in for an actually decent Turmeric supplement check out the Nutrigold Turmeric Curcumin Gold. It's also vegan certified.
Above all, I hope this Nature's Bounty Turmeric review helped you find the information you were looking for. But if not, definitely let me know in the comments on how I could further improve it.
If you get a chance, even one line in the comments helps a ton and will be highly and sincerely appreciated.
Hope to see you in another article!
Cheers, Stay Healthy & Have a Great One!
This article was last updated on July 9, 2020.