|  Overview  |  Turmeric Curcumin Amounts  |  The Benefits  |  Additives  |  Additional Considerations  |  Conclusions  |
In this Bio Schwartz Turmeric Curcumin Review, we'll go through all that the supplement contains and what it can offer for you. So, hopefully, to help you make a much more informed decision.
We'll look at everything. The promises. The ingredients. How they can benefit you. Additives. Other related stuff.
Bio Schwartz Turmeric Curcumin Review – The Overview
According to the manufacturer, Bio Schwartz Turmeric Curcumin is a supplement abundant in Turmeric contents, made for people to acquire all the marvelous benefits that come with the regular use of this herb and its key contents – Curcuminoids.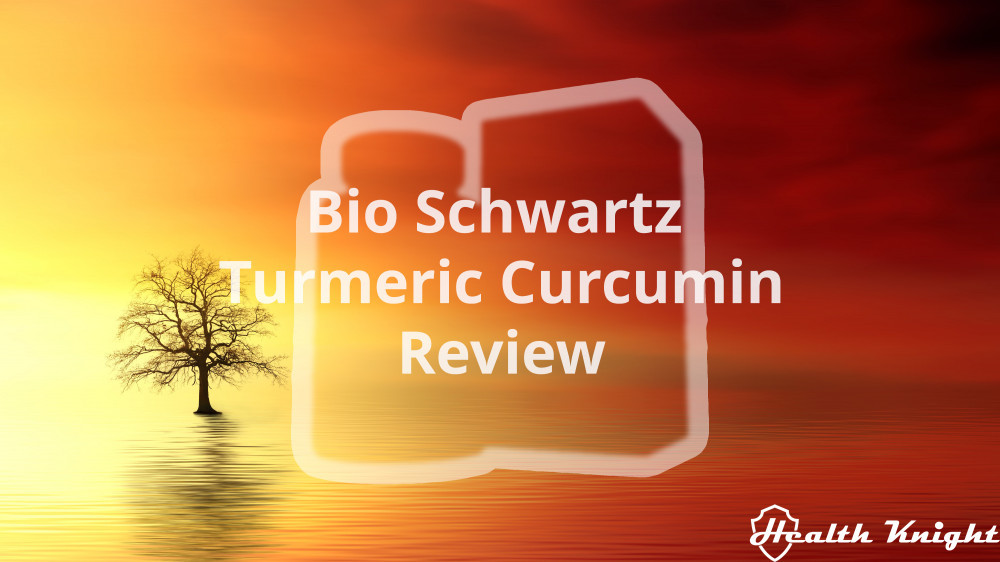 Although I wouldn't say that the description page is too abundant with information, it does contain solid amounts of it [R].
To be honest, it feels enough without the addition of feeling overwhelming to read it all. In that sense, something like the Vegansafe B12 could definitely be regarded as overwhelming with all the information they provide.
So, too much can definitely be of somewhat of a detriment. Yet when it comes to this supplement, it's very reasonable.
The supplement itself is regarded as Turmeric Curcumin 1500mg with BioPerine & 95% Standardized Curcuminoids (this is how it's titled). Which sounds great (but more on that later).
It's said to have been developed by professionals. In regards to the previous paragraph, it's claimed to be 1500mg of Turmeric Curcumin with 95% Standardized Curcuminoids (maximum potency) and 10mg of BioPerine® (Black Pepper) for enhanced absorption and bio-availability (so they are very pushy about that – read on this later).
Furthermore, they do mention that this BioPerine improves the absorption of Turmeric Curcumin, which to some might cause question marks as to what is and if at all there is a connection there.
It is further added that this BioPerine is the most researched and trusted form of Black Pepper Extract. And that it has been proven to dramatically enhance your body's absorption of Curcumin.
A must-have for any quality curcumin supplement is how they see it.
Then, of course, we have few claims dedicated to the potency, purity, and content of each batch. They promise it to be extensively analyzed by professionals before its release, the ingredients to be always 100% natural, and the supplement to be without binders or fillers of any sort.
But the promises on the 'without' does not stop there. They also claim it to be Gluten-Free, Lactose-Free (Milk-Free), Soy-Free, Wheat-Free, Nut-Free, Iron-Free, Sugar-Free, Chemical-Free, Free of Artificial Colors, and suitable for vegetarians.
So, based on all this superficial information I liked the Bio Schwartz Turmeric Curcumin a lot. You might have as well. It seems to be really all you'd ever need from a supplement, especially a Turmeric one.
So, does this accurately inform you about everything?
Let's dissect all the ingredients and explore.
Loads Of Turmeric – What About Curcuminoids?
They say (and they make it very clear and explicit) that Bio Schwartz Turmeric Curcumin (1500 mg) is with BioPerine & 95% Standardized Curcuminoids.
Which to me implies that all of the 1500 mg of the Turmeric that the supplement contains is of 95% Standardized Curcuminoids. I mean, it might be just me but I believe there may be other people who will feel inclined to think so.
Which would be absolutely amazing if that was true. But in reality, it's not the truth at all.
The Bio Schwartz Turmeric Curcumin offers raw Turmeric extract (Curcuma Longa root) and the 95% Standardized Curcuminoids extract (I'll explain the term in a bit).
So, of the complete amounts of 1500 mg, there is 1350 mg of that raw extract and only 150 mg of the standardized one.
Why is this important and why it's such a big deal?
Well, the answer lies in what the concept of 'Standardized' means.
While it may sound fancy and may even be something totally unfamiliar, all that it really means is that the particular extract is guaranteed to contain certain amounts of active ingredients. It's a term commonly used among herbal supplements [R, R, R, R, R, R].
So, what it implies, in this case, is that of the 150 mg of Turmeric extract 95% are the Curcuminoids. Thus, a total amount of 142.5 mg of Curcuminoids you will be finding in this part of the supplement.
Again, why is this important?
Well, it must be said that Curcuminoids are the active compounds that are responsible for all the positive effects that studies typically associate with Turmeric consumption [R, R, R, R, R, R, R, R].
So, what we really want in our supplements is not directly Turmeric. We want the active compounds called Curcuminoids because they are the very essence that will provide us with all the benefits.
But are Curcuminoids present also in the Turmeric extract?
Well, yes, for sure they are. However… And this is a huge HOWEVER…
Naturally, the Turmeric extract (1350 mg in the supplement) contains only about 3% of that marvelous compound. Or in other words, consuming 1350 mg of the Turmeric extract only gives you about 40.5 mg of Curcuminoids [R, R, R, R, R, R, R, R].
So, in essence, that 150 mg of the standardized extract will contribute far, far more to your well-being than the natural extract present.
Or in other words, the facade of the Bio Schwartz Turmeric Curcumin supplement implies that there is a lot of the good stuff (1500 mg of Turmeric) but when you actually dissect that, there's very little of it (less than 200 mg total).
Which means that this supplement does not really hold its own when compared to Turmeric supplements like the Nature's Way Turmeric, which has fewer total amounts but all of it is 95% standardized.
So, that out of the way, let's jump into the benefits.
Improved Brain Function, Healed Pain & Obliterated Obesity
Color-wise Turmeric does somewhat resemble of gold. And that is exactly what it's like for your health.
Pure gold.
Turmeric (Curcuminoids) consumption has shown to improve brain function, slow down aging, heal pain and Arthritis, ease depression, combat obesity and diabetes, improve detoxification and overall liver health, lower cholesterol levels, protect against metal toxicity, as well as lower the risk of heart disease among other benefits [R, R, R, R, R, R, R, R].
In truth, there is not one human being on the face of the earth that would not benefit from regular Turmeric consumption.
Whoever you are and whatever you do, there really is no reason as to why not find for yourself this kind of a supplement.
Even if you eat healthily, take proper supplements regularly, sleep well, practice mindfulness and exercise daily, this stuff can still further improve your health [R, R, R, R, R, R, R, R].
This is the genuine and extraordinary but only recently discovered power of Turmeric supplementation.
Additives – Should Be All Harmless There
Additives are the other ingredients found in 99% of all supplements.
The truth is that without them we would have a hard time making not only almost all supplements but also medicine and processed foods. While the latter we could live without the former two would certainly be a loss.
On that same note though, not all additives are harmless or even safe for short-term or long-term consumption.
Thus, it's fundamentally important to always check them before you decide on a new supplement.
Surprisingly, and definitely commendable and praiseworthy is the fact that the only other ingredients in the Bio Schwartz Turmeric Curcumin are those what regard the patented Plantcaps® made vegetable capsules.
As they themselves put it – Plantcaps® capsules are vegetarian and made from pullulan – naturally fermented from tapioca – for a more extensive and distinctive appeal to the booming and discerning healthy lifestyle market worldwide [R].
Considered organic, starch-free, gluten-free, preservative-free while also certified Vegan, Halal, Non-GMO, Vegetarian Society, and Kosher makes it an incredible alternative to the gelatin capsules [R].
Overall, they seem really solid and as far as I can tell these should be of completely harmless nature. Thus, amazing for any supplement. Including the Bio Schwartz Turmeric Curcumin.
Black Pepper – An Unlikely But A Crucial Ingredient
Remember those claims about Black Pepper Extract being proven to dramatically enhance your body's absorption of Curcumin?
Well, they didn't just mess with you. It really does improve the absorption of Curcuminoids. And not by a little bit. But by a HUGE margin!
How huge? By up to 2000% (20 times) [R, R, R, R].
Let that sink in for a moment.
I guess you won't argue that it's fair to say that any Turmeric supplement that contains Black Pepper or Piperine will for sure outrank any supplement that does not have that.
(Piperine is the actual ingredient in the Black Pepper that provides that improvement.)
Unless, of course, you're just straight-up consuming 20 times more Turmeric. Which by no means will be cost-effective.
So, again. Extremely important to have that in the supplement. And the Bio Schwartz Turmeric Curcumin does have that.
Another aspect of the Turmeric supplementation that is definitely worth noting is the fact that it takes time to kick in so to say.
We're looking at a time frame of up to 8 weeks of daily consumption for the full benefits to become apparent [R].
So, commitment is definitely key when it comes to the Turmeric and Curcuminoids.
Final Thoughts On Bio Schwartz Turmeric Curcumin
While the Bio Schwartz Turmeric Curcumin is a fine supplement, I feel there are others that can benefit you way more.
I mean, this one can't harm you in any way and will only benefit you. However, I do feel it has too little of that active ingredient (Curcuminoids) to truly make a difference, despite the added Black Pepper. And many health professionals do agree on this point.
In that regard, if you are after a decent Turmeric supplement something like the Nutrigold Turmeric Curcumin Gold (it's also vegan) will do infinite times better. Whereas if you're specifically after the very best, I've done the research. Here's the full review.
Other than that, I hope this Bio Schwartz Turmeric Curcumin review helped you find the information you were looking for.
This article was last updated on July 9, 2020.