This NutriCology/Allergy Research Group CurcuWIN review is about discussing in full detail what I believe is the absolute best Turmeric Curcumin supplement on the market right now.
To do that, we will go over its promotional materials and promises. Then, we will take a research-based in-depth look at the beneficial ingredients. This we will continue by discussing the additives and their properties. And, of course, customer reviews and global success rates are also on the menu.
NutriCology/Allergy Research Group CurcuWIN Review – Initial Thoughts
For clarity purposes, I believe there is one thing that needs to be gotten out of the way as quickly as possible. And that has to do with this notion of NutriCology slash Allergy Research Group [R, R].
You see, it may be somewhat confusing at first but NutriCology CurcuWIN and Allergy Research Group CurcuWIN are actually the same supplement. The same manufacturing quality, the same contents, the same everything (including the structure and layout of their respective websites). It's kind of their unique way of running things. The difference lies in one brand being more intended for customers and the other – for doctors (with a bit more expanded supplement line) [R, R].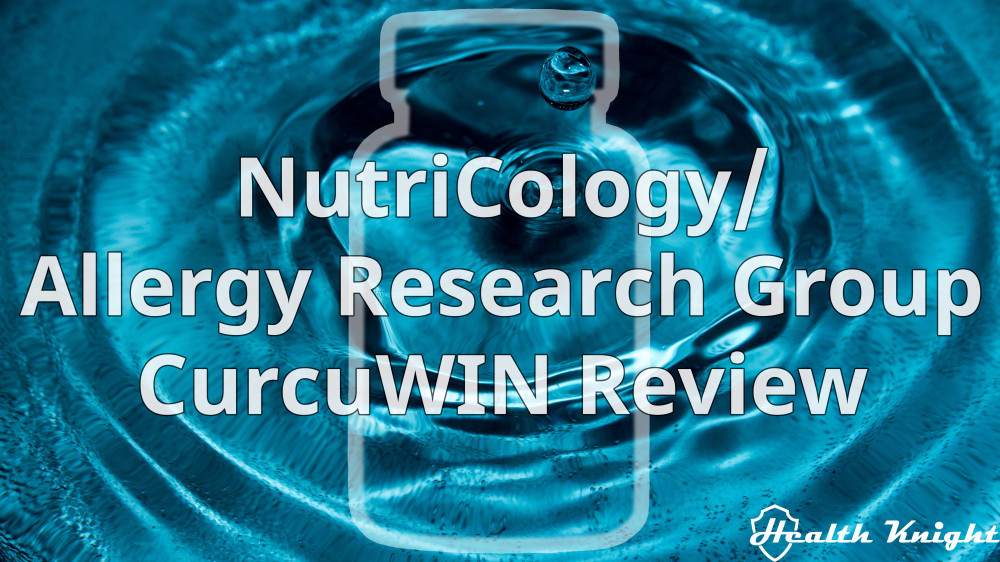 With all of the-same-ness, even the product pages are pretty much the exact duplicates. Which overall, are really great. They are quite brief, very collected, well-poised. Quite frankly, they are the opposite of what we've seen from products like Organixx Turmeric 3D and Smarter Curcumin [R, R].
What I also love about the page is that they do not care about marketing like Stop Aging Now Curcumin2K and PuraThrive Curcumin Gold do. There are no marketing tactics involved which, at least the way I see it, implies that they are confident about the quality they provide.
Which is only emphasized by the fact that all ingredients used in NutriCology/Allergy Research Group products are Non-GMO and that they do third-party testing on every supplement batch they do. Or, in other words, their CurcuWIN is 100% Non-GMO and third-party tested for purity, potency, and safety (certificates of analysis are also freely available). Thus, we get exactly what they promise [R, R, R, R, R].
Last of all, according to the manufacturer Nutricology CurcuWIN and Allergy Research Group CurcuWIN use a Curcumin formulation that "increases relative absorption of total curcuminoids over standard curcumin by 46-times, with higher serum concentrations after 12 hours." But is it truly that much better [R, R]?
The Beneficial Ingredients Are The Ideal Curcumin Formulation
Not really. I'd say that the Nutricology/Allergy Research Group CurcuWIN goes beyond that. They're kind of a bit underselling the thing. At least that's what I'm getting from the available research on various Curcumin formulations and their relative compared bioavailability (which, essentially determines how beneficial they are).

Per serving (one capsule), the supplement offers 500 milligrams of CurcuWIN Turmeric (Curcuma Longa) (Root) Extract (min 20% Curcuminoids). Per container, we get 60 capsules. Whereas the suggested use proposes 1-2 servings daily bringing this to 500-1000 milligrams of the thing.
CurcuWIN is the most powerful, viable patented Curcumin formulation currently in existence. It may not be as powerful as the NovaSol. However, NovaSol has one huge drawback. It uses a potentially very hazardous additive (Polysorbate 80) to make that superior absorption happen. Whereas CurcuWIN has none of that [R, R, R, R, R, R, R, R, R, R, R, R].
While they themselves persist on this notion that this formulation is 46 times more powerful than standard Curcumin, that I feel is not the full picture. A more accurate, complete, comprehensive interpretation of that same research paper suggests that it's actually 136 times more bioavailable than the 95% standardized stuff with no additions [R, R, R].
Couple that with 1000 milligrams of the thing, by all accounts a great amount, and I believe we have the most capable, beneficial, awesome Turmeric Curcumin to date. At least that's as far as beneficial ingredients go [R, R, R, R, R, R, R, R].
Additives Are Really Thoughtful & Awesome With This One
But not only that. That's also as far as the inactive substances go. Many supplements out there struggle with this aspect. And so does some Turmeric Curcumin supplements as well like Qunol Liquid Turmeric. But the Nutricology/Allergy Research Group CurcuWIN doesn't. Not one bit.
The additives it uses are Hydroxypropyl Methylcellulose, Microcrystalline Cellulose, Silicon Dioxide.
As for the first of the three, it's one of the safest ones. Some even suggest that it's actually something that can grand benefits as well. Microcrystalline Cellulose is arguably the most harmless thing. It's commonly used in trials for the placebo pills [R, R, R, R, R, R, R].
Whereas Silicon Dioxide is a natural compound found in our bodies, plants, water, animals, and even earth. It's also studied as has no known side effects even in large amounts [R, R, R].
So, all in all, there is every reason for awesome benefits without the addition or "extra" of negative side-effects or random health hazards. A very thoughtfully made thing, indeed.
I Did Look Into Customer Reviews, Didn't Find Much Though
So, from a purely theoretical standpoint, the Allergy Research Group CurcuWIN is filled with exactly the right ingredients. But what about its performance in real life?
Well, the product pages don't really give us any insight into that as those do not contain the often present review section (like we've seen it with products like Botanic Choice Turmeric or Finest Nutrition Turmeric). Hence, we're just left with all else that we can scramble together across the internet.
So, I did exactly that. I looked at every single other seller and retailer online who had the product listed and checked the customer feedback. Here's what I found. In a word, though (or two words rather), not much.
I managed to pull only five NutriCology CurcuWIN reviews all of which were positive. Whereas there came only three with the Allergy Research Group CurcuWIN reviews. One of these was a 1-star rating (I found it at Amazon). However, the comment itself which posted that rating did suggest that the supplement might have been a fake.
Which is a pretty concerning trend (with supplements in general on Amazon) I've first really noticed with Vital Proteins Collagen Peptides. That's a trend I've since seen across quite a few others as well.
As far as the reviews go, it may be too early to tell whether the global success rates for the supplement of this review will come as high as what we found by either Angry Supplements Ultra Pure Turmeric or GNC Turmeric Curcumin. But then, again, these two supplements are absolutely useless.
I mean, I would never prefer either one of them over the NutriCology CurcuWIN. And that's no matter where the global success rate actually ends up with this.
MTFBWY Stands For May The Force Be With You, It Will With This
I've looked at more than 300 Turmeric Curcumin supplements. I've written more than 35 individual reviews on supplements of this category. I've read countless research papers and articles on Curcuminoids and Curcumin formulations. I am 99.9999% sure.
NutriCology/Allergy Research Group CurcuWIN is the best, most powerful, true quality Turmeric Curcumin supplement currently available on the market. So, if you've been hunting for one, this is it.
I mean, if you've been after all of those really cool health benefits like better joint, brain, liver, heart health, diabetes-fighting, inflammation-obliterating, obesity-eradicating, cholesterol-lowering, depression-battling, anti-aging gains and more, I believe this is our best shot at all of that. So, here's the exact one I use.
Other than that, I hope this NutriCology/Allergy Research Group CurcuWIN review helped you find the information you were looking for. Did you like this one? Was I not fanboying out too much about it? Do you see yourself getting one? Let me know below.