I promise to make this Olly Glowing Skin review a worth while one. For me, it's about helping you learn everything you'd need to know to make an educated decision.
Thus, we will spend some time on the promotional materials and their promises. But we'll spend quite a bit more on dissecting the beneficial ingredients. We will not forget about looking at the additives like most other reviews out there do. And, of course, some insight into customer reviews is always great addition. So, we'll do that, too.
Glowing Skin Is The Primary Promise With This, All About That Skin
According to the manufacturer, Olly Glowing Skin is "a juicy blend of super nutrients to help replenish and hydrate your skin from within so you can keep that youthful glow." And per their words, to us have a "baby face." Which overall, I imagine, does sound kind of nice. Many people after something like that these days, right [R]?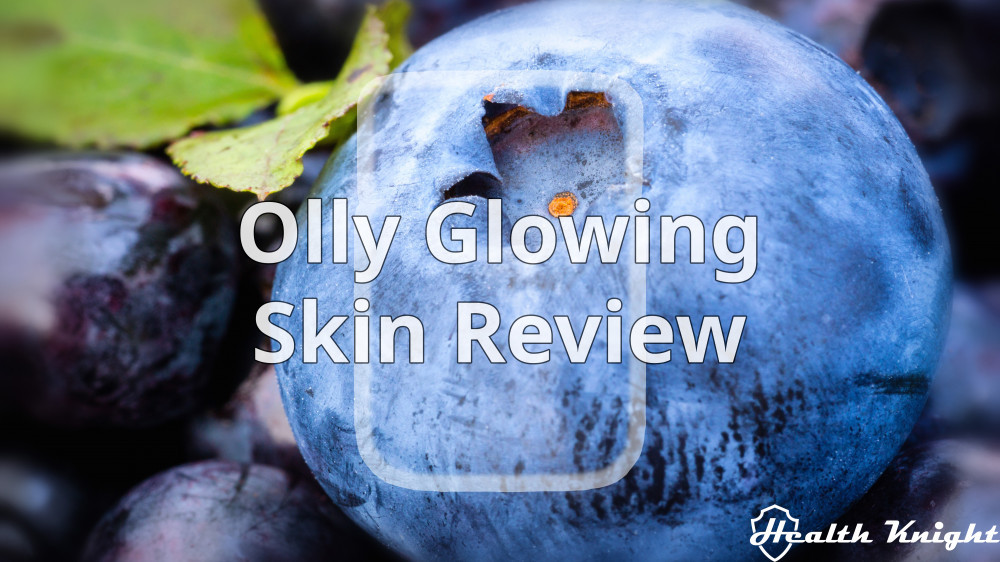 The product page is a typical Olly production. Olly Women's Multivitamin, Olly Kids, and Olly Undeniable Beauty all had a very similar version of the page as far as the structure goes. They even copy-paste share certain sections of the page. It's also visually quite appealing just like its siblings.
As for the potential benefits, the tagline of this one is "for hydrated, youthful skin." Which does quite well cover its main undertaking. Other promises include getting a youthful glow for our skin, having an improved skin's strength and structure, as well as revitalizing and nourishing of the skin. So, all about the skin, exactly as the name of the thing suggests [R].
As for the marketing tactics, there are a few. Buy three right off the bat and get a discount like Pure Gold Collagen. Get a 30-day money-back guarantee like It Works! CollagenWorks. Get free shipping when ordering over certain amount like Reserveage Collagen Booster. And, of course, customer reviews just like NeoCell Collagen Beauty Builder.
But, overall, definitely a very well thought out product page. Is the supplement as well thought out though?
Hyaluronic Acid Is The Core Of This Olly & What Is That Collagen??
From an initial look, it may as well seem so. There are three capable ingredients. It's, for sure, a better attempt than what we typically see from Olly. At least as far as the beneficial ingredients go.
Olly Glowing Skin is a supplement that per serving (two gummies) offer 120 milligrams of Hyaluronic Acid, 120 milligrams of Collagen Peptides, and 50 milligrams of Organic Sea Buckthorn Juice Powder. And we get 25 such serving per container.
As for Hyaluronic Acid, 120 milligrams is a really great amount; a bit more than what most supplements out there offer. Hence, we're potentially looking at the full range of benefits here. Which include not only healthier, more hydrated, elasticity-abundant skin but also reduction of wrinkles, dandruf and bag under the eyes healing, benefits to eye and joint health, as well improved would healing among other benefits [R, R, R, R, R].
So, that's pretty great. What not so great, however, is the Collagen contents.
I mean look at any proper Collagen supplement like Garden of Life Collagen or Vital Proteins Collagen Peptides. Such typically come with 10-20 grams of the protein per serving which is 10,000-20,000 milligrams instead of just 120 milligrams. Or to paraphrase, that's about 80-160 times more. With which in mind I don't think there's really anything we should be expecting from this addition [R, R, R, R, R, R, R, R, R].
I mean, it's almost like it's there for them to just have the opportunity to brag about it. Not that it will actually deliver any tangible gains. Personally, really not a fun of such hoaxing.
And the last ingredient is kind of a similar story. It's not as bad as far as the amounts go, but not quite ideal either. So, I imagine the benefits here might be quite limited. We might be potentially seing something like improved heart health, skin health, immune function, liver health, digestion, as well as among other benefits it can help battle inflammation, diabetes, and cancer. But as mentioned, it's sad that the amounts are kind of low though [R, R, R, R, R, R].
So, with the Olly Glowing Skin, it's kind of all about that Hyaluronic Acid. It's quite abundant here unlike the other two it adds.
To Review Additives, The Brand Is Such A Sinner, It's Ridiculous
Additives is a pretty huge tripping point for quite many supplements, as well as some brands like Vitafusion or Smarty Pants in general to to their sugary approach to supplementation. Even when it doesn't involve sugar, they can go wrong pretty easily as the way I see it is also the case with Nature's Bounty Hair Skin Nails Extra Strength and LAC Taut Collagen.
On that note, what about this Glowing Skin of Olly supplement?
Well, it's actually pretty decent. That is, if we don't account for the sugar contents.
The product uses Glucose Syrup, Water, Beet Sugar, Vegetable Oil (Coconut, Canola), Carnauba Wax, Gelatin, Natural Flavor, Citric Acid, Blackberry Juice Concentrate, Pectin, and for coloring Carrot and Blueberry Juices. Generally speaking, most ingredients probably won't cause any trouble despite the supplement of this review not actually being NSF-certified [R].
But the way I see it, sugar-related ingredients like Glucose Syrup and Beet Sugar can definitely raise hell if that makes sense.
The consumption of this carbohydrate has been linked to learning difficulties, eating disorders, weight gain, obesity, diabetes, heart disease, high blood pressure, aggressive behavior, hyperactivity, as well as among other stuff cancer. It also messes with the brain health and makes us quite literally stupider [R, R, R, R, R, R, R].
But to make matters worse, two things. First, we typically already consume too much sugar daily. Adding more with supplements makes no sense to me. Second, Glucose Syrup may actually be one of the absolute worst sugar forms there is. it may actually be High-Fructose Corn Syrup just hiding under an altered name [R, R, R, R, R].
Here's the whole thing from another perspective. With Olly Glowing Skin, it's 10.3 milligrams of sugar per every milligram of nutrients. Or in other words, it contains 10.3 times more sugar than the beneficial stuff we get.
I that really the way? Especially, when options stuff like Stevia and Monk Fruit exist?
Customer Reviews Promise Success But Is That What We Should Trust?
Coming soon.
I Strongly Believe This Supplement Is A Definite Must Avoid
Coming soon.