In this Purely Optimal Collagen Complex review, we will look at the thing from the perspective of the truth. We'll look into everything it's about.
And thus, we will immerse ourselves into their promotional materials and the claims they make about their product. We will go through and assess the beneficial ingredients. We'll also look at the other ingredients added to help make the supplement. And, of course, customer reviews are also on the menu along with global success rates.
The goal here is to create an article so thorough that there would not be a need for you to ever look at another supplement review for this specific thing. Therefore, if there is a section or aspect I haven't covered but you're interested in, let me know. And I'll add that as well.
Purely Optimal Collagen Complex Review – Initial Thoughts & Overview
According to the manufacturer, Purely Optimal Collagen Complex "is the ONLY collagen supplement you will need to slow down aging!" Per their words, it's their "ALL-IN-ONE BLEND OF COLLAGEN PEPTIDES" which excels through this notion of "where other products only contain one or two types of collagen, our Collagen Complex contains ALL 5 Types of Collagen (Type I, II, III, V, X) that helps to maintain a young, strong, and healthy body." I mean… [R].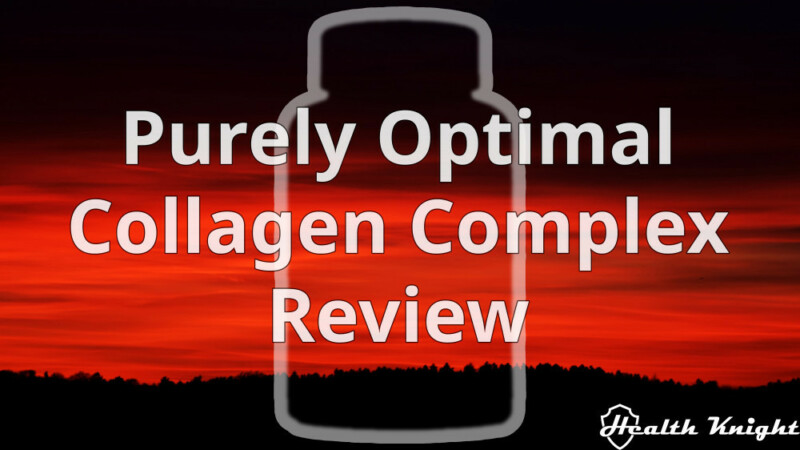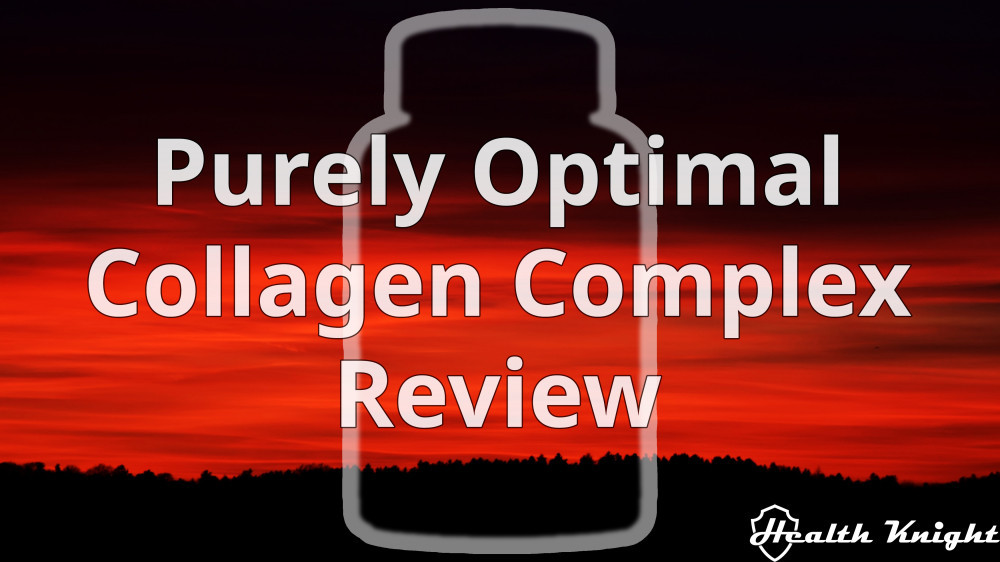 Yeah, I always thought we need proper nutrition, food, exercise, sleep, and daily mindfulness practice to achieve that, as well as there are a plethora of aspects that also play a role. But either that or this supplement and you'll have a young, strong, and healthy body.
As for the product page, it's not the most overbearing like what we've seen with Organixx Clean Sourced Collagens or BioTrust Ageless Multi Collagen. But it's not a short one either. There's quite a bit to go through and explore, much like what we've seen with Further Food Collagen and Vitauthority Multi Collagen Protein.
The first section of text on the right of the picture though kind of creates this impression that all of that page might be what the Vim & Vigor Collagen product page was like. Let me just say, not the best way to sell the product. But when it comes to this Purely Optimal, it's pretty fine. I like how they incorporate pictures as well. Pretty awesome.
And there are some videos as well if people feel more like listening than reading. However, I wouldn't say that the page is crafted to perfection. For example, there's a section titled "Ingredients & Transparency" but it's literally without any contents, just blank. I guess they kind of overdid on the transparency part, right? Haha.
For marketing, they're quite conservative. A customer review section. Supposedly discounted price (for, God knows, how long). Free shipping if we order two (over $30.00). And there's also a 30-day money-back guarantee, but for some reason, they don't brag about it like Primal Harvest Primal Collagen or Ideal Collagen do [R].
Other than that, I truly feel the claims are a bit excessive. "Best self again – strong, glowing, young, and radiant," "age is no longer a factor," "stronger bones and healthier joints," "skin remains firm and smooth and your hair still grows fuller." And there are quite a bit of others. Certainly, everything is not excessive but really "best self again" just from this?
Well, let's look at the ingredients, shall we?
The Collagen Is Surprisingly Scarce In This One
Looking at its beneficial contents, the Purely Optimal Collagen Complex does remind me of Collagen supplements like Vitauthority Multi Collagen and Ancient Nutrition Multi Collagen. And let me just tell you, I wasn't particularly fond of those. To say the least. So, what's up?
The supplement of this review per serving of 3 capsules offers 1500 milligrams of Premium Collagen Protein Complex. Whereas this complex is built out of Bovine Collagen Peptides, Hydrolyzed Chicken Collagen Peptides, Pure Hydrolyzed Marine Collagen Peptides, Eggshell Membrane Collagen Peptides, and Avian Sternum Collagen Peptides.
Now, about that amount.
Any self-respecting, truly customer-valuing product tends to provide at least 10 milligrams per serving ranging all the way up to 20 grams as we've seen with Sports Research Collagen Peptides and Garden Of Life Collagen. That's almost 7-13 times the amount. Which is exactly what we should strive for to have the chance of the full range of benefits [R, R, R, R, R, R, R, R, R].
As for this Collagen Complex's amount, they say, of course, that their "daily serving is enough to prevent fine lines, wrinkles, thinning hair, creaky joints, and brittle nails from showing up too early." But that I feel is just not true. I mean, we could be talking about some of those benefits. But pretty much all of them? With 7-13 times less? That's very unlikely, the way I see it [R, R, R, R, R, R].
Also, they say that the Collagen Peptides are Hydrolyzed for maximum absorption but that's clearly not the case for every single source as evident by the label. But there is one an even more concerning aspect.
Many supplements like Vital Proteins Collagen Peptides or LiveWell Collagen Peptides put their utmost attention to Collagen being sourced from grass-fed, pasture-raised, cage-free animals. What about this Purely Optimal Collagen Complex here?
Well, they say no such thing at all. Which only means that it's very likely that this Collagen does not come from grass-fed, pasture-raised, cage-free animals. And that's a massive difference in quality and the potential beneficialness of the thing. A truly massive difference [R, R, R, R, R].
One Additive – Generally A Fine One; I'm Just Splitting Hair
Typically, Collagen supplements do pretty well as far as the added extra ingredients for the making of the supplement (additives) go. Many like Orgain Collagen Peptides and Physician's Choice Collagen Peptides even manage to do completely without. To that end, Collagen products are some of the few that can get away with that. By no means, it is a common thing though.
That said, when it comes to Collagen in capsules or tablets, they usually can't do without. And the Collagen Complex of Purely Optimal is another such example.
Luckily though it uses only one additive. Something that I have coined as beneficial – Gelatin capsules. Unluckily though, it's probably sourced from porcine. Which is probably the least beneficial one. And sometimes even not that positive of a thing at all because pigs are literally fed all kinds of shit. Which can make anything sourced from them not that great. Not necessarily something paramount to avoid. But definitely better worth without [R, R, R, R, R, R, R, R, R, R].
Whereas as far as that sourcing goes, I'm pretty sure porcine is the case because it's the cheapest one (bigger profits is what drives most of the manufacturers). And if they don't brag about Gelatin being from bovine, that's pretty much a sealed deal. That's at least the way I see it.
Is Global Success Rate Any Good With This One? Surprised?
Now, let's do some reality check. Customer reviews. What do they say about the Purely Optimal Collagen Complex? Is it actually any good and delivers at least some value or is it completely worthless?
Well, the 71 reviews on its description page pretty much say that it's the best Collagen supplement there is. I mean, not only not a single 1-star or 2-star rating but also none of the 3-star and 4-star. They are all five stars.
According to them, it's as busted as they come. But is that really accurate?
I took that to every single other seller or retailer to check upon. Okay, so, it's not a 100% global success rate. No surprises there. But it still seems to be busted.
Out of the total of 4039 Purely Optimal Collagen Complex reviews, only 106 were negative (1-star and 2-star). And that brings us a 97.4% global success rate. Which is extremely high for how low its total Collagen amounts are.
So, does this make it a superb supplement after all?
Personally, I Would Never Go For This, A Must Avoid, I'd Say
I wouldn't bet on that. To illustrate, it reminds me of supplements like the NatureWise Curcumin and Angry Supplements Ultra Pure Turmeric. Both of those have global success rates of above 97%, essentially just like this only in a different supplement category. And still, they are not products I would recommend pursuing.
I mean, I've encountered my fair share of supplements that despite almost mesmerizingly high success rates just aren't worth investing in. And there's that danger there. Picking something due to how well it has been received. This is why we don't look at just the success rates and be done with it.
It's like leaving our health to a chance. Because there is some truly harmful stuff out there that still have incredibly high success rates. Never fall for that. Be smarter. Look at all the aspects. And then that feedback can provide a broader perspective. But never depend and trust on that feedback alone. It can really take us down a rabbit hole.
And not a good one.
That said, if you are interested in learning about the truly capable, beneficial, quality options, check out my favorite one in the review here. Other highly viable options include Vital Proteins (full in-depth review), Sports Research (full in-depth review), and LiveWell Collagen Peptides (full in-depth review).
Whereas if in your opinion it has to be a Collagen that is multi Collagen sourced, then check out the one by Ancient Nutrition (full in-depth review). But if it has to be a capsule option, Genacol Collagen (full in-depth review) is I believe the best one. And Physician's Choice Collagen (full in-depth review) is another capable Collagen capsule option.
Above all, I hope this Purely Optimal Collagen Complex review helped you find the information you were looking for. But if not, definitely let me know in the comments on how I could further improve it.
If you have as much as 15-30 seconds to spare, even one line in the comments helps a ton and will be highly and sincerely appreciated.
See you in another article!
Cheers, Stay Healthy & Have a Great One!